Watch Man City and Inter in the 2022-23 UEFA Final on June 10th.

Watch it on CBS with Fubo!
One of the first things people often learn about FuboTV is that they offer more sports than any other streaming service out there — over 35 sports channels in their base package.
Since August 2020, FuboTV has included ESPN in its sports line-up. If you liked Fubo but missed ESPN before, you're in the clear to get a great streaming plan!
In a hurry? If you want to get ESPN quickly and don't want to dig into too much detail, these three streaming services are a great choice:
FuboTV: Over 100 channels including over 35 sports-specific networks like ESPN, Fox Sports, NBC Sports, NFL Network, beIN Sports, and TUDN. It is also one of the best options for regional sports networks. Try it with a 7 day free trial!
Hulu + Live TV: More than a dozen sports channels of which there are five ESPN channels as well as ESPN+.
DIRECTV STREAM: Several ESPN channels, including ESPN and ESPN2. Die-hard sports fans can get a huge bundle of sports channels with the Choice plan. Comes with a 5-day free trial.
ESPN on FuboTV
ESPN was unavailable on FuboTV because of pricing. The only way for FuboTV to add ESPN was to add a larger lineup of Disney-owned channels (see below).
ESPN Channels
FuboTV doesn't just offer ESPN. Its base (Pro) plan also includes ESPN2. It also includes ESPN3, but you must use the ESPN app with your FuboTV login. Those channels really do cover the bases and are the core of ESPN's programming.
If you want more, you have two add-on options: Fubo Extra or Sports Plus. Both include the college sports channel ESPNU, ESPNews, SEC Network, and ACC Network.
They differ as follows:
Fubo Extra ($7.99/mo): includes 44 general channels including the top sports league channels MLB Network, NBA TV, and NHL Network.
Sports Plus ($10.99/mo): includes 26 sports channels that go beyond the league channels to offer NFL RedZone, MLB StrikeZone, all the Pac-12 Network channels, and many more.
Other Channels
Along with ESPN, came a number of other additions to FuboTV from Disney. These included Disney Channel, Disney Junior, and Disney XD. Additionally, there were Freeform, FX, FXX, and National Geographic.
Perhaps best of all, ABC and ABC News Live were added. The addition of ABC completed FuboTV's local network affiliate coverage along with its support of CBS, Fox, and NBC.
But the addition of ESPN wasn't all good news. When the channel was added, FuboTV dropped its contract with Turner. This meant that subscribers lost access to Boomerang, Cartoon Network (Adult Swim), CNN, CNN Español, CNN International, HLN, TBS, TCM, TNT, and truTV.
However, from a sports fan's perspective (and probably even a general perspective), that was a good exchange, even if some of those stations will be missed.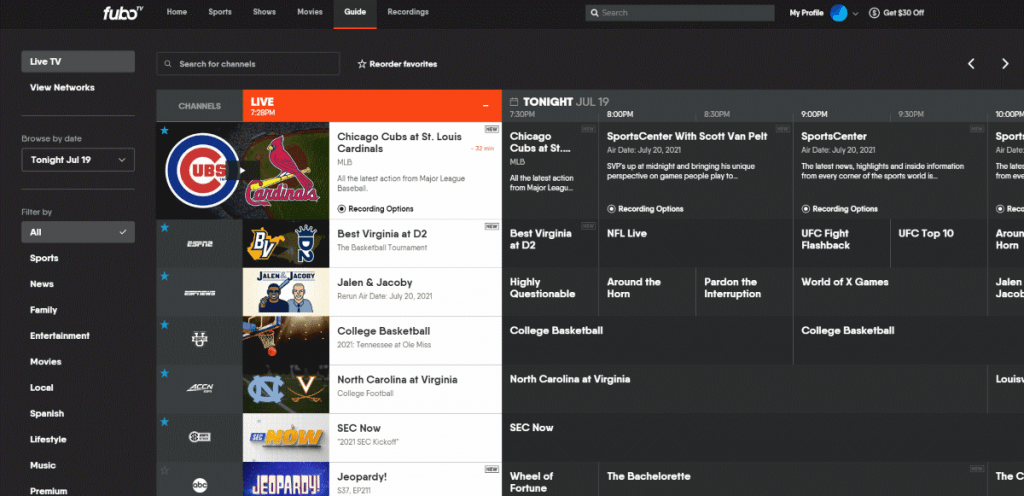 FuboTV Plans
FuboTV currently has 3 primary plans: Pro, Elite, and Latino.
| | | | |
| --- | --- | --- | --- |
| | Pro | Elite | Latino |
| Price/mo | $69.99 | $79.99 | $32.99 |
| Channels | 100+ | 170+ | 40 |
| Simultaneous Streams | 10 | 10 | 2 |
| Cloud DVR (hours) | 1,000 | 1,000 | 250 |
Pro Plan
The Pro plan comes with 100+ channels and includes ESPN, ESPN2, and ESPN3 (through the ESPN app). Of these, 35+ of the channels are sports-focused.
This plan comes with 1,000 hours of Cloud DVR and the ability to stream on up to 10 TVs or devices at one time at home and 2 away.
It's a good deal for $69.99/mo.
Elite Plan
The Elite plan is just the Pro plan with the inclusion of the Fubo Extra (44 channels) and News Plus (10 channels) add-ons. This plan offers ESPN, ESPN2, ESPN3 (through the ESPN app), ESPNews, ESPNU, ACC Network, and SEC Network.
Latino Quarterly Plan
The Latino Quarterly plan is just $32.99 per month for 40 channels. The catch is that you have to pay it quarterly ($98.97 every three months). Like FuboTV's other plans, it is sports-focused. But it only provides ESPN Deportes, which is more or less the Spanish-language ESPN.
TVs and Other Devices to Watch ESPN
Having access to ESPN wouldn't mean that much if you had to hunch over your computer to watch it. Luckily, FuboTV has done a great job of developing apps for different TVs and devices. It offers one of the very best viewing experiences in the industry.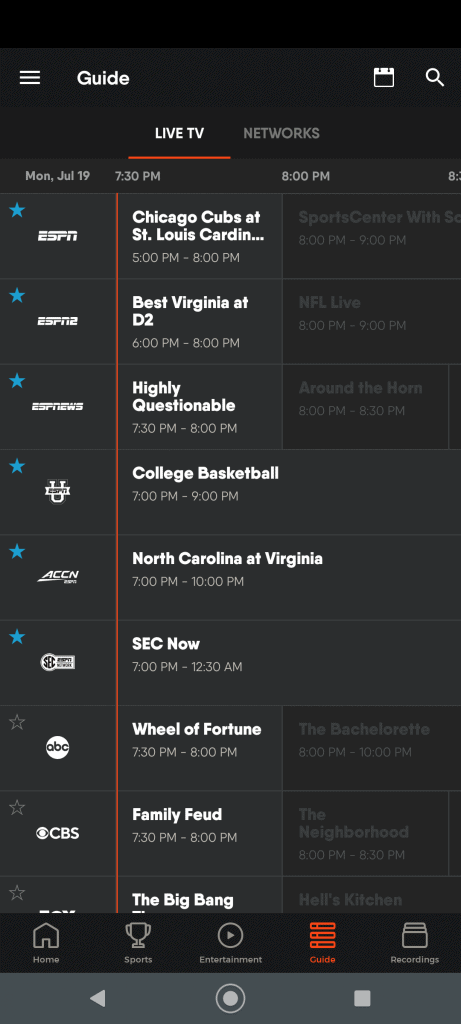 FuboTV provides support for the most popular smart TVs from Samsung, Hisense, and LG. They also support any smart TVs that run Android TV. And if you have a really old (or unusual) smart TV, you can still use Chromecast with it.
If you are one of the millions of people who use a TV streaming device, Fubo has you covered. They support Amazon Fire TV, Apple TV, and Roku. And you can stream directly using an Xbox One gaming console.
You can even stream on mobile devices running Android or iOS (iPhone, iPad).
Other Ways to Get ESPN
It's big news that FuboTV offers ESPN only because it was such an obvious hole in the channels offered by such a great sports-oriented streaming service.
Most streaming services start with ESPN. So it is widely available from other live TV streaming services.
Vidgo: This low-cost ($59.99/mo) service offers a good selection of channels — especially for college sports fans. They offer ESPN, ESPN2, ESPNews, ESPNU, and ESPN Deports as part of their 100+ channel lineup.
Hulu + Live TV: A full cable replacement service like FuboTV, Hulu offers 85+ channels with ESPN, ESPN2, ESPNews, ESPNU, and ESPN College Extra. ESPN+ and Disney+ are included for $69.99/mo.
Sling TV: With the Orange plan, you get ESPN, ESPN2, and ESPN3 plus almost 30 other channels for $35/mo — and even more with optional add-ons.
DIRECTV STREAM: Their base plan includes ESPN and ESPN2 but there are many options with higher-level plans including an unmatched selection of RSNs.
YouTube TV: Another full cable replacement service with ESPN, ESPN2, ESPNews, and ESPNU in its base plan.
Why ESPN Is a Big Deal for FuboTV
All streaming services need to balance the channels and other features they offer with the price their customers will pay. That's why low-cost services generally offer fewer channels. Before adding ESPN, FuboTV already offered a great channel lineup — especially for sports.
A big part of the problem was that Disney wouldn't (and won't) allow a service to carry just ESPN. It is estimated that adding ESPN and the associated Disney channels would raise package pricing by at least $16 a month. This price is what goes to Disney specifically and would not include any pricing to FuboTV.
According to FuboTV representatives, they were open to adding ESPN and the Disney bundle to available packages, if things changed. Eventually, FuboTV was able, through price increases across the industry and the elimination of other channels, to offer ESPN.
Wrapping Up
Even without ESPN, FuboTV is a fabulous streaming service — in general and for sports fans. The addition of ESPN only makes it more so. It especially helps in terms of games from NBA and MLB.
If you are a sports fan who's been thinking of cutting the cord, FuboTV offers a great option. Try it free for 7-days now!
FAQs
Why wasn't there a FuboTV ESPN add-on?
FuboTV could not provide an add-on for ESPN as a single channel option because that's not allowed. In order for FuboTV to offer any ESPN networks, they had to offer the bundle with Disney and other channels. As a younger, smaller company, FuboTV didn't have the funds to do that.
Is ESPN on FuboTV?
The main ESPN channels are now on FuboTV. ESPN, ESPN2, and ESPN3 (through TV Everywhere) are included with the base FuboTV plan. ESPNews, ESPNU, ESPN ACC Network, and ESPN SEC Network are available for as little as $7.99/mo for the Fubo Extra add-on or $10.99/mo for the Sports Plus add-on.
What's the cheapest way to get ESPN?
You can get ESPN, ESPN2, and ESPN3 as part of the Sling Orange plan for just $35.00/mo. This plan comes with other channels like AMC, BBC America, History, TBS, and TNT. For $11/mo more, you can get the Sports Extra add-on, which includes ESPNews, ESPNU, ESPN ACC Network, ESPN Longhorn Network, ESPN SEC Network, and several others.
How can I get ESPN with ESPN+?
ESPN+ is a great service. For $6.99/mo or $69.99/yr, you get a ton of sports coverage. However, this is not the same as ESPN. ESPN+ streams its own content. So if you want to get both the ESPN channels and ESPN+, your best bet is to sign up for Hulu + Live TV. It comes with 5 ESPN channels, ACC Network, SEC Network, and ESPN+ for $69.99/mo. That include 75+ other live channels and Disney+!
How can I get ESPN Deportes with FuboTV?
The Spanish-language ESPN Deportes is not included in any of the FuboTV English-language plans. It does come with the Latino Quarterly plan for $32.99/mo. Or you can add it to any of the plans with International Sports Plus ($6.99/mo) or Latino Plus ($19.99/mo). But with ESPN and ESPN2, you don't really need ESPN Deportes unless you specifically want Spanish commentary.
How can I get ESPN for free?
Other than signing up for a free trial with FuboTV or DIRECTV STREAM, you can't watch ESPN for free. It is a traditional "cable" channel, which means you need to get it from a provider. If it isn't from a cable or satellite company, your only way to get it is from a streaming service.
Ditch "Big Cable" Now – 3 Simple Steps to Cut the Cord
Pick the right streaming service
Get the content you deserve with the best VPN.
Supercharge your internet provider
That's it — you'll save money, take back control, and enjoy TV more!
Page Updates
▼
▲
More links. Image changes. Changed a few bits of content.

Updated some sub-sections. Additional links. Pricing updates.

Mentioned channel info. Updated some sub-sections. Added some more links. Pricing updates.

Added useful links. Reworded some things.
Latest posts by Frank Moraes
(see all)