KlowdTV is a live TV streaming service brought to you by the same folks who created One America News Network (OANN or more commonly simply OAN). It's a great service for people looking for conservative media but also Spanish-speaking viewers. Read on to learn all the details!
In a hurry? KlowdTV offers a large number of channels, which you can currently get for free. If it isn't quite right for you, Vidgo is a good alternative. Sling TV is great for Spanish speakers. And FuboTV is where sports fans out to look.
What Is KlowdTV
KlowdTV offers fewer live channels (at least, the major expensive ones) in favor of charging (a LOT) less than the full cable-replacement services. Its flagship channel is One America News (OAN), the conservative news channel known for being to the right of Fox News.
Normally, the only free content outside of a free 7-day trial is a overseas military-only subscription to just the OAN channel. However, due to the pandemic, KlowdTV is currently providing their entire base OAN plan (65 channels) free of charge (regularly $2.50/mo).
KlowdTV Plans
There are actually five plans listed on KlowdTV's website, but, as far as we can tell, the Free, OAN, and Worldwide plans are all identical in terms of channels. So we've just listed the Free and Premium plans below. As mentioned before, they also have a special, always free, one-channel plan for overseas military.
KlowdTV touts their service as "Worldwide," but always with the caveat that you should check the individual channels. We did, and found 11 out of 65 that are actually available outside the US. OAN, InfoWars, and AWE are among these, though.
KlowdTV channels include news, game shows, nature documentaries, sci-fi, classic movies, dogs, and so much more. The lineup is notably strong when it comes to conservative news, the great outdoors (hunting, fishing, horses), combat sports (boxing, wrestling, MMA), country music, and shopping.
OAN (currently Free)
This base plan is, as mentioned, 65 channels and regularly $2.50-4.50/mo. Here are a few of the channels included:
OAN Plus
AWE Plus
The First
InfoWars
Law & Crime
Buzzr
Nosey
QVC
Horse & Country
BilliardTV

Sightline
Hunt Channel
Unbeaten
NASA TV
Fantawild
Absolute Truth: Commentary
France24 Español
BeIN Sports Xtra En Español.
Premium
The Premium plan is $9.99/mo or $119.88/yr for 130 channels. You should be aware that 50 out of 70 of the channels that don't appear in the Free/OAN channel list are Stingray Music channels.
Some of the other channels reserved for Premium subscribers:
Sony Movie Channel
Nautical Channel
Fight Network
FNTSY Sports Network
TVG & TVG2
Horror Machine
General Features
KlowdTV doesn't have a full DVR system, but it does have what it calls "JumpBack" DVR. All live programs aired on KlowdTV are recorded and stored for two weeks. Users can watch any of these recordings by selecting past dates in the channel guide.
This service does not support the common TV Everywhere sign-in platform, which would enable you to watch content on a channel's website or app by signing in with your KlowdTV account. Most major streaming services do like Hulu + Live TV and Philo.
The service's website doesn't explicitly say how many users can stream KlowdTV on different devices through the same account, other than to say it's "limited."
Who is KlowdTV Good For?
KlowdTV isn't for everyone, but to certain niche viewers, it's a great value. It has a lot of hard-to-find channels, as well as ones you won't see on any other streaming service.
KlowdTV is particularly good for:
Conservative news-watchers: It would be hard to find a more concentrated source of viewpoints from the right.
Niche sports fans: If you're a fan of college sports, esports, fantasy sports, card games, or playing the odds, KlowdTV has you covered. Followers of MMA, boxing, and other combat sports will find at least a half-dozen channels dedicated to combatants trying to kick, punch, and KO each other.
Spanish-speakers: KlowdTV only has 3 Spanish language channels, but it is the cheapest place you can watch beIN Sports en Español, and one of the few places you can watch esports coverage in Spanish.
KlowdTV Alternatives
KlowdTV does have some competition, though, depending on what exactly you're looking for in a streaming service. If all you want is OAN, KlowdTV will work fine, but there is much more available.
Vidgo: Vidgo has OAN, Newsmax, Fox News, Fox Business, and i24, a pro-Israel channel for Middle Eastern news. Absolutely no MSNBC or CNN. Also has a lot more family content, kids programming, and even a few inspirational and religious networks. Also carries all the major NCAA channels. Service starts at $69.99/mo for 100+ channels. See our Vidgo review for details.
Sling TV: Also has Newsmax (though not OAN), plus the Heartland Extra which is packed with feel-good family content mixed with outdoorsy pursuits and real-life American heroes. Also has one of the best Latino plans around starting at just $10/mo. English-language packages start at $40.00/mo for 40+ channels. For more information, see our Sling TV review and Sling TV Latino review. And see our Sling TV Conservative News Guide.
DIRECTV STREAM: We'll be honest, this is the most expensive option. But it does carry OAN and Newsmax, plus AXS TV. And it has the other best Latino plan around. Tiers start at $74.99/mo for 75+ channels. For details, see our DIRECTV STREAM review.
FuboTV: If you are looking for international sports, this is the way to go. It provides well over 110 channels for $74.99/mo. For more information, see our FuboTV review.
Philo: Offers 65+ cable channels for just $25/mo. There's no local or sports but you get major cable TV channels like AMC, Comedy Central, Hallmark, Nickelodeon, and TV Land. Read our Philo review.
FreeCast: If you're just looking for an inexepensive TV provider with lots of variety, FreeCast might fit the bill, and for less than Klowd. It allows you to organize your other subscribed services — paid and free — into a single consolidated interface. It is $3.99/mo after free trial.
Frndly: So if you like the cut of Vidgo's jib, but not so much the price, this scaled down version has 20+ channels of nothing but Hallmark, inspiration from UPtv and others, documentaries on CuriosityStream, fishing, recipes, and more family-friendly, informative, wholesome-values entertainment. All that and on-demand too?! Plans start at :frndly-price:/mo.
TVs and Devices to Live Stream KlowdTV
KlowdTV supports most devices currently in use. Just install the (free) KlowdTV app from your device's app store. KlowdTV has them for the following streaming devices:
Amazon Fire TV
Amazon Fire Phone/Tablet
Android mobile devices
Android TV
Apple TV
iOS (iPhone, iPad, iPod Touch)
LG smart TVs
Roku
Samsung smart TVs.
You can also watch in most web browsers on Windows, Mac, and even Linux. Just go to KlowdTV.com. The major missing device is Chromecast. You also can't use any of the major gaming systems.
Summary
If you tend to watch only 3-5 channels, and at least one of those channels is OAN, The First, Newsmax, and/or InfoWars, you should just sign up now. KlowdTV was created for you!
For most people, though, this TV provider would be a supplemental one to a bigger service with more channels. Those folks may want to check out Philo ($25/mo) or Sling TV ($40.00/mo).
Ditch "Big Cable" Now – 3 Simple Steps to Cut the Cord
Pick the right streaming service
Get the content you deserve with the best VPN.
Supercharge your internet provider
That's it — you'll save money, take back control, and enjoy TV more!
Page Updates
▼
▲
Updated some section headings. Updated some sub-sections. Changes to formatting.

Added links. Reworded some things.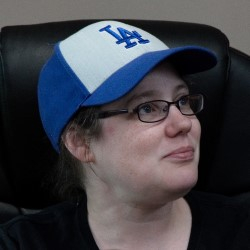 Latest posts by Alanna Baker
(see all)