Disclosure:
Your support helps keep our site running! We earn referral fees for some of the products & services we recommend.
Learn more
Netflix may have the most subscribers and may have a ton of popular original TV shows and movies, but that doesn't mean that the streaming leader is without criticism. Above all else, one of the biggest points of contention subscribers have had with Netflix lately has been the consistent string of price hikes over the last few years. And now, it seems that a growing percentage of US subscribers are finding the service has simply gotten too expensive.
We surveyed over 1,000 current US Netflix subscribers, and 1 in 4 said Netflix has gotten too expensive. That represents nearly 15 million customers who think Netflix has gotten too costly, and with an increase in competition in the streaming industry, it's a significant issue the company can't afford to ignore.
A Look at Netflix Price Increases Over the Years
The history of Netflix price hikes is a long and storied one. When Netflix first launched its streaming video service in 2007, it was bundled along with its home DVD rental service for just $8 a month. Remember getting DVDs in the mail in those red paper envelopes? For most of us, that seems like another lifetime ago now.
In 2014, Netflix began offering different tiers of streaming-only service, with its Basic plan remaining at $8, its Standard plan going up to $9, and its Premium plan reaching $12.
In 2015, Standard would go up another dollar to $10.
By 2017, Standard plans had reached $11 and Premium had hit $14.
Finally, earlier this year, Premium shot up to $16, Standard reached $13, and Basic finally increased for the first time up to $9.
If Netflix's price points had stayed consistent with inflation since 2014, Basic service would be $8.64.99, Standard would be $9.74, and Premium would cost just under $13. Of course, Netflix has had to drastically shift its strategy in recent years, dumping billions upon billions of dollars into developing its original TV series and movies, and those costs have to get passed on, in part, to consumers.
While a $1 or $2 price increase every couple of years doesn't seem like much, the reality is each subscriber has their own price threshold where the cost of the service exceeds its benefits.
Following those 2019 price hikes, a survey of Netflix subscribers found that 27% of subscribers said the raise in monthly price was enough for them to consider canceling their subscriptions. Of course, only a small percentage of that group probably actually canceled their service, but the fact still remains that if Netflix continues to get more expensive, it could reach a price point that finally drives subscribers away in droves.
Now, as Netflix is poised to face its stiffest competition ever as the long-awaited Disney+ is released later this year, we wanted to know how Netflix subscribers are currently feeling about the value they get from their subscription.
The Survey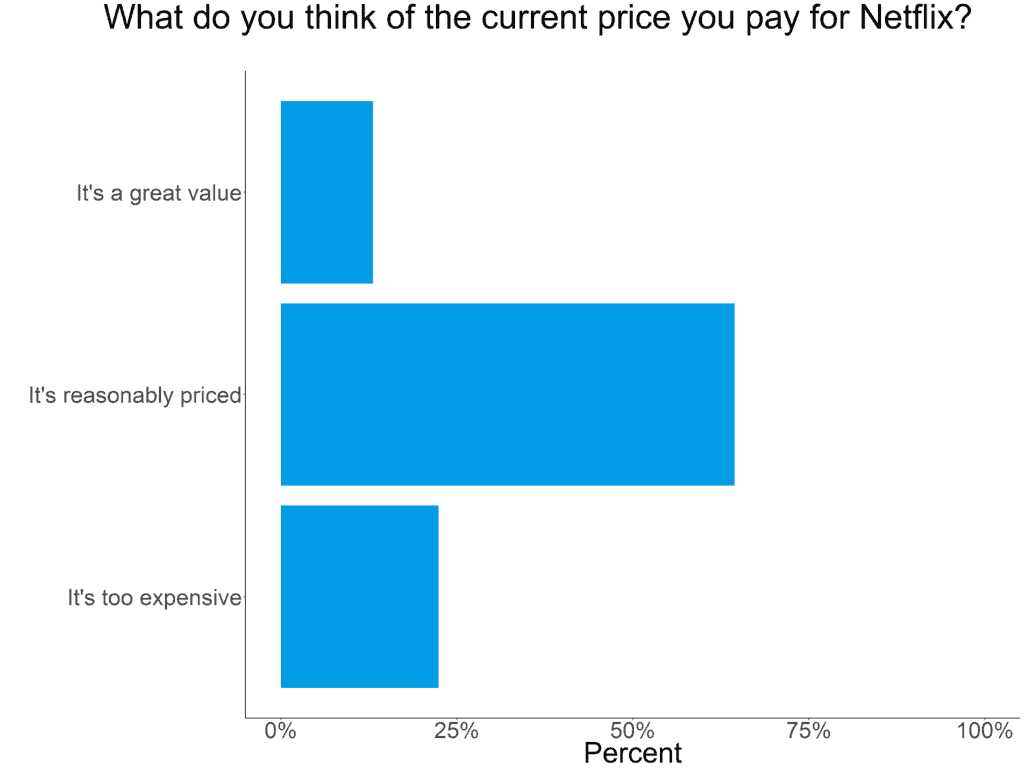 For this survey, we asked 1,004 current Netflix subscribers the following question: "What do you think of the current price you're paying for Netflix?" Below are the results we received from the respondents:
It's a great value: 14.3%
It's reasonably priced: 61.4%
It's too expensive: 24.3%
According to the results we found, the vast majority of Netflix users think the service is reasonably priced. Still, nearly 1 in 4 subscribers think the big red streaming giant has gotten too expensive. 24.3% of U.S. subscribers represents nearly 14.6 million customers, meaning as soon as a comparable, less expensive option appears, a large portion of Netflix's domestic consumer base could jump ship.
The streaming world is changing.  As studios, media conglomerates, and tech firms have all begin launching their own services, many streamers are now forced to juggle multiple subscriptions in order to have access to all of the content they want to watch. And when you're paying for a handful of streaming services, one that regularly increases in price eventually may not make the cut.
The content wars and constant price hikes now have some analysts wondering if the current streaming world has created an economic bubble. Will Netflix's price hikes be the needle that pops it?
Notes about our survey:
Our sample has an appropriate distribution across age categories for streaming video users and representative gender spread of 51% male and 49% female respondents. The fastest 4 % of the sample were removed before analysis to ensure data quality (as they may have sped through without paying attention) resulting in the final sample size of N= 1,004. Only Amazon Mechanical Turk workers with a 95% or higher approval rating were permitted to take the survey and only those with at least 50 past tasks completed.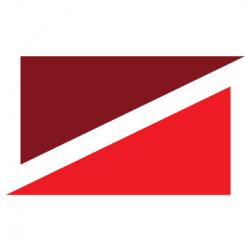 Latest posts by Helen Back
(see all)