From humble beginnings as a mail-order DVD rental service to a $100 billion entertainment business, Netflix has used daring moves to establish global dominance.
Here's the adventure-filled story of the rise of Netflix, told in facts, timelines and statistics.
Netflix in a Nutshell
Getting your bearings with Netflix is something of a challenge. The company's rise from a physical delivery service to a digital delivery service was stunning enough. But then they became one of the most important content creators in the world.
7 Surprising Facts About Netflix
We'll deal with this in detail below. But the following 7 facts about Netflix should orient you:
Five of Netflix's six most popular series ever were launched during the pandemic, according to Deadline magazine.
Annual revenue has grown from $1.3 million in its founding year (1998) to almost $25 billion in 2020, representing an increase of over 1.8 million percent.
It took 9 years for Netflix to break the $1 billion mark in annual revenue (in 2007). Since then annual revenue has grown to almost $25 billion (2020).
In 18 years, Netflix stock (NASDAQ: NFLX) has increased in value from $1 — when its IPO launched in 2002 — to over $500 per share, a surge of over 50,000%.
If you purchased at least $2,000 of Netflix stock in 2002's IPO, you'd be a millionaire now. Sounds like a great plotline for a Netflix show!
$6 billion: the amount that Netflix has lost to password sharers, according to analysts.
Since 2014, Netflix has increased its content spend by over 444% to $7.3 billion in 2020.
Key Netflix Milestones
To get an idea of how this all happened, here is a timeline of Netflix's notable accomplishments. As you can see, things happened fast at first. But after a while, they happened even faster.
| | |
| --- | --- |
| Year | Notable Accomplishment |
| 1998 | Netflix is founded by Reed Hastings and Marc Randolph as a DVD mail rental service competing with brick-and-mortar Blockbuster. |
| 2002 | The Netflix IPO launches at $1 a share under the NASDAQ symbol NFLX. |
| 2003 | Membership passes 1 million. |
| 2007 | Netflix introduces streaming services. |
| 2013 | The first Netflix original series are launched, with House of Cards, Orange Is the New Black, and Arrested Development. |
| 2014 | Netflix begins streaming in 4K Ultra HD. |
| 2015 | Netflix begins producing original films. |
| 2017 | Interactive programming launches and Netflix wins its first Emmy award for short documentary The White Helmets. The service now has 100 million subscribers. |
| 2018 | They win 117 Emmy nominations and take home 23 awards. Netflix won more nominations than the industry leader, HBO. |
| 2019 | Netflix wins 3 Academy Awards for Roma and and one for Period.End of Sentence. |
| 2020 | As the pandemic sweeps the globe, Netflix gains a record-breaking 37 million subscribers, shares of its stock increase by 64% to over $500 a share, and it receives more Academy Award nominations than any other studio. |
Netflix subscriber statistics
The company's subscriber base has grown from 456,000 in 2001 to almost 208 million as of April 2021. This is an increase of over 45,000%.
Let's take a closer look at the dynamics, starting with the most recent subscriber stats.
How Many Subscribers Does Netflix Have in 2021?
In April of 2021 Netflix reported 207.64 million global subscribers (paid) in 190 countries, representing a 13.6% year-over-year (YoY) growth.
The company added 4 million new subscribers during this quarter, but missed its new subscriber goal by 2 million. Netflix stock shares dipped on the news and Bloomberg's Ed Ludlow remarked "The COVID boost is gone."

By contrast, during the same period last year, Netflix gained 15.77 million new subscribers. Netflix called this pandemic-based demand the "COVID-19 pull-forward effect."
Does Amazon Prime Video Have More Subscribers Than Netflix?
No, Amazon Prime video does not have more subscribers than Netflix. Amazon Prime has approximately 200 million subscribers as of the end of April 2021. That's second place to Netflix's 208 million. But Prime includes many services, not just video. It's not clear how many Prime customers are actually using the service to stream video.
According to Ampere Analysis, approximately 54% of US Prime members use their Prime video app. (Source: CNBC, Netflix letter to shareholders, TheWrap)
How Many Paid Subscribers Did Netflix Gain in 2020?
Netflix gained a record 36.5 million new paid subscribers in 2020. A full 83.3% of these came from outside the US and Canada. The company ended Q4 of 2019 with 167.05 million paid subscribers. During the final quarter of 2020, Netflix passed the 200 million milestone, hitting a high of 203.66 million paid subscribers.
In the table below we've listed the growth in Netflix paid subscribers from Q1 2020 to Q1 2021:
Quarter/Year
Global streaming paid memberships
(in millions)
Net additions(in millions)
YoY% growth
Q1 2020
182.86
15.77
22.8%
Q2 2020
192.95
10.09
27.3%
Q3 2020
195.15
2.20
23.3%
Q4 2020
203.66
8.51
21.9%
Q1 2021
207.64
3.98
13.6%
Q2 2021 (projected)
208.64
1.00
8.1%
Table source: Netflix Q1 2021 letter to shareholders
How Did the Pandemic Impact Netflix Subscriber Growth?
As the pandemic spread, production of new shows was halted. Production is still on hold in India. (Asia represents the second-fastest-growing market for Netflix.) Lack of new shows for Q1 of 2021 contributed to slowed growth. Netflix expects this slowdown to be temporary and for growth to rebound in the latter half of 2021. (Source: Bloomberg, and Netflix's 2021 Q1 letter to shareholders)
The pandemic affected traditional TV programming as well, driving a 75% increase in repeats, according to Nielsen. As a result, more people opted for video streaming, benefitting Netflix and competitors. "Between December 2019 and December 2020, total minutes streamed directly to the TV glass . . . increased from 117.7 billion to 132 billion," Nielsen reported.
Netflix Subscribers by Region
As of the end of Q1 2021, the US and Canada represent 74.38 million paid subscribers. Europe, the Middle East, and Africa (EMEA) represent 68.51 million paid subscribers. Latin America (LATAM) is home to 37.80 million paid subscribers. And the Asia Pacific region (APAC) is home to 26.85 million paid subscribers.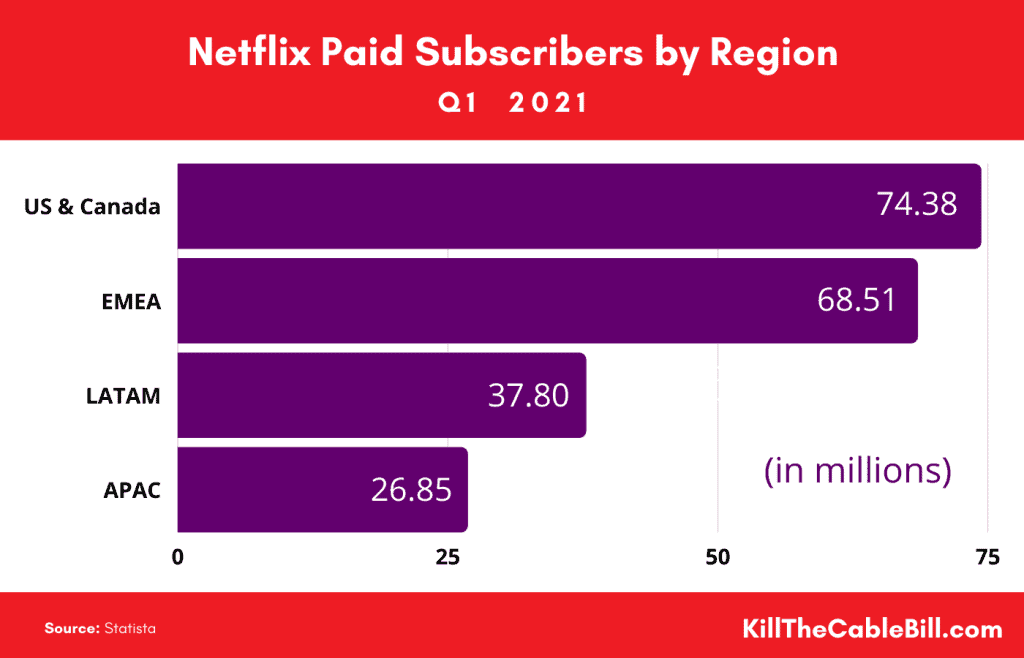 While the US and Canada is Netflix's largest market, Asia represents its fastest-growing market, according to Statista. "Netflix's subscriber base in APAC roughly doubled between early 2019 and the first quarter of 2021," reports Julia Howe, researcher at Statista.
The US and Canada currently account for over 35% of Netflix's total paid subscriber base.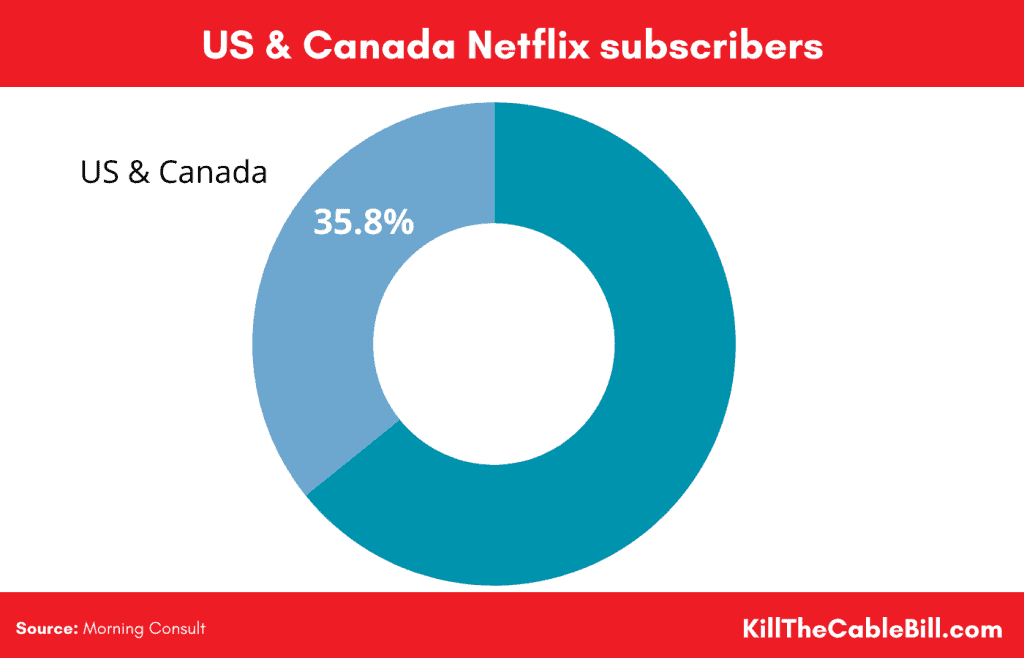 What is Netflix's market share?
Netflix's market share is over 50% with Amazon Prime video coming in second place with 12.2% and Disney+ at 6.0%. This is according to Parrot Analytics, which measured the global demand for original streaming series in Q1 of 2021.
It should be noted that it is difficult to accurately assess Netflix's market share, for multiple reasons, such as the prevalence of consumers who subscribe to more than one service and the company's bundling of US and Canada numbers together.
Demand Share for Original Streaming Content: Global
We've charted out global demand share per top streaming companies below, using data from Parrot Analytics and Bloomberg.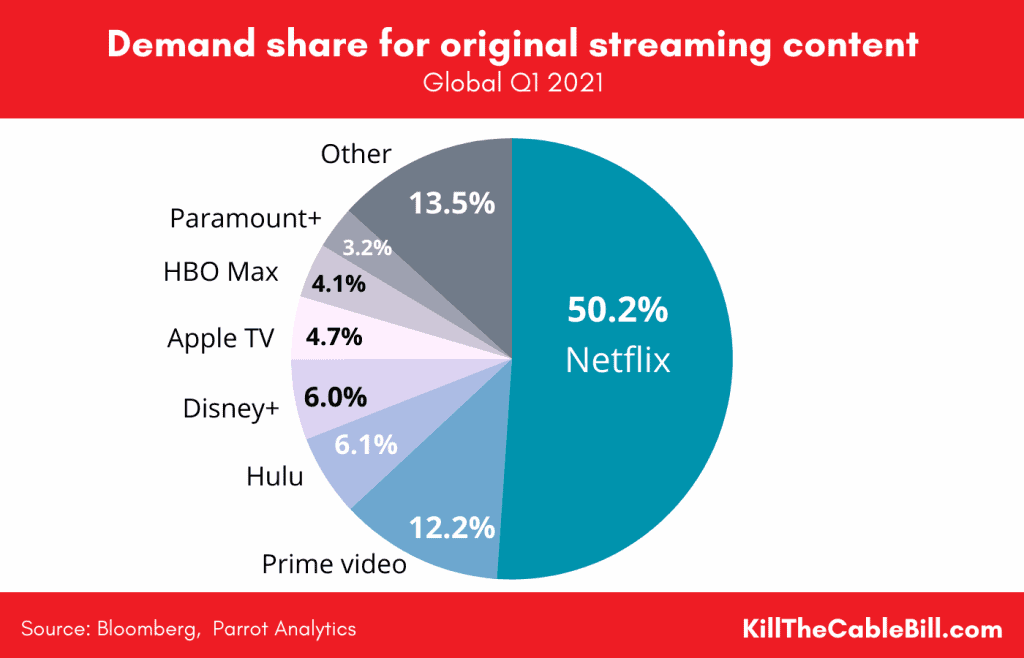 This chart from Statista based on a July/August survey shows percentages of respondents who used each leading streaming platform during the prior 12 months.

Netflix leads with 82% followed by Amazon Prime Video at 68%. Disney-owned Hulu comes in at 54% with Disney+ earning 46%.
Is Netflix Losing US Market Share?
Yes, with the advent of competitors like Apple TV+, HBO Max, and Disney+, Netflix is losing market share, while remaining the dominant player. Netflix currently accounts for 20% of the US streaming market. This is down from 29% representing a decline of 31% since 2020 according to Ampere Analysis. (Sources: Bloomberg, TheWrap)
Notable: Gaining Market Share in India
We mentioned earlier that the Asia Pacific is the fastest-growing region in terms of subscribers. During the pandemic, Netflix grew its market share to 20% of the Indian streaming market, nearly half of which is made up of local players.
Both Prime Video and Disney+ Hotstar gained more market share as well, capturing 20% and 17% of the market respectively.
What Is Disney+ Hotstar?
Hotstar is an Indian streaming service launched in 2015 by Star India. It became the dominant streaming platform in India as broadband expanded in the country. In 2019, Disney acquired 21st Century Fox, the owner of Hotstar.

Disney+ Hotstar "combines Disney's global streaming endeavor with Hotstar's Indian programming and cricket league broadcasting rights," explains analyst Katharina Buchholz.
Netflix US Subscriber Demographics
As the streaming wars heat up, one area that will be carefully watched is the demographic makeup of subscribers.
US Netflix Subscribers by Generation
Gen Z leads in US Netflix subscribers as measured by share of adults in 4 generations with a Netflix subscription. Boomers bring up the rear.
Netflix US market penetration by generation:
| | |
| --- | --- |
| Generation | Share of adults with a Netflix subscription |
| Gen Z | 70% |
| Millennials | 65% |
| Gen X | 54% |
| Boomers | 39% |
Source: Statista.
Gen Z makes up 18% of Netflix's total subscribers, per data from Morning Consult.
Millennials make up 33%
Gen X represent 26%
Baby boomers represent 22%.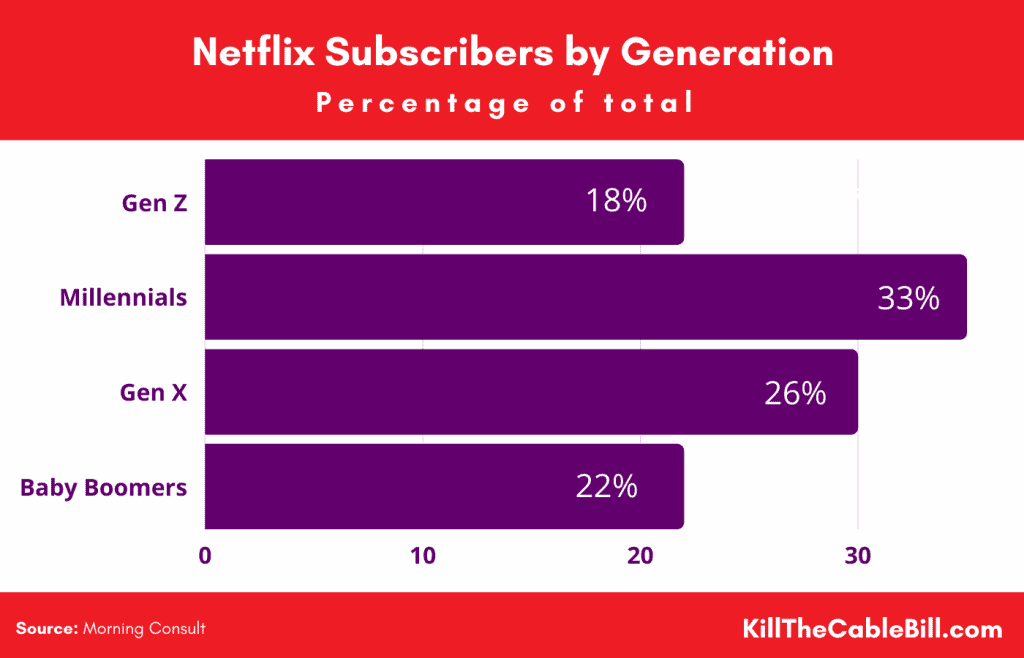 By contrast, 22% of Disney+ subscriptions are from Gen Z according to the same data set. That puts Disney+ in the lead for Gen Z subscribers. Showtime, Apple TV, and Hulu are tied with 17% of their subscriptions held by Gen Z.
Interestingly, Gen Z teens are most likely to cite YouTube as their favorite streaming service, according to a January 2020 survey by YPulse. Meanwhile, Millennials cite Netflix as their favorite platform.
When it comes to Millennials as a share of total subscribers, Discovery+ and Paramount+ lead, with this generation accounting for 52% and 45% respectively according to data from Morning Consult.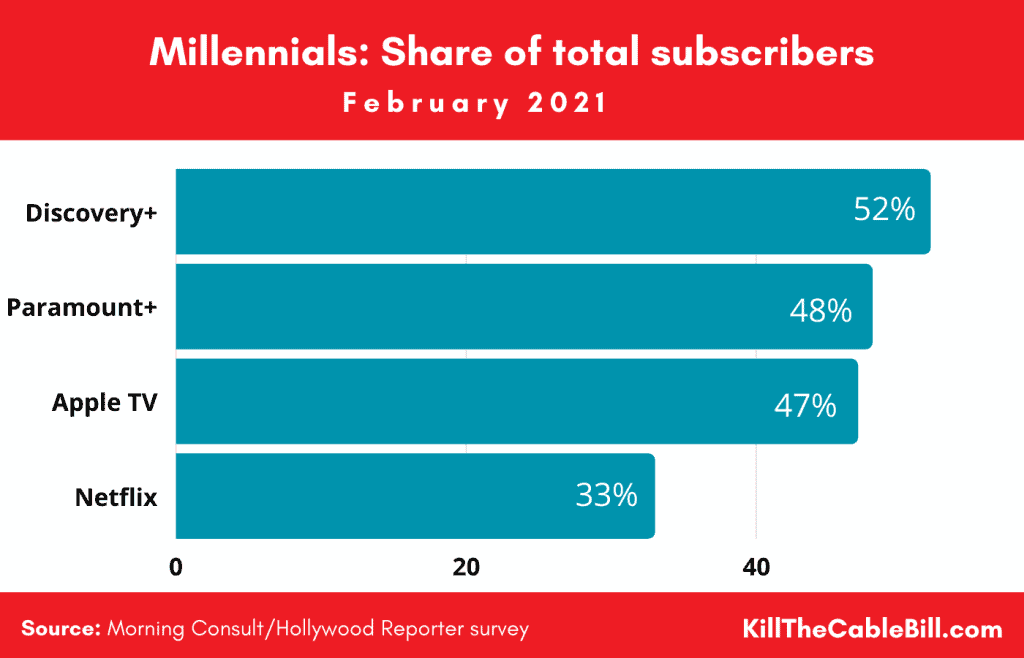 Keep in mind that market research has shown that Gen Z and Millennials often subscribe to more than one streaming service. The appearance of compelling new platforms can cause young adults to drop a service in order to pick up a new one.
Household Wealth
According to a February 2021 survey by Morning Consult, 19% of Netflix's subscriber base makes more than $100k per year.
Compared to other streaming services, Netflix came in at the bottom, tied with Hulu. Discovery+ and Apple TV came in at the top with 36% and 34% of their subscriber bases, respectively, made up of high earners. (Source: Morning Consult)
US Netflix Subscribers by Political Affiliation
Netflix subscribers by political party: 42% of Netflix subscribers are Democrats, 33% are independents, and 25% are Republicans, according to a survey by Morning Consult.

Among the major streamers, HBO Max and Discovery+ have the largest share of Democratic viewers, at 55% and 54% respectively. Amazon Prime scored the largest share of Republican viewers at 28%.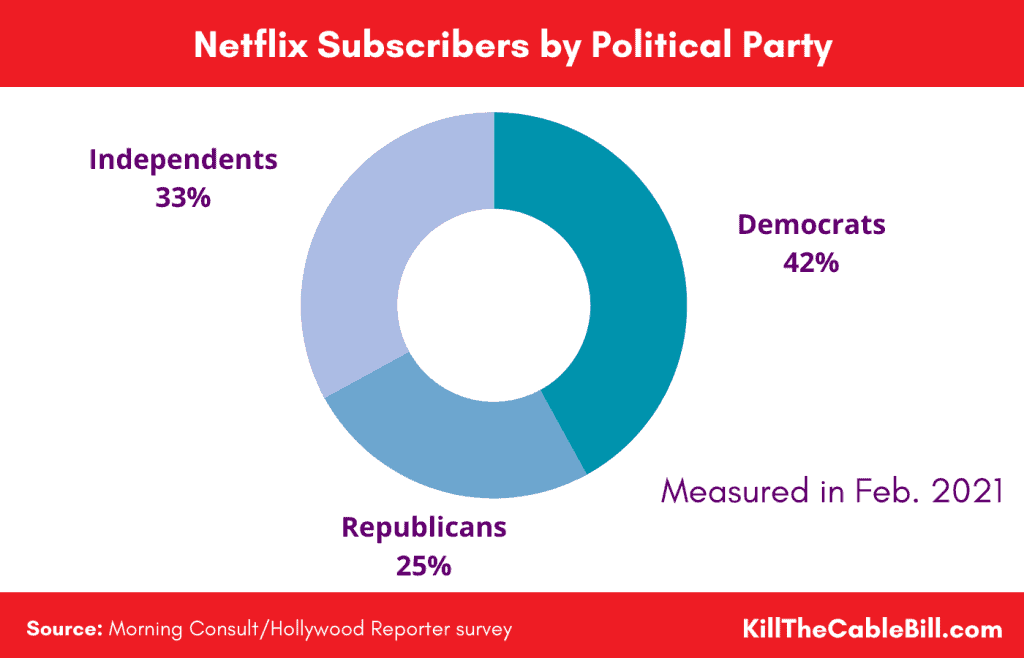 Netflix Subscription Prices
As part of its strategy, Netflix has spent billions ($17 billion in 2020 alone) to create compelling content. In October 2020, Netflix raised the prices for its Standard and Premium monthly memberships.
The Standard package was raised by $1 and the Premium, by $2.
The prices are for new subscribers. The company plans to make the new prices applicable to all members gradually.
Here are the current prices for Netflix subscriptions:
Basic
Standard
Premium
Per month price:
$8.99
$13.99
$17.99
Number of screens you can stream to simultaneously
1
2
4
Unlimited movies and TV shows
✓
✓
✓
HD included
✓
✓
Ultra HD uncluded
✓
How Many Subscribers Will Cancel Their Netflix Subscription Because of the Recent Price Hike?
Research by HotDog.com indicates that most Netflix subscribers will not cancel after the recent price increase, although a third are contemplating canceling. Netflix says that its competitors are offering "promotional" pricing that is temporary.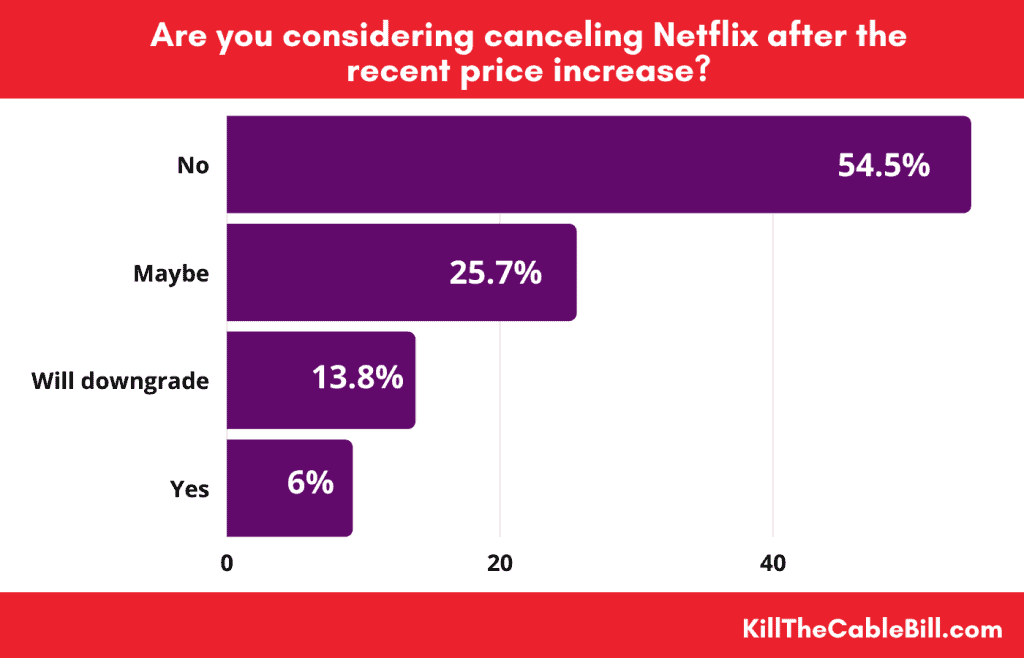 Here is the data from our survey. For information on the methodology used for this survey see our article.
| | | |
| --- | --- | --- |
| Response | Count | Percent of total surveyed |
| No, I don't plan on canceling | 547 | 54.5% |
| Maybe – I am considering canceling | 258 | 25.7% |
| I probably will downgrade to a lower subscription tier | 138 | 13.8% |
| Yes, I am definitely going to cancel soon | 60 | 6% |
History of Netflix Price Increases
Curious about previous Netflix price increases? This Statista chart lays out increases between 2014 – 2019, split by plan: Basic, Standard, or Premium.
The Basic plan has only gone up $1 in the past 6 years, an increase of 13%.
The Standard plan ($13.99/month today) has increased by 75% since 2014.
The Premium plan ($17.99/month today) has gone up 50% since 2014.
Netflix Subscriber Growth: 2016 – 2020
In 2015 Netflix entered a few European markets and added 11.4 million new international subscribers for a total of 57.4 million for the year. As data journalist Felix Richter noted, "Netflix's subscriber base grew much quicker outside the United States than it did within."
In the first week of the following year, 2016, Netflix announced it was available in 130 additional countries. By the end of the year, their international expansion had helped propel subscriber growth by 55%.
Between 2016 and 2020, Netflix more than doubled its subscriber total, representing an increase of 129%.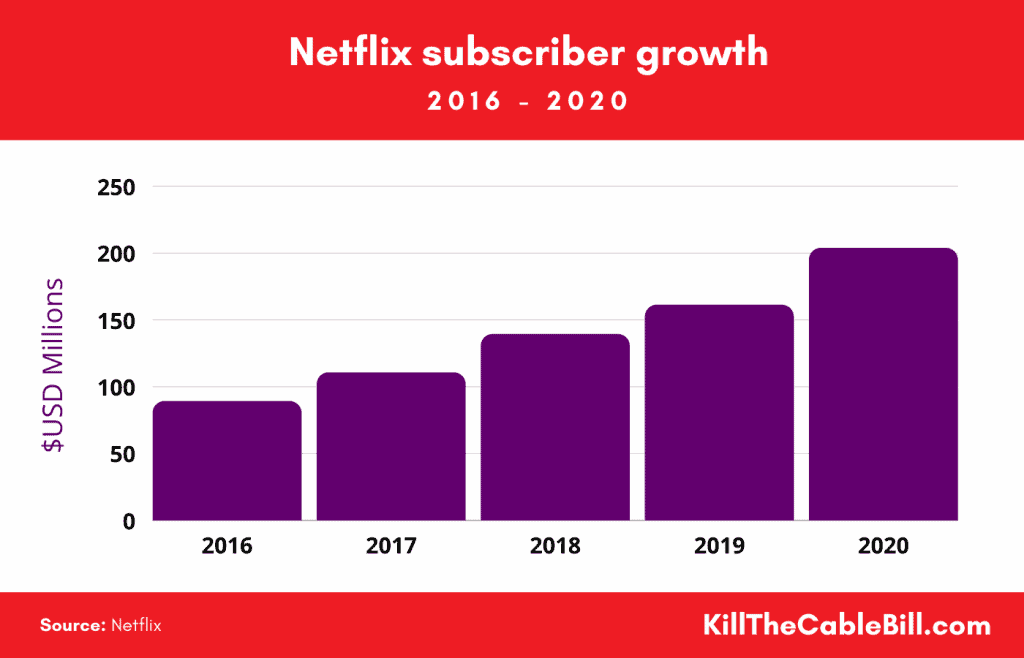 | | | |
| --- | --- | --- |
| Year | Paid subscribers in millions | YoY growth |
| 2016 | 89.1 | 55% |
| 2017 | 110.6 | 24% |
| 2018 | 139.3 | 26% |
| 2019 | 161.1 | 16% |
| 2020 | 203.7 | 26% |
Netflix Revenue: Exponential Growth Over Time
From its founding in 1998 to 2020, Netflix's annual revenue has grown from $1.3 million to $25 billion. This is an increase of over 1.8 million percent.
In this section we provide the most recent revenue report (from Q1 of 2021). And we document annual revenue from 2007 (the first year they hit $1 billion) to 2020.
Next, we cover the early years, from 1998-2006, when the streaming leader grew from just over $1 million a year in revenue to $997 million.
We also provide you with all the stats we used, in case you'd like to do some research of your own.
Netflix Q1 2021 Revenue
Netflix revenue for the first quarter of 2021 grew by 24% (YoY) to $7.16 billion. And average revenue per membership grew YoY by 5%. Operating income came in at $1.96 billion, higher than any quarter in 2020, and more than double the Q1 2020 figure of $958 million.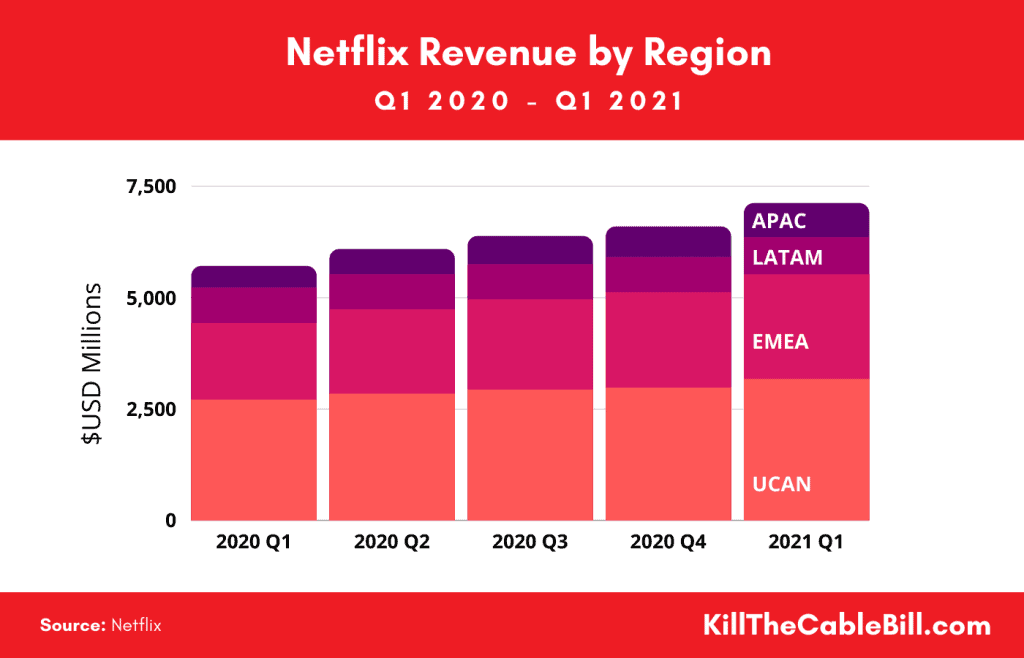 Below you'll find the revenue, by region, per quarter, denoted in millions.
| | | | | | |
| --- | --- | --- | --- | --- | --- |
| Region | Q1 2020 | Q2 2020 | Q3 2020 | Q4 2020 | Q1 2021 |
| UCAN | $2,703 | $2,840 | $2,933 | $2,980 | $3,171 |
| EMEA | $1,723 | $1,893 | $2,019 | $2,137 | $2,344 |
| LATAM | $793 | $785 | $789 | $789 | $837 |
| APAC | $484 | $569 | $635 | $685 | $762 |
Netflix Year-over-Year (YoY) Revenue Growth by Region
Below we've charted out the YoY revenue growth (by percentage) for each region: the US and Canada (UCAN), Europe, the Middle East, and Africa (EMEA), and the Asia Pacific region (APAC).
Note that we are using FX neutral numbers, as presented in Netflix's Q1 letter to shareholders.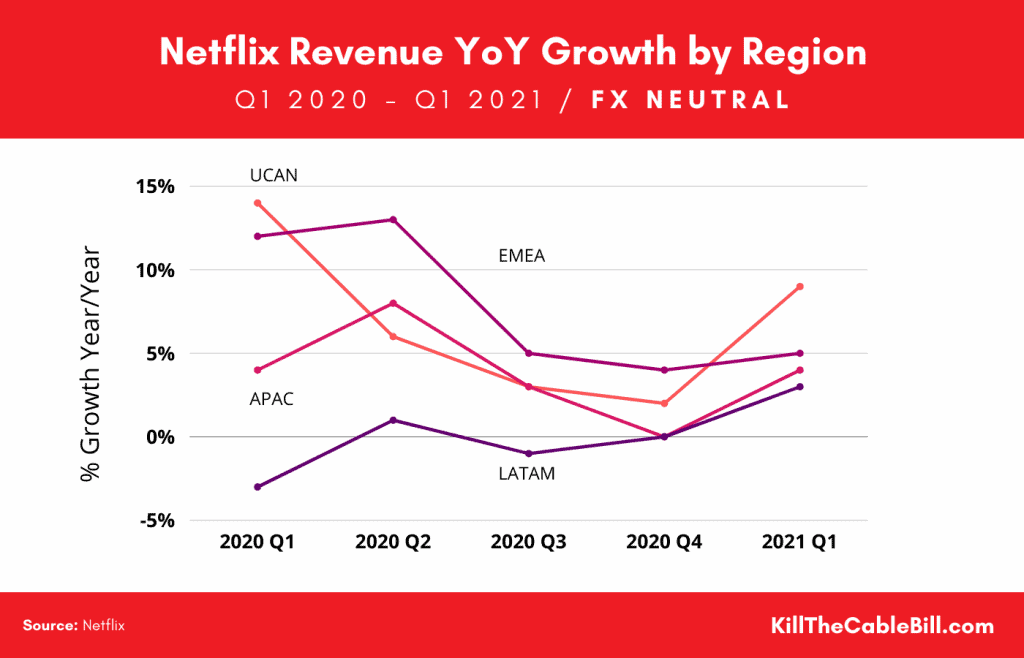 Here are the FX neutral, YoY percentage growth numbers for each region:
| | | | | | |
| --- | --- | --- | --- | --- | --- |
| Region | Q1 2020 | Q2 2020 | Q3 2020 | Q4 2020 | Q1 2021 |
| UCAN | 14% | 6% | 3% | 2% | 9% |
| EMEA | 4% | 8% | 3% | 0% | 4% |
| LATAM | 12% | 13% | 5% | 4% | 5% |
| APAC | -3% | 1% | -1% | 0% | 3% |
Netflix Annual Revenue 2007 – 2020
In 2007, Netflix earned over a billion in revenue for the first time. From 2007 to 2020, revenue increased by 1,974% to approximately $25 billion.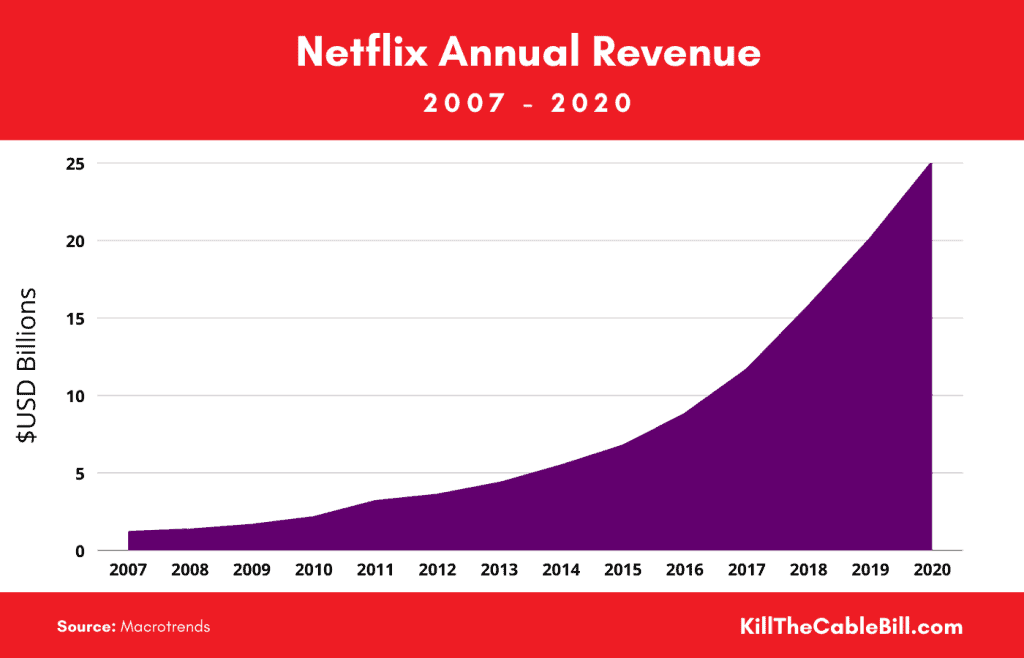 Here are the yearly revenue numbers for the 2007-2020 time frame, along with Year-over-Year (YoY) percentage increases:
| | | |
| --- | --- | --- |
| Year | Annual revenue (in billions) | YoY percentage increase (rounded) |
| 2007 | 1.205 | 21% |
| 2008 | 1.365 | 13% |
| 2009 | 1.670 | 22% |
| 2010 | 2.163 | 30% |
| 2011 | 3.205 | 48% |
| 2012 | 3.609 | 13% |
| 2013 | 4.375 | 21% |
| 2014 | 5.505 | 26% |
| 2015 | 6.780 | 23% |
| 2016 | 8.831 | 30% |
| 2017 | 11.693 | 32% |
| 2018 | 15.794 | 35% |
| 2019 | 20.156 | 28% |
| 2020 | 24.996 | 24% |
The Early Years: Netflix Annual Revenue 1998-2006
From its start in 1988, it took Netflix only 9 years to pass the $1 billion mark. During that time span annual revenue grew by 89,825%.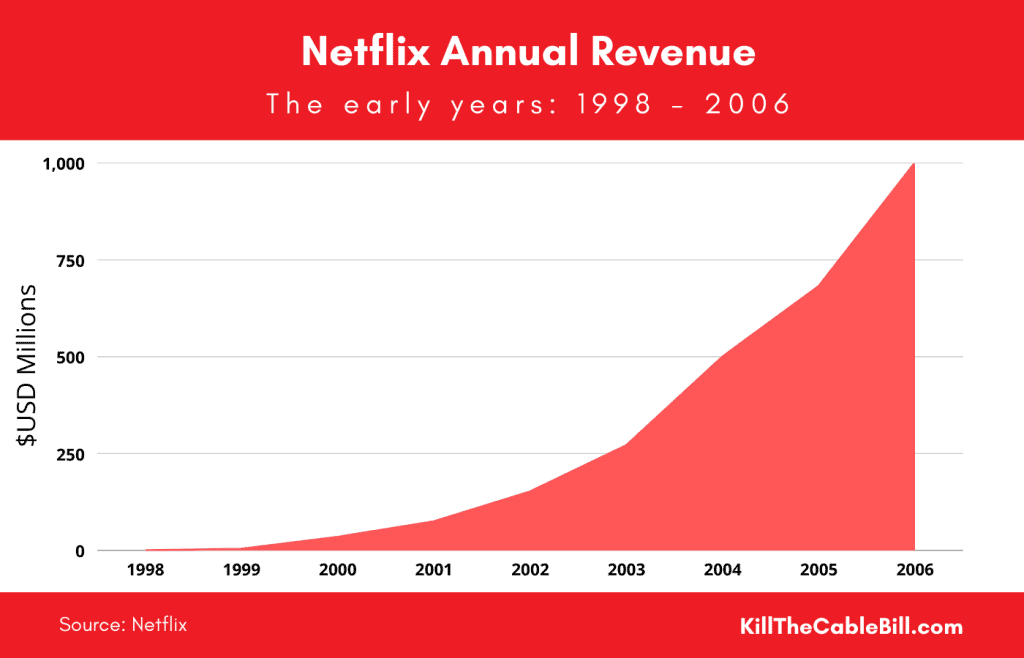 Below you'll find Netflix's annual revenue numbers from its founding in 1998 to 2006, along with Year-over-Year (YoY) percentages increases:
| | | |
| --- | --- | --- |
| Year | Annual revenue (in millions) | YoY percentage increase (rounded) |
| 1998 | $1.34 | — |
| 1999 | $5.04 | 276% |
| 2000 | $35.89 | 612% |
| 2001 | $75.91 | 111% |
| 2002 | $152.81 | 101% |
| 2003 | $272.24 | 78% |
| 2004 | $500.61 | 84% |
| 2005 | $682.21 | 36% |
| 2006 | $996.66 | 46% |
Does Netflix Earn More Than YouTube?
Yes, Netflix earns more than YouTube, but the latter appears to be on track to match Netflix revenue. The online video platform, owned by Google, earned over $6.01 billion in ad revenue in the first quarter, representing a growth of 49%, more than double the growth of Netflix.
However, Netflix loses an estimated 24% of its revenue to password sharing. If Netflix successfully addresses the password sharing problem, it may erase YouTube's comparative growth advantage. (Source: CNBC, Bloomberg)
How Much Revenue Does Netflix Lose From Password Sharing?
Netflix loses approximately $6 billion a year due to password sharing. This is according to estimates by Citibank analyst Jazon Bazinet. That equals approximately 24% of their 2020 annual revenue. Research from Parks Associates estimates revenue loss at over $9 billion.
And they expect that figure to pass $12.4 billion by 2024, according to Deadline.com. (Sources: Bloomberg, Deadline.com)
How Many Subscribers Share Their Netflix Password?
52.5% of Netflix users share their password with people outside their home, according to original research conducted by HotDog.com in October-November, 2020. This is 19.5% higher than a June 2020 estimate from Magid, which found that 33% share their Netflix password. (Sources: HotDog.com, Magid research cited by The Wall St Journal)
Our survey asked, "Have you shared your Netflix password with anyone outside your home?" Our findings show that subscribers are most likely to share their passwords with relatives outside their immediate family.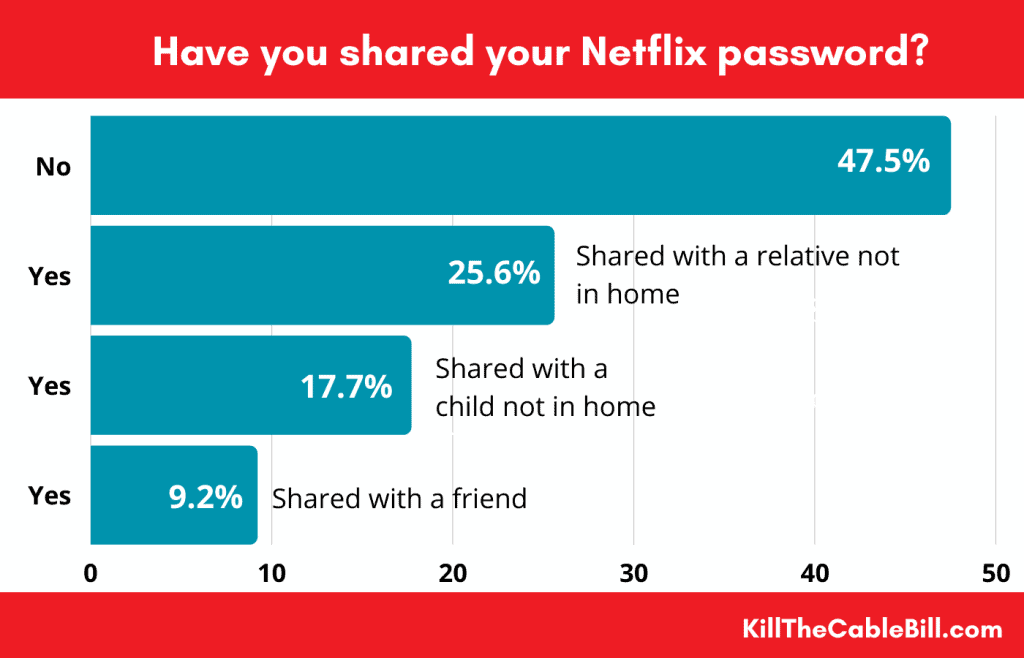 Is Netflix Cracking Down on Password Sharing?
According to media reports, Netflix is experimenting with pop-up warning messages targeting users that may be using shared accounts. The message reads: "If you don't live with the owner of this account, you need your own account to keep watching." (Source: WGN9, Chicago)
How Much Has Netflix's Stock Value Grown?
Since its IPO launch in 2002, Netflix stock (NASDAQ:NFLX) has soared from $1 per share to its current value of over $500 as of May 26, 2021. This represents an increase of over 50,000%. To put that in context, if you purchased $2,000 worth of NFLX stock at the IPO launch, you would be a millionaire today.
You can find an interactive chart for Netflix stock on Macrotrends.
Netflix Stock Performance After Disney+ Launch
The launch of Disney+ in November 2019 marked the entry of a serious competitor to Netflix. How has Netflix stock fared since then? Surprisingly it's gone up 87% while Disney stock rose by only 35%.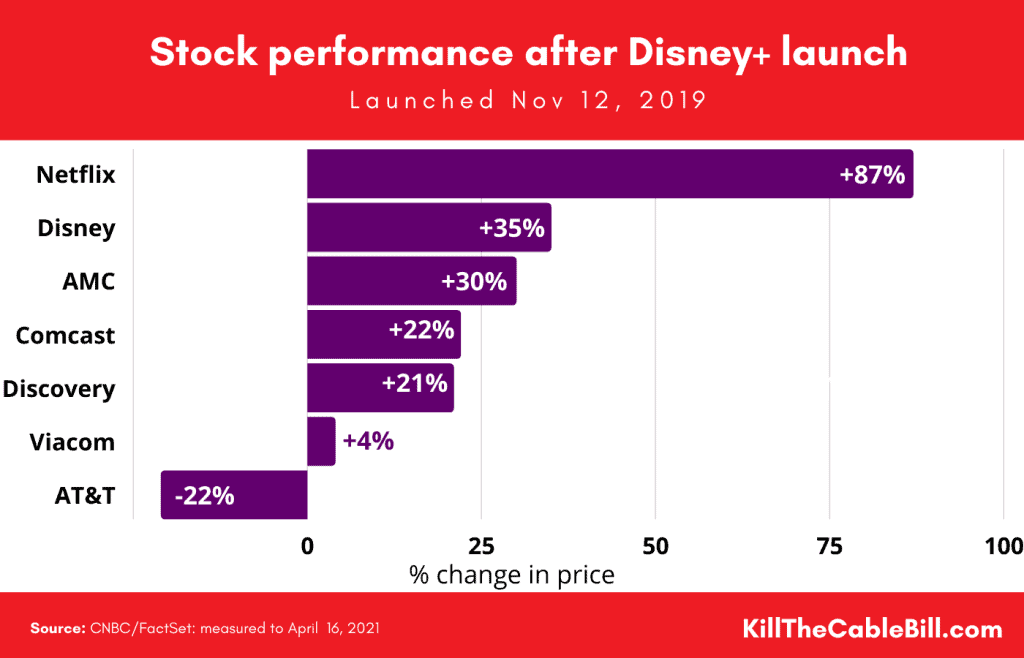 Content: Trends, Strategy, and High Points
In order to maintain viewership and prevent subscribers from hopping to other services, Netflix's content strategy is key.
In this section we discuss some amazing wins by Netflix, including the Oscars it recently won, along with insights from top industry analysts, fun facts, and new strategic moves.
Content Strategy
There are many factors driving Netflix strategy, including the need to maintain viewership and reduce churn across an international marketplace as more rivals come on the scene.
Netflix puts an emphasis on development of local content (sometimes referred to as "localized content") in order to attract its international base. It also invests in unscripted/low-cost content that can appeal to a large number of highly niched audience segments.

"We program across many genres because tastes are very diverse," Netflix explains. "Even for one person, what they desire will vary widely depending on their mood or who they are watching with. Another goal is to create great, locally authentic stories in countries all around the world." (Source: Netflix letter to shareholders)
Investing in Local Content
Digital TV Europe reports that 68% of Netflix's top titles in Japan are produced locally and the streaming giant is boosting investment in Spanish-language content.
Netflix needs to navigate subtle differences between markets as well: some prefer either local movies (as in India) or local TV series (as in the U.K.).

The same report quoted Tingting Li, an analyst at Ampere Analysis:
Although both Netflix and Amazon Prime are ramping up local content in international markets, it still represents the minority of their catalogues. In the majority of their markets, less than 10% of catalogues are locally-originated, and in some, government regulations, quotas and the impact of foreign OTT platforms are driving the trend to localization. Looking ahead at in-production titles for Netflix for example, over 50% of all new movies and series will be produced outside the US.
Meanwhile, analyst Christopher Hamilton of Parrot Analytics sees Disney taking a different strategy: "Disney+ has been dependent more on a global blockbuster like The Mandalorian while Netflix has developed a greater number of series that can be more targeted to specific market tastes." (Source: India MediaVataar citing Parrot Analytics)
Understanding how Netflix decides to cancel or renew popular shows provides insight into their content strategy.
How Does Netflix Decide to Cancel or Renew Popular Shows?
Why do some shows, even if they reach a high threshold of popularity, still get canceled? In May of 2021, Ampere Analysis released a video explaining the Netflix strategy by answering a series of questions.

As analyst Tingting Li shows, it depends on whether and to what degree the popularity is "regionalized" or "short-lived." Relative measurements come into play as well.
For example:
I Am Not Okay With This was ranked as a very popular show, she explains, as was Outer Banks. Both declined in popularity along the same rough timeline, but only Outer Banks was renewed. Why?
Outer Banks remained more popular over time.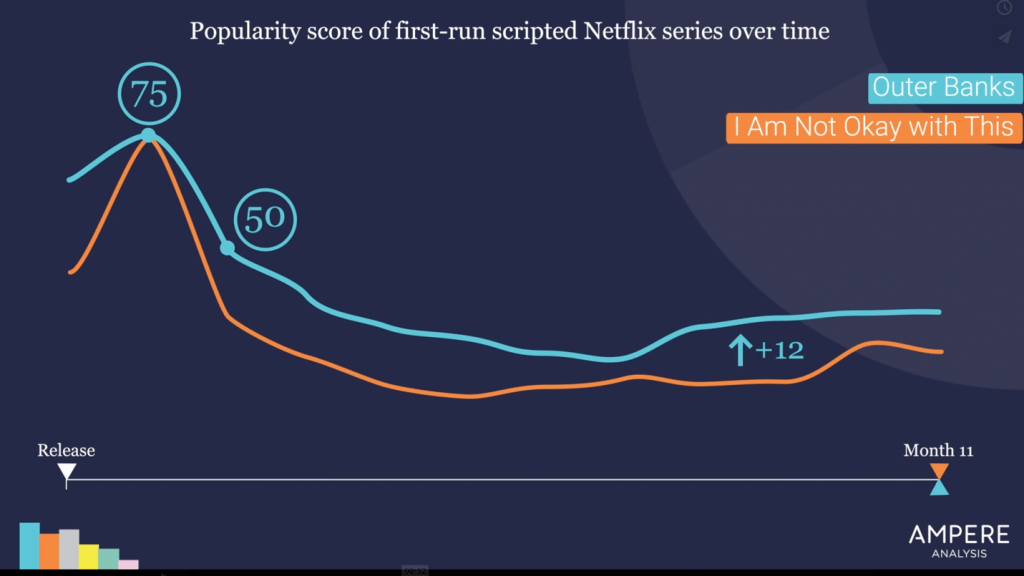 "Genre and budget matter"
More fascinating facts from Li's analysis:
Most unscripted shows are renewed even though they "rarely achieve a high popularity score." This is only partly due to the fact that unscripted shows are cheaper to produce. "Long-running franchises with smaller but invested fan bases are valuable," Li explains.
Among scripted shows, "Comedy" and "Children & Families" genres are the cheapest to produce so they require a lower popularity threshold to get renewed. "Crime and Thriller" and "Sci-fi/Fantasy" are among the most expensive.
New scripted shows are often more cost-effective to produce than renewals, Li notes.
(Source: Ampere Analysis)
The Netflix-Sony Deal
A recent deal inked with Sony is an important part of Netflix's content strategy. The deal gives Netflix first US streaming rights to Sony's theatrical releases from 2022 – 2026.
Here's a breakdown of Sony's new distribution flow for theatrical releases:
New releases premiere in theaters
A time window follows for DVD/VoD/Blu-ray distribution
Next: their streaming premiere is on Netflix (This is called the the "first pay-tv window")
Afterwards they move to Disney+ (or another platform owned by Disney).
Sony's upcoming releases that will have their streaming premiere on Netflix include the sequel to Spider-Man: Into the Spider-Verse, Mobius, Bullet Train, Escape Room 2, Masters of the Universe, Venom 3, Bad Boys 4, Jumanji 4, and Uncharted.

The deal is significant given the interest among streaming consumers in third-party theatrical releases.
Interestingly, Starz previously had this same deal with Sony. Losing the deal to Netflix will leave Starz searching for alternatives.
There's a content development aspect to the Sony deal as well. In the Q1 2021 Netflix earnings call, Co-CEO and Chief Content Officer Theodore A Sarandos explained:
[W]hat's really exciting about that deal is that we're going to be producing global original films from Sony's IP library in their development slate for Netflix. That's really an incredible opportunity, access to IP that we wouldn't otherwise have. And it's part — it's a big global programming strategy over the next 5 years.
What Does Netflix Spend on Content?
Netflix plans to spend "over $17 billion in cash on content this year." In December 2020 Dutch site Bankr used historical data to forecast a content spend of $19 billion. That forecast was republished in a number of leading American publications. That projection may turn out to be accurate. However, the most recent (April 2021) figure provided by Netflix is "over $17 billion."
Competitor Amazon spent $11 billion in 2020 and $7.4 billion in 2019. In 2021 Amazon is buying MGM Studios for $8.45 billion, acquiring a large content library in the process. (Source: Netflix 2021 Q1 letter to shareholders, CNBC)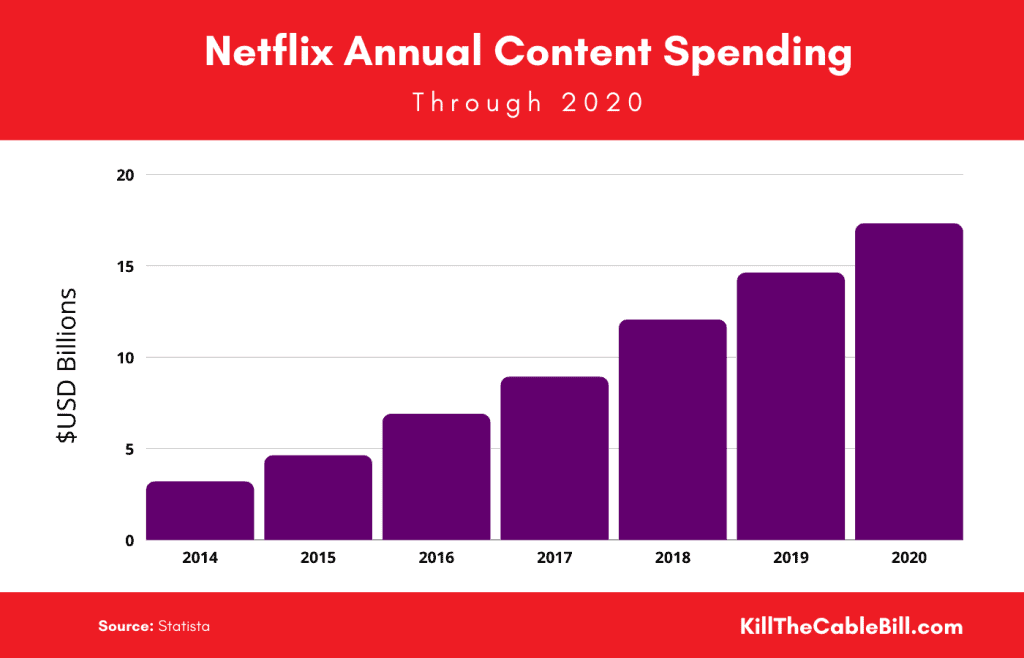 Here's a list of Netflix expenditures on content for each year from 2014-2020, including the percentage increase in spend each year:
| | | |
| --- | --- | --- |
| Year | Amount spent on content | YoY percentage increase in spend |
| 2014 | $3.18 billion | 26% |
| 2015 | $4.61 billion | 45% |
| 2016 | $6.88 billion | 39% |
| 2017 | $8.91 billion | 30% |
| 2018 | $12.04 billion | 35% |
| 2019 | $14.61 billion | 21% |
| 2020 | $17.3 billion | 18% |
How Did the COVID-19 Lockdowns Impact Netflix Video Streaming?
During the COVID-19 pandemic, average hours spent per day watching Netflix climbed from 2 hours in 2019 to 3.2 hours, an increase of 60%. In addition, TV production was halted leading to a 75% increase in repeat shows. This drove more people to choose streaming services like Netflix. (Source: HotDog.com, Nielsen)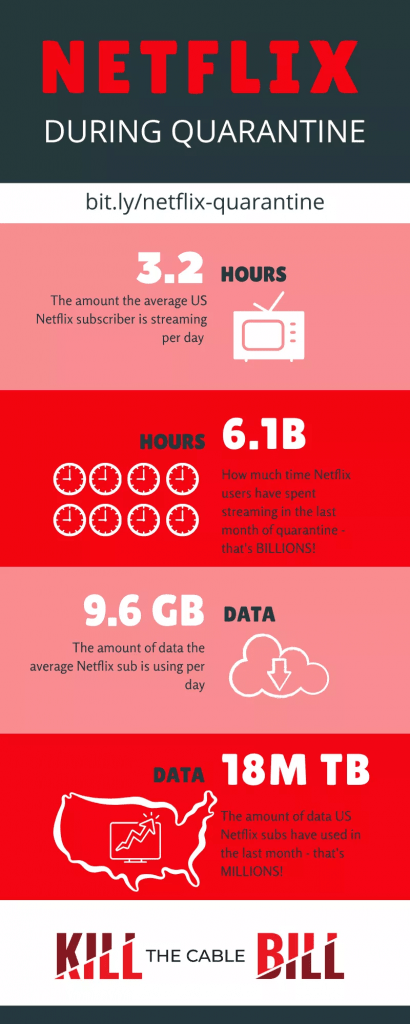 Most Popular Netflix Originals (All-Time)
Which Netflix originals are the most popular to date? Season 1 of Bridgerton and the French series Lupin ranked #1 for English and Non-English series, respectively. And Extraction ranked #1 for English movies.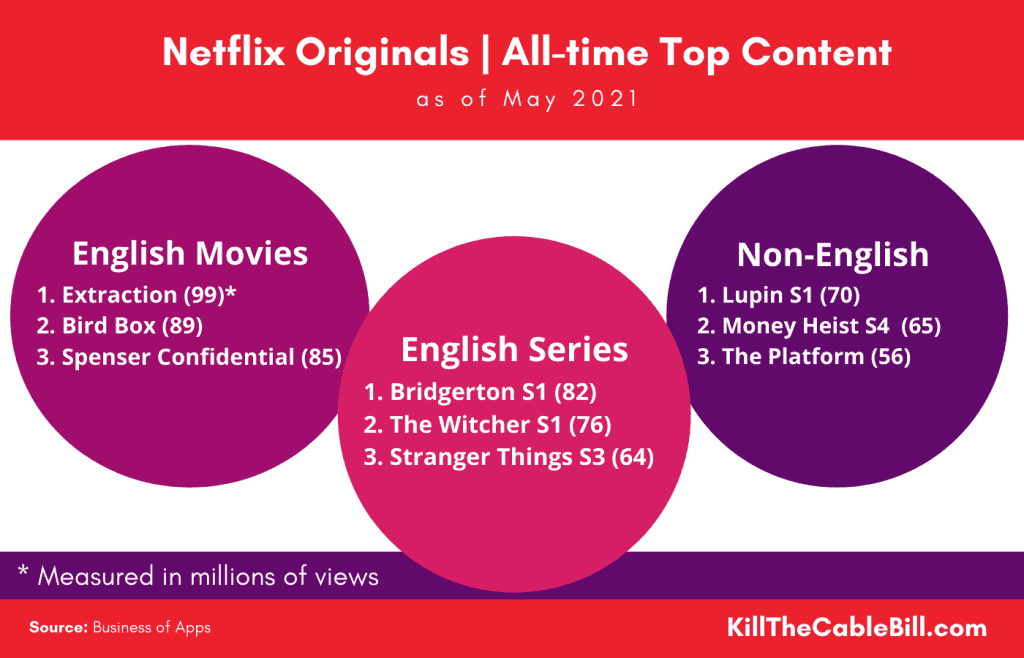 Top First Quarter 2021 Movies on Netflix
These movies were the top ranking features in the first quarter of 2021, according to Netflix.
| | |
| --- | --- |
| Title | Viewership |
| Outside the Wire | 66 million |
| YES DAY | 62 million |
| I Care a Lot | 56 million |
| To All the Boys I've Loved (last installment) | 51 million |
Netflix Hit Series Driving Growth
Netlflix's overall growth is also being driven by original series. As of the first quarter in 2021, here are some of the biggest hits:
| | |
| --- | --- |
| Title | Q1 viewership (in millions) |
| Bridgerton | 82 million (in its first 28 days) |
| Lupin | 76 million (in its first 28 days) |
| Fate: The Winx Saga | 57 million |
| Ginny & Georgia | 52 million |
| Firefly Lane | 49 million (in its first 28 days) |
| Cobra Kai (season 3) | 45 million |
Source: Netflix letter to shareholders, The Observer. Netflix counts two minutes of watch time as a view.

Propelling Book Sales: Lupin and Bridgerton
One of the interesting side effects of some hit series is that popularity can impact related book sales significantly.

The popularity of Lupin, a French series about the "gentleman burglar" Arsène Lupin, caused the original book series to top charts in France, de-throning JK Rowling. The character was created in 1905 by novelist Maurice Leblanc.

Interest in season one of Bridgerton, launched in December 2020, had caused Julia Quinn's books to "hit The New York Times bestseller list for the first time in 18 years" according to Netflix.
Gaming and Interactive
Game on! Given that 70% of Gen Z adults have a Netflix subscription, it's not surprising that gaming will increasingly become a focus of the company, according to a new report from Yahoo Finance. Look for more partnerships with gaming companies in 2021.

Netflix has already pioneered new territory with its interactive shows, such as Black Mirror: Bandersnatch (2018) and You vs. Wild (2019) that include audience participation. To date, Netflix has produced 13 interactive series.
This has led to an offshoot phenomenon: YouTubers creating videos showing how they interact with these gamified Netflix shows.

Here's a list of all interactive shows currently available on Netflix:
Black Mirror: Bandersnatch
Minecraft: Story Mode
Puss in Book: Trapped in an Epic Tale
The Last Kids on Earth: Happy Apocalypse to You
Animals on the Loose: A You vs. Wild Movie
Spirit Riding Free: Ride Along Adventure
The Boss Baby: Get That Baby!
Unbreakable Kimmy Schmidt: Kimmy vs. the Reverend
Carmen Sandiego: To Steal or Not to Steal
Captain Underpants Epic Choice-o-Rama
You vs. Wild
Stretch Armstrong: The Breakout
Buddy Thunderstruck: The Maybe Pile.
Top Stars and New Releases for 2021
Netflix anticipates "paid membership growth will re-accelerate in the second half of 2021 as we ramp into a very strong back half [of 2021] slate . . ."

That slate includes the return of popular hits like:
Sex Education
The Witcher
La Casa de Papel (aka Money Heist)
You.
Netflix is also rolling out more original films with top stars this year, including these films:
| | |
| --- | --- |
| Title | Starring |
| Red Notice | Gal Gadot, Dwayne Johnson, Ryan Reynolds |
| Don't Look Up | Leonardo DiCaprio, Jennifer Lawrence, Cate Blanchett, Timothée Chalamet, and Meryl Streep |
"We'll also have our most comprehensive offering to date of local language titles including Too Hot to Handle for Brazil and Mexico, a special based on our Korean hit franchise Kingdom, the action-thriller Dhamaka (India), as well as new seasons of Sintonia (Brazil) and Control Z (Mexico)."

Netflix letter to shareholders
Did Netflix Win Any Academy Awards in 2021?
Yes, on April 25, 2021, Netflix won 7 Oscars. Netflix had received 36 nominations for the Academy Awards, spanning 17 films, more than any other studio. However, Netflix did not win any of the so-called "Big Five" awards: Best Picture, Best Director, Best Actor, Best Actress, or Best Screenplay.
Here are the Oscars that Netflix won:
| | |
| --- | --- |
| Oscar Award | Film |
| Best hairstyling and makeup | Ma Rainey's Black Bottom |
| Best costume design | Ma Rainey's Black Bottom |
| Best documentary feature | My Octopus Teacher |
| Best live-action short | Two Distant Strangers |
| Best animated short | If Anything Happens I Love You |
| Best production design | Mank |
| Best cinematography | Mank |
Making History With Ma Rainey's Black Bottom
One of Netflix's biggest triumphs of 2020 was this film about legendary blues singer Ma Rainey. Produced by Denzel Washington and starring Viola Davis, the film won 5 Academy Award nominations and took home 2 Oscars.
One of those Oscars was for best hairstyling and makeup: the award went to Mia Neal, Jamika Wilson, and Sergio Lopez-Rivera. Neal and Wilson made history as the first black women to win an Oscar in this category.
The film also won 8 Critics Choice awards and 9 NAACP Image Awards. The American Film Institute named it one of the 10 best films of the year.
Netflix Scores on Social Media
Consumers rely heavily on social media to discover new streaming shows on all platforms, including Netflix. "Within seconds a consumer in the UK can be notified of a new TV show to watch by their friends in the US – even if it is a 'stealth release'," explains Parrot Analytics.
Netflix currently boasts over 75 million Facebook fans. According to Statista data from summer of 2020, the streaming leader ranked in the top 10 of product brands for total Facebook fans. This puts Netflix in the same league as Coca-Cola and McDonalds.
On Twitter, Netflix's posts mainly video tweets but their witty text-only tweets outperform, according to Unmetric.
Their video tweets often include announcements and behind-the-scenes fare. Netflix is also generous in re-tweeting engaging content from its audience too as well as fan-based spin-offs like Netflix Geeked.
Driving Changes in Advertising
Research by Nielsen shows how the growing popularity of SVoD (subscription video on demand) is causing TV advertisers to rethink their strategy.
Ad-free streaming can expose audiences to brands by integrating them with a character's actions. For example, Johnny from Netflix's Cobra Kai series drinks Coors Banquet beer. As Nielsen research reveals, more than 10% of Cobra Kai viewers watch no linear (scheduled) TV and more than a third watch very little. Netflix originals are seen as a way TV advertisers can reach new markets. (Source: Nielsen)
SVoD Content Libraries: Netflix vs. Competitors
Currently, Netflix's content library comes in second to Amazon's Prime Video library, which holds some 14,600 movies and 2,200 TV shows, according to December 2020 numbers from Statista.
By contrast, Netflix has approximately 3,500 movie titles and 2,000 TV shows. Yet, Netflix outpaces all of its other streaming rivals with Hulu coming in 3rd place, Disney+ in 5th place, and Apple TV+ showing a paltry 17 movies and 31 TV shows.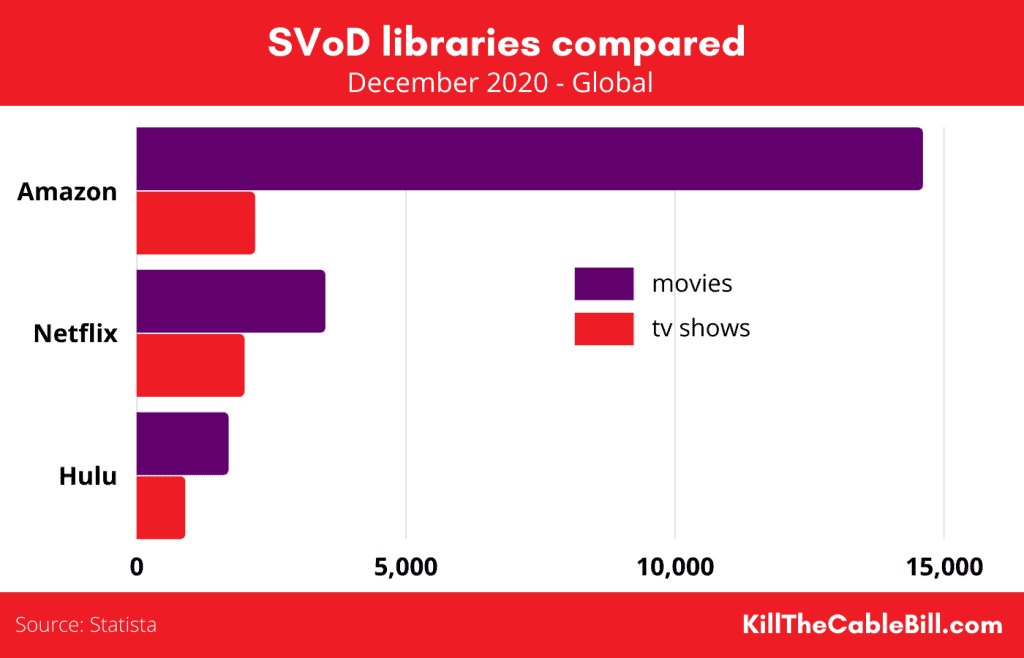 Here's the Statista data, with rounded numbers:
| | | | |
| --- | --- | --- | --- |
| | Total titles | Movies | TV shows |
| Amazon Prime Video | 16,800 | 14,600 | 2,200 |
| Netflix | 5,500 | 3,500 | 2,000 |
| Hulu | 2,600 | 900 | 1,700 |
| HBO Max | 2,300 | 1,800 | 500 |
| Peacock Premium | 1,300 | 1,000 | 300 |
| Disney+ | 900 | 700 | 200 |
| Apple TV+ | 48 | 17 | 31 |
2021 Deals Boost Amazon, HBO Max, and Discovery+ Content Libraries
Two new deals, announced in May 2021, are re-shaping the content libraries of competitors to Netflix.
Amazon announced it's buying MGM Studios for $8.45 billion, acquiring a large catalog in the process.
AT&T (which owns Warner Media and HBO Max) announced it's merging with Discovery (owner of Discovery+) to form "Warner Bros. Discovery."
The AT&T/Discover merger will generate a US content library larger than Netflix's or that of Hulu/Disney+. Discovery CEO David Zaslav told media the new entity expects to spend $20 billion per year on content with a goal of reaching 400 million households. (The merger will close in mid-2022).
Amazon's MGM deal will add 4,000 movies and 17,000 TV shows to the Prime Video library, more than doubling its size.
It appears Amazon will continue to dwarf its competitors in library size for the near-term future.
US SVoD Libraries Compared
Below we compare the current content SVoD( Subscription Video on Demand) libraries — for the US only — of top competitors using Q1 2021 data from Ampere Analysis. These numbers take into account the recent merger announcements discussed above.
(Note: As of June 2, 2021, the US Netflix library has grown to 7,200).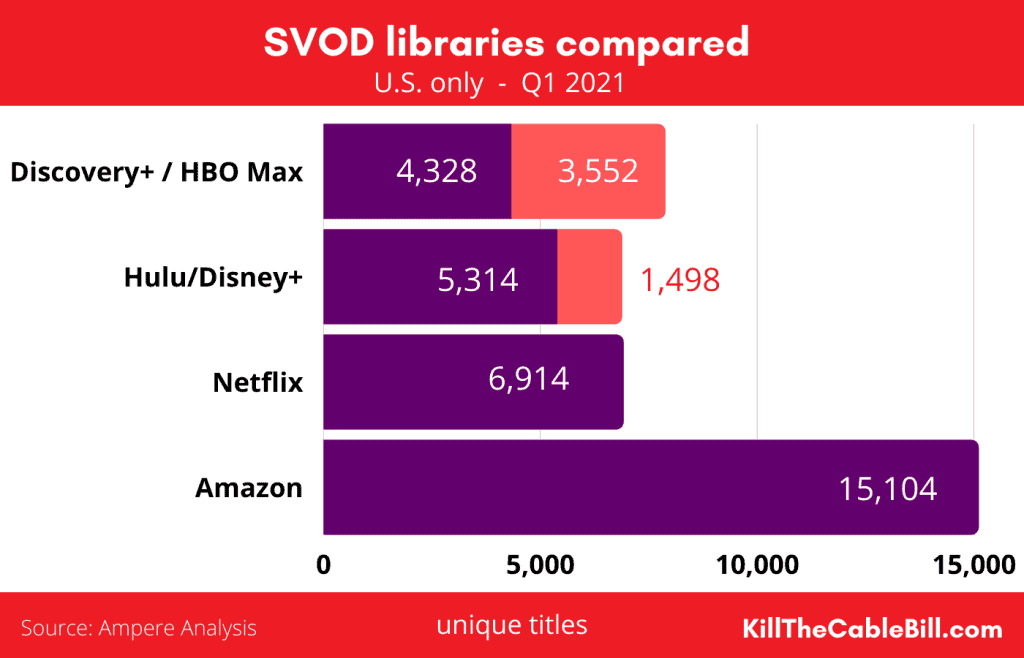 Top Netflix Shows for 2020
Wondering what the most popular Netflix shows were during 2020? Here are the top ten, as reported by Newsweek.
The Queen's Gambit
Emily in Paris
Lucifer
The Umbrella Academy
Money Heist
Dark Desire
Friends
The Crown
Ratched
Dark.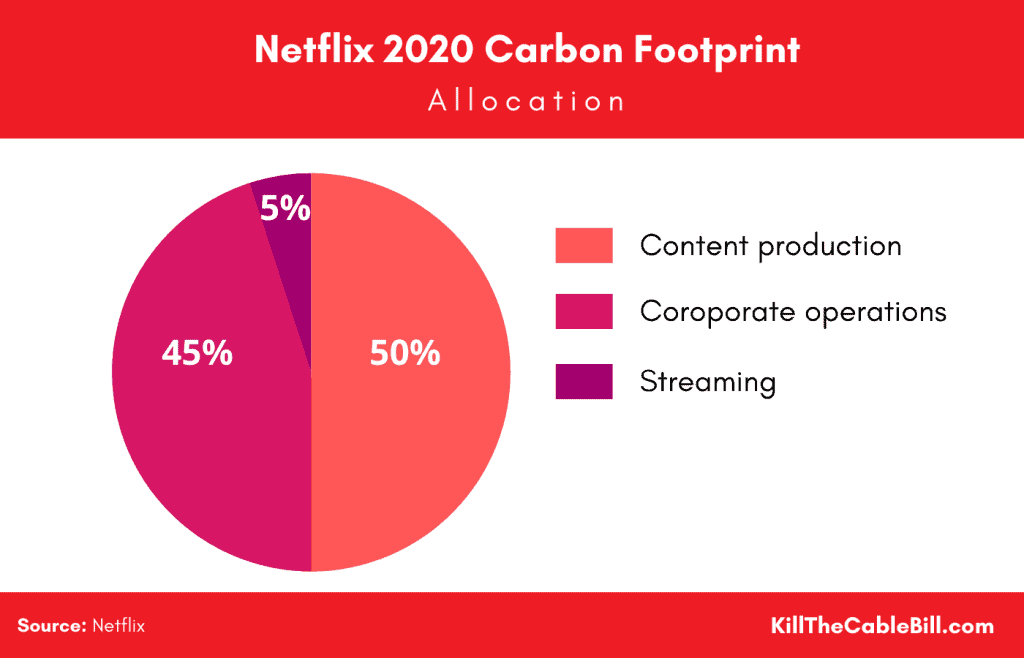 Environment and Diversity: Statistics and Goals
Netflix has ambitious goals in reducing its carbon footprint and increasing the diversity of its workforce. Corporate data show a commitment to transparency.
Net Zero by 2022
Netflix has pledged to achieve net zero greenhouse gas emissions by the end of 2022. And they've committed to maintaining that net zero standard after 2022.
Here are some key numbers associated with their plan and their focus on sustainability:
60: In creating their strategy, Netflix consulted with over 60 experts in the field including researchers at the Lawrence Berkeley National Laboratory.
9: The environmental experts making up Netflix's advisory board.
1.1 million: This is Netflix's carbon footprint, measured in metric tons. The company attributes around half of that to film production (including through third parties) and 45% to corporate operations and purchased goods. The company attributes 5% to cloud services they use. They validated their numbers through a tool called DIMPACT created by the University of Bristol.
4: The number of streaming hours that equal driving a gas-powered car for one mile, in terms of emissions generated.
100 million: The number of households that have watched the Netflix documentary series Our Planet, narrated by David Attenborough.
160 million: Households that viewed sustainability content produced by Netflix.
Diversity and Partnerships
Netflix puts a premium on diversity in the workforce and sponsors many in-house programs to support it.

Here are some snapshots of Netflix's diversity accomplishments.
Approximately half of Netflix's workforce are women. That includes management and senior leadership roles. Here's the percentage share that women represent in employee roles at Netflix:
All employees: 47.1%
Directors and above: 47.8%
Vice presidents: 43.7%
Senior leadership: 47.6%.
Underrepresented racial or ethnic groups account for 42% of leadership at Netflix and 46.4% of all employees, according to Netflix corporate data. These hires include blacks, Middle Eastern and indigenous persons, and Pacific islanders.
Black American employee hires have doubled over the past 3 years, and now represent 9% of Netflix's leadership and 8% of their workforce.
Netflix seeks to expand its diversity via partnerships with organizations like techqueria, Ghetto Film School, and TalentoTotal.
What does the Future hold for Netflix?
New technology developments in AI and blockchain as well as the spread of 5G will impact the streaming sector as a whole. Continued competition for market share coupled with strategic mergers will create a challenging environment for all players. Netflix sees continued expansion.
"Velocity of decision-making," has been a key factor in Netflix's success, said CFO Spencer Adam Neuman in the Q1 2021 earning call.
What Netflix sees from here, he explained, is a "big long runway of growth if we stay focused and keep getting better. "We're still less than 10% of TV view share even in our biggest markets," he added.
The potential was underscored in Netflix's recent letter to shareholders: "We are optimistic about the future and believe we are still in the early days of the adoption of internet entertainment, which should provide us with many years of growth ahead."
Ditch "Big Cable" Now – 3 Simple Steps to Cut the Cord
Pick the right streaming service
Get the content you deserve with the best VPN.
Supercharge your internet provider
That's it — you'll save money, take back control, and enjoy TV more!
Page Updates
▼
▲
Added a few links. Image changes. Various changes to content.

Pricing updates. Cross linking. Image changes.

Updated some sub-sections. Updated some section headings. Mentioned deals.

Added a few links. Misc changes.
Latest posts by Frank Moraes
(see all)