Satellite giant Sky launched its original online TV streaming service NOW TV in 2012, with movies only. It's come a long way since then, with live TV, movie channels, box set programs, and loads of sports. This year, NOW TV rebranded as simply NOW, with some changes to its service.
In a hurry? You can get NOW in Ireland starting at €15 per month after a very generous introductory deal. Check out NOW TV!
In a hurry? Skip the details and head straight over to NOW. You can choose from several packages and customize your plan based on what you want to watch for as little as £4.99 per month.
While owned by Sky, NOW is separate from Sky Go and Sky Q. NOW requires no satellite, no installation, and no contract. It's also cheaper than its more full-service brethren (Sky and Virgin satellite services).
However, NOW costs more than rival streamers Netflix, Amazon Prime, and Disney+. And while it has less overall content, it fills a niche of new episodes of various popular American programs.
NOW Memberships
Whereas NOW TV previously had content passes, today the service also offers memberships. NOW currently offers four Memberships: Entertainment, Cinema, Sports, and Hayu. There are no contracts and no commitments (like Sky Q's 18-months).
Each Membership is separate from the others, so you can subscribe to one or more, canceling and switching plans with every 30-day period.
With the exception of Hayu, each Membership has its own slate of channels and box sets. NOW Hayu only has box sets.
Entertainment Membership
Formerly the Entertainment Pass. The Entertainment Membership covers a variety of live TV and generic kids programming.
Live channels you can watch as an Entertainment Member:
Gold
Sky Atlantic
Sky Arts
Sky Comedy
Sky Crime
Sky Documentaries

Sky History
Sky Max
Sky Nature
Sky News
Sky Showcase
Sky Witness
SyFy.
Kid's channels included:
Some popular programs and kid's shows:
The Adventures of Paddington
Cartoon Network Climate Champions
COP26: In Your Hands
Curb Your Enthusiasm
Dan Brown's The Lost Symbol
Dexter: New Blood
FBI
Game of Thrones
Grey's Anatomy
Hope Works
LEGO Marvel Avengers
Obki
Ocean Rescue: Dive In and Do It!
Sex and the City
Succession
Wonder Raps.
Note that children's movies are part of the Cinema membership; these channels are almost exclusively on live TV.
Sky Atlantic is the only channel with premium American programs like Game of Thrones and Succession, and you can watch it only through Sky Q or NOW. Otherwise, you will have to wait for it to come to Netflix or Amazon, or for HBO Max to come to the UK.
NOW also provides programming from all these channels as catch-up content and box sets, except for Sky Showcase and Cartoonito.
Peacock, Milkshake!, CBeebies, and CBBC all have box sets available to watch, but no live channels. Peacock's US shows and movies include:
Saved by the Bell (2020)
House
Saturday Night Live
Heroes
United 93
Tower Heist
The Entertainment Membership has a seven-day free trial and is £9.99/mo thereafter.
Cinema Membership
NOW's Cinema Membership offers over 1000 films from Sky Cinema, featuring a new film premiere every day. It's a great way to keep up with the latest Hollywood blockbusters months before Netflix or Amazon get them.

The channels included in a Cinema Membership are:
Action
Animation
Comedy
Drama
Sci-Fi Horror

Select
Thriller.
Note that Drama is renamed "Christmas" during the holiday season and Select is "Best of" at the end of the year (currently "Best of 2021").
Recently-added blockbusters are:
Mortal Kombat
The Matrix Franchise
Those Who Wish Me Dead
Trending titles include:
Zack Snyder's Justice League
Unknown
Bridesmaids
La La Land
Jurassic World
Cinema Memberships cost £9.99/mo, after a seven-day free trial.
Hayu Membership
Hayu is focused exclusively on all types of reality TV from the salacious to the sagacious. It claims over 8000 episodes; both full box sets of classics and the latest episodes available the same day as in the US.
From Real Housewives to Below Deck, home improvement, and real estate to true crime and unsolved mysteries, it's all the celebrity lifestyle and workplace drama you can handle.
Beyond keeping up with the Kardashians, Hayu has tons of guilty pleasures, like:
The Real Housewives of Salt Lake City
The Real Housewives Ultimate Girls' Trip
The Real Housewives of Potomac
Below Deck
The Real Housewives of Melbourne
Vanderpump Rules
Project Runway
The Bachelorette
Siwa's Dance Pop Revolution
Winter House
Million Dollar Listing Los Angeles.
Hayu has no live channels, it's only on-demand. Membership is £4.99/mo after a 7-day free trial.
NOW Sports Membership
Sports Membership brings you the best of Sky Sports via a flexible structure.
You get access to Premier League games, Sky Bet EFL Championship (including the Carabao Cup quarter-final), League One, SPFL (including the Scottish Premiership), Bundesliga, American MLS League, and much more.
EFL matches and F1 Race Control offer Bonus Streams, extra channels that provide additional content. Your mobile app also has a convenient button to add an event to your calendar.
NOW Sports Members get these live channels:
News

Premier League
Racing.
Main Event includes live Premier League football plus international qualifiers and the biggest live events from other channels. Action includes NFL for the duration of the American football season.
Members can also access 1300+ hours of on-demand sports content. This includes match highlights, documentaries, and more.
Membership does not include pay-per-view events such as boxing matches. Those are available through Sky Sports Box Office.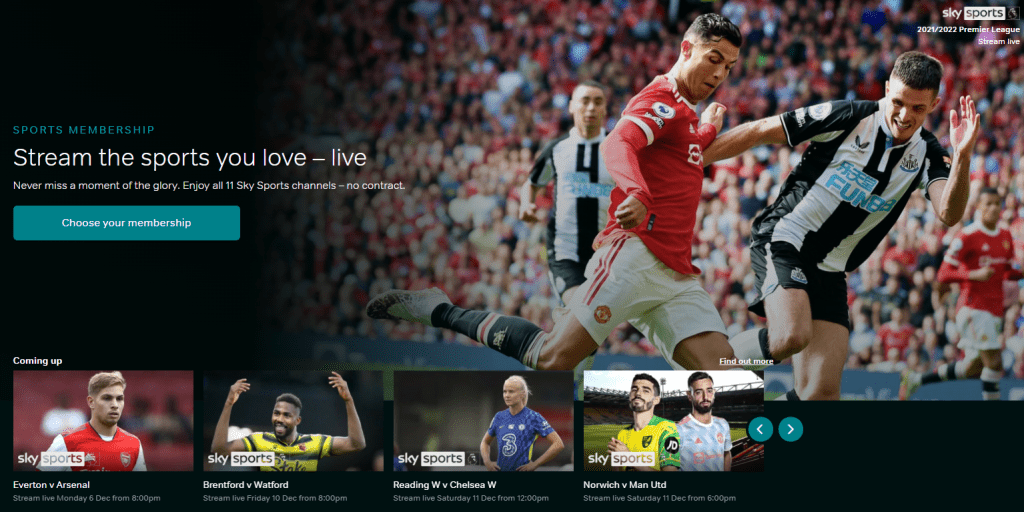 NOW Sports Price
Day Memberships, good for 24 hours, are £9.99 one-off, no automatic renewal. Monthly Memberships are £33.99/mo (and do automatically renew).
There's no 7-day free trial like the other Memberships, but you can try out a Day Membership before you splash out for a full month. Bonus Streams are only available to Sports Month Members.
If you order a Sports Day Membership for £9.99, you can get a Mobile Month Membership for 8 months, free
Note that you only get 5 available channels on your smartphone with this one.
NOW Broadband
You can also get your broadband internet service through NOW although you don't need to do so in order to get NOW's TV service. But NOW Broadband is one of the most reasonably-priced services on the market today, so it's worth considering.
It works off a similar principle as the TV streaming service: no contract, pay as you go, cancel anytime. However, unlike the TV service, there's a trade-off: if you choose to proceed with no contract, there's a £60 set-up fee.
That fee is completely waived with the "Saver" option, but you're locked into a 12-month contract (with penalties for early cancellation). However, this is still shorter than most other services' 18-month contracts.
Note that a £5 delivery fee for the router applies to all broadband plans.
NOW Broadband Packages
NOW Broadband features 3 unlimited bandwidth data speeds plans:
Brilliant Broadband (average speed 11Mbps) — £25 a month
Fab Fibre (average speed 36Mbps) — £32 a month
Super Fibre (average speed 63Mbps) — £35 a month.
All prices include line rental.
NOW also has your landline covered with three calling plans:
Pay as you call — no monthly charge
Evening (7pm – 7am weekdays) and weekend calls (all day Saturday & Sunday) — £4 a month
Anytime calls — £8 a month for unlimited calls within the UK to either landline or mobile numbers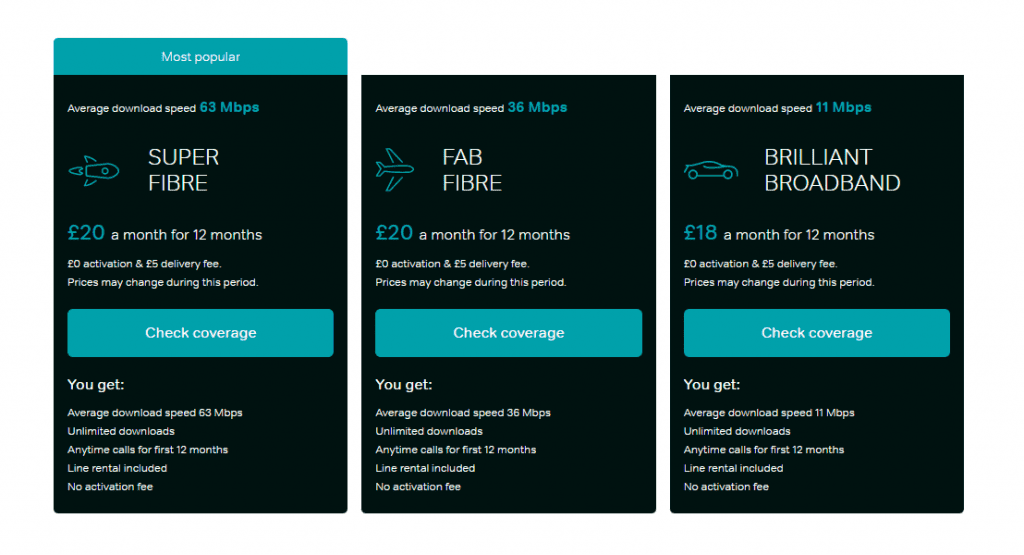 Caller display and a few other features are included at no extra charge. NOW promises "easy switching." If you're currently with BT, TalkTalk, EE, or Plusnet, they will spare you the hassle of dealing with your current provider and do it for you.
For parents, there's NOW Broadband Buddy, a free tool that gives adults control over which websites are accessible and when along with phishing and malware protection.
NOW Broadband Deals
Here are some current deals offered by NOW Broadband:
Super Fibre: £20/mo plus free Anytime calls for 12 months. That's a savings of £18/mo.
Fab Fibre: £20/mo plus free Anytime calls for 12 months — a £15/mo savings.
Brilliant Broadband: £18/mo and free Anytime calls for 12 months, which is also a savings of £15/mo.
There's also a combo bundle with NOW TV service: get Fab Fibre (that's the middle tier) for £20/mo (regularly £32/mo) and an Entertainment Membership (that's the TV one) for £4.99/mo (half off).
NOW Boost
NOW Boost is an add-on. It is available with any Memberships you are subscribed to and comes with three main benefits:
Add-free: Removes most adverts from on-demand content
Audio-Video: Provides Dolby Digital 5.1 Surround Sound and up to 1080p resolution (where available). You also get 50 frames per second on sports channels (assuming your device can handle it)
Multi-Stream: Watch on up to 3 TVs or devices at a time.
Without Boost, you will experience unskippable adverts before programs and movies. Your picture resolution will also cap out at 720p, and you can only stream on one device at a time.
You will require a minimum internet speed of 12Mbps for HD streaming. Even with Boost, adverts will still be present on live channels, and promotional trailers for other Sky content will still appear on on-demand content.
NOW Boost is only £5/mo, but many customers find the standard picture quality so poor, that the number of standard streaming devices was reduced from 2 to 1.
NOW Streaming Devices
NOW runs on most devices. If your kitchen sink had an HDMI port, you could find a NOW app for it.
Here is the list is of supported devices:
Select LG, Samsung, Sony, and Hisense smart TV models
Amazon Fire TV edition
Amazon Fire TV, Stick, Cube, and Soundbars
Apple TV (4th generation)
Roku
Chromecast
BT TV Box
YouView Box
NOW Smart Stick, Smart Box, and Black Box
Android devices
iPhone, iPad, and iPod Touch
Windows tablet
Windows or Mac laptop or desktop computers
Xbox One and Series X/S
Playstation 4 and 5.
Now Smart Stick
About the same time NOW TV was rebranded as NOW, it started to phase out its NOW Smart Stick and set-top boxes. This is confusing since NOW's Help Centre makes many references to it and even recommends using the Smart Stick while avoiding any mention of how to get it.
You can, however, still get them second-hand preloaded with apps such as:
BBC iPlayer
ITV Hub
All 4
Demand 5.
Plus you can download Netflix, YouTube, Spotify, BBC News, BBC Sports, Fox News, Sky News, TED Talks, and many more apps from the app store. It also features a voice-activated remote and interactive TV.
Note that eventually, these devices will stop working as NOW changes its system. But for the time being, it is still an option.
Web Browsers
Beware that if a PC or Mac is your video entertainment device of choice, you can't just load your videos up in your browser, you have to use NOW's player.
This wouldn't be so bad except the app itself hasn't got any title-browsing capabilities. So you have to find what you want to watch in your browser and click on it to open in the player. When that show or movie is over, you have to repeat the process.
Unsupported Devices
The following devices are NOT supported:
Panasonic or Toshiba Smart TVs
2nd or 3rd generation Apple TV
NOW "White Box"
Older YouView boxes model numbers DTR-T1000, DTR-T1010 and Talk Talk's DN370T box
Android 4.0 or earlier
Kindle Fire HD devices
Windows smartphones
Using AirPlay to stream or mirror NOW from any iOS device
Chromebook
Nintendo Wii and Switch.
Wrapping Up
NOW is an inexpensive month-to-month way to watch some of the most popular Sky programs. If you want to watch the most recent episodes of new shows, especially buzzy American ones, you can do so without paying more.
We recommend adding NOW Boost. It is pretty much a must for TV fans, film buffs, or sports fans — especially if the 720p standard definition and repetitive ads are a bit of a put-off. The same goes if you have a big family or lots of devices. One stream at a time just won't cut it.
NOW is a good option for those without access or budget for a satellite subscription.
FAQs
How does NOW compare to Netflix, Amazon Prime Video, and Disney+
In a sense, this is not a fair comparison because NOW provides live TV and Neflix, Amazon, and Disney+ are all on-demand services. (Note: Amazon has started offering some live content but not TV channels.) But when it comes to on-demand content, these three services are highly competitive.
Netflix and Amazon are difficult to beat in terms of sheer content. But especially in Netflix's case, much of it is back-catalogs of box sets and Original programs.
Netflix: Starts at £5.99 (1 stream, SD) and you get both movies and TV, advert-free. If you go up to £9.99, the same price as one of NOW's TV or movie Memberships, you get 720p/1080p HD and two screens at a time. To get this with now, that's another $5. For £13.99, Netflix will give you Ultra HD/4K and 4 screens at a time and is still cheaper than a single NOW Membership plus Boost.
Amazon's Prime Video: Is £7.99/mo, and you get Ultra HD/4K content (where available, but you can search for it) and 2 screens at a time included. Like Netflix, you've got access to some Originals, TV, and films.
Disney+: Hasn't got as much content, quantity-wise, but, well, it's Disney. And Pixar. And Marvel. And Lucasfilm. And you get 4K included in your £7.99/mo subscription.
So all three are both cheaper and more generous with the HD/4K love. Netflix and Amazon both have more stuff, and Disney's stuff is more exclusive. NOW doesn't have viewer profiles, a basic feature for today's streamers.
What NOW has got that Netflix and Amazon cannot compete with is that it gets new episodes of premium shows right away as they air, instead of having to wait months for it to come to Netflix.
NOW works better as a sometimes-supplement to the other services, when you want to stay caught up on a show, watch the latest popcorn flick, or take in the big match with a few mates. Bear in mind that NOW's selection changes all the time and the company says it's working on improving its app.
Is NOW TV better than Sky?
Whether NOW is better than Sky depends on what your viewing needs and budget are. NOW's biggest strength is flexibility and freedom. If you're only coming for the latest season of Succession, you can subscribe to the Entertainment Membership for as long as you need to. Or if you're a die-hard fan of the Premier League, then you can sign up for the Month Sports Membership in August and cancel in the Spring.
If you watch a lot of telly all year round, are into Ultra-HD/4K, own a Dolby Atmos sound system, or just enjoy having more than 50 channels available, Sky is the way to go.
Can I record live TV on NOW?
You can only record live TV on NOW via the program guide on the BT TV Box if you pay for your NOW Membership(s) through BT. Otherwise, you can't record any live TV. You can pause and rewind the live TV channels for up to 30 minutes (2 hours with the BT TV Box) if your device allows. Many shows are available on catch-up for up to 30 days after they first air.
How many channels come with NOW?
NOW comes with 40+ channels spread out among all the Memberships: 10+ Sports, 10+ Cinema, and 20+ Entertainment channels that also include six kids channels. Hayu is completely on-demand, with no channels. You can also get all the channels by signing up for all three memberships.
What is the Mobile Sports Pass?
The Mobile Sports Pass, most recently known as the Sports Mobile Month Membership, is currently not available except as a free bonus to new Sports Members who get a Sports Day Membership. It was a £5.99/mo subscription that would let you watch Premier League, Action, Arena, Racing, and News on your Android or iOS smartphone.
NOW Boost, on-demand content, and bonus streams are unavailable for mobile members. Also, note that the mobile membership only allows one stream at a time.
Where did Fox and Disney programs go, and will other content be joining them?
As licenses on content expire, Disney has been gathering back its various properties to create an exclusive library on its own streaming service, Disney+. You may see the same thing happen to dramas produced by American premiere network Showtime at the end of this year (or not, partnerships with Sky are very lucrative). HBO is locked into its agreement with Sky until 2025, so you've got a while there.
Ditch "Big Cable" Now – 3 Simple Steps to Cut the Cord
Pick the right streaming service
Get the content you deserve with the best VPN.
Supercharge your internet provider
That's it — you'll save money, take back control, and enjoy TV more!
Page Updates
▼
▲
Pricing updates. Added links. Reworded some things.

Added useful links. Misc changes.

Added more info about plans. Image changes. Mentioned offers. Pricing updates.

Image changes. Added some links.

Linking. Various changes.

Added sub-section. Updated some sub-sections. Updated some section headings. Additional links. Cleaned up list. Removed section.

Mentioned channel info. Added sub-section. Updated some sub-sections. Additional links. Mentioned deals. Deleted unneeded sub-section.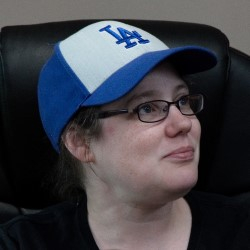 Latest posts by Alanna Baker
(see all)