Sling TV hits you by surprise when you look behind the relatively cheap base plans and find an all-you-can-eat buffet of add-ons. In this review, you'll get an overview of what Sling TV is and what it offers. Keep reading for details on everything from channels and features to user interface.
In a hurry? Sling TV allows you to build almost any channel lineup you want. Save 50% on your first month of Sling TV.
Pros & Cons of Sling TV
| Pros | Cons |
| --- | --- |
| ✔ Low-cost base plans | ❌ No CBS Channels |
| ✔ Giant selection of add-ons | ❌ Customizability can be confusing |
| ✔ Free device deals | ❌ No HBO options |
Sling TV Overview
Sling TV is one of the cheapest ways to stream live TV online, but with one main disadvantage: too few channels. But that misses two important points. First, the channels they do offer are very good. Second, Sling TV's customizable add-ons make it a service in a league of its own.
You can actually get 110+ channels with Sling TV for just $56.00 per month! Read on to find out which plan combination this comes with and see the bundles Sling offers with free/low-price gadgets like their AirTV.
More, Sling TV offers a free on-demand content library that can be accessed without registration. Some live channels are also free to watch.
The sports channel selection is impressive with ESPN, ESPN2, and ESPN3 included with Sling Orange. Fox Sports 1 (FS1) and the NFL Network (home of the NFL Draft) are included with Sling Blue. Both plans can be combined, meaning you can get access to all of these and more.
Sling TV's local channel access is disappointing compared to full-line services like fuboTV. But for the price, it is good. Fox and NBC are available in select markets with the Blue plan. It's also worth noting that all ABC live sports events are simulcast on ESPN3.
You can watch Sling TV on most of your favorite devices, like Apple or Android smartphones, as well as popular smart TVs like Samsung, and even VR sets like Oculus Go. There's only one major gaming console they don't support — PlayStation.
The highest number of simultaneous screens you can view from one account is four. Save 50% on your first month of Sling TV.
Sling TV's basic plans are comparable to Philo in price, though we think Sling offers a much better channel selection. And with the bundles and add-ons, Sling TV rivals Hulu and fuboTV.
Sling TV Base Plans
There are two basic plans with Sling TV. These are Sling Blue and Sling Orange. Each of them cost $40.00/mo, but you can combine the two for $55.00/mo.
Both Blue and Orange also come with 50 hours of free cloud DVR storage.
Here's a summary of the two Sling TV plans:
Sling Blue has 40+ channels (see all Sling TV channels) you can watch from three devices at one time. It's news– and entertainment-oriented, but also sports-friendly with Fox Sports 1 and the NFL Network. This plan is a better all-rounder with the likes of truTV and National Geographic in the network list.
Sling Orange gives access to 30+ channels (see all Sling TV channels), but only on one device. Still, it's a live TV streaming plan designed for sports fans with ESPN, ESPN2, and ESPN3. And that's without the Sports Extra add-on. It also includes Disney Channel.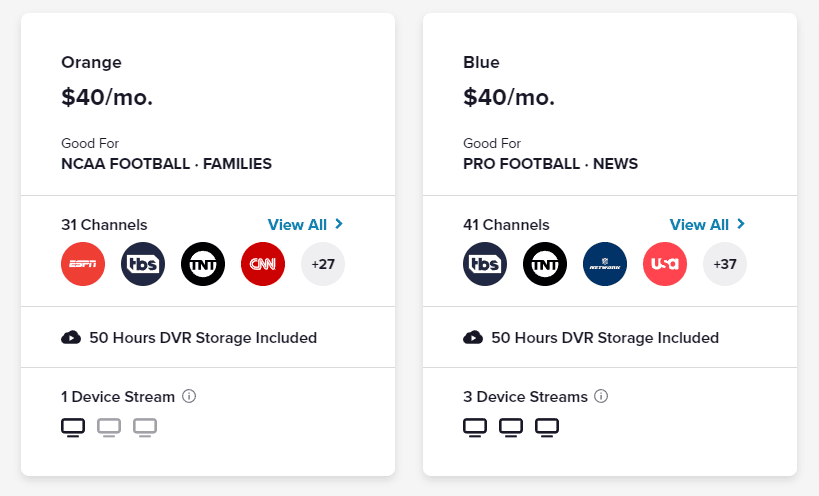 Combine Sling Orange + Blue and get a total of 45+ channels for $55.00/mo.
If you're an existing Sling TV subscriber and want to cancel your plan, we've got a guide for that.
Sling TV International and Latino
There are two other Sling TV services.
Sling Latino plans start from $10 per month. There's a general "Sling Latino" bundle with a mix of 21 channels, plus five more bundles, each focused on a different region. For example, there's a plan centered on Spain (4 channels) and another on Mexico (10 channels).
The core plan includes top channels like Discovery and Nat Geo in Spanish, as well as beIN Sports and Sony Cine. Sling Latino subscribers can watch three screens from three devices at once.
Sling International offers customized live TV plans in the following languages:
Arabic
Bangla
Bengali
Cantonese
French
German
Greek
Hindi
Italian
Kannada
Malayalam
Mandarin
Marathi
Polish
Punjabi
Sonyliv
Tamil
Telugu
Taiwanese
Urdu
Sling even offers a Tamil Gold Plan for $25 per month — online cable-free TV channels in one of the world's oldest languages!
In addition to programming in languages from around the world, Sling also provides Cricket and International Sports services.
How to Get Freebies from Sling TV
There are two different Sling TV deals with free devices and another two with huge discounts. If you want to watch more local channels than Fox and NBC, one of Sling TV's freebies is an HD Antenna worth $44.99.
The condition with all Sling freebies is that they're only available when you pre-pay a Sling subscription for two or three months, depending on the offer, and other discounts don't apply.
Here are the offers:
Free HD Antenna With Sling: When you pay 2 months in advance, you get the HD antenna worth $44.99 with which you can watch local channels ABC, CBS, Fox, and NBC in available in your region.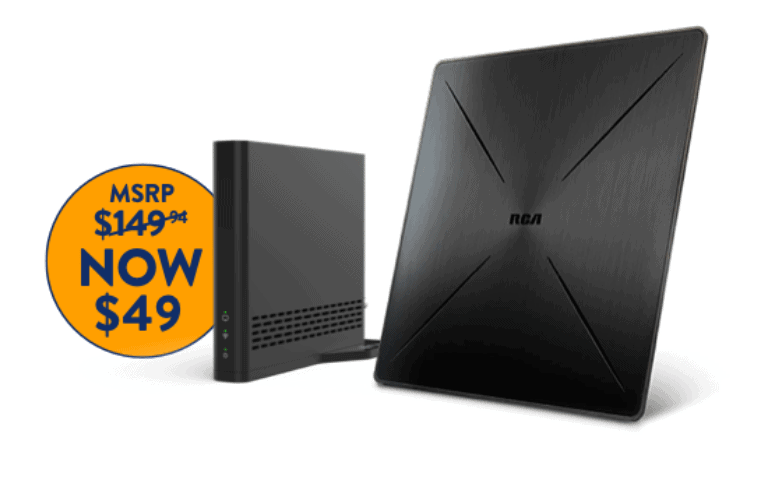 AirTV Anywhere + HD Antenna for $99: Worth $244.98, but available at a discounted rate when you pay 3 months of Sling TV up-front. AirTV Anywhere also lets you record programs from local channels.
Free AirTV Mini: When you prepay 2 months of Sling TV, you get this 4K smart streaming device worth $79.99 with built-in apps, Chromecast, and voice controls. The AirTV Mini also supports Netflix alongside Sling.
Channels On Sling TV
If you combine Sling Blue and Orange, you get a total of 45+ channels. See our Sling TV Packages Guide for a complete list.
In general, the Sling Blue plan includes Fox and NBC channels. And the Sling Orange plan includes ESPN and Disney channels. They both offer many of the same popular channels like AMC, Cartoon Network, CNN, Comedy Central, Food Network, Nick Jr, TBS, and TNT.
Local Channels
While we have a separate local channel guide, here are the most important details.
You only get local channels with Sling Blue — these are Fox and NBC in select areas. If you want to see if your area is covered, check out our guide to Sling TV local channels.
If you opt for a prepaid plan and get an HD antenna, you will be able to stream whatever OTA channels are available in your area — generally including ABC, CBS, NBC, and one or more Spanish-language channels.
To understand how local channels on Sling TV work, see our guide.
Sling's Sports Networks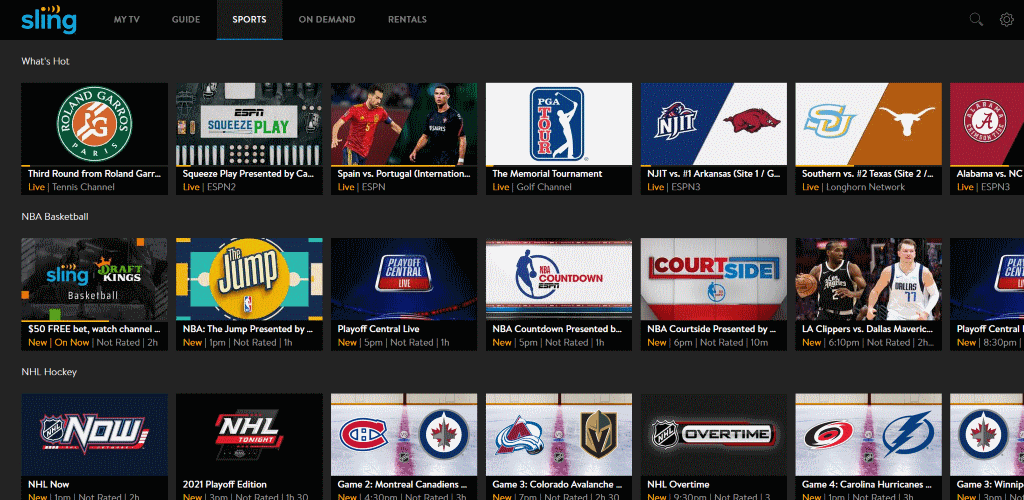 Across the Blue and Orange packages, Sling TV offers a total of 5 sports channels: ESPN (Orange), ESPN2 (Orange), ESPN3 (Orange), FS1 (Blue), NFL Network (Blue). Sling recommends the Orange plan for sports plans, because it has ESPN but most fans will also want the Blue plan.
Sling TV used to carry Stadium in both plans, but they've dropped the channel entirely from their service. If it is essential to you, check out FuboTV. Note also that Sling TV does not offer any regional sports networks (RSNs), which isn't surprising given its low cost.
Sling also offers non-sports channels that still air a lot of live sports programming: Fox (Blue), MotorTrend (Orange), NBC (Blue), TBS (Orange/Blue), TNT (Orange/Blue), truTV (Blue), and USA (Blue).
Sling TV has a Sports Extra add-on. But as with most things Sling TV-related, it's kind of complicated.
Sports Extra Orange ($11/mo): ACCN, ACCNX, beIN Sports, ESPNews, ESPNU, Longhorn Network, MLB Network, MLB Strike Zone, NBA TV, NHL Network, Pac-12 Network, SECN, SECN+, Tennis Channel
Sports Extra Blue ($11/mo): B1G Network, beIN Sports, FS2, Golf Channel, MLB Network, MLB Strike Zone, NBA TV, NFL Network, NFL RedZone, NHL Network, Olympic Channel, Pac-12 Network, Tennis Channel
Sports Extra Orange + Blue ($15/mo): ACCN, ACCNX, B1G Network, beIN Sports, ESPNews, ESPNU, Golf Channel, Longhorn Network, MLB Network, MLB Strike Zone, NBA TV, NFL Network, NFL RedZone, NHL Network, Olympic Channel, Pac-12 Network, SECN, SECN+, Tennis Channel
Sling TV Add-Ons
The add-ons are what make Sling TV stand out from its competitor streaming services, even those that cost more than twice as much per month. They come in two kinds: "Extras" and à la carte premium channels.
Sling TV's customizable add-ons may seem like a pain in the brain at first, but they allow you to pick and choose what additional channel categories you want to add to your Sling Blue, Orange, or Orange + Blue plan.
Sling Extras
There are a total of 7 channel add-on bundles (for each plan) with 80+ channels, and premium network add-ons with 30+ more channels.
You can even get a discount when you want more than one add-on. The standout offers are:
Total TV Deal: All extras (Sports, Comedy, Kids, News, Lifestyle, Hollywood, Heartland) with the upgraded 200-hour cloud DVR included. This is a $52/mo value for $21/mo. If you get Orange + Blue, you get all the channels in either add-on but the cost is $27/mo.
4 Extras: If you don't want to spend $21 per month more, you can opt-in for four of Sling TV's most popular extras. You get Kids, News, Lifestyle, Comedy extras — a $24/mo value — for $13/mo.
See our Sling TV Packages Guide for complete details on Sling TV's add-ons and options.
Sling's à la Carte Premiums
Sling's premiums are the icing on the customizable cake. No other service comes close to offering the sheer number of individual add-on channels. You can choose from standard premium channels like Showtime, Starz, and MGM+, or take a look at the three or four documentary channels, or subscribe to some TV for your dog.
Most are under $10/mo, and many are under $5/mo. You can subscribe and cancel at your whim and never commit to longer than that month.
Sling TV Add-Ons: Worth It but Dangerous
Let's do some math. If you get the Sling Orange + Blue plan for $55.00/mo and go for the Total TV Deal on top, you're paying $82 per month.
For what?
120+ channels, multiple streams on up to four devices, 200 hours of cloud DVR, with sports networks to cover entire seasons of football, soccer, MLB, college baseball (schedule), and more. Meanwhile, there are a dozen of kids' channels and general family-friendly TV shows and movie networks.
At the same time, charges can easily get out of hand. A $3 add-on here, a $6 add-on there and suddenly Sling isn't the best deal around. If you want a lot of channels, you may be better off looking at FuboTV or DIRECTV STREAM.
This leaves us to compare Sling TV to the other major competitors:
Sling TV in Action: User Experience
When you sign up and log in to your Sling TV dashboard, you have six main menu options:
My TV: Rows of categorized TV channels and programs based on the likes of genre and release date. You can also create your own custom row of live TV channels here. The most popular rentals are also shown here, so some of the sub-menu content overlaps.
On Now: Similar to the 'My TV' tab, this sub-menu shows you categorized programs, but only what's currently on. If you prefer a visual of titles, you may prefer to use this over the Guide tab.
Guide: The classic TV guide with each channel taking a row where programs are shown by start and finish time. You can scroll through the page to see each channel's program plan and change the day for which you want to see the guide. You can also filter channels by clicking on the 'All Channels' filter icon. The Guide tab has a list view and a block view of channels, too. When you pick a channel, you can choose to record a program, start it from the beginning, or watch in live in-time.
On-Demand: Sling TV has thousands of titles in its on-demand library, even though it's mostly known for the cable-free live TV feature. From movies to TV series and documentaries, you can find many on-demand titles to choose from.
Rentals: Movies that are not included in the on-demand library are available to rent.
Aside from these main menu options, you can also use the search bar to find titles by name.
How to Change the Settings on Your Sling TV Account
There's a settings menu labeled with ⚙️. It has six sub-menus where you can manage your Sling account settings:
Account: Here you can manage your username, password, and subscription plan.
Parental Controls: If you have kids using the Sling TV account, this menu allows you to filter any content that's considered inappropriate based on ratings. You can also lock rentals and add-on purchases.
DVR: Your recorded titles and DVR settings can be managed from this menu. If you have the basic 50 hours of DVR space, you can also upgrade to 200 hours here.
Support: Contact Sling TV's customer support via this sub-menu. There's a URL that takes you to the online help center.
Closed Captions: Toggle closed captions as default for all available titles.
Device: A device manager where you can see which devices you've used Sling TV with. You can also rename devices in this menu.
Connection: Check your Wi-Fi connection and bandwidth use and set limits to your maximum bandwidth.
If you have an OTA antenna with Sling TV, you'll also have a settings menu for Over-The-Air Channels, where you can manage the local channels you have access to.
Note that these sub-menu labels may be different with some devices, but the features are the same.
How to Add Channels To Your Custom List
To create a custom list of live TV channels, follow these steps:
Log in to Sling TV
Go to My TV > My Channels
Click Add Channels
Select channels you want to add to Favorites by clicking on the icon
Click Done.
Now you'll have your favorite channels categorized with each channel showing you what program is currently playing, whether it's a new stream on live TV, what time it started, and what program is up next.
Sling TV's Performance and Specifications
As far as our streaming experience goes with Sling TV, we couldn't find 1080 HD streams available. Most streams are available in 720p HD, and lower resolutions of 480p when the internet connection is slow.
The minimum recommended internet bandwidth for Sling TV streamers depends on the device and the number of devices used on a single broadband:
Mobile/Tablet – 3.0 + Mbps
PCs/Mac/Laptop – 5.0 + Mbps
Multi-Device Households – 25 + Mbps
Despite the lack of 1080p streams, Sling TV offers an AirTV device that supports 4K streams with other apps, and some live TV channels are also supported up to 60 frames-per-second.
Sling TV Interface
Sling TV released a major interface overhaul in 2021, which slowly rolled out to various devices over months.
The old interface provided four main areas: My TV, Guide, Sports, and On Demand. The new interface removes the Sports area. But the Guide is now subdivided into several useful categories: All, A-Z, Favorites, Recents, Sports, News, Movies, Kids, and Free.
We find the Recents function particularly useful (perhaps because we are too easily distracted).
For general viewing, this new interface is better than fuboTV's (although they do still have the advantage of being able to filter by sport). But the new interface is a distinct improvement, and we hope to see competitors step up their game to match.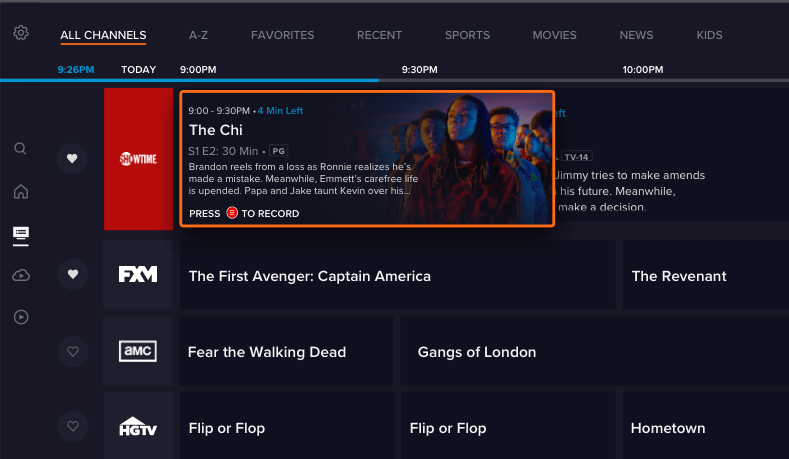 TV Everywhere Coverage with Sling
Sling TV allows you to use other apps to watch supported content. But they provide a relatively limited selection:
† Only with the Best of Spanish TV add-on. †† only with NBA League Pass. ** Only in select media markets.
Devices Supported by Sling TV
Here is the list of supported device types for Sling TV users:
AirTV Players
Amazon Fire Devices
Android Mobile Devices
Android TV
Apple TV
Google Chrome
Chromebook
Chromecast
Google Nest
iOS (iPhone, iPad)
LG TVs
Microsoft Edge
Oculus Go
Portal TV
Roku & Roku Ultra
Safari Browser
Samsung Smart TVs
TiVo Stream 4K
Windows 10
XBOX
Xfinity Flex
For more details, see our Sling TV Devices page.
How To Watch Sling for Free
You read it right. There is a free version of Sling TV and you can even access it from your browser. You don't even have to sign up or enter a credit card — just head over to:
Once you've accessed the link, Sling will present you the option to go to watch.sling.com. Here, you'll see every menu tab, except the "On Now" tab.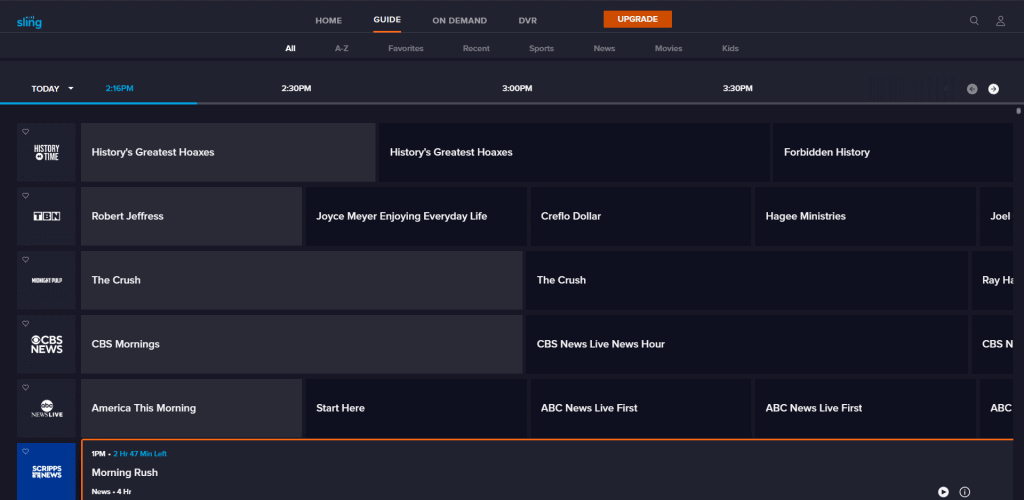 The selection is what you are probably used to from Roku Channel, FreeCast, and others. There are a lot of branded channels like BET Pluto and so on. Frankly, it's way better than anything we grew up with. But it's also not up to what you get with a paid service.
It is most useful for checking out the Sling TV interface.
Wrapping Up
As you can see, Sling TV is a unique service that has a lot to offer. You can take advantage of the free offerings, get just the base package as a low-cost bargain service, or go nuts making your own custom package with Sling's unmatched add-ons. Sling TV really is in a class by itself. Try it today!
FAQs
Is Sling TV any good?
What makes a TV streaming service good depends on what you want from it. Sling TV is one of the most customizable streaming providers with on-demand and live TV content, so you can shape it as you like. You can pay $40.00/mo and get 30+ channels, pay $100 per month and get 130+ channels with premium networks, or find somewhere in-between.
Is Hulu better than Sling?
When we compare Hulu + Live TV vs Sling TV, the latter wins on paper. Sling TV has cheaper options, yet still offers a wider range of channels, four simultaneous streams, and 200 hours of DVR if you pay just $6 more than Hulu. By the time you get such features with Hulu, you're paying over $100, though you do get a slicker platform and Hulu's exceptional on-demand library.
Is Sling TV better than YouTube TV?
Sling TV and YouTube are in close competition, unless we consider the bundles we can customize with Sling TV for under $72.99/mo. If we also account for YouTube TV's Sports Plus plan, the channels offered are in a similar range. User experience and additional features like DVR and multiscreen streaming are good comparison points, though YouTube is arguably slicker than Sling TV.
Does Sling have local channels?
Yes, Sling TV offers two local channels without cable online. These are Fox and NBC, subject to local availability. Sling TV also offers free streaming devices like the AirTV and an over-the-air HD antenna with which you can access even more local channels OTA.
Does Sling TV have DVR?
Sling TV offers a DVR with the ability to record live TV programs. You get 50 hours of storage space with all plans, though there's an add-on for 150 hours of additional space that's also included with the Total TV add-on. See the add-on guide for more.
Can I watch NBC on Sling TV?
Yes, you can watch NBC on Sling TV in select locations where it's available. Fox is another local channel you can watch with Sling TV. When you log in, you can find the local channels under the Guide menu in your Sling TV dashboard.
Can I watch the Super Bowl on Sling TV?
Yes, you can't watch Super Bowl LVII on Sling TV, because it will be on Fox, a local channel you can get through Sling Blue or with an attached antenna. Note that Super Bowl LVIII (2024) will air on CBS. That year, you will need to either install and antenna or subscribe to another service like Paramount+.
Can I watch Yellowstone on Sling TV?
Yes, you can watch Yellowstone on Sling TV, since the program is available on Paramount Network, TV Land, and CMT. In order to watch Yellowstone, you'll need to get a Sling plan with the Comedy Extra add-on, since that's how you get access to TV Land, CMT, and Paramount Network via Sling.
What shows can I binge on Sling TV?
Sling TV provides an impressive library of favorite shows you can binge. The list is not as large as it once was, since many content creators limit the reach of their shows to their own platforms. For example, AMC has pulled The Walking Dead (but one season of Better Call Saul is available). And all the A&E shows like Vikings and Bates Motel seem to be gone.
How can I watch particular events and shows?
We are always creating guides for how best to use Sling TV to watch different things. For example, we have a guide that explains how to watch conservative news or general election night coverage. We also have a guide for watching special events like Black History Month.
If sports is your thing, we have lots of guidance. For instance, what kind of sports are going on Thanksgiving Week.
We have a general guide on watching NCAA Sports in 2023 along with specific guides for soccer, ice hockey, volleyball, lacrosse, men's golf, and bowl season. Plus plenty of DI Basketball and March Madness love: Men's March Madness, Men's March Madness Schedule, and the Women's Championship Final. And of course, baseball and softball: top games, CWS Selection Show, Men's College World Series, and Women's College World Series.
We've got how to watch every game of the NBA season, the NBA All-Star Game, the NBA Christmas Day games, and LeBron James when he broke the all-time scoring record, plus a guide to the NBA Play-In Tournament and Playoffs (including the Conference Semifinals and Finals).
Learn how to watch MLB Spring Training with a complete schedule of games. And at the other end of the season, we have the MLB Playoffs Guide.
No matter what football season, Sling TV is all about the NFL. We have guides for watching the preseason, Sunday Night Football and Monday Night Football during the regular season, NFL RedZone, Thanksgiving Day Football, the Super Bowl in the post season, and the NFL draft in the off-season. Plus, we have a guide for watching the XFL season and USFL season.
Is golf your thing? We have viewing guides for The Masters Tournament (including the finals), PGA Championship, US Open, FedEx Tour Championship, and Ryder Cup. Not to mention, the entire LPGA Tour and the NCAA Division I Golf Championship, plus the new Grant Thornton Invitational.
Don't forget about tennis! We have a guide for the Madrid Open, and (most of) the Grand Slam tournaments: Australian Open, French Open, Wimbledon (including the Finals), and US Open.
Into hockey? Take a look at Stanley Cup Playoffs and finals — we've got the First Round schedule right here! And after the Stanley Cup comes the NHL Entry Draft. You can also check out the annual Hockey Hall of Fame Induction.
Sling also has horse racing, including the Kentucky Derby, Preakness Stakes, and Belmont Stakes.
You can watch the whole 2023 NASCAR Season with Sling TV. See our complete Cup Series schedule, including our guide to the Goodyear 400, Coca-Cola 600, Indy 500, and All-Star Race. Plus a guide to the Playoffs along with specific guides for the Xfinity Series and Truck Series Playoffs and the Cup Series and Xfinity Series Championships.
If you're looking for more high-speed action, we can tell you how you can watch Formula 1. We've got the schedule of races all over the world (such as the Singapore Grand Prix and the final F1 race, the Abu Dhabi GP), including three right here in the United States! Plus, the race that tests pure endurance: 24 Hours of Le Mans.
For fans of international sports, learn how to watch English Premier League on Sling TV with the 2023 season schedule, or tune into Ligue 1 for French soccer action. You could also check out the 2023 Rugby World Cup Final, live from France.
For cricket fans we have a 2023 season guide with guides specifically for IPL 2023, IPL 2023 Schedule, Top IPL Teams in 2023, the history of the IPL, ICC ODI World Cup Finals, T20 ICC World Cup Finals, and ICC Women's T20 World Cup.
Ditch "Big Cable" Now – 3 Simple Steps to Cut the Cord
Pick the right streaming service
Get the content you deserve with the best VPN.
Supercharge your internet provider
That's it — you'll save money, take back control, and enjoy TV more!
Page Updates
▼
▲
Additional links. Misc changes.

Mentioned channel info. Updated some sub-sections. Updated some section headings. Pricing updates.

Added new section. Added sub-section. Mentioned channel info. Updated some sub-sections. Updated some section headings. Additional links.

Mentioned channel info. Image changes. Added a few links. Pricing updates.

Added table of contents. Added links to streaming services. Added buttons for streaming services. Updated some sub-sections. Cross linking. Pricing updates.

Image changes. Updated some sub-sections. Added links.

Updated some sub-sections. Updated some section headings. Additional links.

Changed some content in main section.
Latest posts by Frank Moraes
(see all)