NFL RedZone is the ultimate channel for football fans. Its special approach to broadcasting allows you to watch multiple games at once. Read on to learn all you need to know.
In a hurry? Sling TV with its Blue plan offers 40+ live TV channels. And you can add NFL RedZone to the channel lineup with Sports Plus. That's just $51/mo. Sign up now!
Using NFL RedZone
On any given Sunday afternoon, the NFL schedule will look something like this.
Games
Sun Sep 10: Carolina Panthers at Atlanta Falcons (Fox)
Sun Sep 10: Houston Texans at Baltimore Ravens (CBS)
Sun Sep 10: Cincinnati Bengals at Cleveland Browns (CBS)
Sun Sep 10: Jacksonville Jaguars at Indianapolis Colts (Fox)
Sun Sep 10: Tampa Bay Buccaneers at Minnesota Vikings (CBS)
Sun Sep 10: Tennessee Titans at New Orleans Saints (CBS)
Sun Sep 10: San Francisco 49ers at Pittsburgh Steelers (Fox)
Sun Sep 10: Arizona Cardinals at Washington Commanders (Fox)
Games
Sun Sep 10: Green Bay Packers at Chicago Bears (Fox)
Sun Sep 10: Las Vegas Raiders at Denver Broncos (CBS)
Sun Sep 10: Miami Dolphins at Los Angeles Chargers (CBS)
Sun Sep 10: Philadelphia Eagles at New England Patriots (CBS)
Sun Sep 10: Los Angeles Rams at Seattle Seahawks (Fox)
Fans know the problem well. Everything is fine if you just care about one team. But if you want to see everything, you can't. There are 8 games on during one period and 5 games on during the other.
NFL RedZone fixes this problem by curating the action. It focuses on the games in the red zone. And when more than one game needs attention, RedZone offers the Octobox.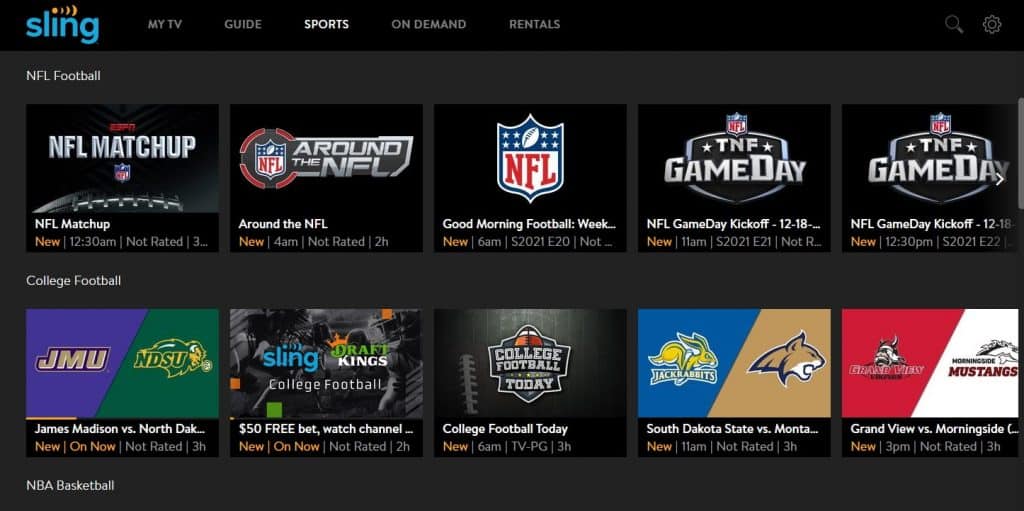 How to Stream NFL RedZone
Several streaming services offer NFL RedZone as an add-on. These include DIRECTV STREAM, Fubo, Hulu + Live TV, and YouTube TV. But the best deal is available from Sling TV.
The Sling Blue plan is $40.00/mo and it includes NFL Network, a great source of not just games but news and analysis. You can combine it with the Sports Plus add-on for $11/mo. This gives you NFL RedZone along with 10 other sports channels including MLB Network, NBA TV, and NHL Network.
Sling Blue: $40.00/mo
Sports Plus: $11.00/mo
Even better, you can try out Sling TV with a 50% discount on your first month.
The base Sling Blue plan comes with 40+ channels. These include two local channels in select markets: NBC and Fox. In a small number of places, ABC is also available (where it is, the plan is $5/mo more expensive).
In addition to NFL Network, the plan includes sports channels Fox Sports 1 (FS1) and USA Network. And it comes with a great general selection of "cable" channels including A&E, AMC, BET, Bravo, CNN, Cartoon Network (Adult Swim), Discovery Channel, Food Network, FX, HGTV, History Channel, Lifetime, National Geographic, Nick Jr, Syfy, TBS, TNT, and truTV.
Sling TV has apps for most streaming devices including Amazon Fire TV, Android Mobile, Android TV smart TVs, Apple TV, Chromecast, iOS, LG smart TVs, Roku, Samsung smart TVs, Vizio smart TVs, Xbox, and more. And you can stream on up to 3 devices at the same time.
The plan also comes with a cloud DVR. It allows you to store up to 50 hours of content but you can increase this to 200.
Wrapping Up
There is lots of talk about the out-of-market package NFL Sunday Ticket among fans. But we think NFL RedZone is really the ultimate tool for serious football fans. And Sling TV offers the cheapest way to get it. Sign-up now!
FAQs
Can I get NFL RedZone for free?
NFL RedZone is strickly a pay TV channel. Other than getting it free for a few days with a trial, it is not available. And every service that offers it charges roughly $10 to $11 does for it — on top of its base price. And that is why Sling TV is the cheapest way to stream NFL RedZone.
Can I get NFL RedZone alone?
It appears that NFL RedZone was once available as a standalone service. But even then, it was only available on phones and other mobile devices. This year, NFL+ has integrated NFL RedZone with its Premium plan. It costs $14.99/mo but if it's all that you care about, it's a good deal.
Latest posts by Frank Moraes
(see all)