Get Starz for $3/mo for the first 3 months.
Starz is available in countless forms. For cord-cutters, it's almost impossible not to come upon it from one or two sources. Read on to learn your best options.
In a hurry? If you don't want to get Starz directly, these services provide the best choices as an add-on:
DIRECTV STREAM: Get roughly 80 channels for $74.99/mo and add all 17 Starz channels for just $11 more. A 5-day free trial is now available for DIRECTV STREAM.
Sling TV: Get 40+ live TV channels ($40.00/mo) and 5 Starz channels ($9/mo) for just $44/mo. Save 50% on Sling TV now!
Hulu + Live TV: Get the amazing Hulu on-demand library and 85+ live channels for $69.99/mo and add Starz for $8.99/mo. Try one month for $69.99.
There are so many ways to watch Starz, it's hard to know where to start. The flagship brand has long been offered as a premium network by almost all US cable and satellite providers. But they're not the only game in town anymore.
These days, you can pick up a Starz subscription directly from the channel itself. Or you can subscribe, if you prefer, through a live-TV streaming service. Almost all of them provide it.
Or, if your inclination is to binge American Gods, you can subscribe through a streaming video-on-demand (SVOD) service, such as Amazon Prime Channels or Apple TV.
Several of these have some overlap. For instance, if you subscribe to Hulu's on-demand service (without the Live TV), you can still watch the linear Starz channel in addition to accessing the on-demand content.
If the terms "linear" and "on-demand" and "streaming" are making your head spin, read on and we'll sort you out.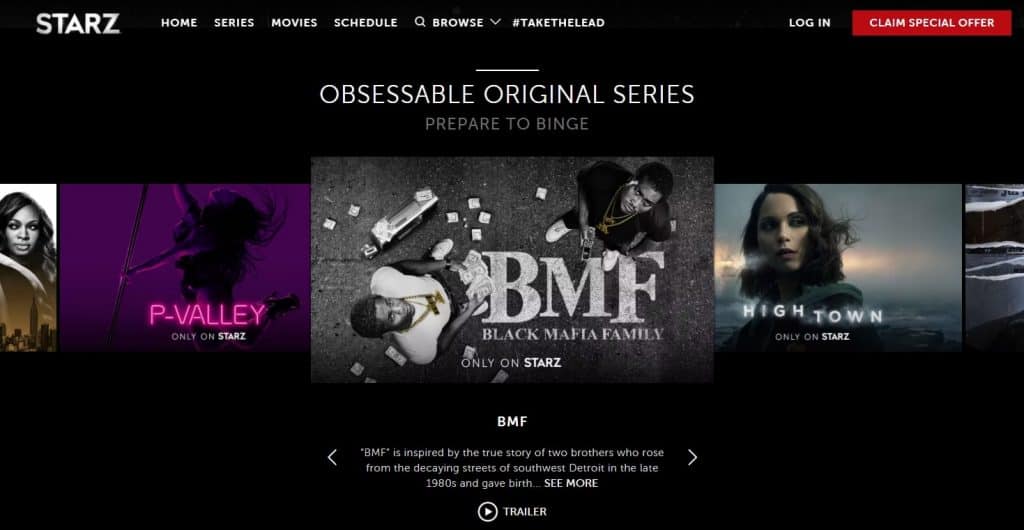 Get Starz for $3/mo for 3 months!
About Starz
Starz started out in 1994 as Encore 8, a multiplex channel (kind of a subchannel or companion channel) of Encore. At that time, Encore featured movies from the 60s through the 80s.
In 1996, Starz began to form its own entourage of multiplex channels. The network also started experimenting with original making-of and entertainment news programs, followed by original scripted comedies and dramas.
Starz Inc, consisting of Starz and its sister channels, was acquired by Lionsgate in 2016. It has been dubbed a "content pump" by the new owner. Starz currently airs Hollywood movies and original series.
There are five Starz channels:
Stars
Starz Kids & Family
Starz Comedy
Starz Edge (targeted at 18-35-year-olds)
Starz InBlack (started as a joint venture with BET and features Black/urban films)
Starz Cinema (indie and arthouse fare).
Its former parent channel Encore is now branded as Starz Encore, with seven multiplex channels:
Starz Encore
Action
Black
Classic
Espanol
Family
Suspense
Westerns.
And, finally, there are the three MoviePlex channels:
MoviePlex
IndiePlex
RetroPlex.
A "linear TV channel" is what everyone over thirty remembers watching as a kid — a channel you watch as they broadcast it. Such channels have a schedule with different shows at different times. If you want to watch a particular show, you have to turn the TV on to that station at its scheduled time. You can watch linear TV by subscribing to a cable or satellite service or an online streaming TV provider.
"On-demand" content means you have a menu of shows and movies and you pick what you want to watch when you want to watch it. Examples of on-demand video services are Netflix, Hulu, Apple TV, and Amazon Prime Video.
But you just want to be able to watch Outlander, right? Then let's move on to the services that offer Starz.
Get Starz for $3/mo for 3 months!
Live TV Streaming Services
All the major streaming services offer Starz as an add-on.
FuboTV

What are movies without sports? That's why you should get FuboTV, if you like sports. Any sports. Over 35 sports channels come with their base 110+ channel package. If you're wondering why anyone would ever need that many, then you should probably just skip ahead to Hulu + Live TV.
Just the sports fans left? Fubo's base plan comes with all the most important channels like CBS Sports Network, ESPN, ESPN2, FS1, FS2, and all the network affiliates. It also comes with multiple beIN Sports and TUDN channels. And in many areas, it includes regional sports networks like NBC Sports Bay Area and MSG Network.
FuboTV's Starz package is $8.99/mo. It includes almost all the Starz channels (Starz Cinema is missing in most if not all markets) plus Starz Encore and Starz Encore Espanol. They also offer a Showtime + Starz + MGM+ bundle that's $19.99/mo.
FuboTV's base tier, the Pro, is $74.99/mo. This comes with 1000 hours of cloud DVR storage. And it allows you to stream on up to ten devices at once.
See our FuboTV review for all the details.
Sign Up for a Free 7-Day Fubo Trial
DIRECTV STREAM

DIRECTV STREAM (formerly AT&T TV NOW) has a few major advantages. First, it has licensing agreements with all the major media companies, so there are no major gaps in its lineup. Second, they are the only streaming service to offer regional sports networks virtually everywhere in the nation. And third, it supports by far the most simultaneous streaming devices: up to twenty on your home wifi network.
Stream also provides all the major premium channels, including HBO Max, Showtime, and all 17 of the wider Starz channel family. All the Starz, Starz Encore, and MoviePlex channels are yours for $11/mo. The only service that even comes close to this is YouTube TV, which offers 12 channels.
The only downside is that it's the most expensive of the live-streaming TV services. The Entertainment package is $74.99/mo. Spring for the Choice ($99.99/mo) or Ultimate ($109.99/mo) and you get three months of all the premium channels free.
Go for the top-level Premier for $154.99/mo and you get all the premiums included, which is about $48, all together, so not a bad deal, especially if those regional sports networks are also a draw.
For details, see our DIRECTV STREAM review.
Get DIRECTV STREAM Free for 5 Days
Sling TV

Sling TV offers Starz as a premium add-on for $9/mo. This is on top of $40.00/mo for either of its Orange (30+ channels) and Blue (40+ channels) plans. The Orange plan includes sports and family content like ESPN and Disney. And the Blue plan has more news and entertainment like NBC, Fox, and FX. Or you can get it all for $55.00/mo with its Orange & Blue (50+ channels) plan.
Sling's Starz package is made up of Starz, Starz Kids & Family, Starz Comedy, Starz Edge, and Starz Encore. Sling also offers Showtime but not HBO. At a total of $44/mo, it's the second lowest-priced option on this list, but it also has the fewest channels (although they offer a solid lineup).
You can add on a lot more with Sling's Extras, which are bundles of channels grouped by genre that you can add on for $6-11 each.
For more information, see our Sling TV review.
Hulu + Live TV

Hulu + Live TV is a very well-rounded cable-replacement system, with a little something for everyone. Some sports, some kids, some news, some family, some movies, some reality. And all local — Hulu provides all the network affiliates.
All the standard premium channels are available. Hulu's Starz package — including the linear channels — is available for $8.99/mo to all Hulu subscribers, whether they just get the on-demand service ($7.99/mo) or they get the whole Live TV package ($69.99/mo, includes the on-demand content too). Showtime and HBO Max are available as well in similar packages, prices vary.
Hulu + Live TV comes with unlimited cloud DVR (9 month storage) and the ability to stream on two devices at once.
See our Hulu + Live TV review for more information.
Philo

From one extreme to the other: Philo has fewer channels, no local networks, no sports, and no WarnerMedia or NBCUniversal channels (and that's about half the top 30 cable channels right there).
Why would you still want to get it? Because it's still got over sixty channels and unlimited cloud DVR storage and it's only $25/mo. And that still gives you many great channels like A&E, Animal Planet, BET, Discovery, GSN, Hallmark, Lifetime, Nickelodeon, and TLC.
Also, Philo offers a few premium packages, and this is where Starz comes in. Philo's Starz package includes Starz, Starz Kids & Family, and Starz Encore for an additional $9 a month. If you're looking for some basic cable to go with your Starz, it doesn't come cheaper than this.
You'll find more information in our Philo review.
On-Demand Streaming Services
Those are your options for streaming linear Starz channels without cable, but let's go back to that binging American Gods scenario. What if you want to watch Starz series or movies night-by-night or just run through an entire franchise in one glorious couch marathon?
Some of the live TV options above come with in-demand options built-in (such as Hulu). Others, you may have to supplement. The good news is that on-demand is much cheaper than live TV services, typically under $15 for the base package (a little less if you don't mind ads).
First up, the most obvious.
Starz

The direct approach: go straight to the source. Starz offers stand-alone subscriptions for $8.99 through its website or its app which currently come with a 7-day free trial.
If you already have a Starz subscription through a different service, you can log in to the app with that service's credentials to access the content, no additional subscription is necessary. The only major service that doesn't work this way is Sling TV. Sorry, Slingers.
Get Starz for $3/mo for the first 3 months.
Get Starz for $3/mo for 3 months!
Hulu

Hulu has an impressive back-catalog of Starz series, all the way back to Party Down, as well as their full slate of current movies. They get new episodes very quickly after they air, so you don't have to worry (as much) about spoilers. It's perfect if there's a Starz series you just heard about but now have to catch up to (or isn't even still going anymore).
The on-demand service starts at just $7.99/mo. If you want new Starz shows and movies, the add-on is an additional $8.99/mo.
See our Hulu review.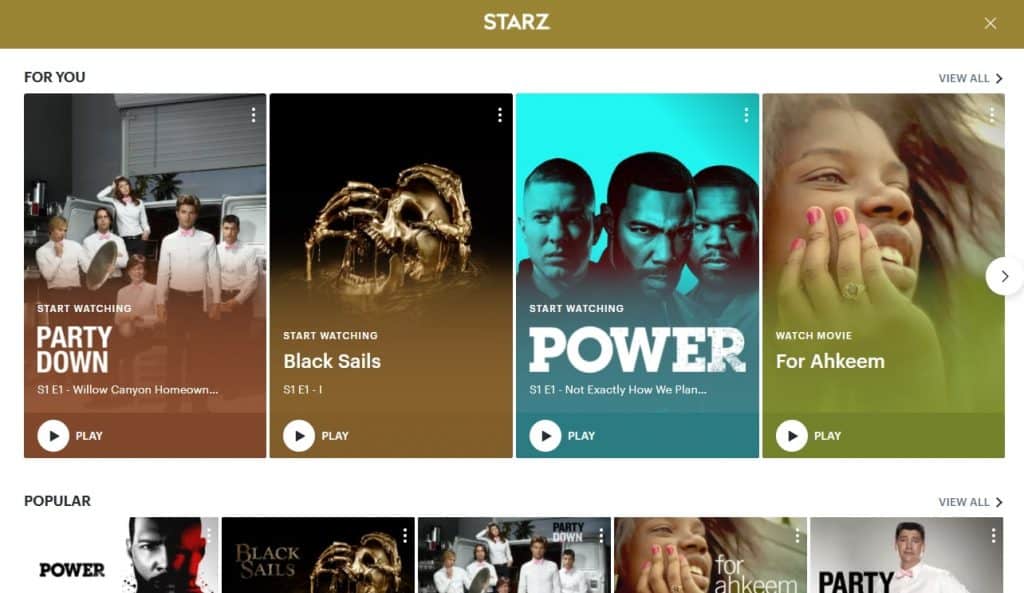 Other On-Demand Services
As we said, there are a lot of ways to get Starz. Here are some more:
Amazon Prime Video: Starz and all five of its multiplex channels are available as a package deal for $8.99/mo.
Apple TV: Has great original shows of its own, like Foundation and the award-winning Ted Lasso, but you actually don't need to subscribe to Apple's original-only TV+ service to be able to subscribe to the Starz channel for $8.99/mo.
Roku: Has everything in the Roku Channel Store including Starz for $8.99/mo.
TVs and Devices to Stream Starz
The Starz app and pretty much all of the other services support the following devices. These are the supported devices with the exceptions listed in parentheses:
Amazon Fire mobile devices (DIRECTV STREAM)
Amazon Fire TV
Android mobile devices
Android TV (DIRECTV STREAM)
Apple TV
iOS devices — iPhone, iPad
LG smart TVs
Roku
Samsung smart TVs (Philo)
Web browsers on Windows and Mac
Xbox One (DIRECTV STREAM, Philo).
See the streaming service reviews for complete lists of devices. Hulu, for example, also supports the PlayStation.
Get Starz for $3/mo for 3 months!
Wrapping Up
If you already subscribe to a streaming service, it is probably best to add Starz to it. But if you are new to streaming, you have a lot of options!
FAQs
What Starz original TV shows does Starz offer?
Starz's original series do not get as much attention as HBO's or Showtime's, but there is a lot of good stuff there nonetheless. Like the other premium channels, many of their most recognizable programs have ended, but they constantly have new projects premiering or in the works. Here is a shortlist of Starz current original series:
Hightown
Power Book II: Ghost
Power Book III: Raising Kanan
Outlander
P-Valley
Blindspotting
Run the World
The Girlfriend Experience
Heels
BMF.
Past original series:
American Gods
Black Sails
Counterpart
Crash
Power
Spartacus
Sweetbitter
Vida
Ash vs. Evil Dead
Blunt Talk
Head Case
Survivor's Remorse
The Rook
The Spanish Princess.
How many channels does Starz have?
Starz Inc has, in total, 17 channels. Six are Starz and its multiplex channels Starz Kids & Family, Starz Comedy, Starz Edge, Starz In Black, and Starz Cinema. Starz Encore has seven multiplex channels (8 in all): Starz Encore Action, Starz Encore Black, Starz Encore Classic, Starz Encore Español, Starz Encore Family, Starz Encore Suspense, and Starz Encore Westerns. And finally, the Plex trio: MoviePlex, IndiePlex, and RetroPlex.
Get Starz for $3/mo for the first 3 months.
Ditch "Big Cable" Now – 3 Simple Steps to Cut the Cord
Pick the right streaming service
Get the content you deserve with the best VPN.
Supercharge your internet provider
That's it — you'll save money, take back control, and enjoy TV more!
Page Updates
▼
▲
Image changes. Pricing updates. Formatting.

Added buttons for streaming services. Pricing updates. Cross linking. Misc content updates.

Added useful links. Misc changes.

Updated some sub-sections. Image changes. Pricing updates.

Image changes. Pricing updates. Added a few links.

Linking. Pricing updates. Various content updates.

Mentioned channel info. Added streaming info. Updated some sub-sections. Changed some content in main section. Updates to a section.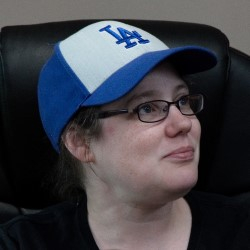 Latest posts by Alanna Baker
(see all)