In an industry with a lot of duplication, Vidgo stands out for its unique elements. We've already discussed this thoroughly in a general sense in our Vidgo review. Below, we focus on its plans and channel lineups.
In a hurry? The bottom line is that Vidgo offers two simple plans. First, there is the Plus plan featuring 100+ channels for $69.99/mo. The second is the Spanish plan with 25+ channels for $39.99/mo. Try one month for $64.95.
Vidgo Plans and Pricing
Vidgo officially launched, after three years of false starts, in 2019, so it is a bit of a latecomer to the cable-alternative game. When it originally announced itself in 2016, the only major live TV streaming players were Sling TV and PlayStation Vue. Then 2017 brought Live TV from Hulu, YouTube TV, FuboTV, Philo, and a variety of every-changing AT&T/DirecTV offerings.
So when Vidgo finally soft-launched its beta release in 2018, it didn't try to compete directly with all of them. It focused instead on marketing prepaid cash-based subscriptions to Latino communities, presenting its then all-Spanish-language service as an opportunity for first-generation immigrants to enter the pay-TV scene.
With AT&T/DirecTV hemorrhaging customers all through 2019 and PlayStation Vue having already announced its swan song in early 2020, late 2019 was a good time to launch a new service, especially a lower-cost niche one. And when COVID-19 hit the world in 2020, low-cost streaming services were in even higher demand.
Vidgo featured two tiers of English and Spanish programming at launch but streamlined their service in the last year to just one plan for each: the English plan with 100+ channels for $69.99/mo and the Spanish plan with 25+ channels for $39.99/mo.
They have once again split the English plan into the Plus and Premium plans. The Plus plan is very similar to the only English plan with just a couple of fewer channels for $69.99/mo. The Premium plan features 100+ channels for $84.99/mo.
Plus Package
Vidgo offers many of the most popular cable channels. But they are missing some big ones. All but one (AMC) of the missing channels are NBCUniversal (see the Missing Elements section below). Let's break it down by genre:
Entertainment/General
Vidgo offers a good selection of general entertainment channels.
A&E
BYU TV
Classic Reruns
FXM
FXX
FYI
getTV
Hallmark Drama
Hallmark Movies
History
Law & Crime Trial Network
LMN
National Geographic Wild
QVC
Science
Sony Movie Channel
Travel Channel (Trvl)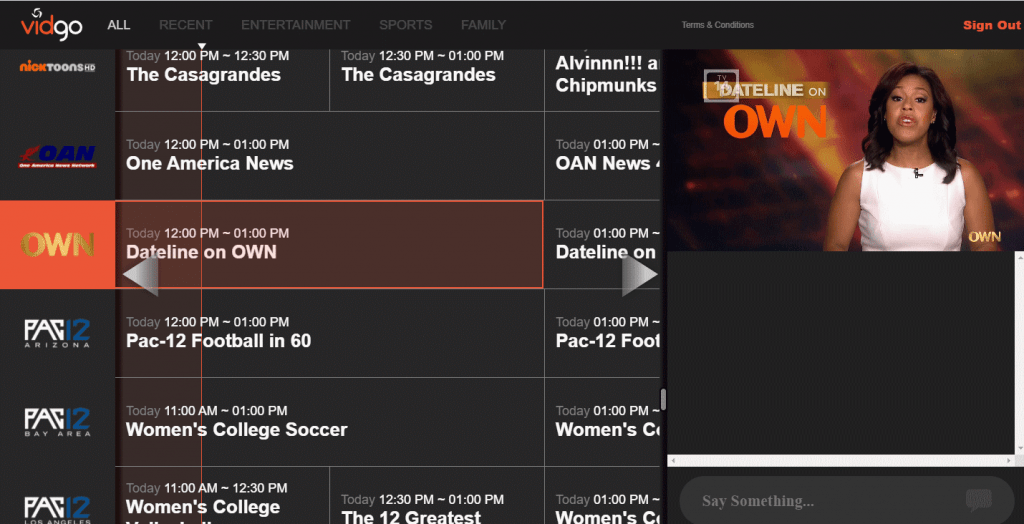 Family and Kids
As mentioned, when it comes to watching TV together as a family, the array of stuff to watch hardly gets better than Vidgo. This starts with many of the channels we listed under Entertainment. From Hallmark to NatGeo to BYU TV (award-winning programming from Brigham Young University in Utah), there's plenty of entertainment with nary a swear word, smutty act, or underage drink in sight.
Some of the content on the channels below, particularly FeTV and UPtv, are religious. And there are also plenty of opportunities for education.
News and Information
News on Vidgo comes in three flavors: financial, a little conservative, and a lot conservative. Note it is the only streaming service extant that carries i24 News, a pro-Israel news channel created to provide a counter-voice to Al-Jazeera. And it is one of only two to include One America News.
Even better? MSNBC and CNN are nowhere to be seen.
ABC News Live
Bloomberg TV
Cheddar
Fox Business
i24 News
One America News (OAN).
Sports
As you can see below, not only does Vidgo carry the major NCAA channels, they have all the PAC 12 regional channels as well, something only FuboTV can also boast. On the downside, you are missing CBS Sports, NBC Sports Network, and TUDN, Univision's sports channel(s).
ESPN
Fox Sports 1 (FS1)
Fox Sports 2 (FS2)
Longhorn Network
NFL Redzone
PAC -12 Los Angeles
PAC -12 Arizona
PAC -12 Bay Area
PAC -12 Mountain
PAC -12 Oregon
PAC -12 Washington
Vrtuo Sports.
Local Networks
Vidgo carries Fox and ABC, but the problem with network channels is that they're part of, well, a network. A bunch of little stations all over the country, each with their own managers and, in some cases, owners and/or operators.
So Vidgo's ability to deliver local content depends entirely on whether you live in an area with an agreement between the station and Vidgo. The good news is that ABC and Fox are available in most areas. Plus they are adding new markets and affiliates all the time, so if it's not covered yet, it may be in the future.
As usual with Vidgo, there is a work-around: TV Everywhere. This is a protocol used by pretty much all the media companies that lets you use your TV provider account info to sign into TV apps or websites. In other words, if you go to try to watch shows online, the vast majority of sites or apps will require you to sign in before you can access the show, and the first thing they ask for is which TV provider you have.
You can typically only access content that you can get through your service, but in the case of ABC and Fox, it means you can access national network programming (like series or live sports events), even if you can't watch your local affiliate directly through Vidgo.
What about NBC or CBS? Well, there you're out of luck, as far as Vidgo is concerned. But you can pick up an inexpensive antenna and, in many places, pick up these channels OTA (over the air) for free. This would also work for Fox and ABC, assuming you live close enough to pick up a signal.
Premium Package
Vidgo has introduced the Premium plan for $84.99/mo. It has more channels including:
American Heroes Channel (AHC)
BET (Gospel, Her, Soul)

Cooking

The Cowboy Channel
Discovery Family
Spanish Package
The Spanish package doesn't include as many channels but they are well-chosen. (And cheaper!)
Deportes
BeIN Sports (Spanish)
ESPN Deportes
Fox Deportes
TYC Sports.
Familia
Baby TV
Discovery Familia
Nat Geo Mundo.
Noticias
General
AltresSeries
Antena 3
AtresCine
Canal Sur
Centroamerica TV
Cinelatino
Cine Sony
Discovery En Español
Estudio5
Fox Life
History Channel Español
¡HOLA! TV
Hogar de HGTV
Pasiones
RCN Novelas
Telefe
TV Azteca
TV Dominicana
VideoRola.
Missing Elements
So what are you missing out on? As you may have noticed, there are some substantial holes in Vidgo's channel lineup. First, there's the obvious, glaring lack of premium channels. No HBO, Showtime, Cinemax, or Starz. But this isn't that big a deal given that each of them is available as an on-demand stand-alone service for $10/mo to $15/mo.
There are no AMC channels. If you're a big fan of AMC, BBC (AMC distributes BBC channels in the US), IFC, Sundance TV, or WE tv, this may not be the service for you. AMC does have a low-cost, stand-alone streaming on-demand subscription service, AMC+.
Vidgo does not carry NBCUniversal channels. In addition to having no NBC sports coverage, this means no Syfy, USA Network, Bravo, E!, Oxygen, Universal Kids, CNBC, MSNBC, or Telemundo. But NBC has its own streaming service, Peacock, which is free to view a lot of content and a low fee to unlock everything.
Finally, you won't find any WarnerMedia channels on Vidgo. Besides HBO and Cinemax, these include Boomerang, Cartoon Network/Adult Swim, TBS, TNT, truTV, Turner Classic Movies, CNN, and HLN. Much of WarnerMedia's content can be found on HBO Max, which you can get by itself.
So most of these channels can be found on their own. The question then becomes, how many different apps are you comfortable using to watch TV? Some people are fine switching between multiple apps or sites, while others would really prefer to have everything in one place.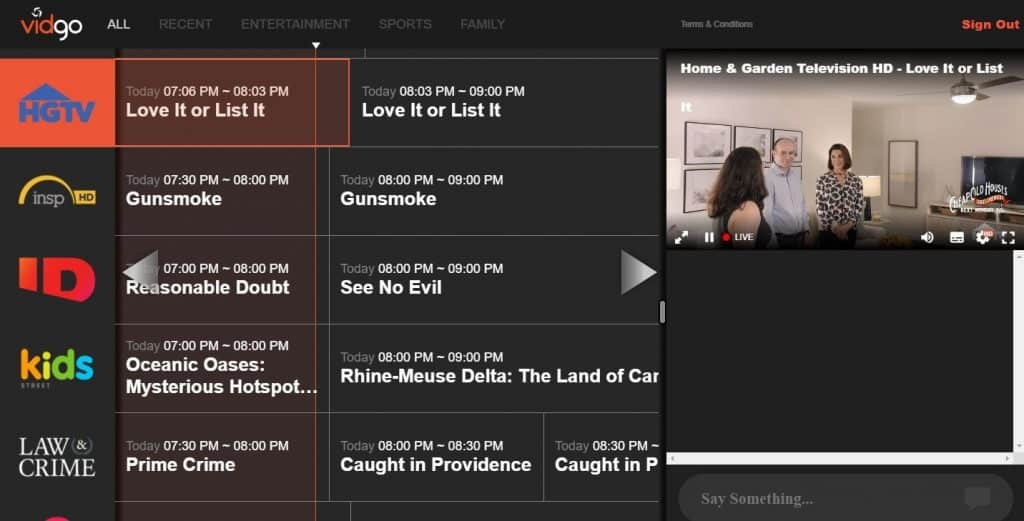 Getting Vidgo
If you want to get Vidgo, you need an internet connection and a device that supports it by running its app. The good news is that while Vidgo doesn't support some of the more exotic devices other services do, it has apps for all the major ones, and you probably own one already. See our Vidgo review for all the details.
As long as you have a supported device, just go over to the Video website. Pick the plan you want, enter your payment information, and you can start watching.
You will be billed $10 for the first month. If you find that Vidgo is not right for you, simply cancel.
Doing this is easy. Go to your Vidgo account and select the "change credit card" button. In there, you can turn off auto-pay. That's it! You will still be able to use the service through the current billing month.
Summary
Vidgo is not a complete cable-replacement service, and it's not trying to be. It knows it has gaps in its channel lineup. It knows its missing features taken for granted with other services. It knows it doesn't have the slickest UI or multiple profile support.
But it does have an excellent lineup of Spanish, college sports, and family channels. It does have NFL channels at a better price than any other service. And it's putting its resources into its social features.
So if you watch college sports, if you watch conservative news, if you watch TV as a family regularly, or prefieres mirar en español, and you don't mind missing some common channels or features, give Vidgo a try!
Packages and Channels From Other Streaming Services
Want to compare channels lists from other streaming services? Check out our guides below:
Ditch "Big Cable" Now – 3 Simple Steps to Cut the Cord
Pick the right streaming service
Get the content you deserve with the best VPN.
Supercharge your internet provider
That's it — you'll save money, take back control, and enjoy TV more!
Page Updates
▼
▲
Cross linking. Various changes to content.

Image changes. Mentioned offers. Added links.

Image changes. Pricing updates. Additional links.

Added a few links. Formatting. Misc changes.

Mentioned channel info. Updated some sub-sections. Updated some section headings. Additional links.

Changed some content in main section.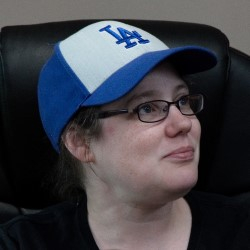 Latest posts by Alanna Baker
(see all)