If you haven't yet invested in a VPN, now is the time to do so since NordVPN offers a great deal on a two-year plan.
One month of NordVPN costs $11.99. That's pretty normal for the industry. But you can now get a two-year plan for $78.96. That's just $3.29/mo for full VPN protection from Nord!
After that, it is $99.48/yr (an average of $8.29/mo), which is still a solid deal — 30% off the monthly price.
Why You Should Use a VPN
When it comes to the most important internet tools like password managers and VPNs, we too often find that people only start using them when they've been harmed — often in a very damaging way. Don't do that! You need these tools!
A VPN solves a lot of problems that cord-cutters run into. For example, when you're on the road, your streaming service may not offer you the local news. A VPN can fix that.
But there's a broader issue. If you are not using a VPN, your activity is floating around for anyone to spy on. The issue is even worse when you use public wifi at your favorite coffee place.
A VPN keeps your activity private. (But you still have to worry about people looking over your shoulder!)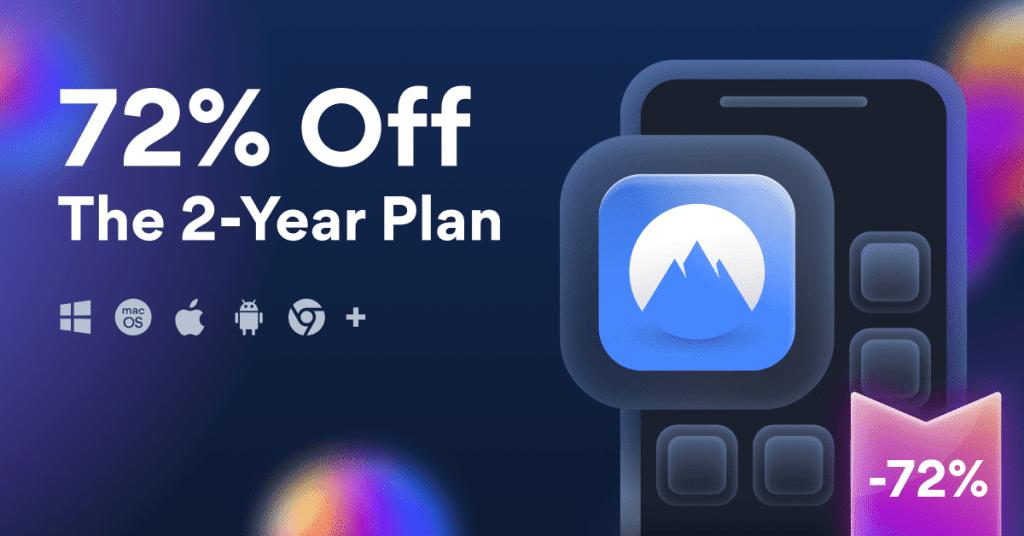 NordVPN Deal
Like most providers, NordVPN offers a better deal depending on Here are the details:
$11.99/mo (one month)
$4.99/mo (one year)
$3.29/mo (two years)
All plans come with a 30-day money-back guarantee. That gives you more than enough time to see if it is right for you.
Note that after your one- or two-year term, the yearly price is $99.48/yr. That's an average of $8.29/mo. That's still a solid deal and a 30% savings off the monthly price.
Why Get NordVPN
NordVPN offers a lot of advantages over other VPNs:
Most Servers: 5,300 servers in 60 countries
Diskless Servers: No permanent storage
Fast Connections: One of the best in terms of speed and latency
Uninterrupted Streaming: Critical for live TV
Strict No-Logs Policy: Nord doesn't track your use
Strong 256-bit AES Encryption
No DNS Leaks: All requests go through a tunnel.
NordVPN is a great service with an exceptional price. Don't delay. This deal ends soon!
Ditch "Big Cable" Now — 3 Simple Steps to Cutting the Cord
Pick the right streaming service
Get the content you deserve with the best VPN.
Supercharge your internet provider
That's it — you'll save money, gain control, and enjoy TV more!
Latest posts by Frank Moraes
(see all)