If you are a foodie who can't get enough of the Food Network and other culinary content, you don't need to hang on to your cable contract. In fact, you'll probably be better off getting a contract-free streaming service.
In a hurry? If you don't care about all the details and just want to sign-up for a great streaming service with the major food-based TV channels, we recommend the following services:
Food Network's programming celebrates the way that food connects us as families, communities, and cultures with niche cooking how-tos, explorations of food culture, original cooking (and grocery shopping) competitions, and compelling personalities like Emeril Lagasse, Ina Garten, and Guy Fieri.
You can cut cable from your entertainment diet and still get all-you-can-watch Food Network and its sister channels. Every major streaming service carries it as a basic channel, which we go into more detail on below.
Sign Up for a Free 7-Day Fubo Trial
How to Watch Food Network Live Without Cable
Food Network is part of Discovery Inc's family of channels, which includes Cooking Channel, TLC, HGTV, DIY Network, Travel Channel, Oprah Winfrey Network (OWN), Animal Planet, Discovery Channel (and all its spin-offs), Destination America, Great American Country, American Heroes Channel, and others.
There's also a relative newcomer to the scene: independent digital channel Tastemade. It features some original programming mixed with viewer-submitted content that's aimed at a younger adult audience.
Food Network is considered a pay channel, so it isn't available OTA (Over the Air) with an antenna like a local broadcast station (think NBC, ABC).
You can only watch it live with a subscription service: traditional cable, satellite, or what is called OTT (Over the Top) services. They're services that stream channels over the internet and are typically cheaper than cable with no contracts or time commitments.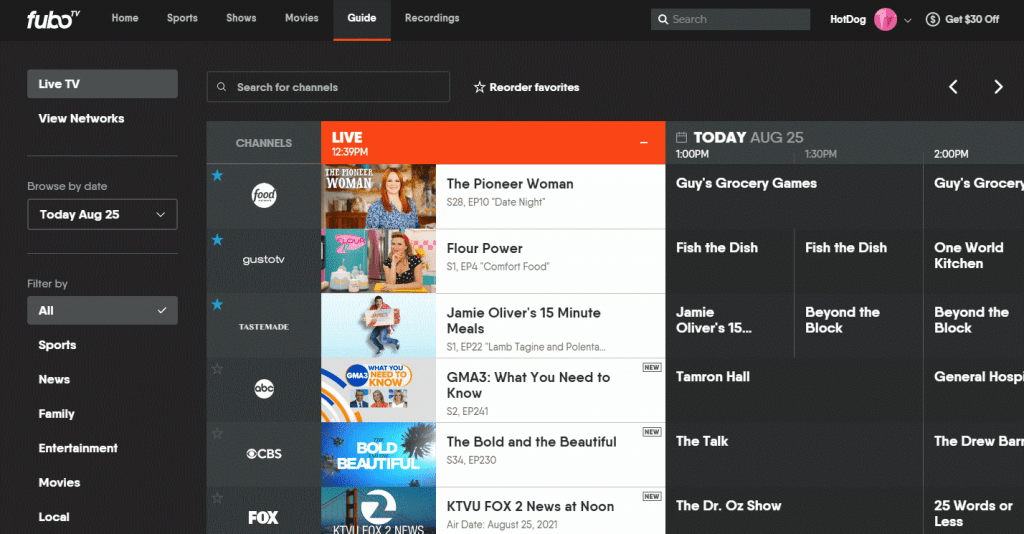 Unblock Your Favorite Movies and Shows With a VPN
If you can't watch your favorite movies and shows because of your location, a VPN will allow you to get the access you are entitled to, plus extra security and unequalled privacy. Check out our VPN Guide for everything you need to know, including our top pick ExpressVPN.
Streaming Services with Food Network
The good news is that Food Network is available on every single major live TV streaming service, and it's always included in the base package, so you don't have to go gourmet to get your Barefoot Contessa on.
The bad news is that its grittier little brother, Cooking Channel, isn't on quite as many channel menus. Don't worry though. Most of them still offer it for a little extra, either as an upgrade or add-on.
FuboTV
FuboTV was originally founded to cater to international sports fans, so it may come as a surprise that it has the most food-centered channels: Food Network; the younger, hipper Tastemade; and is the only service to currently carrying Canadian foodie channel GustoTV. The Cooking Channel is available with the Fubo Extra add-on for $7.99/mo.
Discovery staples Animal Planet, TLC, Travel Channel, and HGTV are here, as well as the Oprah Winfrey Network. In most areas, you'll also get all your local network affiliates: ABC, CBS, NBC, and Fox.
Fubo costs $69.99 per month which starts with a free for 7 days. It features over 105 channels, and 750 hours of Cloud DVR, and the ability of households to stream across ten devices simultaneously.
For more information, see these articles:
Sign Up for a Free 7-Day Fubo Trial
DIRECTV STREAM
The major draw of DIRECTV STREAM (formerly AT&T TV) is its great coverage of local network affiliates. It also carries the most regional sports networks (RSNs) of any major TV provider.
Food Network is available in all packages, as well as Animal Planet, Discovery, HGTV, and TLC for $69.99 per month. This also includes a cloud DVR and up to 20 streaming devices at one time.
DIRECTV STREAM has the Cooking Channel, Tastemade, OWN, and the Travel channel starting with its Choice package for $89.99/mo. You get the DIY Network and other Discovery channels in the Ultimate and Premier packages.
Get DIRECTV STREAM free for 5 days. You also get a free year of HBO Max included if you subscribe to the Choice (or higher) package. For more information, see DIRECTV STREAM review.
Get DIRECTV STREAM Free for 5 Days
Sling TV
Sling TV includes Food Network in both its Blue and Orange packages. Both plans also have Travel Channel, HGTV, and 50 hours of Cloud DVR.
Cooking Channel and DIY Network are available on either package with the Lifestyle Extra add-on for $6/mo. You can get Tastemade+ (the on-demand version of Tastemade) for $3/mo.
While the Blue Package does have Discovery and TLC, neither Blue nor Orange currently has Animal Planet. NBC and Fox local affiliates are available in select markets.
Right now if you prepay for two months, you can get a free AirTV Mini, a streaming device similar to a Roku that hooks up to your TV. For information see the following:
Hulu + Live TV
Hulu is where it's at for binge-watching network TV shows on-demand. You also get access to Hulu's popular original programmings like Castle Rock and the Handmaid's Tale.
Their live TV service adds over 85 live channels to that service along with ESPN+ and Disney+. Their service starts at $69.99 per month and you can watch on up to two screens at a time.
Like Fubo, Food Network is here with all its sister channels, and Cooking Channel and DIY are available with the Entertainment Add-on for $7.99/mo. The Oprah Winfrey Network is not available through Hulu + Live TV right now, so if that's a deal-breaker for you, you'll need to look elsewhere.
Find out more about Hulu here:
Philo
Humble little Philo is the most affordable service on this list, and is the only one to include Food Network and all its Discovery sister channels — plus Tastemade! No packages or add-ons, just the flat $25 for over 60 channels, unlimited DVR, and up to 3 devices streaming at the same time.
The only downside is Philo does not carry any local channels, but in most areas, you could pick up an antenna and be golden. Read these for more information.
Vidgo
Currently, save $10 on your first month of Sling TV., which you can stream on up to three screens at a time. They only have one English-language package. It includes Food Network in addition to Discovery, DIY Network, TLC, HGTV, OWN, but not Cooking Channel.
ABC and Fox affiliates are available in select markets. Currently, Vidgo doesn't have a cloud DVR option, but you can watch programs on some of the more popular channels up to 24 hours after they air with Advanced Playback. For more information, check out these articles: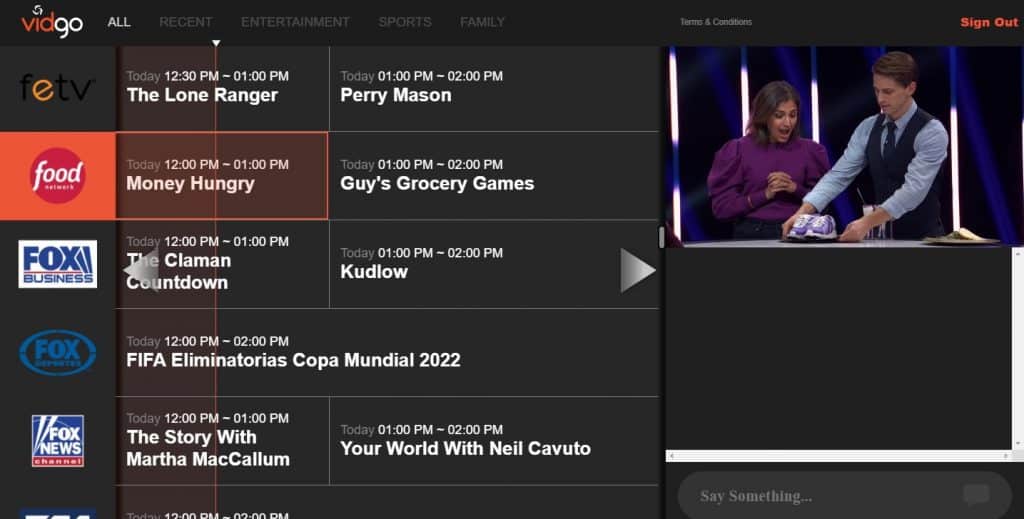 Other Ways to Stream Food Network
There are a few other ways to catch up on Diners, Drive-Ins, and Dives:
Food Network is included on YouTube TV, currently $64.99 per month.
Food Network GO is an app for those already with a pay TV login that lets you watch a live stream of the channel or on-demand content.
Food Network Kitchen is an app, available on iOS, Android, and other services like Roku, that provides access to on-demand streaming of some shows (but no live content), recipes, a meal planning tool, and more. It costs $19.99 per year, with a 7 day free trial.
Many of Food Network's shows can be found on-demand on various services, including Amazon Prime, iTunes, Netflix, and Vudu. Some require a monthly subscription, some require you buy the show by the episode or the season.

Superpower Your Live TV Streaming With a VPN
You can't beat a VPN for privacy, security, and access. We have used them for years as an important part of our streaming toolkit and we recommend ExpressVPN.
TVs and Mobile Devices for Food Network
To watch Food Network without cable, you need a device that has a platform for streaming services. The streaming services discussed above all support most devices currently in use.
Universally supported streaming devices include:
Amazon FireTV
AppleTV
Chromecast
Roku.
Standard web browsers (Chrome, Microsoft Edge, Firefox, Opera, etc.) and mobile devices running Android or iOS are also universally supported.
DIRECTV STREAM only works on the universally supported devices above, Samsung Smart TVs, and its own proprietary device.
All the rest of the streaming services support Android TV-powered smart TVs.
FuboTV, Sling TV, and Hulu all support Samsung and LG smart TVs. They also support the Xbox One gaming console.
Hulu + Live TV supports almost everything, including gaming platforms that few other live streaming services support, such as the Echo Show, Nintendo Switch, and the Playstation 4 (and up), plus most devices that other streaming services support.
Sling TV supports the Facebook Portal and the Oculus.
Sign Up for a Free 7-Day Fubo Trial
Wrapping Up
If you just can't get enough of Worst Cooks in America but are sick of paying standard cable prices, there is hope. Just sign up for one of the streaming services that include Food Network, and tune into Guy's Grocery Games anytime!
FAQs
Can I watch Food Network through the Food Network app or website?
An evolving selection of episodes of shows is available on-demand without logging in, but the majority of content is only available to viewers who already have a TV Everywhere compatible subscription. That's cable, satellite, or streaming service. If you have a TV provider that uses TV Everywhere, then you can sign in to watch a live stream of the channel as well as full episodes on-demand over the internet.
What is the cheapest way to get Food Network?
If you're only interested in food and cooking programming, like Beat Bobby Flay or The Kitchen, maybe some home improvement, DIY, and travel, you should check out Philo. It's got Food Network, Cooking Channel, Tastemade, HGTV, DIY, the Travel Channel, and all other Discovery family of channels for $25 per month. This includes unlimited cloud DVR storage and three-screen simultaneous streaming.
If you're also into sports and want local channels, you can try Sling TV for $35 per month.
How can I watch other entertainment channels without cable?
Looking for info on how to watch another channel without cable? Check out the chart below.