The AFC Wild Card games are over for 2022! Check out our NFL Preseason Guide this summer to get started right!
In a hurry? These live TV streaming services will have you set for the entire NFL postseason and much more:
FuboTV: The best streaming service for international sports also provides 100+ well-selected channels. FuboTV allows you to try out its service free for 7 days.
DIRECTV STREAM: Get a great channel lineup with the best selection of RSNs in the industry. A 5-day free trial is now available for DIRECTV STREAM.
Sling TV: This low-cost service allows you to select just the channel lineup you want. Save 50% on your first month of Sling TV.
As in the NFC, the top four seeds in the AFC playoff bracket are awarded to the four division winners. These are: Tennessee Titans (12-5), Kansas City Chiefs (12-5), Buffalo Bills (11-6), and Cincinnati Bengals (10-7).
The three wild card teams are: Las Vegas Raiders (10-7), New Engle Patriots (10-7), and Pittsburgh Steelers (9-7-1).
There are three AFC Wild Card games. The top team in the conference does not compete but the other six teams do. The top seed plays against the bottom seed, and so on.
AFC Wild Card Playoff Channels
Typically, games featuring AFC teams are broadcast on CBS. And this is also true in the postseason. However, in the opening round, the games are sorted among CBS, Fox, NBC, ESPN, ABC, and Nickelodeon. Last year, some games also aired on Telemundo and Amazon Prime Video.
The Wild Card weekend is spread over three days but the only channel that has been assigned is for the Monday Night game, which is being aired on ESPN.
All the dates, times, teams, and channels are set:
Sat Jan 15 4:35 pm: Raiders (19) at Bengals (26) (NBC)
Sat Jan 15 8:15 pm: Patriots (17) at Bills (47) (CBS)
Sun Jan 16 1:05 pm: Eagles (15) at Buccaneers (31) (Fox)
Sun Jan 16 4:40 pm: 49ers (23) at Cowboys (17) (CBS,Nickelodeon)
Sun Jan 16 8:15 pm: Steelers (21) at Chiefs (42) (NBC)
Mon Jan 17 8:15 pm: Cardinals (11) at Rams (34) (ABC,ESPN)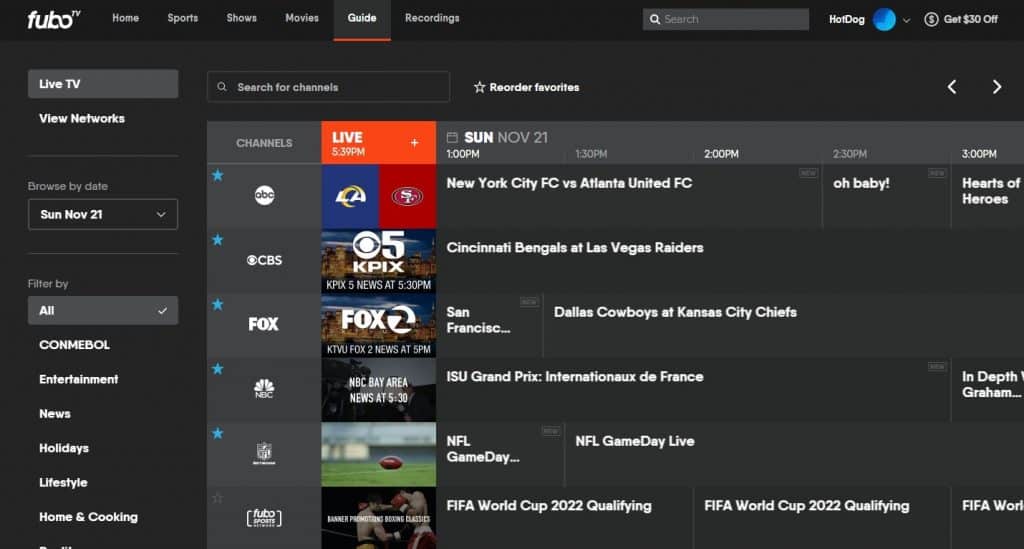 Do You Need a VPN?
If you find you can't watch particular events because of your location, a VPN should allow you to get the access you are entitled to. It also provides extra security and unequalled privacy. See our complete VPN Guide for all you need to know.
Live TV Streaming Services for AFC Wild Card Games
If you want to watch all of the AFC Wild Card games (and all of the NFL playoffs), your best bet is to go with a live TV streaming service.
FuboTV

The FuboTV Starter package is $64.99/mo. It comes with over 100 channels including all the local affiliates as well as ESPN. So you will be able to watch every playoff game including the Wild Card round.
All its plans come with 250 hours of cloud DVR storage. You can also watch on up to three devices simultaneously. You can get all the details in our FuboTV review.
Hulu + Live TV

Hulu + Live TV starts with the outstanding on-demand library that everyone knows. And it adds 85+ live TV channels including CBS, Fox, NBC, and ESPN for $69.99/mo. You also get Disney+ and ESPN+. It's a great general entertainment plan with a broad range of channels.
It comes with 50 hours of cloud DVR and simultaneous streaming on up to two screens. Get more information in our Hulu + Live TV review.
DIRECTV STREAM

For $69.99/mo, DIRECTV STREAM (formerly AT&T TV) provides roughly 80 channels including all the local stations as well as ESPN. It offers higher-level plans if you want more including tons of premium channels and the best selection of regional sports networks in the industry.
All plans come with 20 hours of cloud DVR and the ability to stream on up to 20 devices at once. See our DIRECTV STREAM review for more information.
Sling TV

Sling Blue provides NBC and Fox for $35/mo. If you also want ESPN, you must get the Orange & Blue plan for $50/mo. Regardless, you can't get CBS unless you integrate an antenna with the service. This works seamlessly, however.
It comes with 50 hours of cloud DVR storage. You can stream Fox and NBC on up to three devices but you are limited to one when it comes to ESPN. Get all the details in our Sling TV review.
Vidgo

The base Vidgo plan provides 85+ live TV channels for $55/mo. This comes with ABC, Fox, and ESPN. It does not offer either NBC or CBS. You can use an antenna for these but they will not be integrated with your Vidgo guide. The other option is to add the Peacock and Paramount+ plans to this.
Vidgo does not offer a cloud DVR. It does, however, allow you to stream on up to three devices. For more, see our Vidgo review.
YouTube TV

YouTube TV is $64.99 per month and comes with all of your local channels as well as ESPN.
Other Streaming Options
These streaming services are channel-specific. They are both really good in their own ways but they will only allow you to stream a fraction of the Wild Card games. They both work great as additions to live TV streaming services.
Peacock

This streaming service from NBC comes with live streams of any NFL game that is broadcast on the network if you subscribe to its premium service tier. It is $4.99/mo for the base plan or $9.99/mo for commercial-free streaming of on-demand content. In addition to playoff games, you can watch Sunday Night Football broadcasts live during the regular season.
Paramount+

Paramount+ (formerly CBS All Access) comes with live streams of all NFL games that are broadcast on CBS. Therefore, you can use this to watch regular-season games as well as any playoff games that take place prior to the Super Bowl. The base plan is $4.99/mo or $9.99/mo for the add-free plan. See our Paramount+ review for more.
Streaming Devices for the AFC Wild Card Round
There's no need to watch the AFC Wild Card games on your desktop computer. The streaming services we've discussed run on most devices you have.
The TV devices Amazon Fire TV, Apple TV, and Roku are universally supported. And that goes for mobile devices based on Android and iOS. You can also cast to your TV using Chromecast.
All the streaming services (except Vidgo) support Samsung smart TVs. LG and Vizio smart TVs are supported by Fubo, Hulu, and Sling. And all of them (except DIRECTV STREAM) support Android TV devices.
The Xbox One gaming system is supported by FuboTV, Sling TV, and Hulu + Live TV. And the PlayStation is supported by Hulu.
For a complete list of supported devices, see each streaming service review.
Superpower Your Streaming With a VPN
For the sake of privacy, security, and access, you should be using a VPN. They are low-cost and easy to use. We've been using them for years and our top pick is ExpressVPN.
Wrapping Up
If you have access to CBS, Fox, NBC, and ESPN, you are set for the NFL Wild Card games — AFC and NFC. You have many options for getting most of them. For them all, we recommend FuboTV and Hulu + Live TV.
FAQs
What AFC wild card teams have made it to the Super Bowl?
In 1993, the Buffalo Bills made the Super Bowl despite not winning their division. The Pittsburgh Steelers won the Super Bowl in 2005 after earning the sixth seed in the playoffs. They became the first team to advance to the championship game despite being seeded last among AFC teams that qualified for the postseason.
Can two AFC teams make it to the Super Bowl?
The Super Bowl is played between the champions of the AFC and the NFC, which means that only one team from that conference can play in that game. Although NFC and AFC teams do meet during the regular season, they never do in the playoffs except in the Super Bowl.
How do I stream other NFL playoff games?
The following guides provide details on watching the NFL playoffs:
Our article How to Watch NFL Without Cable has general information. And the following articles explain how to watch particular teams:
AFC
NFC
Latest posts by Frank Moraes
(see all)