The Bills made it all the way to the Divisional Round before going down to the Bengals 27-10. Find out what happens next in the NFL Playoffs with FuboTV!
If you are a Bills fan, you no longer need to be tied to a cable contract. Read on to learn all your options to watch the Bills and much more this season!
In a hurry? If you just want to get started streaming Bills games, you'll do well signing up with any of the following services:
FuboTV: The best streaming service for international sports also provides 120+ well-selected channels. FuboTV allows you to try out its service free for 7 days.
DIRECTV STREAM: Get a great channel lineup with the best selection of RSNs in the industry. A 5-day free trial is now available for DIRECTV STREAM.
Hulu + Live TV: A great overall streaming service offering 85+ live channels along with ESPN+ and Disney+. Try one month for $69.99.
If you can't watch your favorite sports because of your location, get ExpressVPN to access the content you deserve.
Unfortunately, we don't know a streaming service in that covers this sport. But if you've already paid for the right service, and just can't watch because of your location, there is an easy way to get the content you deserve. You need a VPN, like one of the following.
ExpressVPN: Premium VPN provider that just works, with 3,000+ locations in 94 countries. Supports five simultaneous devices and comes with a 30-day money-back guarantee. (ExpressVPN review)
Surfshark: Connect to over 3,200 servers in 99 countries (+ tonnes of US metro areas). Try it with a 7-day free trial.
NordVPN: Connect to over 5,000 premium servers in 60+ countries. Comes with a 30-day money-back guarantee!
If you're overwhelmed and not sure where to begin, you'll find all the answers in our full VPN guide.
Bottom line: 16 of the 17 regular season Bills games will air on live TV, with one streaming only (on Amazon Prime Video). The services above have you covered for the regular and postseason. See the Bills schedule below.
Cable used to be a required part of football viewing, but thanks to the streaming revolution and services like FuboTV (free for 7 days), those days are gone. Now you can find everything you need to watch the Buffalo Bills online without cable right here!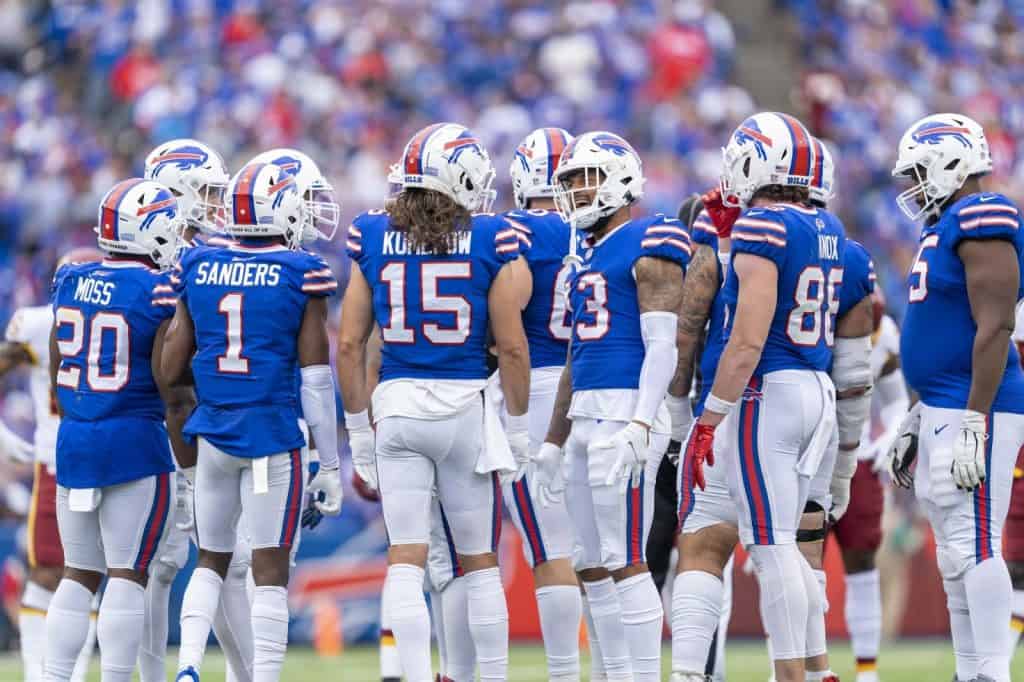 If you're looking for a way to watch Buffalo Bills games online, including the NFL Playoffs, this is the place for you! This guide will cover more about streaming and the services that will give you access to the channels you need to ensure you don't miss a Bills game this season. Keep reading for more information on how to watch games free and cheap!
Are you a fan outside your team's broadcast area? Learn to get complete access with our NFL Out-of-Market Game Guide.
2022-23 Buffalo Bills Season Roundup
The Bills had an outstanding season, reaching 13 wins for just the second time since 1991, but it had a sour conclusion, losing convincingly to the Bengals at home in a snowstorm, 27-10, in the divisional round. That marked the second straight season of ending at that stage, which followed the 2020 Bills advancing to and falling in the AFC championship game.
One of the biggest questions heading into the offseason is whether quarterback Josh Allen will require elbow surgery as a result of the sprained UCL that he suffered in November. However, he said that he does not believe that one will be necessary.
Sign Up for a Free 7-Day Fubo Trial
What Channels Offer the Buffalo Bills Live Stream?
To enjoy the full season of Buffalo Bills games, you'll need local networks FOX, CBS, and NBC. You'll also need broadcast networks like NFL Network and ESPN.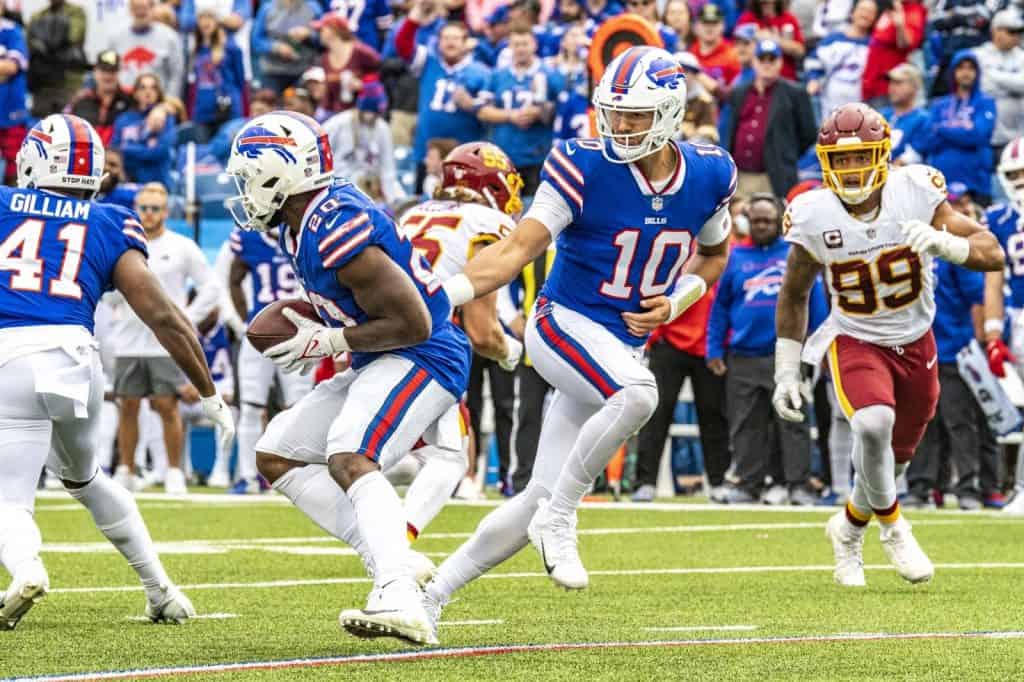 While you can get local networks without cable using a digital antenna, you'd need a streaming service to watch ESPN and NFL Network legally without cable. Luckily, the following services offer access to local and broadcast networks you'll need to stream the Buffalo Bills games without cable.
Out-of-market fans should see our viewer's guide or our general NFL guide.
Are you a fan outside your team's broadcast area? Learn to get complete access with our NFL Out-of-Market Game Guide.
Unblock Your Favorite Events & Teams With a VPN
If you can't watch your favorite events or teams because of your location, a VPN will allow you to get the access you are entitled to, plus extra security and unequalled privacy. Check out our VPN Guide for everything you need to know, including our top pick ExpressVPN.
How to Watch the Buffalo Bills Game without Cable
There is no shortage of ways to watch TV without cable these days. Two of our most recommended services, especially when it comes to sports viewing, are FuboTV and Hulu Live. Either of these services would make a great way to watch the Buffalo Bills online.
Each service offers a plethora of TV channels, as well as both live and on-demand viewing options. Best of all, both services are affordable and much cheaper than cable. At the end of this guide, we'll mention a variety of other services that would make a great choice to watch Bills football online without cable.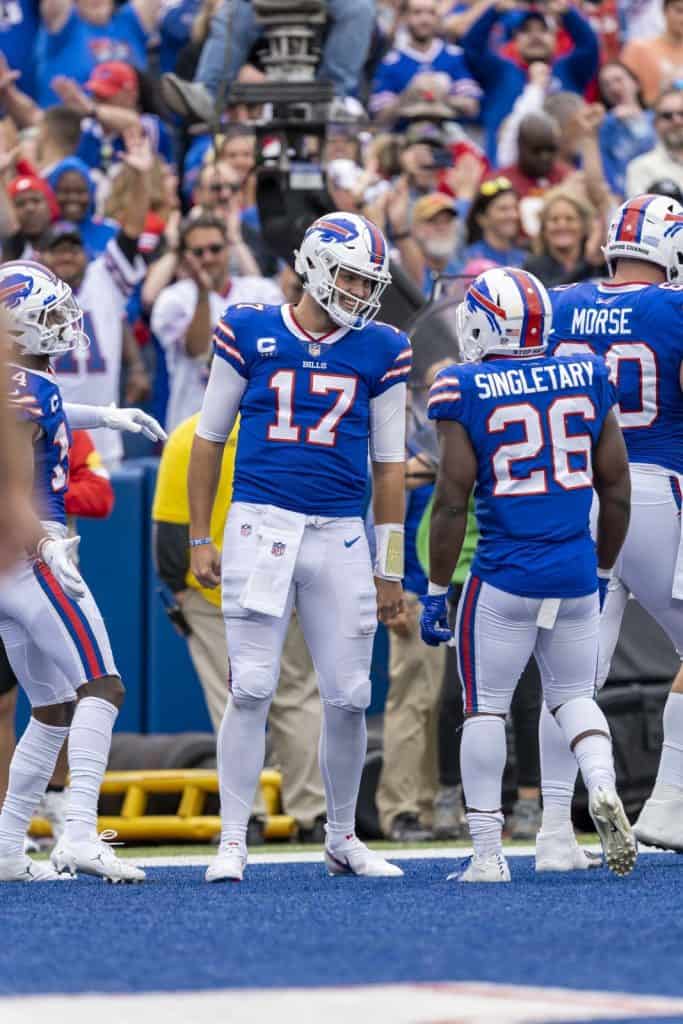 Streaming is pretty similar to cable, other than the fact that you won't get stuck in a contract you don't want. The main difference is that you'll use a streaming device rather than a cable box.
Streaming devices, like Roku boxes or mobile devices, connect to the Internet and allow you to watch TV from just about anywhere as long as you have an Internet connection. This makes it easier than ever to watch what you want when you want.
Out-of-Market Buffalo Bills Games
If you live outside the Buffalo Bills broadcast area, it's likely Sunday afternoon games will not be broadcast where you are. These games are a bit of a challenge for fans. They are like reverse blackouts.
We've created a general guide, NFL Out-of-Market Football Games, that explains generally how to watch your favorite far-flung teams.
The standard way to watch out-of-market games is with NFL Sunday Ticket. Currently, the only way that US fans can get it is through DIRECTV Satellite. So cord-cutters are out of luck — at least until next season.
You may also be able to use a VPN. There are licensing considerations, however. See ExpressVPN for more information on watching NFL games with a VPN.
Catch the Buffalo Bills Live Stream without Cable on FuboTV
FuboTV also offers some good options for Buffalo Bills streaming. This option provides 120+ channels with optional channel add-ons. You'll get a wide variety of sports channels here, as well as something for the entire family.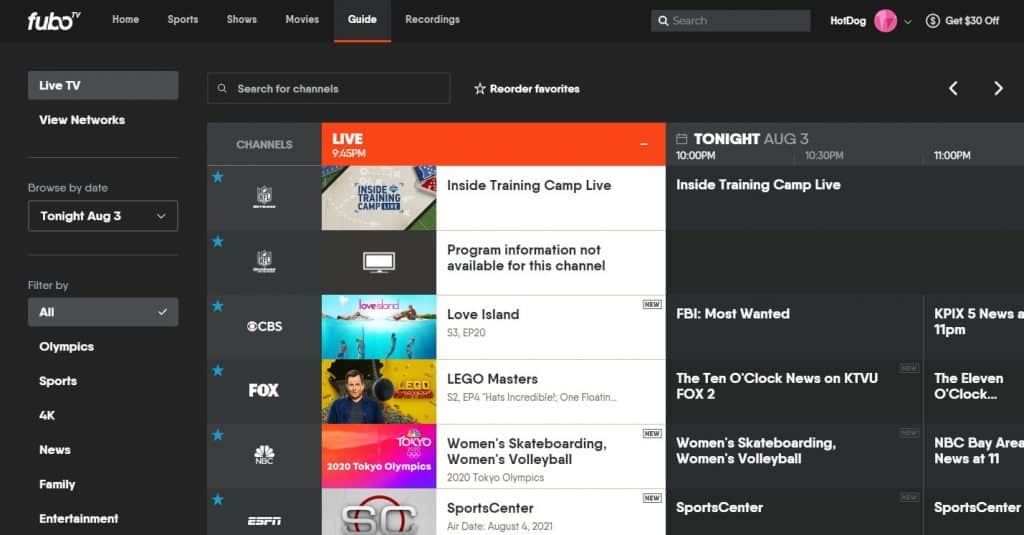 Other FuboTV details:
$74.99/mo, FuboTV allows you to try out its service free for 7 days.
Over 120 channels, use of TV Everywhere apps, and a cloud-based DVR
More than 35 sports channels with optional add-ons (excellent option to watch sports online)
Fox, NBC (Sunday Night Football), and CBS are available
ESPN and NFL Network included
Stream on mobile devices, Roku, Chromecast, Fire TV, Apple TV, and more
3-Day Replay gives you time to watch shows you missed live
Learn more with our FuboTV review.
FuboTV is reasonably priced and offers a robust package that should work well for most families. Along with live TV, you can use TV Everywhere apps, the on-demand library, or record shows to your cloud-DVR.
Sign Up for a Free 7-Day Fubo Trial
Watch the Buffalo Bills Online with Hulu + Live TV
Hulu + Live TV offers over 85 channels, a cloud-based DVR, and Hulu on-demand for $69.99/mo. Oh, and ESPN+ and Disney+!
This package gives you way more than you can get with a cable plan.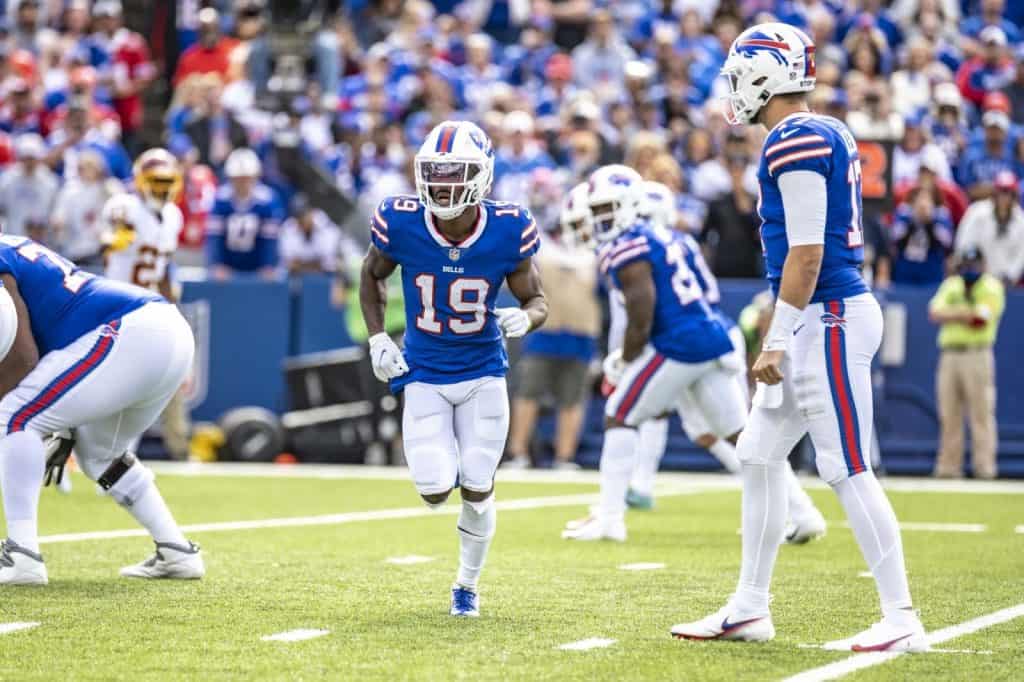 Here's more on Hulu Live:
Over 85 channels with Hulu's on-demand service
Disney+ and ESPN+
ESPN NFL Network, and local network affiliates included
$69.99/mo
Good solution to watch NFL online
Watch on Apple TV, Chromecast, mobile devices, Roku, Amazon Fire TV, and more
Check out our Hulu with Live TV review to learn more.
Hulu Live is an inexpensive cable replacement that is free of contracts. You'll have live and on-demand TV, along with a cloud-DVR. You can even use TV Everywhere apps for more content.
Superpower Your Streaming With a VPN
For the sake of privacy, security, and access, you should be using a VPN. They are low-cost and easy to use. We've been using them for years and our top pick is ExpressVPN. Be sure to check out our Cyber Monday 2022 deals on ExpressVPN, NordVPN, SurfShark and PureVPN.
Other Options to Watch Buffalo Bills Game Online
Along with Hulu Live and FuboTV, you've got some other options. Here are some additional streaming services that will allow you to watch the Buffalo Bills games online without cable.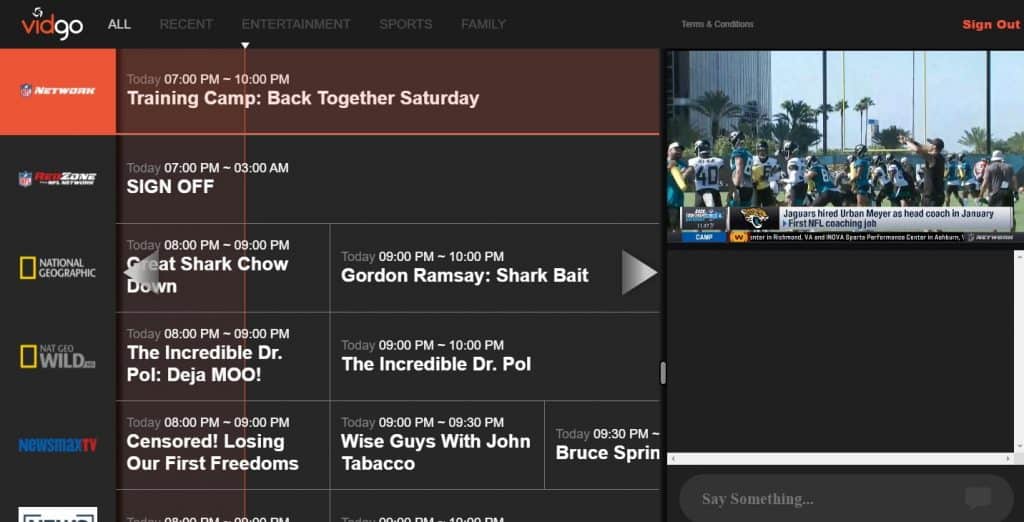 Sign Up for a Free 7-Day Fubo Trial
Looking for Info on How to Watch Another Team?
Need more information on how to watch the NFL without cable, tailored specifically to your favorite team? Click on your team below.
Want to know how to watch the Wild-Card round and every NFL playoff game? Check everything in our dedicated guide!
As you can see, streaming is a cheaper option that gives you more variety in how and where you watch what you want. Hopefully, this has answered all your questions about how to watch the Buffalo Bills online without cable.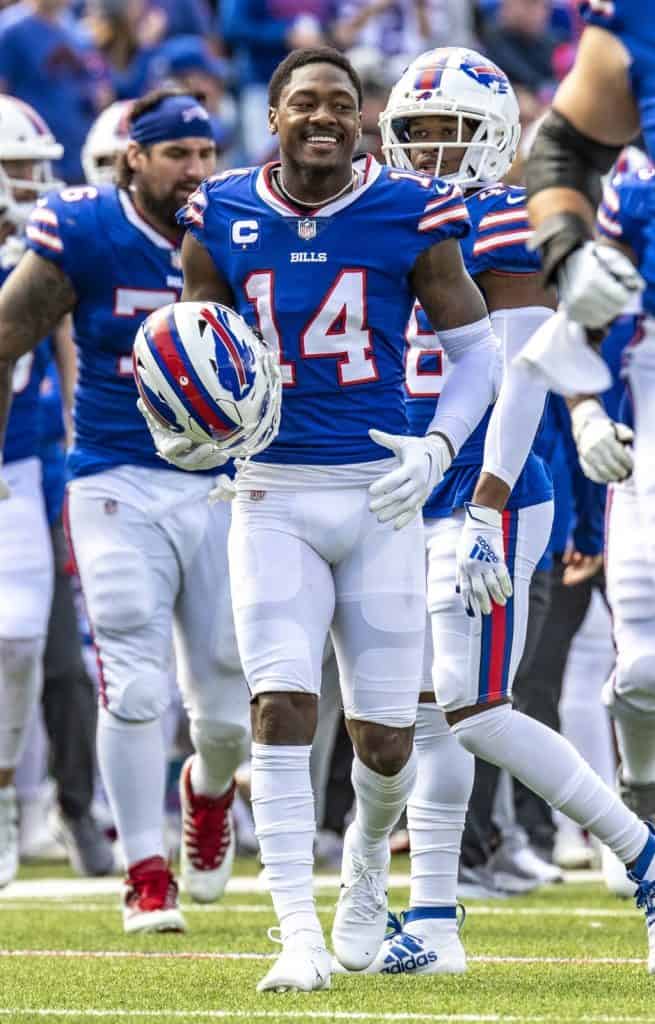 If you have questions, feel free to let us know!
FAQs
Which channels do I need to watch the Buffalo Bills?
If you live in Western New York, all Buffalo Bills games will be broadcast on CBS, FOX, NBC, ABC, ESPN, or Amazon Prime Video. Conversely, those elsewhere will get all nationally televised games, those on NBC, ABC, ESPN and Amazon Prime Video, as well as a limited selection of the regionally broadcast contests airing on CBS and FOX. Purchasing an NFL Sunday Ticket will give you access to CBS- and FOX-broadcast games not being shown in your area.
What radio stations are the Buffalo Bills on?
Buffalo Bills fans located in the Buffalo, NY, metropolitan area can tune into WGR to listen to John Murphy describe the action on the field. Those situated elsewhere in Western New York can tune into another station on the Buffalo Bills radio network, which also stretches into some other parts of New York and into Pennsylvania. Fans located in other parts of the country can listen to select games, including all playoff contests, on Westwood One Sports.
How do I watch the Buffalo Bills on my phone?
There are several sites that you can use to watch the Buffalo Bills on your phone. If you want to watch the game live on CBS or FOX, you can do so by subscribing to FuboTV or Sling TV. Alternatively, you can watch highlights of completed games on NFL Network, which is available through the Sling Blue package.
How many championships has the Buffalo Bills won?
The Buffalo Bills have yet to win the Super Bowl, but they have claimed a number of other championships in their storied history. Most famously, they won four straight AFC championships, from 1990-93, before falling in each of the ensuing Super Bowls. Additionally, prior to joining the NFL in 1970, Buffalo claimed AFL championships in 1964 and 1965. The team also won the AFL Eastern Division title on three occasions and has taken the AFC East Division championship eight times.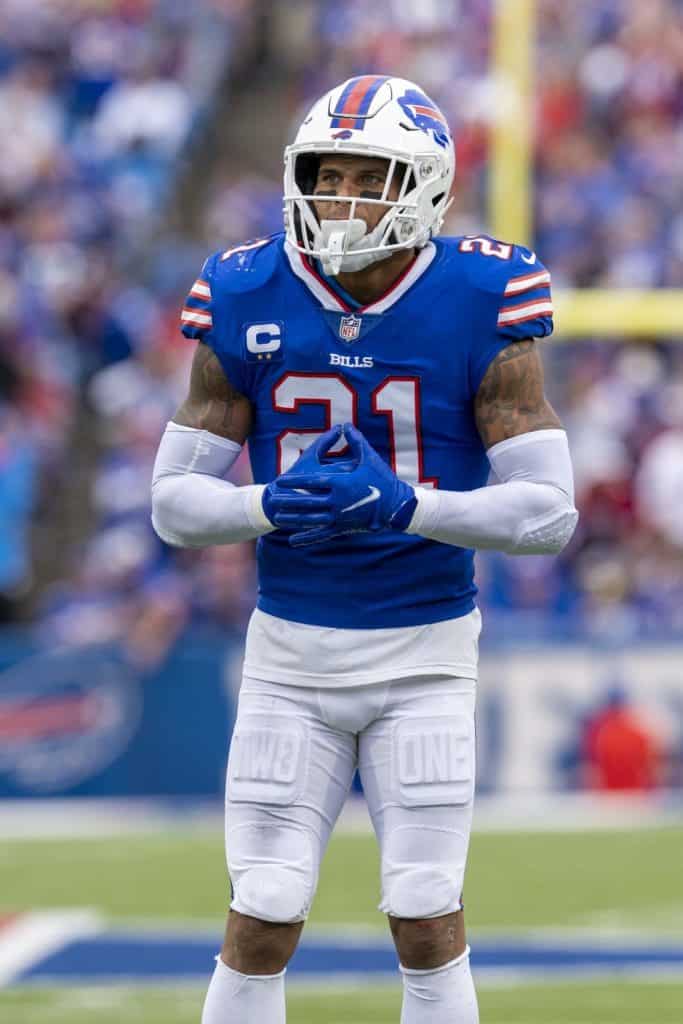 How do I watch the Buffalo Bills game tonight?
Tonight's Buffalo Bills game will most likely be broadcast on FOX, NFL Network, NBC, ABC, or ESPN. Thursday Night Football games are generally broadcast on NFL Network or that channel and FOX, Sunday Night Football contests are shown on NBC, and Monday Night Football games are on ESPN, sometimes on ABC as well. Exceptions include FOX and ABC showing late-season Saturday evening matchups, and NBC broadcasting Thursday night games the first week of the campaign and on Thanksgiving.
How do I record Buffalo Bills live games?
Recording the Buffalo Bills is quick and easy if you've purchased a reliable streaming service. Most services provide a cloud DVR feature that's perfect for recording live sporting events and bringing them up later on your device. Whether the Bills are playing on CBS, Fox, or some other network, you can use your streaming service to record the game and watch it at your leisure.
Why was the Bengals vs Bills game been cancelled?
NFL cancelled the Monday night game on 2nd January, Bills vs Bengals, after Buffalo Bills' Damar Hamlin collapsed on the field during the match. He was rushed to the hospital. Fortunately, his condition has steadily improved, and he was released from Buffalo General Medical Center on January 11 to continue rehab at home.
What is the 2022 Buffalo Bills schedule?
Sign Up for a Free 7-Day Fubo Trial
Ditch "Big Cable" Now – 3 Simple Steps to Cut the Cord
Pick the right streaming service
Get the content you deserve with the best VPN.
Supercharge your internet provider
That's it — you'll save money, take back control, and enjoy TV more!
Latest posts by Frank Moraes
(see all)