If you're a loyal Lions football fan you know that you'll need a variety of channels to watch the games throughout the season. You can learn more about how to watch the Detroit Lions game online without cable in the guide below.
In a hurry? If you just want to get started watching the Lions season and don't care about the details, sign up for one of these streaming services:
FuboTV: The best streaming service for international sports also provides 100+ well-selected channels. FuboTV allows you to try out its service free for 7 days.
DIRECTV STREAM: Get a great channel lineup with the best selection of RSNs in the industry. A 5-day free trial is now available for DIRECTV STREAM.
Sling TV: This low-cost service allows you to select just the channel lineup you want. Save 50% on your first month of Sling TV.
The Detroit Lions have been entertaining fans for over 80 years in the Motor City. While it can be sometimes hard to love the Lions, who are known for never making it to the Super Bowl, fans still remain hopeful.
In the sections below you'll get a chance to learn more about the channels you need to watch the Detroit Lions online. You'll also learn about the available streaming services, like FuboTV (free for 7 days), which will give you all you need to watch Lions football without cable.
What Channels Offer the Detroit Lions Live Stream?
You'll need some local and broadcast channels to watch the Detroit Lions without cable. Local channels, including Fox, CBS, and NBC can be accessed through streaming services based on your location. You can also get these channels through a digital antenna.
As for broadcast channels, you'll need ESPN and NFL Network, both of which can be accessed with streaming services mentioned in the sections below.
Do You Need a VPN?
If you find you can't watch particular events because of your location, a VPN should allow you to get the access you are entitled to. It also provides extra security and unequalled privacy. See our complete VPN Guide for all you need to know.
How to Watch the Detroit Lions without Cable
When it comes to watching the Detroit Lions live stream two of our favorite options include Hulu with Live TV and FuboTV. Streaming services will give you a chance to watch your favorite channels for less money. Best of all, you can do it without any type of contract or obligation.
Even if you've never used a streaming service before you can be up and running in minutes. As long as you have an Internet connection and a streaming device, you'll be set to watch the Detroit Lions live stream in no time. Streaming devices could include mobile devices, computers, Apple TV, Amazon Fire TV, and many other options.
Watch the Detroit Lions without Cable on FuboTV
FuboTV is a great choice if you want a huge starting package. You'll have over 105 channels to enjoy and you can add more for a small fee. This is a great sports option as it includes over 35 sports channels. Packages also include an on-demand library and cloud-DVR. More FuboTV details:
FuboTV offers a great way to replace your cable package. You won't have to sign a contract and the monthly fee is cheaper than most cable packages. You can stream on most devices and you'll have access to both an on-demand library and TV Everywhere apps.
Make sure to try the free for 7 days!
Watch the Detroit Lions Online via Hulu + Live TV
Hulu Live TV has everything you'll need to watch the Detroit Lions live stream. The service is affordable, and it comes with Hulu's on-demand service in addition to over 85 live channels. Here's more on Hulu Live:
85+ channels for $69.99/mo
Hulu on-demand, ESPN+, and Disney+ included
NFL Network, ESPN, and local channels are included
Unlimited cloud DVR (9 month storage)
Watch on Apple TV, iOS/Android, Roku, Amazon Fire TV, and more
Our Hulu with Live TV review can tell you more.
Hulu Live is one of our top recommendations because it makes replacing cable a breeze. It's a great overall option to watch NFL online this season. It's reasonably priced, offers a lot of content, and has plenty of room for customization.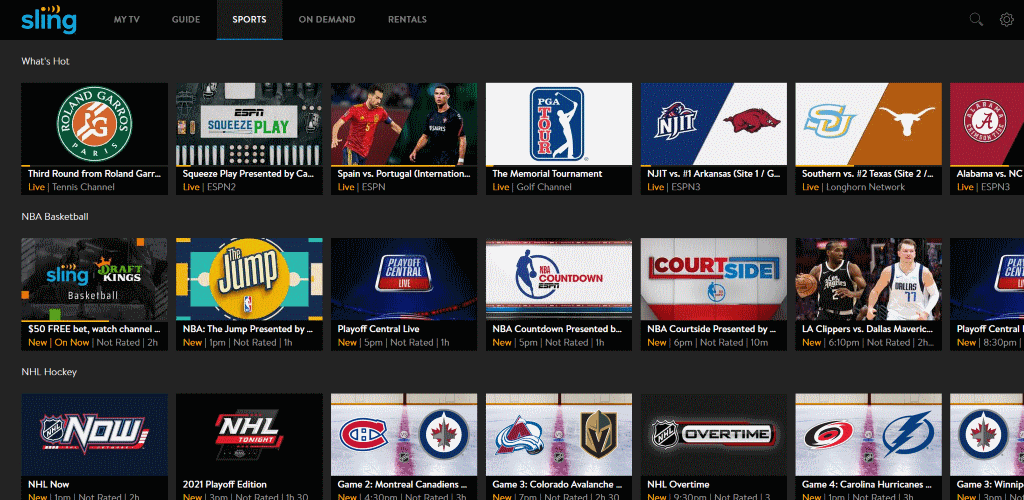 Superpower Your Streaming With a VPN
For the sake of privacy, security, and access, you should be using a VPN. They are low-cost and easy to use. We've been using them for years and our top pick is ExpressVPN.
Other Options to Watch Detroit Lions Online
Hulu Live and FuboTV are two great options, but if you're interested in learning about other streaming services, this is the section for you.
All of the following services will give you a way to watch some or all of the Detroit Lions live stream this season.
Looking for Info on How to Watch Another Team?
Need more information on how to watch the NFL without cable tailored specifically to your favorite team? Click on your team below.
Streaming services are a cheap way to replace cable without sacrificing your favorite entertainment. Hopefully, you learned all you need to watch the Detroit Lions online, but if you have any questions, we're here to help!
FAQs
Which channels do I need to watch the Detroit Lions?
In most cases, the Detroit Lions will be broadcast on a regional basis on Fox, including in the Detroit metropolitan area and through most or all of Michigan. In some cases, regional coverage will be on CBS instead. When the team is being broadcast across the country in prime time, you will need to have access to Fox, ABC, NBC, ESPN, NFL Network, or Amazon Prime Video to watch, depending on the game.
What radio stations are the Detroit Lions on?
The 44 Lions radio affiliates cover Michigan. Its flagship station is Detroit's 97.1 FM WXYT. However, fans who are located elsewhere can listen to a number of Detroit Lions games on their local Westwood One Sports affiliates, including any postseason contests that Detroit plays in. You can also listen to both of those types of broadcasts online after purchasing a TuneIn Premium subscription.
How do I watch the Detroit Lions on my phone?
If you would like to watch Detroit Lions games while on the go, make sure to download the Lions, NFL, or Yahoo Sports apps. Through those, you can watch any games that air locally for free (but only on mobile devices). You can also stream live on general streaming services like FuboTV as well as NFL Sunday Ticket.
How many championships has the Detroit Lions won?
Although the Detroit Lions have never played in the Super Bowl, they have claimed four NFL championships, all won before the first Super Bowl took place in January 1967. Those occurred in 1935, 1952, 1953, and 1957. In addition, the franchise has won four division titles, in 1935, 1983, 1991, and 1993. The 1991 season was the closest that Detroit has been to the Super Bowl. The Lions fell in that season's NFC championship game.
How do I watch the Detroit Lions game tonight?
Tonight's Lions game will generally be on NFL Network, ESPN, or NBC. Games played in the evenings on Thursday are sometimes on NBC but generally on NFL Network along with Fox and Amazon Prime Video. Those on Sundays are on NBC and Monday Night Football is on ESPN (occasionally with ABC). A FuboTV or Hulu + Live TV subscription will grant you access to all of those options.
How do I record Detroit Lions live games?
Most cable and satellite providers and streaming services such as FuboTV provide you with the option to record programming, generally including the ability to record Detroit Lions games. One important exception to note is that NFL Sunday Ticket broadcasts may not be recorded. However, if you are either unable to or forget to record the game, you can subscribe to NFL Game Pass and access an archived broadcast of it.
What is the 2022 Detroit Lions schedule?
Fri Aug 12 6:00 pm: Falcons at Lions [P]
Sat Aug 20 1:00 pm: Lions at Colts [P]
Sun Aug 28 4:30 pm: Lions at Steelers (CBS) [P]
Sun Sep 11 1:00 pm: Eagles at Lions (Fox)
Sun Sep 18 1:00 pm: Commanders at Lions (Fox)
Sun Sep 25 1:00 pm: Lions at Vikings (Fox)
Sun Oct 2 1:00 pm: Seahawks at Lions (Fox)
Sun Oct 9 1:00 pm: Lions at Patriots (Fox)
Sun Oct 23 1:00 pm: Lions at Cowboys (CBS)
Sun Oct 30 1:00 pm: Dolphins at Lions (CBS)
Sun Nov 6 1:00 pm: Packers at Lions (Fox)
Sun Nov 13 1:00 pm: Lions at Bears (Fox)
Sun Nov 20 1:00 pm: Lions at Giants (Fox)
Thu Nov 24 1:30 pm: Bills at Lions (CBS)
Sun Dec 4 1:00 pm: Jaguars at Lions (Fox)
Sun Dec 11 1:00 pm: Vikings at Lions (Fox)
Sun Dec 18 1:00 pm: Lions at Jets (Fox)
Sat Dec 24 1:00 pm: Lions at Panthers (Fox)
Sun Jan 1 1:00 pm: Bears at Lions (Fox)
TBD: Lions at Packers
Latest posts by Frank Moraes
(see all)