New Orleans Saints don't need to rely on a cable provider to enjoy the season. We explain all below!
In a hurry? But if you just want to cut to the chase, sign up with one of these services and you'll be set:
FuboTV: The best streaming service for international sports also provides 100+ well-selected channels. FuboTV allows you to try out its service free for 7 days.
DIRECTV STREAM: Get a great channel lineup with the best selection of RSNs in the industry. A 5-day free trial is now available for DIRECTV STREAM.
Sling TV: This low-cost service allows you to select just the channel lineup you want. Save 50% on your first month of Sling TV.
The New Orleans Saints are one of three teams to have won their only Super Bowl appearance. Despite only making it to the big game once, the Saints remain to be a hometown favorite throughout New Orleans and a popular choice with fans around the country.
If you're not in New Orleans, you might think you need cable to watch the New Orleans Saints live stream. Once upon a time, you would have been right. However, thanks to streaming services there are a variety of options that will allow you to watch the New Orleans Saints online without cable.
If you're not sure how to use streaming services to pick up a Saints live stream, this is the guide for you. You'll learn the channels you need and how to find them with services like FuboTV (free for 7 days) and Hulu Live.
Multiple streaming services are available that will help you watch some or all of the New Orleans Saints streaming this season, and you'll find details on all of them below.
What Channels Offer the New Orleans Saints Live Stream?
As long as you have access to CBS, FOX, NBC, NFL Network, and ESPN you will be able to watch the New Orleans Saints live stream. All of these channels are available through various streaming services.
The local channels are only available based on location, though. If you're in an area that does not receive local access live you may also be able to get those channels using a digital antenna.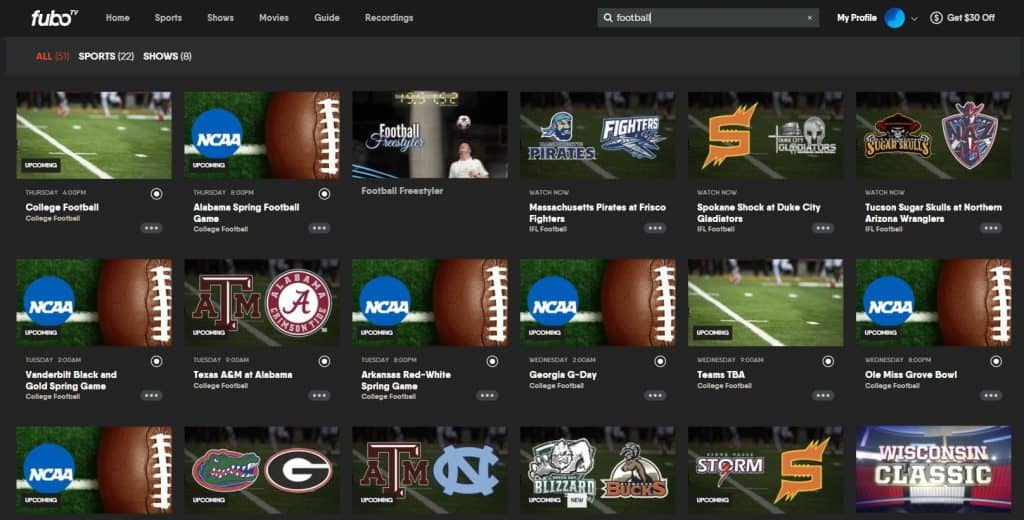 Do You Need a VPN?
If you find you can't watch particular events because of your location, a VPN should allow you to get the access you are entitled to. It also provides extra security and unequalled privacy. See our complete VPN Guide for all you need to know.
How to Watch the New Orleans Saints Live Stream without Cable
You may think you're new to streaming services, but it's likely you've already tried them. If you've watched videos on YouTube or you subscribe to Netflix, you've used a streaming service. The only difference between these services and the ones that will give you a New Orleans Saints live stream is that one offers live streaming and the others are on-demand.
Both kinds of services work the same way though. You use an Internet connection connected to a streaming device (mobile devices, computers, Roku, etc.) in order to watch your favorite shows. Once your device is set up, it's a lot like cable. You just turn on your device and start watching!
If you want to watch the New Orleans Saints online, you're going to need a streaming service to do it. Two popular options are Hulu with Live TV and FuboTV. These options offer a chance to try the service with free trials and with no contracts, you can cancel at any point.
After we look at these options, we will offer all of the other ways that you can watch the New Orleans Saints streaming without cable.
Watch the New Orleans Saints Online via Hulu + Live TV
Hulu + Live TV is a good choice if you want to get a large amount of content for a fair price. Packages start at just $69.99 per month and include 85+ channels, Hulu's on-demand service, and the use of WatchESPN and many other TV Everywhere apps.
Here's more on Hulu Live:
Hulu on-demand and 85+ channels at $69.99 per month
ESPN+ and Disney+ included
This package includes FX, ESPN, USA, MSNBC, Freeform, TNT, and more
Local channels are available in most areas
Unlimited cloud DVR (9 month storage)
Watch on computers, Apple TV, iOS/Android, smart TVs, Roku, and more
Read our Hulu with Live TV review to find out more.
Hulu with Live TV is just one way to watch the New Orleans Saints online without cable. It's also a great way to watch many of your other favorite shows and sports. Hulu on-demand is included, along with TV Everywhere apps, which allow you to watch WatchESPN and other network apps.
Watch the New Orleans Saints Live Stream on FuboTV
FuboTV starts you off with more than 100 channels. If that's not enough for you, there are several add-on channels and packages that can be added to your package for a fee.
You'll be able to watch live and on-demand content with plenty of sports and general entertainment to choose from. More FuboTV details:
$69.99 per month
Get over 100 channels – plenty of options to watch sports online
Get local channels – includes Fox, CBS, and NBC (Sunday Night Football)
Includes ESPN and NFL Network
Stream on computers, mobile devices, Roku, Apple TV, and more
Use 10 devices simultaneously
750 hours of cloud DVR storage
Learn more in our FuboTV review.
FuboTV is one of the top choices when it comes to streaming sports. Not only do you get access to sports from around the world, but you also get a full slate of general entertainment channels. Everyone has something to watch, whether you want live or on-demand content.
Don't forget to check out the free for 7 days!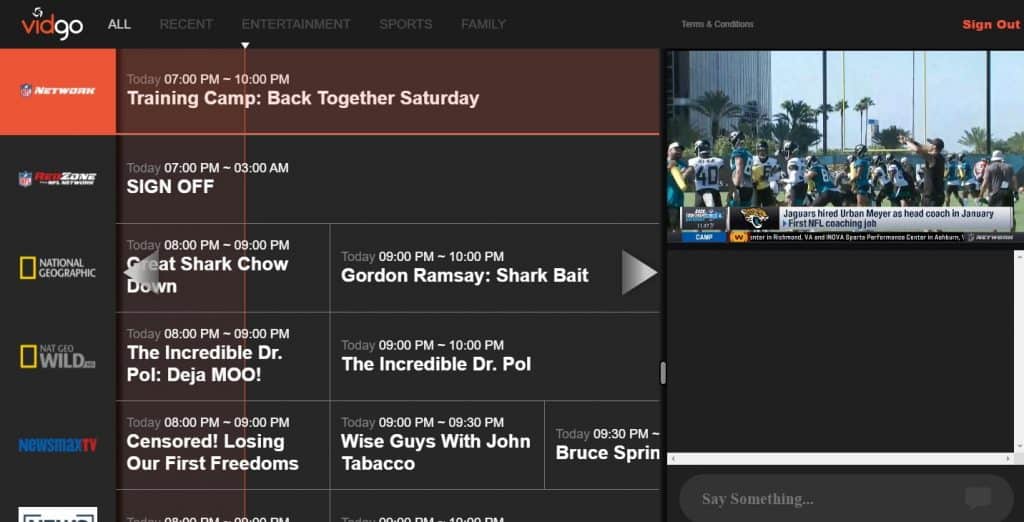 Superpower Your Streaming With a VPN
For the sake of privacy, security, and access, you should be using a VPN. They are low-cost and easy to use. We've been using them for years and our top pick is ExpressVPN.
Other Options to Watch New Orleans Saints Streaming Online
While the options you've learned about thus far are great, if you want others there are many available to you. The following options all give you either partial or complete access to the New Orleans Saints season.
Here are your additional options:
Looking for Info on How to Watch Another Team?
Need more information on how to watch the NFL without cable tailored specifically to your favorite team? Click on your team below.
Streaming services are simple to use and offer an inexpensive way to enjoy live TV without cable. Hopefully, that answers your questions on how to watch the New Orleans Saints online without cable, but if you have any questions, we're here to help.
FAQs
Which channels do I need to watch the New Orleans Saints?
Fans can watch New Orleans Saints on various over-the-air, cable, and satellite channels. Sunday afternoon games air primarily on CBS and FOX. On weekends, NBC provides coverage of Sunday Night Football. ESPN airs Monday Night Football. And NFL Network and Fox air Thursday Night Football. Amazon Prime also streams some Thursday night games but starting in 2022, they will be the only sources for the game.
What radio stations are the New Orleans Saints on?
New Orleans Saints Radio Network, Westwood One, and Sirius XM will let fans enjoy every second of the play. WWL is the flagship radio station of the Saints. It is available on 870 WWL-AM and 105.3 WWL-FM frequencies. The reception extends beyond Louisiana covering parts of Mississippi and the Gulf Coast. Fans can also use Westwood One to hear live commentary of every primetime and postseason game.
How do I watch the New Orleans Saints on my phone?
All of the standard live TV streaming services like FuboTV and Hulu + Live TV allow subscribers to watch Saints games on iOS and Android smartphones. In addition, fans in the New Orleans media market can watch Saints games on the NFL and Yahoo! Sports apps.
How many championships has the New Orleans Saints won?
The Saints were founded in 1967 and didn't make it past the wild card game until 2000. In 2009, they won the Super Bowl in their only appearance. They have lost two other conference finals. Their playoff record is 10 wins against 13 losses. But they have earned a postseason berth in the last five consecutive seasons.
How do I watch the New Orleans Saints game tonight?
On Sunday afternoons, you can watch the Saints in action on Fox or CBS. If the game is at night, it will normally be on NBC (Sunday), ESPN (Monday), or NFL Network (Thursday). Thursday Night games also air on Fox and Amazon Prime. In 2022, Amazon Prime will be the only source for Thursday Night Football.
How do I record New Orleans Saints live games?
Almost all streaming services provide a cloud DVR with their base plans. This allows Saints fans to record, playback, and pause live games. There are some exceptions (ESPN3) but all the channels that air NFL games allow you to record. If your service doesn't provide a DVR, you can buy one and use it at home.
What is the 2022 New Orleans Saints schedule?
Sat Aug 13 8:00 pm: Saints at Texans [P]
Fri Aug 19 8:00 pm: Saints at Packers [P]
Fri Aug 26 8:00 pm: Chargers at Saints [P]
Sun Sep 11 1:00 pm: Saints at Falcons (Fox)
Sun Sep 18 1:00 pm: Buccaneers at Saints (Fox)
Sun Sep 25 1:00 pm: Saints at Panthers (Fox)
Sun Oct 2 9:30 am: Vikings at Saints (NFLN)
Sun Oct 9 1:00 pm: Seahawks at Saints (Fox)
Sun Oct 16 1:00 pm: Bengals at Saints (CBS)
Thu Oct 20 8:15 pm: Saints at Cardinals (Prime Video)
Sun Oct 30 1:00 pm: Raiders at Saints (CBS)
Mon Nov 7 8:15 pm: Ravens at Saints (ESPN)
Sun Nov 13 1:00 pm: Saints at Steelers (Fox)
Sun Nov 20 1:00 pm: Rams at Saints (Fox)
Sun Nov 27 4:25 pm: Saints at 49ers (Fox)
Mon Dec 5 8:15 pm: Saints at Buccaneers (ESPN)
TBD: Falcons at Saints
Sat Dec 24 1:00 pm: Saints at Browns (CBS)
Sun Jan 1 1:00 pm: Saints at Eagles (Fox)
TBD: Panthers at Saints
Latest posts by Frank Moraes
(see all)