If you want to watch the NFL regular season games that won't be broadcast in your area, you've come to the right place. Read on to get all the details.
In a hurry? If you just want to start watching out-of-market live NFL games and don't care to dive into the details, these tools will allow you:
If you'd rather talk to someone about NFL Sunday Ticket, a support person at DIRECTV Satellite can walk you through the process. Just call 877-432-7840.
DAZN Canada is streaming every NFL game live, which means preseason, regular games, playoff games, and of course the Super Bowl.
ExpressVPN: Get the games you deserve while securing your privacy. Comes with a 30-day money-back guarantee.
NFL Game Pass: Watch any game live for NFL fans outside the US.
Top 7 Ways to Watch Out-of-Market NFL Games
It isn't easy to be an NFL fan of far-flung teams. The regional nature of broadcasting is designed to appeal to local fans. But distant fans still have options. Here are the top 7 ways to watch out-of-market NFL games:
NFL Sunday Ticket: The current gold standard in Out-of-Market NFL coverage. For many, it's worth signing up for satellite.
NFL+ Premium: The ultimate out-of-market resource for the smart introvert. If you can keep away from the news and other fans, this lets you watch all the games as soon as they are over.
NFL RedZone: Gives you access to the most important parts of the all the Sunday afternoon games.
VPN: Not a full solution but combined with a good live TV streaming services, you can often see your favorite team(s) play each week.
Radio: Listening to games may seem like a second-best option, but most of the excitement of the game comes through.
Friends: Sports is a community activity that should be shared. We aren't suggesting you cultivate friendships just because someone has NFL Sunday Ticket, but solid friendships have been based on less!
Sports Bars and Other Public Places: Not only can you watch the games you care about but you can meet similarly inclined people.
In- or out-of-market, you can always watch Thursday Night Football (live and replay) with Amazon Prime Video!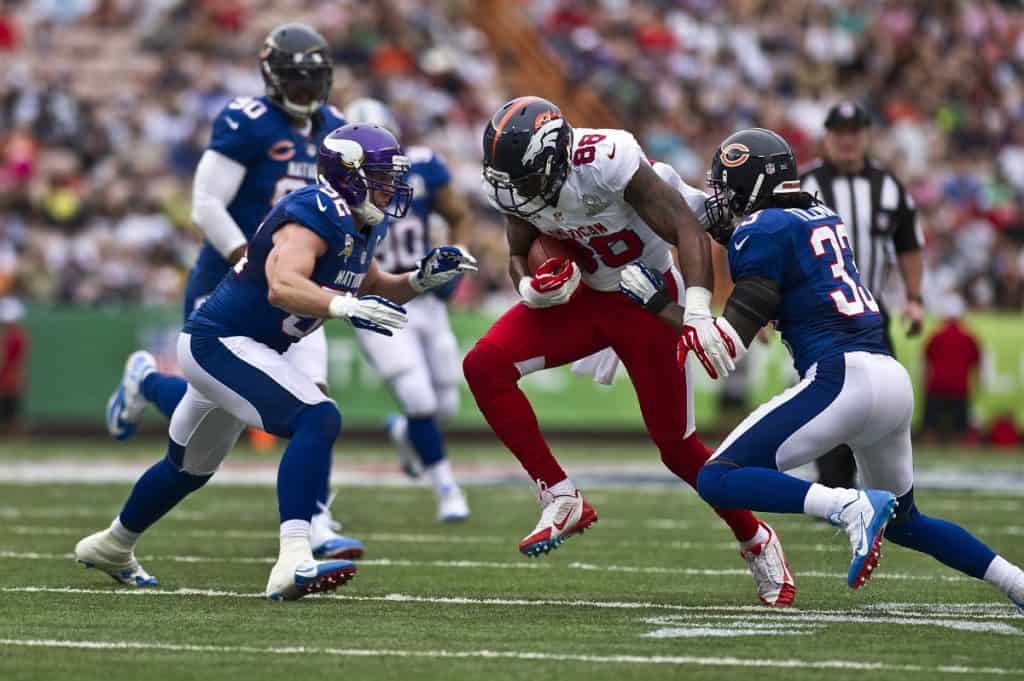 Unblock Your Favorite Events & Teams With a VPN
If you can't watch your favorite events or teams because of your location, a VPN will allow you to get the access you are entitled to, plus extra security and unequalled privacy. Check out our VPN Guide for everything you need to know, including our top pick ExpressVPN.

Learn how to watch March Madness!
What Are Out-of-Market Games?
Out-of-market games are those that don't involve any of the local teams. It's probably easier to think of them as out-of-area.
What this means is that if you are a Green Bay Packers fan who lives in California, you are unlikely to see them play a great deal.
Most NFL games are aired on Sunday afternoons by CBS and Fox. They each air roughly a six games: more or less half are at (ET) and the rest are at roughly (ET).
For example, on the sixth week of the 2022 season, Fox aired these games at :
And at , they will air these games:
Your local affiliate will only air one game from each group. Our Packers fan in California will be out of luck because the Fox affiliate there will air the 49ers at Falcons game and not the Jets at Packers game.
This is the problem with out-of-market games in the National Football League.
It's a whole new Thursday Night Football this year. Get all the details!
What are NFL Blackouts?
In the past, the NFL enforced blackouts for local games. For example, if the Lions game closed to sold out, it would not appear on TV in the Detroit area. The idea was simple enough: to encourage people to watch games in person.
The league still maintains this blackout policy but has suspended it each year since 2015. It is unlikely to ever return.
So why are we discussing it in the context of out-of-market NFL games? Because the NFL suffers from a kind of reverse de facto blackout.
What we mean is that Sunday afternoon, there are usually a dozen games that are scheduled at two different times and broadcast in any local area on two network affiliates. So there will generally be 8 games each Sunday that are not available to local viewers.
The point of this is to make local fans happy. Generally, the local affiliates will air the games that will be of greatest interest to the community. So fans in Minnesota will definitely see the Vikings play if they are scheduled. But Falcons fans located there are unlikely to see many games.
It is because of these de facto blackouts that we'd like to see broader availability of NFL Sunday Ticket.
The Good News
The good news is that the NFL airs three nationally televised games each week:
In the 2022 season, the Rams will be playing in 4 nationally televised games (5 if you include one on Amazon Prime). This number is different depending upon the team, but even if you are out of market, you will get to live stream at least a couple of games.
You will also get to see games that are considered in-market because, for example, the Rams play the New York Giants.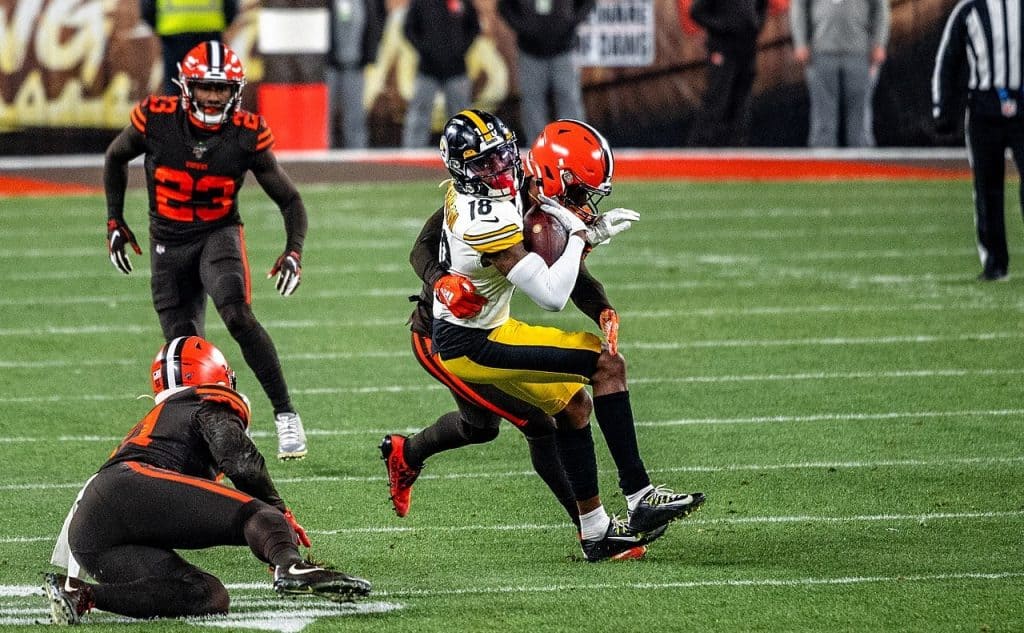 Watch Out-of-Market Games With NFL Sunday Ticket
The gold standard in watching out-of-market games is NFL Sunday Ticket. It allows you to watch whatever games you want. It's available through DirecTV Satellite. If you already have it, great! Adding NFL Sunday Ticket will cost you $300 but that's probably worth it.
Alternatively, it's possible to get NFL Sunday Tickets Max as a sign-up bonus with the Choice plan if you are a new customer. Just remember that the deal goes away and you will be paying a lot next year.
Get NFL Sunday Ticket with DIRECTV Satellite!
However, NFL Sunday Ticket is not available with DIRECTV STREAM (their streaming service). We keep expecting this to change, but we've been waiting for years. It seems that DirecTV just does not want to offer this to streamers.
There is a loophole: if you live in an area that can't receive DirecTV Satellite (unlikely, satellite service reaches almost everywhere), or (much more likely) you are not allowed to install a dish on your dwelling (apartment building, condo, student housing, etc.), you can get NFL Sunday Ticket as a stand-alone service.
Naturally, you'll have to verify eligibility on nflsundayticket.tv before they'll let you do this, and it will cost more. But not as much as DirecTV's satellite service!
Also, DIRECTV offers a standalone service for qualifying college students for just $29.99/mo.
For full details, see our DIRECTV NFL Sunday Ticket review.
See our DIRECTV STREAM review for details since it will allow you to live stream most games.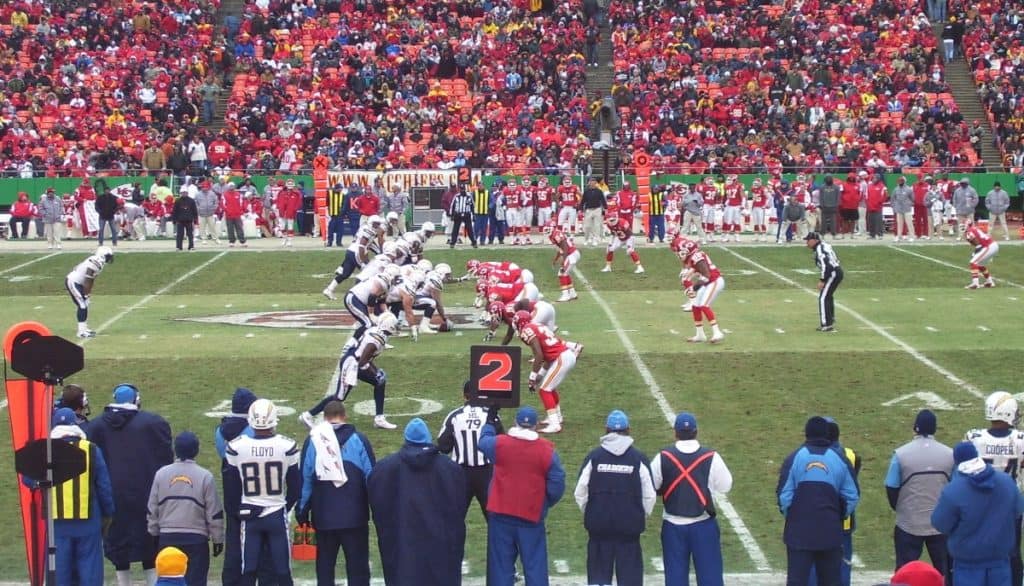 Watch Out-of-Market Games With NFL+ Premium
With NFL+ Premium, you can watch all games for one low price of $9.99 per month. What's the catch? You can only live stream local and primetime games — and those only on mobile apps. The other games are available after they air. Games are added right after the conclusion of their telecast in most cases.
NFL+ Premium has more to offer. Not only can you watch this season's game, you can watch game replays from last year and previous NFL seasons, including playoff games and the Super Bowl. You also get the ability to watch condensed versions of games that just show the action. And another popular feature is the coaches films that allow you to really get inside the game
You can get NFL+ free trial here. You can also learn more in our NFL+ review.
NFL Game Pass International
There is an international version of NFL Game Pass. It offers a lot more than the US-based version.
NFL Game Pass International offers live streaming of ALL NFL games. Can't beat that, right? However, the catch is that it is not available in the US. So you have to be located in another country to get the international version.
See our NFL Game Pass review for all the details.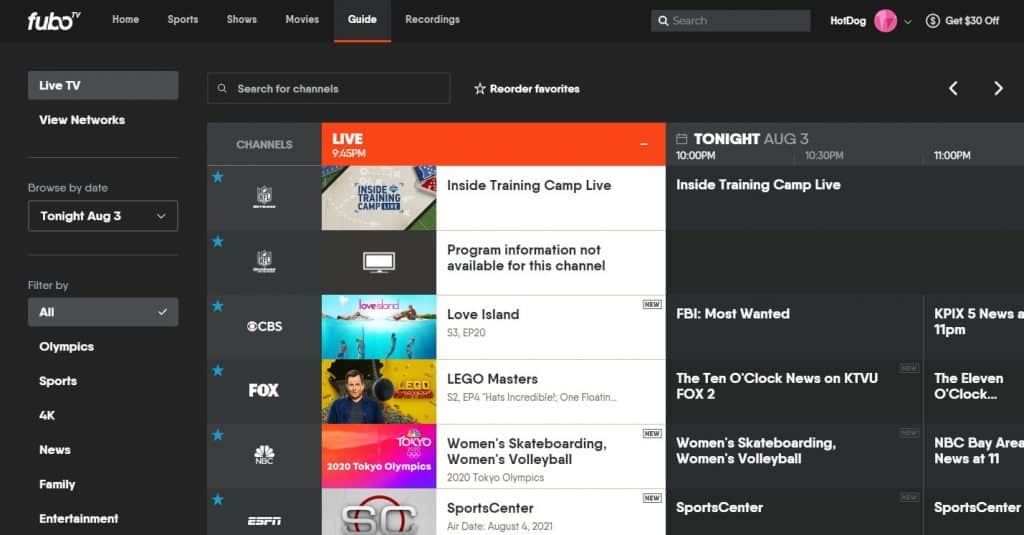 Superpower Your Streaming With a VPN
For the sake of privacy, security, and access, you should be using a VPN. They are low-cost and easy to use. We've been using them for years and our top pick is ExpressVPN. Be sure to check out our deals page on ExpressVPN, NordVPN, SurfShark and PureVPN.
NFL RedZone Alternative to Out-of-Market NFL Games
NFL RedZone is an unusual channel designed to deal with the fact that on Sunday afternoons, most NFL games occur at the same time. So on any given Sunday afternoon, you can only live stream, at most, three games. RedZone allows you to effectively watch all the games at the same time.
You can get NFL RedZone from a number of live TV streaming services:
For more details, see our NFL RedZone guide.
Live Stream Out-of-Market NFL Games With ExpressVPN
Regardless of whether you use NFL Game Pass, FuboTV, or other TV streaming services, you can supplement it with a VPN to live stream out-of-market games (eg, when you are on the road).
VPNs sound scary but they are surprisingly easy to use. There are step-by-step instructions for every device from your smart TV to Chromecast to iPhone. And you get a 30-day money-back guarantee with ExpressVPN, so you have nothing to lose.
Using a VPN, you can unlock streaming content from all over the world. This can come in handy for watching out-of-market NFL games as well. For streaming with a VPN, we recommend ExpressVPN. It allows for lightning-fast connection and streaming, keeping your data anonymous and safe all the while. It's the perfect complement to streaming out-of-market NFL games.
Learn more in our ExpressVPN review. And get all the information on watching NFL games in our out-of-market VPN guide.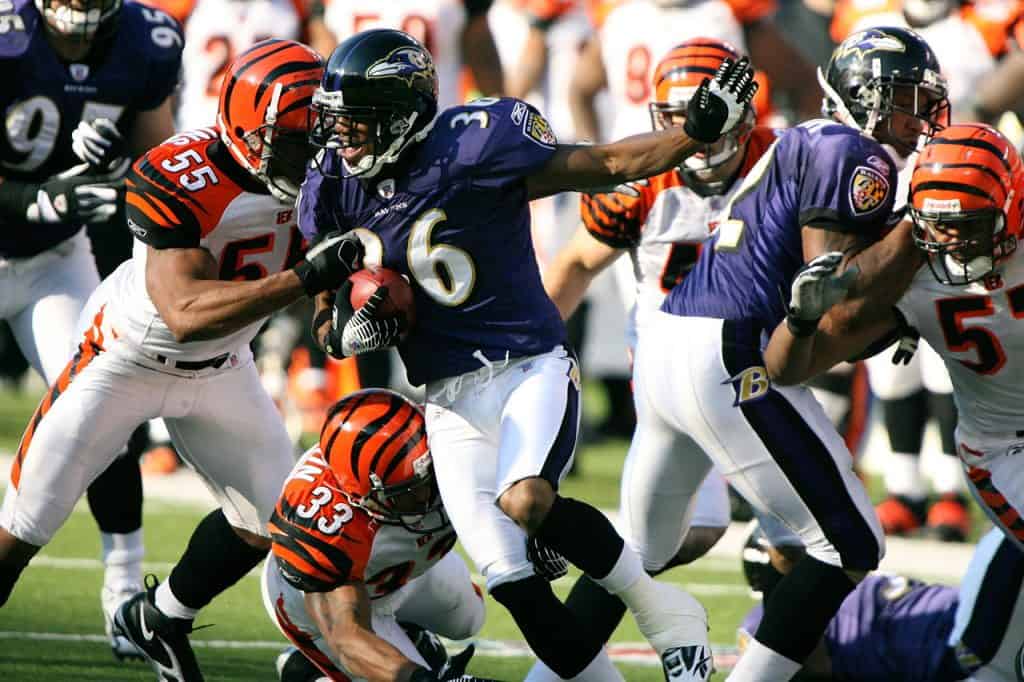 Listen to Out-of-Market NFL Games
There's a long tradition of listening to NFL games on the radio. And it might seem absurd if you've never done it. But with a good play-by-play announcer, you're right there in the game. It's common for people to later believe they've seen games they only listened to.
You can always listen to local games on radio stations near you. To listen to other games, you have a few options. Note that all of these allow you to listen to the feed from either team's home.
Last Resort for Watching Out-of-Market NFL Games
Assuming none of these options work for you, there is one last option that has a lot of positives: use someone else's OTA, cable, satellite, or streaming connection.
Here are the ways to watch out-of-market NFL games on someone else's dime:
Friends: Most people enjoy watching sports with others. In all likelihood, you have a friend or co-worker who has NFL Sunday Ticket. And just as likely, they will enjoy you joining them — especially if you show up with chips and drinks.
Sports Bars/Restaurants: There are probably many places near you that specialize in showing sports and these will usually offer all the Sunday afternoon concurrently airing games.
Non-Alcoholic Private Clubs: Although these are not nearly as common, people who don't want to be around alcohol may find private clubs that cater to them. There have been a lot of these popping up in cities recently so they are worth looking for.
There are lots of other places to watch live sports — including many chain restaurants. The problem is that unless they are focused on sports, they are likely to only feature the same in-market games you'll see OTA.
But it doesn't hurt to time. Ask around. Remember: there is lots of life off-line!
Devices to Live Stream NFL Games
All the services discussed in this article typically support all the most popular and live stream devices currently on the market:
Amazon Fire TV
Android TV smart TVs
Apple TV
Chromecast
LG smart TVs
Roku
Samsung smart TVs
VIZIO smart TVs
Xbox One gaming systems
Android and iOS mobile devices.
Just note the following caveats:
DIRECTV STREAM and Vidgo support neither LG and Vizio smart TVs nor Xbox game consoles.
Vidgo doesn't support Samsung smart TVs.
DIRECTV STREAM doesn't support Android TV.
Hulu + Live TV and YouTube TV do support Playstation.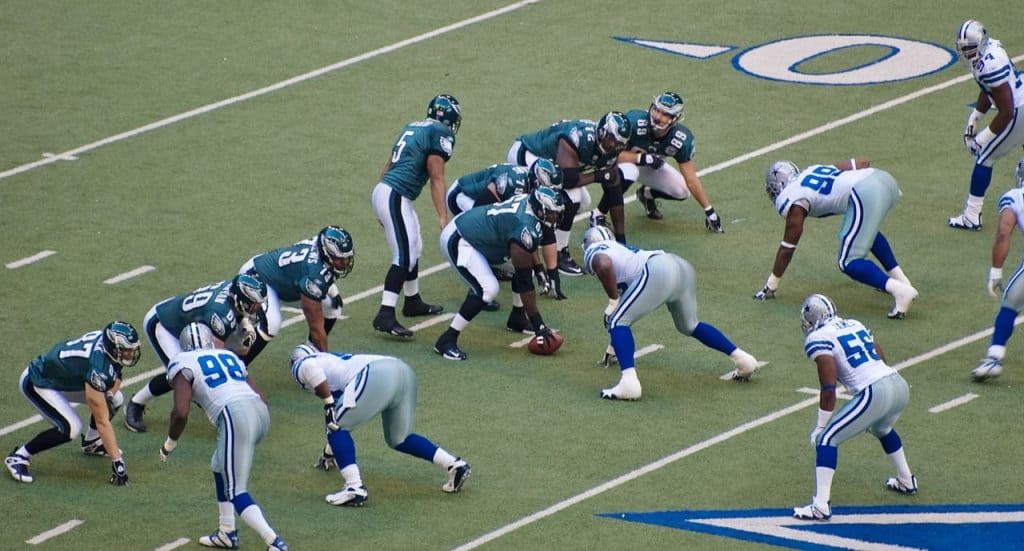 This Week's NFL Schedule
Here is the complete schedule for Week 18 of the 2022-23 NFL season (all times EDT). This is the week of Saturday, January 7 through Sunday, January 8.
*NBC games also air on the streaming service Peacock.
FAQs
How can I watch out-of-market NFL games without DIRECTV?
For the 2022 NFL season, the only way for US residents to watch all out-of-market NFL games live is through NFL Sunday Ticket from the DIRECTV satellite service. Of course, most of those games occur simultaneously, so it isn't a question of watching more games — just being able to pick the games you want.
Most fans will be better off with NFL RedZone, which provides a way to effectively live stream all of the Sunday afternoon games at once. You can get NFL RedZone through FuboTV, Sling TV, Hulu + Live TV, Vidgo, and YouTube TV.
DIRECTV's contract with Sunday Ticket ends this year. Several streaming services are competing to get the rights starting next year. We've heard a lot of talk about Apple TV+ and Amazon Prime. We will let you know when a decision is finally made.
How can I live stream out-of-market NFL games for free?
In general, you can't live stream out-of-market NFL games for free. The games featured on your local affiliates will focus on in-market games. You can, of course, sign up for a free streaming service trial. But currently, there is no general way to live stream out-of-market NFL games — for free or otherwise. That will probably change next year.
Can I live stream NFL games on ESPN+?
Yes! Okay, well, ten, anyway. The Brothers Manning, Peyton and Eli, will be back to riff on ten regular season games (to be announced which ten) on their hit Manningcast on ESPN+. The NFL.com website does not list ESPN+ as a place to watch Monday Night Football, but other sites indicate that ESPN+ may also have a feed of at least some of the MNF games that are on ESPN. We'll have more info as it becomes available.
Can I live stream out-of-market games on NFL Network?
Mostly just preseason games and the playoffs, plus the Super Bowl. And, of course, the three early-morning London NFL Games. Now that Thursday Night Football games have moved to Amazon Prime Video, NFL Network mostly has news and commentary as well as NFL Films excellent productions. The NFL Network's exclusive games are the International Games, the Saturday Tripleheader, and the Holiday Classic (Christmas Eve).
Can I watch out-of-market NFL games with Xfinity?
Xfinity offers the usual channels you will find NFL games on including CBS, Fox, NBC, ESPN, and NFL Network. NFL RedZone is even available through it. But it does not offer NFL Sunday Ticket. In this way, it is just like the live TV streaming services.
Can I use a VPN to live stream out-of-market NFL games?
Using a VPN, you can watch out-of-market NFL games. You must be careful about any licensing issues. But ExpressVPN provides detailed instructions on how to use its VPN with NFL Game Pass and all the major streaming services. Note also: it's a good idea to use a VPN regardless because it protects your privacy.
See our Out-of-Market NFL Game VPN guide for all you need to know about using a VPN to watch NFL games.
Can I live stream out-of-market NFL games with Paramount+?
In general, Paramount+ will not allow you to live stream out-of-market games. You will get to watch the two NFL games that air on your local CBS affiliate. But these will be the games of most interest to viewers in your area and so will generally feature in-market and related games.
Does FuboTV offer all NFL games?
FuboTV's basic plan for $74.99/mo offers all the channels that air NFL games: CBS, ESPN, Fox, NBC, and NFL Network. But since you will only get your local CBS and Fox affiliates, you will only get access to four of the roughly dozen Sunday afternoon games. FuboTV's 1,000-hour DVR storage does mean you can record games on one channel as you watch the other. If you spring for the Sports Plus add-on, you can get NFL Redzone, which gives you "whip-around" coverage of all the most exciting parts of all the Sunday afternoon games.
Also note that you'll still need Amazon Prime Video for Thursday night games.
Do any streaming services offer all out-of-market NFL games?
In the United States, you can only get all out-of-market NFL games through NFL Sunday Ticket. FuboTV, Hulu + Live TV, and YouTube TV all offer all the NFL channels. And DIRECTV STREAM, Sling TV, and Vidgo offer most of them. But many out-of-market games remain unavailable regardless of the service.
Which is better for NFL, Sling Blue or Orange?
That's a toughie, because Sling Orange has ESPN, which you absolutely want for Monday Night Football. One answer, the easy-but-more-expensive route, which is to get Sling Blue + Orange for $55.00/mo. That will get you ESPN, plus Fox Sports 1 and the NFL Network. If you are in an area Sling covers, you could get NBC and Fox local broadcasts, too.
But there is more than one way to throw a pigskin. The second is to go with Sling Orange, which will give you ESPN, and get an antenna for NBC and Fox. You'll have to do without the NFL Network, though, and you'll be limited to streaming on one device at a time.
The third is to get Sling Blue, which will give you FS1, NFL Network, and NBC and Fox (where available). Getting ESPN+ for $9.99/mo will give you at least 10 Monday night games, and an antenna will fill in the ones on ABC.
In all these cases, you will need to find a way to get the CBS games — either an antenna or a Paramount+ subscription.
Can I live stream out-of-market NFL games with Hulu + Live TV?
Hulu + Live TV is a great service for NFL fans but it doesn't allow you to watch most out-of-market games. It does, however, allow you the choice of four games on Sunday afternoon along with the Sunday and Monday night games. You can also get NFL RedZone to manage all the simultaneous games on Sunday Afternoon.
Are out-of-market NFL games available with YouTube TV?
YouTube TV has the same problem as every other service that doesn't offer NFL Sunday Ticket: you only get the primetime and local affiliate-broadcasted games in your area. That still means you get to live stream at least 4 games per week and they are likely to be ones that appeal to local fans.
Can I live stream out-of-market NFL games on Yahoo! Sports?
No. The deal between the NFL and Yahoo! Sports ended, anyway, and those games are now available exclusively through NFL+. But even when you could live stream free games on your mobile device through Yahoo! Sports app (or the NFL app), you could only live stream nationally broadcast and local games, no out-of-market matchups.
Can you live stream out-of-market games live on NFL+?
You cannot watch out-of-market NFL games live on NFL+. In fact, NFL+ really is an in-market service — designed for local fans. However, if you NFL+ Premium, you can watch all the out-of-market games you like. You just can't watch them live. They are only available as replays.
How do I watch my favorite NFL team without cable?
If you want information on watching a specific team, check out ours pages. We've created viewer's guides for all of them:
How can I watch the NFL without cable?
If you want to learn more about watching the NFL without cable, check out our popular guides:
Ditch "Big Cable" Now – 3 Simple Steps to Cut the Cord
Pick the right streaming service
Get the content you deserve with the best VPN.
Supercharge your internet provider
That's it — you'll save money, take back control, and enjoy TV more!
Latest posts by Frank Moraes
(see all)