ExpressVPN is one of our top choices for streaming via a VPN. The app has been tested and works with 50+ streaming services, as well as other apps and online services. Read on to learn all about it.
In a hurry? ExpressVPN is just $8.32 per month if you sign-up for 12 months. And there is no risk because it comes with a 30-day money-back guarantee. Sign up now!
If you want to stream with Netflix, Hulu, HBO Max, BBC iPlayer, or similar providers, ExpressVPN will let you do so from almost anywhere in the world.
It's a popular virtual private network provider with over 3,000 servers in 90+ countries. A variety of ExpressVPN apps, software, and browser extensions can be used on more than a dozen devices, browsers, and operating systems.
Read on to find out how ExpressVPN works with streaming and file sharing access. We also explain key technical aspects and what privacy/security features are available.
Pros and Cons
Pros
Works with 50+ streaming services
Widely available with 90+ countries
Supports gaming devices
Router VPN support
Smart DNS, split tunneling, and kill switch available
Cons
Relatively expensive
Only five simultaneous connections
No multihop or dedicated IP
ExpressVPN Overview
| | |
| --- | --- |
| Countries | 90+ |
| Servers | 3,000+ |
| Dedicated IP | ❌ |
| Smart DNS | ✔️ |
| Multihop | ❌ |
| Log Policy | No logs |
| Encryption Protocols | Lightway, OpenVPN, IKEv2, L2TP, IPSec |
| Supported Platforms | Windows, MacOS, Linux, Android, Kindle Fire, iOS, Chrome, Firefox, Edge, Android TV, Apple TV, FireTV, Xbox, Playstation, Nintendo |
| Router Support | ✔️ |
| Simultaneous Connections | 5 |
| P2P File Sharing (Torrenting) | ✔️ |
| Price | from $6.67 |
Streaming With ExpressVPN
Luckily for streamers, ExpressVPN is compatible with most media players and has no bandwidth limit. This means you should barely notice that you're streaming through a VPN — loss in speed and additional buffering should be at a minimum.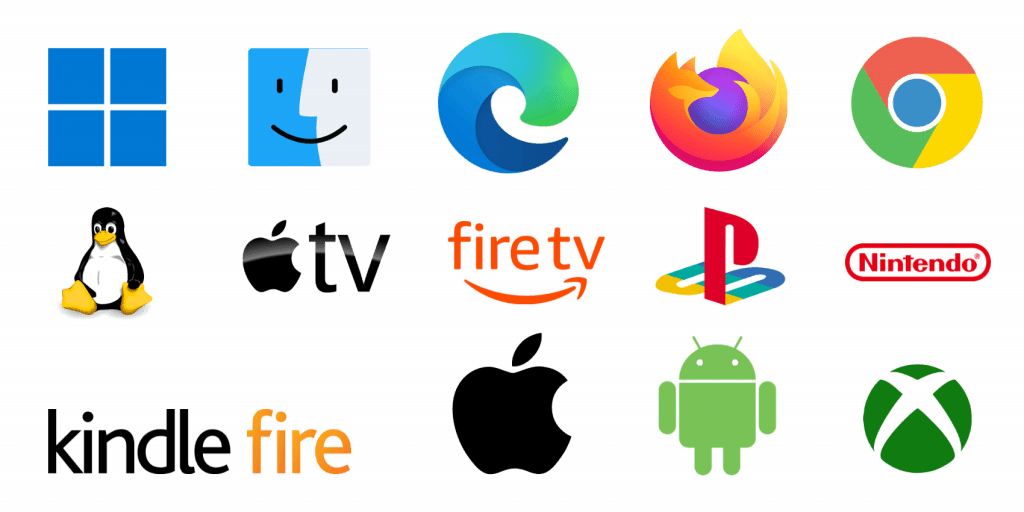 Popular devices like Fire TV, Apple TV, Playstation, Nintendo, and Xbox are all supported alongside what you'd expect (Windows, Mac, Linux, iOS, Android, and others). Unfortunately, Kodi users will need to opt for an alternative like VyprVPN or PureVPN.
ExpressVPN has published a list of services the VPN app works with. These include streaming services and other media apps.
The following sports and entertainment streaming services can be accessed via ExpressVPN:
BBC iPlayer
beIn Sports
Britbox
Crunchyroll
In addition, there are over 20 compatible international streaming services with ExpressVPN:
10 Play
6Play
7Plus
9Now
Antena 3
Canal+
CBC
Channel 4
CTV
DR TV
DStv
France TV
GloboPlay
Mediaset Infinity
NOS
NRK TV
OCS
ORF
Prosieben
RaiPlay
RTBF
RTE Player
RTS Switzerland
Sat.1
SBS
SVT Play
TF1
ThreeNow
TVer
TVNow
TVNZ
Virgin
ViuTV
VVVVID
Zattoo
There are also a handful of international TV channels and streaming hubs available in Spanish, German, Norwegian, Japanese, and others.
ExpressVPN also works with other media streaming services like Spotify, Pandora Radio, as well as live-chat services like Messenger, WhatsApp, Skype, Omegle, and others.
You can find complete streaming guides specific to ExpressVPN on the website.
ExpressVPN normally offers big discounts. Check out our shopping guide for up-to-date information.
What Features Does ExpressVPN Have?
The ExpressVPN app has several useful features you can use during any VPN streaming session. They're mostly to ensure that your streaming service doesn't kick you off mid-stream, but they're also useful for some extra security.
You can connect five devices to the app simultaneously. If five different people share one ExpressVPN plan and want to stream via the VPN at the same time, they can.
ExpressVPN offers:
Network Lock: This is ExpressVPN's in-house kill switch feature. A kill switch is a toggle setting that you can turn on or off. If your Network Lock is turned on in the event of a sudden disconnection from your VPN server, it also disconnects you from your internet service provider (ISP) to ensure your activity isn't suddenly tracked. If you have killswitch, you better keep it turned on — this way your streaming service won't notice that you're using a VPN, should you suddenly disconnect from the VPN servers.
Split Tunneling: This feature allows selected apps and software to remain connected via your local ISP's connection, while others are connected to the internet via your VPN connection. Split tunneling allows you to pick and choose which tasks you want to do privately via different apps. For example, you can stream Hulu in Google Chrome via ExpressVPN and browse normally in Firefox simultaneously.
SmartDNS: Wander around online using an encrypted smart DNS service. An encrypted DNS ensures lesser data tracking and increased access via ExpressVPN's servers, since some streaming providers may block VPNs but remain open to encrypted DNS requests. The use of DNS servers is optional in the app.
Onion-Over-VPN: ExpressVPN recommends the use of Tor's Onion browser on top of a VPN connection for maximized privacy — this increases your chances of maintaining a secure connection for an uninterupted streaming session. If you do use Tor over ExpressVPN, ensure that you connect to your VPN server before launching the Onion browser.
Live Server Speed Test: When you browse available ExpressVPN servers, the app performs a live speed test in a location of your choice. Aside from this, you're already recommended a "Smart Server" based on optimal speed and current traffic.
Protocol Toggle: Simply switch between different encryption protocols. Since protocols vary in security and performance, ExpressVPN provides a short brief on which is best for what purpose. If you want to learn more about these technicalities and see which protocol is best for streaming, check out ExpressVPN's website.
ExpressVPN Subscription Plans
There are three subscription plans at ExpressVPN:
The recipe is simple: Longer-term = cheaper monthly fee. If you're traveling and streaming, it's ideal to save some bucks.
However, plans are charged on a billing cycle equivalent to the term length. For example, if you got for a 6-month plan, you'll be billed for half a year.
Available payment options, depending on location, are:
Visa/Mastercard
Amex
Discover
JCB
Diner's Club
PayPal
BTC
UnionPay (CN)
iDeal
Klarna
WebMoney
Giropay
Yandex Money
Mint
OneCard
Sofort.
How to Cancel ExpressVPN
Already an ExpressVPN customer and want to leave? You can cancel your subscription at any time. How you cancel depends on the payment provider you used to give billing authority to ExpressVPN.
Important: any subscription purchased with Bitcoin or PaymentWall will NOT be renewed automatically, so there's nothing to cancel.
How to Cancel Credit Card or PayPal Subscriptions
Sign in to your ExpressVPN account
Go to Subscription, you'll see the duration and renewal date
Go to Manage subscription settings
Select Automatic Renewal Settings
Select Turn off automatic renewal

If it's already off, you will NOT see this option

Save your settings
Note: if you used PayPal IPN (instant payment notification), you'll need to cancel the IPN.
How to Cancel via App Store and Google Play Store Subscriptions
Sign in to your App Store or Google Play Store account
Go to Subscriptions

For Google Play this is under Payment & subscriptions > Subscriptions

Find ExpressVPN
If you want to cancel a trial, choose Cancel trial, otherwise select Cancel subscription
Confirm your settings
Both App Store and Google Play Store subscriptions require cancellation at least 24 hours before the next billing cycle starts. Otherwise, you'll be charged.
How to Claim Money-Back Guarantee
If you've canceled your ExpressVPN account within the first 30-days of registering, you could be eligible to get your money back.
Go to the ExpressVPN website and contact customer support via their 24/7 live chat. You'll need to provide your e-mail address and account details to have your cancellation approved.
There are no special clauses or hidden text. ExpressVPN states that you get your money back if you're not satisfied with the speed, security, or general convenience of the service.
It's kind of like a free trial. Remember, it's for 30 days, not one month. And while you try ExpressVPN for 30 days, you can get a free trial with a streaming service you want to use it with.
ExpressVPN vs CyberGhost vs NordVPN
ExpressVPN is great in terms of streaming service support. If you want to catch any of the 50+ services from almost anywhere in the world, it's a no-brainer.
However, if you're tech-savvy and/or paranoid, note that ExpressVPN does miss dedicated IPs and multihop (double VPN servers) in their offering. If you want WireGuard as an encryption protocol, you'd better check out CyberGhost (deal) and NordVPN (deal) as alternatives.
If you're concerned about torrenting via ExpressVPN, NordVPN offers P2P-optimized servers.
ExpressVPN
CyberGhost
NordVPN
Countries
90+
90+
59
Servers
3,000+
7,500+
5,600+
Dedicated IP
❌
✔️
✔️
Smart DNS
✔️
✔️
✔️
Multihop
❌
❌
✔️
Bandwidth Limit*
∞
1 Gbps
∞
Encryption Protocols
Lightway
OpenVPN
IKEv2
L2TP
IPSec
OpenVPN
IKEv2
WireGuard
IPSec
OpenVPN
IKEv2
IPSec
WireGuard
NordLynx
Supported Platforms
Windows
MacOS
Linux
Android
Kindle Fire
iOS
Chrome
Firefox
Edge
Android TV
Apple TV
FireTV
Xbox
Playstation
Nintendo
Windows
MacOS
Linux
Android
iOS
Chrome
Firefox
Android TV
Apple TV
FireTV
Xbox
Playstation
Windows
MacOS
Linux
Android
iOS
Kindle Fire
Chrome
Firefox
Edge
Android TV
Apple TV
FireTV
Xbox
Playstation
Nintendo
Raspberry Pi
VPN Router Support
✔️
✔️
✔️
Connections
5
7
6
P2P Servers
All
Some
Some
Free Trial
MBG
24 Hours
MBG
Price
from $8.32
from $2.29
from $3.99
Review
Read More
Read More
*Unlimited bandwidth (∞) is subject to server performance
Privacy and Security: Technicalities
Below is an overview of ExpressVPN's technical features. Let's begin with all available encryption protocols:
OpenVPN
IKEv2
L2TP
IPSec
Lightway.
What is an encryption protocol? It is the way in which your data is hidden while you're online.
Customer or not, you can use the website for a DNS leak test. DNS leak tests are important to catch any data leaks, so your privacy remains and your streaming session isn't cut in half.
You can even use an on-site random password generator with six different customizable generation settings.
ExpressVPN's Encryption Explained
ExpressVPN doesn't store logs of your online activity — there's a strict no-logs policy. Servers have encrypted DNS and you can choose from a total of five encryption protocols. Some of these are restricted based on what device or operating system you're using.
The first four protocols we already mentioned above are standard across most VPN providers.
However, ExpressVPN gave their in-house developed encryption protocol a name — Lightway. It's compatible when you use ExpressVPN apps on Android, iOS, Windows, Mac, Linux, and routers. If you stream via ExpressVPN on any other devices or browsers, you'll need to choose a different protocol in the app.
Lightway promises to be fast and power-efficient. It uses wolfSSL that's been vetted against FIPS 140-2 standards. If this sounds like gibberish to you, don't worry. It's fancy technical talk that simply proves how secure ExpressVPN is designed to be.
For the tech-savvy, Lightway connects over D/TLS 1.2 on TLS (HTTPS). Unlike other protocols, Lightway doesn't rely on external certificate authorities. It uses AES-256-GCM and ChaCha20/Poly1305 ciphers. If you're a curious developer, you can see the Lightway protocol's code on GitHub since it's open-source!
You can view a recent report of a penetration test on Lightway from March 2021 by a German company, Cure53, on ExpressVPN's website.
As you would've guessed by now, ExpressVPN apps use AES-256 standard encryption with 256-bit keys, a standard adhered to by government and cybersecurity professionals alike.
Any data you send via ExpressVPN servers is protected against potential attackers trying to mess with the data as it travels online. In other words, it is HMAC authenticated.
TrustedServer Security
ExpressVPN gave their server technology a name. Let's see why.
The key features that summarize it are:
There are no hard drives to store data. Servers run on RAM only and are wiped after every reboot;
Servers never write on hard drives;
Aside from a reboot, the entire software stack is reinstalled at each server startup.
What this means is that ExpressVPN's servers never store hard copies of data — an excellent privacy factor for concerned international streamers.
The ExpressVPN team also runs a one-time bug bounty program for a reward of $100,000 to anyone who identifies a severe-enough security threat defined by the team.
So, let's put it this way. If you're streaming your favorite TV series and there's an issue, it will likely be solved quickly.
What's missing? Unfortunately, there are no dedicated IPs available. This means you'll be using ExpressVPN servers' shared IPs while streaming. Servers also don't support multihop (connection to multiple servers for additional security and privacy). WireGuard is missing as an encryption protocol.
Wrapping Up
ExpressVPN is our top choice — it's the one that almost all of us use as our primary VPN. You really can't go wrong with it. Sign up today!
FAQs
Is ExpressVPN legit?
ExpressVPN is a product and service formerly provided by Express Technologies Ltd, a company registered in the British Virgin Islands. As of 2021, ExpressVPN was acquired by Kape Technologies, a UK-based company. Kape Technologies is registered under FC038564 in the UK — the company also trades on the London Stock Exchange (LSE).
Does ExpressVPN have a free trial?
Officially, ExpressVPN does not offer a free trial. However, all new customers get a 30-day money-back guarantee with any subscription plan. ExpressVPN has a relatively light money-back policy and even infer that it's "better" than a free trial since users get to access the full-featured VPN service.
How do I get my money back from ExpressVPN?
You can only get your money back from ExpressVPN if you cancel your service within the first 30-days of signing up for a paid plan, as a new customer. In some cases, you need to cancel the service at least 24-hours before the 30-day period ends. After you've canceled, you need to contact customer support and ask for your money back.
How do I cancel ExpressVPN?
How you can cancel your ExpressVPN subscription depends on which payment method you used to sign up for the service. Typically, if you used a debit or credit card to pay, you can cancel via the ExpressVPN app or website. Otherwise, you may need to refer to a specific app store like Google Play or Apple Store to complete your cancellation.
Can ExpressVPN be used on multiple devices?
Yes, you can have active connections with ExpressVPN on five devices simultaneously. This means five different phones, consoles, laptops, or other devices running five different variations of the ExpressVPN app or software, all connected. Note that they do not need to be the same five devices at all times.
Can I torrent with ExpressVPN?
All ExpressVPN servers support P2P file-sharing, meaning you can torrent while connected to the VPN service. That said, ExpressVPN does not provide torrent-exclusive servers. The unlimited bandwidth means torrents have no formally restricted upper download and upload limits to worry about, though server loads will inevitably set some limits.
A better option for file sharing and torrenting is NordVPN. Unlike ExpressVPN, this provider delegates P2P file-sharing traffic to a select number of servers.
Can ExpressVPN be used in China?
According to a series of online tests and reviews, ExpressVPN is said to be able to surpass Chinese internet restrictions. However, the HotDog.com team is yet to test how ExpressVPN works in China, so we can't recommend it to be used to pass Chinese restrictions based on our experience.
Ditch "Big Cable" Now – 3 Simple Steps to Cut the Cord
Pick the right streaming service
Get the content you deserve with the best VPN.
Supercharge your internet provider
That's it — you'll save money, take back control, and enjoy TV more!
Page Updates
▼
▲
Updated some sub-sections. Updated some section headings. Image changes.

Added some links. Various content updates.

Added info about guide. Pricing updates. Image changes. Various content updates.

Pricing updates. Image changes. Misc content updates.

Added useful links. Image changes. Misc changes to content.

Added new section. Mentioned channel info. Updated one section. Updated some sections. Changed some content in main section. Removed section. Cleaned up list. Deleted unneeded sub-section.

Added sub-section. Added pricing. Added more info about plans. Reworked one section. Updated some sub-sections. Added links.
Latest posts by Frank Moraes
(see all)