The Pro Bowl is one of the final opportunities to watch some of the best NFL players go head-to-head. In 2024, it will take place Thursday, February 1st and Sunday, February 4th.
In a hurry? If you want to stream the Pro Bowl, you just need access to ABC, ESPN, or Disney XD. The following services offer at least one of these and much more:
FuboTV: The best streaming service for international sports also provides 130+ well-selected channels. FuboTV allows you to try out its service free for 7 days.
Sling TV: This low-cost service allows you to select just the channel lineup you want. Save a bundle with Sling TV.
DIRECTV STREAM: Get a great channel lineup with the best selection of RSNs in the industry. A 5-day free trial is now available for DIRECTV STREAM.
If you can't watch your favorite sports because of your location, get ExpressVPN to access the content you deserve.
Unfortunately, we don't know a streaming service in that covers this sport. But if you've already paid for the right service, and just can't watch because of your location, there is an easy way to get the content you deserve. You need a VPN, like one of the following.
ExpressVPN: Premium VPN provider that just works, with 3,000+ locations in 94 countries. Supports five simultaneous devices and comes with a 30-day money-back guarantee. (ExpressVPN review)
Surfshark: Connect to over 3,200 servers in 99 countries (+ tonnes of US metro areas). Try it with a 7-day free trial.
NordVPN: Connect to over 5,000 premium servers in 60+ countries. Comes with a 30-day money-back guarantee!
If you're overwhelmed and not sure where to begin, you'll find all the answers in our full VPN guide.
Get ready for next season and learn how to go beyond local and primetime games with NFL Out-of-Market Game Guide.
Sign Up for a Free 7-Day Fubo Trial
Although the NFL takes a week off between the conference title games and the Super Bowl, it doesn't mean that the league shuts down completely.
During that week, the league holds its annual Pro Bowl, which is an all-star game that typically pits the best players from the AFC against the best players from the NFC.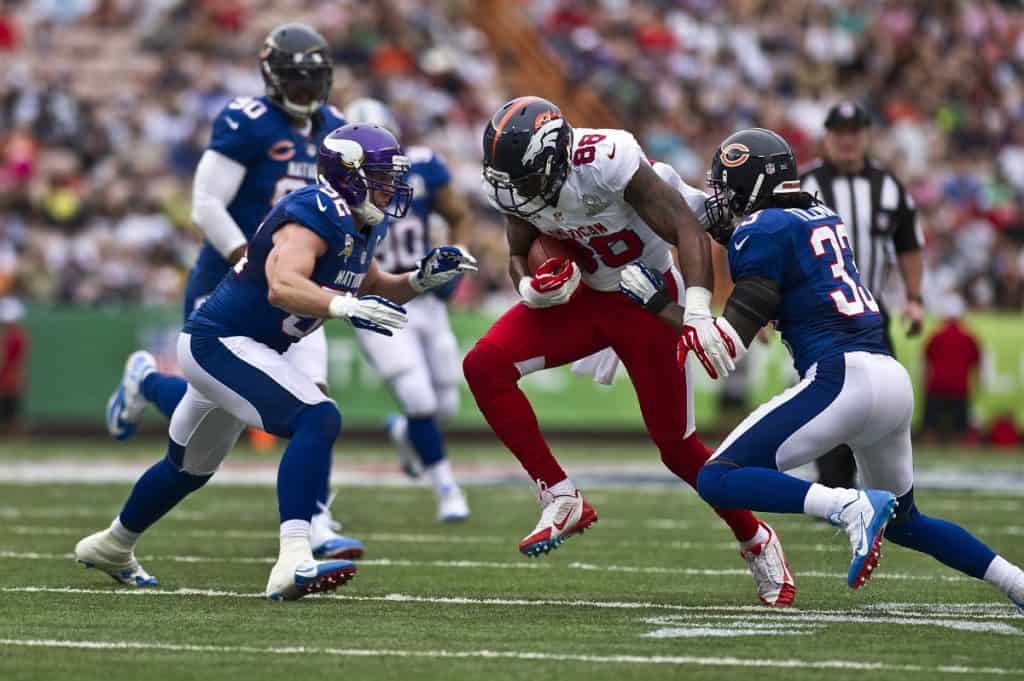 All About the Pro Bowl
Until 2015, the Pro Bowl was played after the Super Bowl at Aloha Stadium in Honolulu.
The game was moved to the week between the conference title games and the Super Bowl in an effort to revive stagnant television ratings. Being played after the Super Bowl was generally seen as anti-climatic. Additionally, the game has become less of a spectacle as top players are (understandably) more worried about getting hurt than representing their teams.
The game is also now played in the continental United States in an effort to make it more relevant. This move also results in less travel time for players and coaches involved in the game.
Fans get a chance to vote for who will start the game while coaches and players decide who will fill out the rosters for the game. This has led fans, members of the media, and others to deride the process as little more than a popularity contest.
Unblock Your Favorite Events & Teams With a VPN
If you can't watch your favorite events or teams because of your location, a VPN will allow you to get the access you are entitled to, plus extra security and unequalled privacy. Check out our VPN Guide for everything you need to know, including our top pick ExpressVPN.

Learn how to watch March Madness!
2023 Pro Bowl
The 2022 Pro Bowl will be played on Sunday, February 6th at Allegiant Stadium, which is the home of the Las Vegas Raiders.
It will be broadcast on ESPN, ABC, and Disney XD, so you have lots of options. you can also stream it on ESPN+.
Announcers for the game include Kirk Herbstreit and Pat McAfee.
And if you can't watch the game on television, you can listen to it on Westwood One radio.
How to Watch the Pro Bowl
The NFL has made it very easy to watch the Pro Bowl.
Antenna
Although ESPN and Disney XD are both premium cable channels that can't be accessed with an antenna, ABC broadcasts its signal over the air (OTA). This means that you will be able to watch the game on this channel if you live reasonably close to a local ABC affiliate broadcast tower. And that is true of most people.
Don't discount antennas. Since OTA TV went digital, it provides crystal clear HD signals. Most people will be able to watch with a small indoor antenna. If you are further out, you might need to set up an outdoor antenna.
See our HD antenna guide for all the information on doing this. It's really quite easy.
Live TV Streaming Services
Almost all the major streaming services provide at least one of ABC, ESPN, and Disney XD. Most provide all three!
FuboTV

The FuboTV Pro package is $74.99/mo and comes with ABC, Disney XD, and ESPN. You get all the local channels, a good selection of general channels, and well over 35 sports-oriented channels (CBS Sports Network, FS1, FS2, TUDN, and beIN Sports to name a few).
For more information, see our FuboTV review.
Sign Up for a Free 7-Day Fubo Trial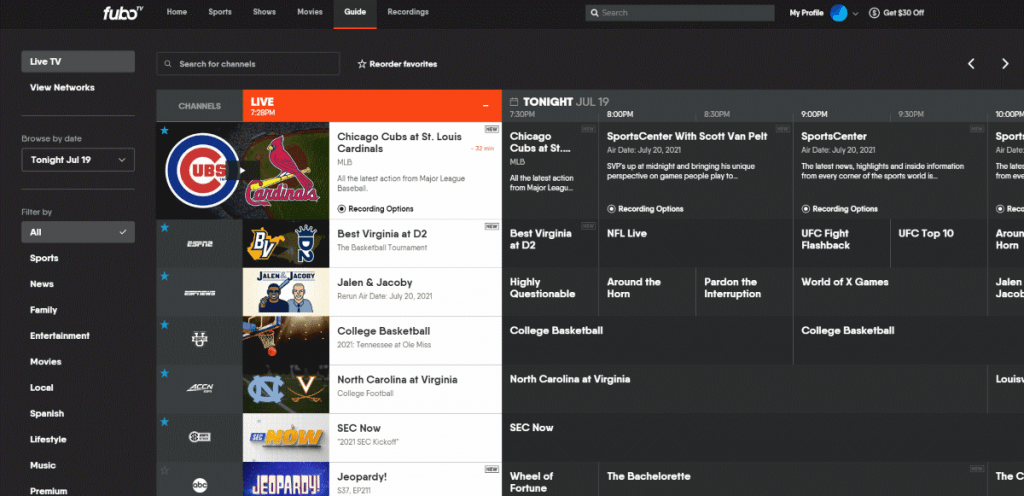 DIRECTV STREAM

The channels that you need to watch the NFL's all-star game can be had for $74.99/mo. In addition, the DirecTV Entertainment package comes with roughly 75 other channels including all the local affiliates. If you upgrade to the Choice plan ($99.99/mo), you gain access to DIRECTV STREAM's outstanding regional sports networks selection.
See our DIRECTV STREAM review for more.
Get DIRECTV STREAM Free for 5 Days
Sling TV

You get ESPN and 30+ other channels with Sling Orange for $40.00/mo. This plan also includes the Disney Channel but to get Disney SD, you need to add Kids Extra for $6/mo more.
You can't get ABC directly from Sling. However, Sling TV offers a great deal of an HD antenna and AirTV 2 unit for just $49.99 if you sign-up for 3 months. This allows you to watch all your local channels long with your streaming channels inside the Sling TV app.
Get more information in our Sling TV review, and check out our guide to watching the Super Bowl on Sling.
Hulu + Live TV

Hulu + Live TV is $69.99/mo and comes with all the channels that are broadcasting this year's Pro Bowl. It comes with a total of 85+ channels with a wide range to please everyone in the house. And, of course, you get the amazing Hulu on-demand library. Finally, you get Disney+ and ESPN+!
See our Hulu + Live TV review for more details.
Vidgo

The base Vidgo package is $69.99/mo for 100+ channels including ABC, Disney XD, and ESPN. It's an especially good choice for NCAA sports fans and families. It's not perfect for the NFL because it lacks CBS but it does comes with Fox.
Find out more in our Vidgo review.
YouTube TV

YouTube TV starts at $72.99/mo and offers ESPN, ABC and Disney XD. It's a good all-around streaming service, similar to Hulu + Live TV.
See our YouTube TV review for more about it.
Streaming Devices for Watching the Pro Bowl
The days of huddling around a computer terminal to stream sports are over. Not that you can't do that! All the streaming services work in web browsers, so if that's your thing, have at it.
All the major streaming services support Amazon Fire TV, Apple TV, Roku, Chromecast, iOS, and Android mobile
Samsung smart TVs are supported by all but Vidgo. LG smart TVs and Xbox gaming systems are supported by Sling TV, FuboTV, and Hulu + Live TV. Vizio is supported by Fubo and Hulu. The PlayStation is supported by Hulu.
See the individual streaming reviews for complete details.
Superpower Your Streaming With a VPN
For the sake of privacy, security, and access, you should be using a VPN. They are low-cost and easy to use. We've been using them for years and our top pick is ExpressVPN. Be sure to check out our deals page on ExpressVPN, NordVPN, SurfShark and PureVPN.
Summing Up
Although the Pro Bowl isn't as significant of an event as it used to be, it still draws millions of viewers per year. And it's a great opportunity to see the best players in the league all together.
This year, you can watch the game live from Las Vegas on ABC, ESPN, or Disney XD. If you don't have a cable subscription, you can use an antenna to see the game live.
FAQs
Do players in the Super Bowl play in the Pro Bowl?
Individuals who represent teams scheduled to play in the Super Bowl are not eligible to play in the Pro Bowl. If a player who is selected to the Pro Bowl is not able to play, an alternate will be named. In the event that the alternate cannot play, a second alternate will be appointed to take that person's place. This process continues until someone accepts an invitation to take part in this event.
Why is the Pro Bowl between the conference title games and the Super Bowl?
The Pro Bowl is scheduled between the conference title games and the Super Bowl because fans are still paying attention to the league. Therefore, the league believes that more people are likely to tune in a week before the big game as opposed to after it. It's worth noting that critics of the game say that it shouldn't be played regardless of where it is placed on the schedule.
Sign Up for a Free 7-Day Fubo Trial
Was the 2021 Pro Bowl a video game?
The 2021 Pro Bowl was canceled due to the COVID-19 pandemic. There was, however, an associated "Virtual Pro Bowl" event that featured celebrities and athletes playing the Madden NFL 21 video game. Although no one stepped foot on an actual field, a vote was held to determine who would have played if an actual game was held.
What was the 2021 Pro Bowl roster?
In the following list, names with an asterisk were starters.
AFC Roster
Patrick Mahomes* (QB,Chiefs)
Josh Allen (QB,Bills)
Deshaun Watson (QB,Texans)
Derrick Henry* (RB,Titans)
Nick Chubb (RB,Browns)
Josh Jacobs (RB,Raiders)
Tyreek Hill* (WR,Chiefs)
Stefon Diggs* (WR,Bills)
Keenan Allen (WR,Chargers)
A.J. Brown (WR,Titans)
Travis Kelce* (TE,Chiefs)
Darren Waller (TE,Raiders)
Patrick Ricard* (FB,Ravens)
Laremy Tunsil* (T,Texans)
Eric Fisher* (T,Chiefs)
Orlando Brown (T,Ravens)
Quenton Nelson* (G,Colts)
Joel Bitonio* (G,Browns)
David DeCastro (G,Steelers)
Maurkice Pouncey* (C,Steelers)
Ryan Kelly (C,Colts)
Myles Garrett* (DE,Browns)
Joey Bosa* (DE,Chargers)

Frank Clark (DE,Chiefs)
Chris Jones* (DT,Chiefs)
Cameron Heyward* (DT,Steelers)
Calais Campbell (DT,Ravens)
T.J. Watt* (OLB,Steelers)
Bradley Chubb* (OLB,Broncos)
Matt Judon (OLB,Ravens)
Darius Leonard* (ILB,Colts)
Tremaine Edmunds (ILB,Bills)
Xavien Howard* (CB,Dolphins)
Tre'Davious White* (CB,Bills)
Marlon Humphrey (CB,Ravens)
Stephon Gilmore (CB,Partriots)
Minkah Fitzpatrick* (FS,Steelers)
Justin Simmons (FS,Broncos)
Tyrann Mathieu* (SS,Chiefs)
Morgan Cox* (LS,Ravens)
Jake Bailey* (P,Patriots)
Justin Tucker* (K,Ravens)
Andre Roberts* (RS,Bills)
Matthew Slater (ST,Patriots)
NFC Roster
Aaron Rodgers* (QB,Packers)
Russell Wilson (QB,Seahawks)
Kyler Murray (QB,Cardinals)
Dalvin Cook* (RB,Vikings)
Alvin Kamara (RB,Saints)
Aaron Jones (RB,Packers)
Davante Adams* (WR,Packers)
DeAndre Hopkins* (WR,Cardinals)
DK Metcalf (WR,Seahawks)
Justin Jefferson (WR,Vikings)
T.J. Hockenson* (TE,Lions)
Evan Engram (TE,Giants)
Kyle Juszczyk* (FB,49ers)
David Bakhtiari* (T,Packers)
Trent Williams* (T,49ers)
Terron Armstead (T,Saints)
Brandon Scherff* (G,Washington)
Elgton Jenkins* (G,Packers)
Andrus Peat (G,Saints)
Jason Kelce* (C,Eagles)
Frank Ragnow (C,Lions)
Cameron Jordan* (DE,Saints)
Brandon Graham* (DE,Eagles)

Chase Young (DE,Washington)
Aaron Donald* (DT,Rams)
Fletcher Cox* (DT,Eagles)
Grady Jarrett (DT,Falcons)
Khalil Mack* (OLB,Bears)
Za'Darius Smith* (OLB,Packers)
Jason Pierre-Paul (OLB,Buccaneers)
Bobby Wagner* (ILB,Seahawks)
Fred Warner (ILB,49ers)
Jalen Ramsey* (CB,Rams)
Jaire Alexander* (CB,Packers)
Marshon Lattimore (CB,Saints)
James Bradberry (CB,Giants)
Quandre Diggs* (FS,Seahawks)
Budda Baker* (SS,Cardinals)
Jamal Adams (SS,Seahawks)
Tyler Ott* (LS,Seahawks)
Jack Fox* (P,Lions)
Younghoe Koo* (K,Falcons)
Cordarrelle Patterson* (RS,Bears)
Nick Bellore* (ST,Seahawks)
How can I watch other sports channels without cable?
We have various guides showing how to watch sport-oriented channels without cable:
How do I watch sports on different channels without cable?
See the following guides for watching channels that feature sports:
Ditch "Big Cable" Now – 3 Simple Steps to Cut the Cord
Pick the right streaming service
Get the content you deserve with the best VPN.
Supercharge your internet provider
That's it — you'll save money, take back control, and enjoy TV more!
Latest posts by Frank Moraes
(see all)