Now is a great time for 49ers fans to cut the cord. There really has never been a better time to do so. But there are a few things to keep in mind. Read on to get all the details.
In a hurry? If you just want to start watching the 49ers, these streaming services are excellent and will bring the whole season into your house:
FuboTV: The best streaming service for international sports also provides 100+ well-selected channels. FuboTV allows you to try out its service free for 7 days.
DIRECTV STREAM: Get a great channel lineup with the best selection of RSNs in the industry. A 5-day free trial is now available for DIRECTV STREAM.
Hulu + Live TV: A great overall streaming service offering 85+ live channels along with ESPN+ and Disney+. Try one month for $69.99.
If you can't watch your favorite sports because of your location, get ExpressVPN to access the content you deserve.
If you can't watch your favorite movies and shows because of your location, you need a VPN. Here are our top picks from our VPN guide:
ExpressVPN: Established VPN provider in close to 100 countries. Smart DNS and unlimited bandwidth. Try it with a 30-day money-back guarantee.
Surfshark: Connect to over 3,200 servers in 99 countries. Comes with a 7-day free trial!
CyberGhost: Great low-cost service with a free 24-hour trial.
Bottom line: 16 of the 17 regular season 49ers games will air on live TV with one only streaming (on Amazon Prime Video). The services above have you covered for the regular and postseason. See the 49ers schedule below.
The founding of the San Francisco 49ers dates to them being original members of the AAFC. Today, people all over the country are rooting for this Bay Area team. If you're one of those admiring fans, you may be wondering how you can watch the San Francisco 49ers online without cable.
Cable is going out of style. The cost of service and additional equipment needed just don't make it worthwhile. Streaming is becoming the way most people watch the San Francisco 49ers without cable with services like FuboTV leading the way.
Are you a fan outside your team's broadcast area? Learn to get complete access with our NFL Out-of-Market Game Guide.
The information presented in the following streaming guide will give you all the details you'll need on the various channels you can use to watch the San Francisco 49ers live stream.
If you are looking for info on all the streaming services you're going to need to watch San Francisco 49ers games live without cable, keep reading. We will also let you know what devices you can use to stream them. This will ensure you never miss a game.
Sign Up for a Free 7-Day Fubo Trial
What Channels Offer the San Francisco 49ers Live Stream?
CBS, Fox, NFL Network, ESPN, and NBC are the five networks you'll need to watch the San Francisco 49ers online without cable. Some channels will air more games than others, but if you want the full season, the easiest way to get it is with these channels.
All channels listed can be found using the streaming services in this guide. That said, local channels are available based on your location or are otherwise available on-demand. If you don't receive live local channels through streaming services in your area, you can also try a digital antenna.
Unblock Your Favorite Events & Teams With a VPN
If you can't watch your favorite events or teams because of your location, a VPN will allow you to get the access you are entitled to, plus extra security and unequalled privacy. Check out our VPN Guide for everything you need to know, including our top pick ExpressVPN.
How to Watch the San Francisco 49ers without Cable
If you got rid of cable because you didn't like the prices, streaming services will offer you a similar service at a cheaper price. You'll be able to connect your streaming device to the Internet, which will give you the chance to watch TV almost anywhere. You can use computers, mobile devices, Apple TV, Chromecast, Roku, and other devices.
The biggest decision you need to make if you want to watch the San Francisco 49ers online is which streaming service you want to use. Our top picks include FuboTV and Hulu with Live TV because they offer multiple channels and access to local channels in many areas.
They are also both reasonably priced. If you'd like the complete list, keep reading and towards the bottom of this guide, you'll find all of the ways that you can watch the San Francisco 49ers online without cable.
Out-of-Market San Francisco 49ers Games
All fans in northern California get to watch every Sunday afternoon San Francisco 49ers game on their local network affiliate channels. But fans who are out-of-market won't generally be as lucky since those areas will cater to the local teams there.
For information on watching these games, see NFL Out-of-Market Football Games. It provides all the options available to watch these games.
NFL Sunday Ticket is the plan for people who want to watch out-of-market games. But unlike NBA League Pass, Sunday Ticket is not widely available. Currently, you can only get it with DIRECTV Satellite. (Check out our Sunday Ticket review for complete information.)
Another option is to use a VPN. But this is far more complicated than just signing up for Sunday Ticket. But ExpressVPN provides step-by-step instructions.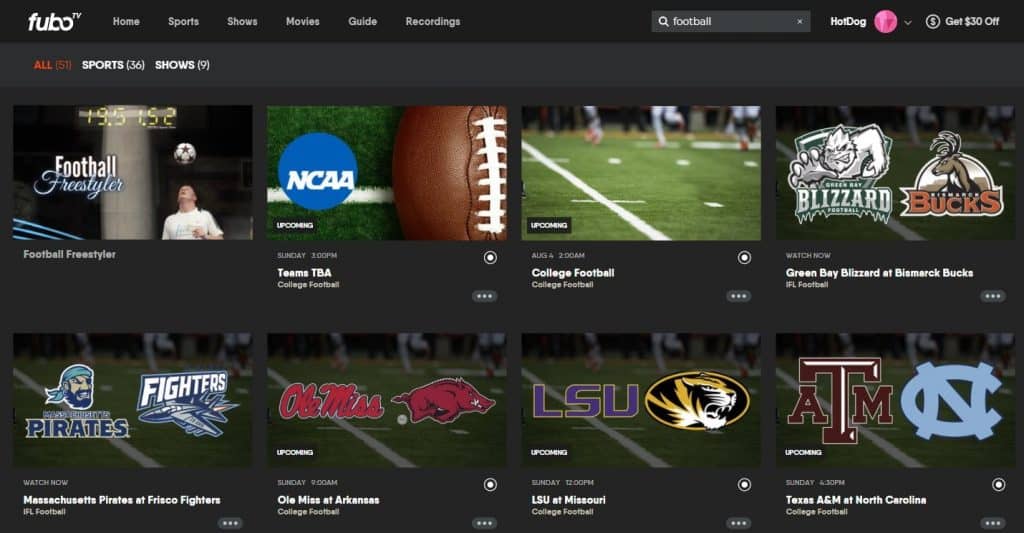 Watch the San Francisco 49ers Without Cable on FuboTV
FuboTV has one of the biggest starting packages in streaming. You'll enjoy over 110 channels in one package for $69.99/mo. If you want more channels, there are dozens available that you can add to your package.
There's also an on-demand library and you can use TV Everywhere apps like FOX Sports Go. More FuboTV details:
$69.99/mo
110+ channels and an on-demand library
1000 hours cloud DVR
One of our preferred methods to watch sports online
Local channels can be found live in most areas: Fox, CBS, and NBC (Sunday Night Football)
ESPN and NFL Network with the base plan
Mobile devices, computers, Roku, Chromecast, and more are compatible
Learn more in our FuboTV review.
FuboTV costs a little more than some of the other services, but you also get more channels. While streaming offering 110+ channels is more than most services offer, FuboTV allows you to add even more channels if you want them.
On-demand content is also available, so there's always something to watch day or night.
Sign Up for a Free 7-Day Fubo Trial
Watch the San Francisco 49ers Online via Hulu + Live TV
Hulu + Live TV works whether you want to watch the most popular channels or you're just looking for sports coverage. If you share your account with others in your household, you'll have multiple profiles you can use.
In addition to 85+ live channels, you'll also be able to watch everything on Hulu on-demand. Here's more on Hulu Live:
$69.99/mo for 85+ live channels
Unlimited cloud DVR (9 month storage)
Disney+ and ESPN+ included
Hulu on-demand is included in every package
Local channels are included in most areas
Watch on mobile devices, Apple TV, Chromecast, Roku, and more
Visit our Hulu + Live TV review.
Hulu + Live TV offers reasonable prices and gives you plenty to watch. You can choose from live or on-demand content from some of the most popular networks available. You can also use TV Everywhere apps, which means that you can use WatchESPN and other apps for more content.
Superpower Your Streaming With a VPN
For the sake of privacy, security, and access, you should be using a VPN. They are low-cost and easy to use. We've been using them for years and our top pick is ExpressVPN.
Other Options to Watch San Francisco 49ers Online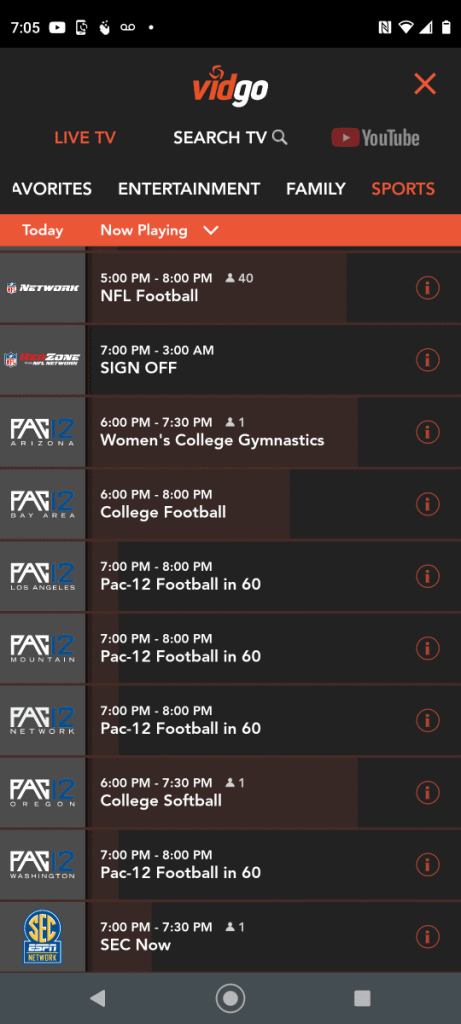 There are a variety of other options available to you if you want more ways to watch the San Francisco 49ers online without cable. Depending on the service you choose, you'll find some or all of the channels you need to watch the 49ers live stream this season.
Here are more streaming options:
Looking for Info on How to Watch Another Team?
Sign Up for a Free 7-Day Fubo Trial
Need more information on how to watch the NFL without cable tailored specifically to your favorite team? Click on your team below.
So, there you have it. Streaming continues to offer a sound and simple way to watch your favorite sports without cable. If you have any questions about how to watch the San Francisco 49ers online without cable, we're here to help!
FAQs
Which channels do I need to watch the San Francisco 49ers?
Most San Francisco 49ers Sunday afternoon games are broadcast on Fox with several others being played at that time are shown on CBS. Those in the evenings may be carried on a different channel. Other options include ESPN, NBC, and NFL Network. Keep in mind that although nearly all non-Sunday games are set and will not have their times or channels changed, those played on Sundays can be up until six days before.
What radio stations are the San Francisco 49ers on?
The San Francisco 49ers radio network stretches extensively throughout Northern California as well as into select communities in Nevada, Oregon, and Hawaii. The team's flagship stations are KNBR 680 and KSAN 107.7 The Bone, both of which serve the Bay Area. KNBR's signal strength is particularly powerful; it reaches all of Northern California on its own. Westwood One Sports carries several 49ers games, including all playoff contests, throughout much of the rest of the country.
How do I watch the San Francisco 49ers on my phone?
Those who are local San Francisco 49ers fans – located in Northern California – can utilize NFL+ to watch games on their mobile devices for $4.99/mo. Both provide Sunday afternoon contests that are broadcast on your local affiliates as well as prime-time match-ups that are shown on a national basis. If you are elsewhere, subscribing to NFL Sunday Ticket will give you access to its app, where you can watch out-of-market games.
How many championships has the San Francisco 49ers won?
The San Francisco 49ers had once claimed the most Super Bowl championships of any NFL team with five but have since been surpassed by the New England Patriots and Pittsburgh Steelers, who have now won six apiece. San Francisco's titles came predominantly during its heyday in the 1980s, when it won four Super Bowls, before adding its fifth following the 1994 campaign. The 49ers have also claimed seven NFC titles and 20 NFC West crowns.
How do I watch the San Francisco 49ers game tonight?
The San Francisco 49ers game tonight will most likely be shown on NBC, ESPN, Fox, NFL Network, or Amazon Prime Video. The probable options are NBC and ESPN, which broadcast Sunday and Monday Night Football contests. In addition, 49ers fans located in the Bay Area will be able to watch the team's prime-time games on a local over-the-air channel. You can also view San Francisco's match-ups via streaming services like Sling TV and fuboTV.
How do I record San Francisco 49ers live games?
You have several options available to you when you want to record live San Francisco 49ers games for later viewing. Many cable and satellite providers offer this feature for many of their channels although note that this option is not available for NFL Sunday Ticket broadcasts. As for streaming services, FuboTV provides 1000 hours of Cloud DVR content to its subscribers, and Sling TV offers 50 hours.
What is the 2022 San Francisco 49ers schedule?
Fri Aug 12 8:30 pm: Packers (21) at 49ers (28) [P]
Sat Aug 20 7:00 pm: 49ers (17) at Vikings (7) [P]
Thu Aug 25 8:15 pm: 49ers (0) at Texans (17) (Prime Video) [P]
Sun Sep 11 1:00 pm: 49ers (10) at Bears (19) (Fox)
Sun Sep 18 4:05 pm: Seahawks (7) at 49ers (27) (Fox)
Sun Sep 25 8:20 pm: 49ers (10) at Broncos (11) (NBC)
Mon Oct 3 8:15 pm: Rams (9) at 49ers (24) (ESPN)
Sun Oct 9 4:05 pm: 49ers at Panthers (CBS)
Sun Oct 16 1:00 pm: 49ers at Falcons (Fox)
Sun Oct 23 4:25 pm: Chiefs at 49ers (Fox)
Sun Oct 30 4:25 pm: 49ers at Rams (Fox)
Sun Nov 13 8:20 pm: Chargers at 49ers (NBC)
Mon Nov 21 8:15 pm: 49ers at Cardinals (ESPN)
Sun Nov 27 4:25 pm: Saints at 49ers (Fox)
Sun Dec 4 4:05 pm: Dolphins at 49ers (Fox)
Sun Dec 11 4:25 pm: Buccaneers at 49ers (Fox)
Thu Dec 15 8:15 pm: 49ers at Seahawks (Prime Video)
Sat Dec 24 4:05 pm: Commanders at 49ers (CBS)
Sun Jan 1 4:05 pm: 49ers at Raiders (Fox)
TBD: Cardinals at 49ers
Sign Up for a Free 7-Day Fubo Trial
Ditch "Big Cable" Now — 3 Simple Steps to Cutting the Cord
Pick the right streaming service
Get the content you deserve with the best VPN.
Supercharge your internet provider
That's it — you'll save money, gain control, and enjoy TV more!
Latest posts by Frank Moraes
(see all)