The NFC Wild Card Weekend is all over. See our NFL Preseason guide for all you need to know about watching next season!
Six teams, three games, three days! And unlike the regular season where the games run at the same time, you'll be able to watch every matchup as the top teams compete to enter the Division round. Best of all: no cable required!
In a hurry? You can watch most of the wild card games by putting up an antenna. But if you want all the games, choose one of the top streaming services:
FuboTV: The best streaming service for international sports also provides 100+ well-selected channels. FuboTV allows you to try out its service free for 7 days.
DIRECTV STREAM: Get a great channel lineup with the best selection of RSNs in the industry. A 5-day free trial is now available for DIRECTV STREAM.
Sling TV: This low-cost service allows you to select just the channel lineup you want. Save 50% on your first month of Sling TV.
The 2021-2022 regular season is over. The Green Bay Packers (13-4) won the NFC and so gets a bye the first week.
The other teams making the playoffs are: Tampa Bay Buccaneers (13-4), Los Angeles Rams (12-5), Dallas Cowboys (12-5), Arizona Cardinals (11-6), San Francisco 49ers (10-7), and Philadelphia Eagles (9-8).
The top seed in each conference gets a bye to the second round of the playoffs while the other six are matched up against each other based on their seed. It's simpler than it sounds:
7th seed at 2nd seed
6th seed at 3rd seed
5th seed at 4th seed.
NFC Wild Card Game Channels
If you've followed the regular season, you probably know that Sunday afternoon NFC games are generally broadcast on Fox. That still holds to some extent in the postseason, but the Wild Card games tend to be mixed between the major channels. Last year, Fox and NBC aired the first two games. The last matchup was aired simultaneously on CBS, Nickelodeon, and Amazon Prime Video.
We don't yet know what the schedule will be this year except for one thing. The last Wild Card game (which may be NFC or AFC) will be on Monday night and so air on ESPN (and maybe ABC). The rest of the games will air on the local network affiliates CBS, Fox, or NBC. And there may be some other sources simulcasting.
Given this, you will be able to see almost all of the Wild Card games using an antenna. We have a guide that will show you all you need to know.
2021-2022 NFL Wild Card Schedule
Super Wild-Card Weekend is Jan 15-17 this year. The schedule is set:
Sat Jan 15 4:35 pm: Raiders (19) at Bengals (26) (NBC)
Sat Jan 15 8:15 pm: Patriots (17) at Bills (47) (CBS)
Sun Jan 16 1:05 pm: Eagles (15) at Buccaneers (31) (Fox)
Sun Jan 16 4:40 pm: 49ers (23) at Cowboys (17) (CBS,Nickelodeon)
Sun Jan 16 8:15 pm: Steelers (21) at Chiefs (42) (NBC)
Mon Jan 17 8:15 pm: Cardinals (11) at Rams (34) (ABC,ESPN)
Do You Need a VPN?
If you find you can't watch particular events because of your location, a VPN should allow you to get the access you are entitled to. It also provides extra security and unequalled privacy. See our complete VPN Guide for all you need to know.
Live TV Streaming Services for NFC Wild Card Games
Many live TV streaming services offer all the local channels and ESPN — all the channels you need to watch the NFC Wild Card games..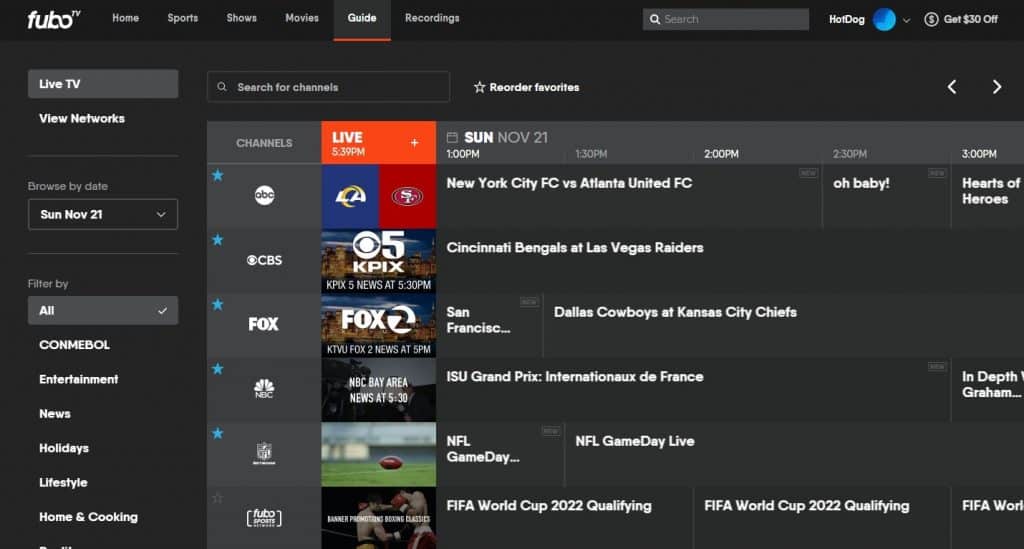 FuboTV

The FuboTV Pro package comes with over 100 channels including CBS, Fox, NBC, and ESPN. In all, it offers over 35 sports channels for $69.99/mo. You can stream on up to ten devices at once and store up to 1000 hours with its cloud DVR. See our FuboTV review for a complete rundown.
Hulu + Live TV

The base Hulu Live package comes with local stations as well as 5 ESPN channels for $69.99/mo. It also includes an outstanding on-demand library in addition to ESPN+ and Disney+. You get unlimited cloud DVR (9 month storage) and the ability to stream on up to two devices at once. For more information, see our Hulu + Live TV review.
DIRECTV STREAM

The base DIRECTV STREAM (formerly AT&T TV) plan comes with roughly 80 channels for $69.99/mo. This includes all the channels you need to watch the NFC Wild Card games. It also comes with unlimited cloud DVR storage as long as you sign-up online and streaming on up to 20 devices at the same time. See our DIRECTV STREAM review for details.
Sling TV

Sling TV allows you to bundle its two base packages for $50 a month, and those packages come with Fox, NBC, and ESPN. You can combine this with an antenna (Sling makes this very easy) or a Paramount+ subscription to get the CBS games. Check out our Sling TV review for more details.
Vidgo

For $59.95 a month, Vidgo provides ESPN and Fox as part of its 85+ live channel lineup. It does not include CBS and NBC, however. So you will need to combine it with an antenna or with subscriptions to both Peacock and Paramount+. Our Vidgo review has more info.
YouTube TV

YouTube TV is $64.99 and offers all of the channels that you'll need to watch the NFL Wild Card games.
On-Demand Streaming Services
These streaming services only provide games on a particular network. They are most valuable to supplement live TV streaming services.
Peacock

Peacock streams all games that are broadcast on NBC through the service's premium package, which costs $4.99 per month. You can get an ad-free version of this service for $9.99, but you will still get ads with live-streamed events.
Paramount+

Paramount+ (previously CBS All Access) offers live streams of any games that are broadcast on CBS. As with Peacock, you can subscribe to a plan that includes ads or that excludes them when viewing on-demand content. See our Paramount+ review for details.
Streaming Devices for the NFC Wild Card Round
You can watch the NFC Wild Card games on most streaming devices.
All the streaming services other than Vidgo support Samsung smart TVs. Fubo, Hulu, and Sling also support smart TVs by LG and Vizio. And other than DIRECTV STREAM, all the services support devices based on Android TV.
All services support the TV devices Amazon Fire TV, Apple TV, and Roku. And that goes for Android and iOS mobile devices and casting using Chromecast.
FuboTV, Sling TV, and Hulu + Live TV all support the Xbox One. Hulu supports the PlayStation.
See our individual streaming reviews for complete lists of supported devices.
Superpower Your Streaming With a VPN
For the sake of privacy, security, and access, you should be using a VPN. They are low-cost and easy to use. We've been using them for years and our top pick is ExpressVPN.
Wrapping Up
The NFC Wild Card round features six of the top seven teams in the conference. Opening round games are broadcast on CBS, Fox, NBC, or ESPN. The live streaming services discussed above offer these and more. The network streaming services allow you to watch some games as well.
FAQs
What NFC wild card teams have made it to the Super Bowl?
In 2020, the Tampa Bay Buccaneers made it to the Super Bowl after finishing fifth in the conference. In 2007, the New York Giants won the Super Bowl despite failing to win their division. Interestingly, both of those games involved Tom Brady. In 2020, he was Tampa Bay's quarterback while he played against the Giants in 2007.
Can two NFC teams go to the Super Bowl?
As the Super Bowl is played between the winner of the AFC and the winner of the NFC, only one team from this conference can go to the Super Bowl. The NFC and AFC champions are determined two weeks before the biggest event in American sports.
How can I watch other NFL playoff games?
These guides show you how to watch different parts of the playoffs:
For more information, see How to Watch NFL Without Cable. And see these articles for information about watching particular teams:
AFC
NFC
Latest posts by Frank Moraes
(see all)