Disclosure:
Your support helps keep our site running! We earn referral fees for some of the products & services we recommend.
Learn more
NASCAR may rule the US but Formula One rules the world! If you are an auto-racing fan, you know how exciting these races can be. And if you are a cord-cutter, there is no reason you need to miss out on the action. Read on to learn everything you need to know.
In a hurry? All 23 races of the Formula One season will be aired on one of the main ESPN channels. You will be set with any of these excellent services:
FuboTV: Our favorite sports-oriented streaming service will let you watch every Formula 1 and NASCAR Cup series race. Try it free for 7 days!
Hulu + Live TV: A broad range of channels that will let you watch all the big races. Check it out with a free 7-day trial!
Sling TV: Low-cost streaming service that will give you all Formula 1 races for $35/mo as well as NASCAR for $50/mo. Try one month for $10!
If you enjoy NASCAR, you need to check out Formula One (Formula 1, F1). Achieving speeds of up to 215 miles per hour, Formula One cars are among the fastest in competition today.
The vast majority of the races in this circuit take place in other time zones, which means that you'll need to be ready to stay up late or wake up early to watch them live. Of course, most streaming services come with a DVR. And you will be able to watch on-demand in most circumstances.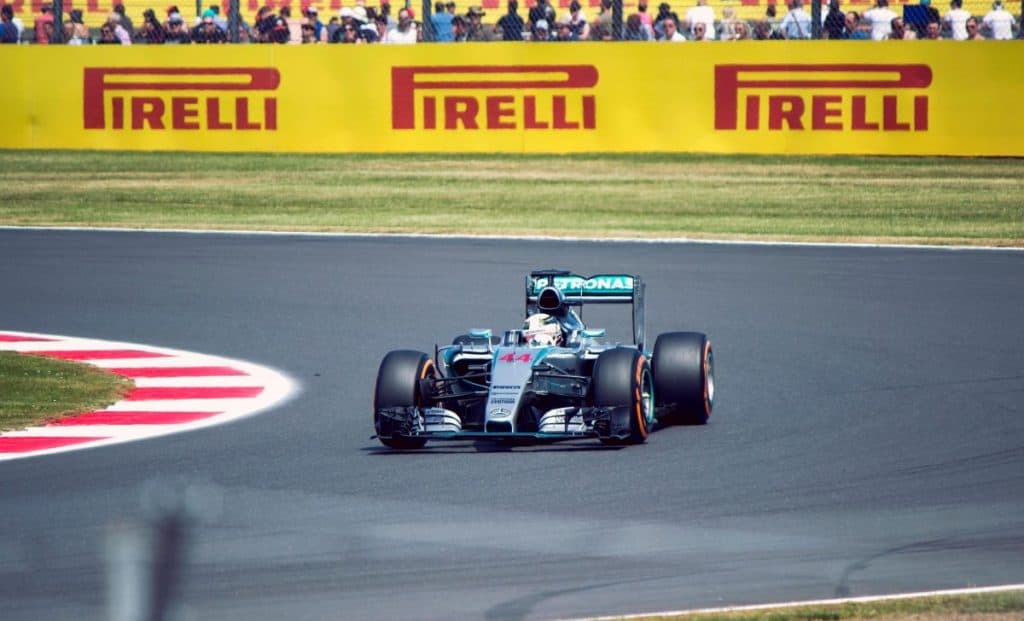 What Is Formula One?
Formula One vehicles feature an open cockpit with open wheels and tires that are designed specifically to allow drivers to maneuver around corners without drastically reducing their speeds. The circuit is considered to be the highest level of racing for drivers who operate these types of cars.
It was founded in 1950 and was initially dominated by drivers and manufacturers based in Britain and Italy. Races are sanctioned by the Fédération Internationale de l'Automobile (FIA), which sets the rules that competitors must follow on race days.
The word formula in Formula One refers to the regulations that all competitors must adhere to during a race. Drivers must hold a Super License, which is granted by the FIA, to compete in Formula One events.
The stated goal of Formula One is to crown a true world champion at the end of each racing season. Since 1981, the FIA Formula One World Championship has been given to the driver who accumulates the most points in a given season. There is also a world championship for manufacturers that make the cars that compete in Formula One races.
In addition to the FIA Formula One World Championship, there have been attempts by various nations to have their own competitions. However, efforts by South Africa and Britain to hold their own regional tournaments largely fizzled out by 1980. This was largely because the races that made up these regional competitions were not considered to be of much consequence.
It's also worth noting that during the 1950s and 1960s, many races contested by top drivers were not held under Formula One rules. Furthermore, some races contested under Formula One rules were not considered to be part of the World Championship.
The Formula One championship and the World Championship are still considered to be two different things. This is despite the fact that all Formula One events now count toward determining the final champion and all World Championship races follow Formula One rules.
Formula One Season
Traditionally, the Formula One season consists of 23 races, and this will be the case for the 2022 season. The 2020 and 2021 seasons had to be shortened because of the COVID-19 pandemic, and pandemic restrictions will prevent any races from being added to the upcoming schedule in China.
The 2022 season begins on March 20 with a race in Bahrain and will end in November with an event in Abu Dhabi. There will be two races held in the United States, and those events will take place in Miami on May 8 and in Austin on Oct 23.
Tracks in Mexico and Canada are also scheduled to host Formula One events in the upcoming year. This may provide fans living in the United States with additional opportunities to see a race up close. Fans in Italy, Japan, and Brazil will also have a chance to see their favorite drivers in person as events will be held in those nations.
Scheduling races in as many countries as possible has been a point of emphasis for Formula One in recent years. The belief is that racing in as many countries as possible makes it easier for a driver to truly call himself a world champion.
Female drivers are generally allowed to compete in Formula One events. Therefore, it's possible that a woman could be recognized by the FIA as its champion. However, female drivers currently make up a tiny fraction of Formula One racers.
2022 F1 Schedule
Mar 20: Sakhir, Bahrain
Mar 27: Saudi Arabia, Jeddah
Apr 10: Melbourne, Australia
Apr 24: Emilia Romagna, Imola
May 8: Miami, USA
May 22: Barcelona, Spain
May 29: Monaco, Monaco
Jun 12: Baku, Azerbaijan
Jun 19: Montreal, Canada
Jul 3: United Kingdom, Silverstone
Jul 10: Spielberg, Austria
Jul 24: Le Castellet, France
Jul 31: Budapest, Hungary
Aug 28: Spa, Belgium
Sep 4: Zandvoort, Netherlands
Sep 11: Monza, Italy
Sep 25: Sochi, Russia
Oct 2: Singapore
Oct 9: Suzuka, Japan
Oct 23: Austin, USA
Oct 30: Mexico City, Mexico
Nov 13: Sao Paulo, Brazil
Nov 20: Abu Dhabi
Formula One Channels
In the United States, Formula One races are generally broadcast in English on ESPN, ESPN2, or ESPN3/ABC. The Spanish-language broadcasts are exclusively on ESPN Deportes. You can also watch on the WatchESPN app if you have access through your TV provider.
In 2022, all races will again air on ESPN, ESPN2, or ESPN3/ABC with the Spanish version on ESPN Deportes. However, viewers in the United States will watch a feed of each race created by Sky Sports. Qualifying and practice sessions will be shown across the family of ESPN networks.
In the United Kingdom, races are generally available on Channel 4 (C4) or through Sky Sports. If you are watching in New Zealand, you can catch most races on Spark Sport or through your favorite streaming provider.
In Canada, Formula One events are broadcast on RDS, RDS2, and TSN. Canadian viewers can also watch their favorite drivers on Noovo. Finally, in Australia, Formula One races are broadcast on Network Ten or on Fox Sports Channels.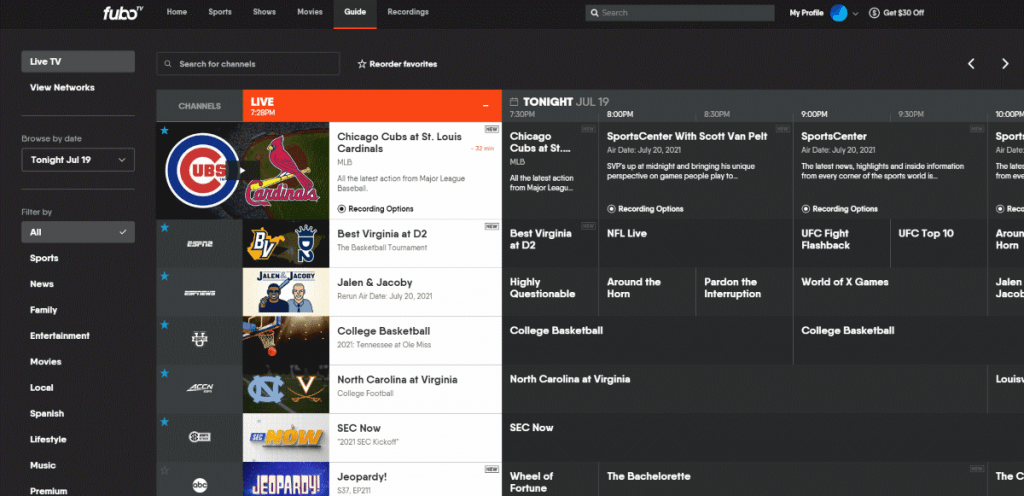 Streaming Services for Formula One
There are generally a couple of Formula One races each year that appear on ABC. You can watch these for free if you set up an antenna. Otherwise, you will need a streaming service.
FuboTV ($64.99/mo): This is one of the best streaming services for general viewers and probably the best for sports fans. You get over 100 channels in the base plan, which you can get over 150 for $7.99/mo extra. It comes with the ability to stream on up to 3 TVs/devices at once and 250 hours of cloud DVR. For more information, see our FuboTV review.
Hulu + Live TV ($64.99/mo): This plan adds 85+ live TV channels to the outstanding Hulu on-demand library. You get 50 hours of cloud DVR and two devices of simultaneous streaming. For all the details, read our Hulu + Live TV review.
Sling TV ($35.00/mo): With Sling Orange, you get 30+ channels including ESPN, ESPN2, and ESPN3 (which shows all live ABC sports events). You can add NBC and Fox news (and more) with the Orange+Blue plan for $50/mo. And it has a great selection of low-cost add-ons. With the Sling Orange channels, you are limited to streaming on a single device. But you can record up to 50 hours with the cloud DVR. Our Sling TV review has more information.
DIRECTV STREAM ($69.99/mo): The formerly-named AT&T TV costs a bit more but offers many advantages including providing its own streaming device. You get roughly 80 channels in the base plan. All plans come with 20 hours of cloud DVR and 20 simultaneous screens to watch on — great for large households. Our DIRECTV STREAM review has more details.
Vidgo ($55.00/mo): This inexpensive streaming service offers all the channels you need to watch Formula One and NASCAR Cup Series races in its 85+ channel lineup. You can watch on up to three devices but there is no DVR. Find out more in our Vidgo review.
YouTube TV ($64.99/mo): This plan that is similar to Hulu + Live TV provides all the ESPN and Fox channels you need to gorge yourself on auto racing.
Streaming Devices and TV for the Formula One Season
You can watch Formula One races on most hardware — including stuff you likely already own.
Every streaming services we've discussed allows you to watch on Amazon Fire TV, Apple TV, and Roku. The same goes for mobile devices using Android and iOS. And you can cast from mobile devices and some browsers using Chromecast.
Other than Vidgo, all the streaming services allow you to use Samsung smart TVs. Other than DIRECTV STREAM, all of them let you use Android TV-based devices. And Fubo, Hulu, and Sling support smart TVs from LG and Vizio.
Those three also support Xbox One. But only Hulu supports the PlayStation.
See our streaming reviews (linked to above) for a complete list of supported devices.
You can also watch on the ESPN app with most devices. You will need a TV provider's login, however.
Wrapping Up
Most of the major streaming services offer ESPN and ESPN2, so you should have no problem enjoying the whole season. Do note that, ESPN+ is great, but it is not a substitute for the live ESPN channels.
FAQs
What does Grand Prix mean?
A Grand Prix is simply the name of a car or motorcycle race that is part of an international series. For instance, the Miami Grand Prix scheduled for May 8, 2022 is a sanctioned race held in Miami that is contested under standard FIA Formula One rules.
Who is the most recent Formula One champion?
In 2020, Lewis Hamilton claimed his seventh World Championship, which is tied for the most in Formula One history. He is currently second in the 2021 driver standings with two races left. Max Verstappen is the currently leader. Mercedes claimed the World Championship for manufacturers based on its performance in 2020.
Latest posts by Frank Moraes
(see all)