If you are a tennis fan, you don't want to miss the last of the last Grand Slam tennis tournament of the year. The 2023 US Open starts Monday, August 28th and runs through Sunday, September 10th on ESPN channels. Cord cutters don't need to miss a moment! Read on to find out how.
In a hurry? You can watch the US Open live on ESPN and ESPN2 with some minor coverage on ESPN+. These live TV streaming services will have you enjoying the actions with no trouble:
FuboTV: The best streaming service for international sports also provides 120+ well-selected channels. FuboTV allows you to try out its service free for 7 days.
Sling TV: This low-cost service allows you to select just the channel lineup you want. Save a bundle with Sling TV.
DIRECTV STREAM: Get a great channel lineup with the best selection of RSNs in the industry. A 5-day free trial is now available for DIRECTV STREAM.
If you can't watch your favorite sports because of your location, get ExpressVPN to access the content you deserve.
Unfortunately, we don't know a streaming service in that covers this sport. But if you've already paid for the right service, and just can't watch because of your location, there is an easy way to get the content you deserve. You need a VPN, like one of the following.
ExpressVPN: Premium VPN provider that just works, with 3,000+ locations in 94 countries. Supports five simultaneous devices and comes with a 30-day money-back guarantee. (ExpressVPN review)
Surfshark: Connect to over 3,200 servers in 99 countries (+ tonnes of US metro areas). Try it with a 7-day free trial.
NordVPN: Connect to over 5,000 premium servers in 60+ countries. Comes with a 30-day money-back guarantee!
If you're overwhelmed and not sure where to begin, you'll find all the answers in our full VPN guide.
The US Open is the last of the four major tennis tournaments to take place during the calendar year. It traditionally starts at the end of August, goes through the Labor Day holiday — concluding the weekend after the unofficial start to the fall.
This tournament has been played since 1881 and has been open to professional players since 1968.
Sign Up for a Free 7-Day Fubo Trial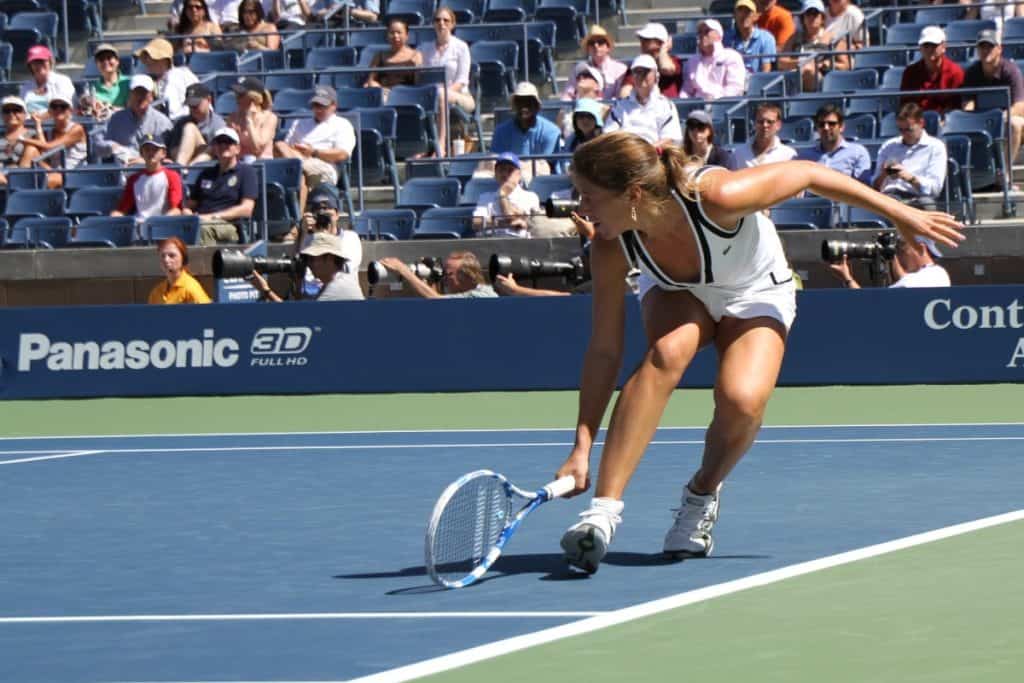 US Open Background
Since 1978, this event has been played at the USTA Billie Jean King National Tennis Center in New York City.
Matches are contested in a women's division, a men's division, and a doubles division. They all take place on a synthetic hardcourt. There is also a separate tournament for minors as well as a competition for those who are confined to wheelchairs.
Male players who participate in this tournament are represented by the Association for Tennis Professionals (ATP) while the female players are a part of the Women's Tennis Association (WTA). The ATP and WTA also determine the player rankings, which help to determine who qualifies for the US Open.
The International Tennis Federation (ITF) is the sport's governing body and creates the rules that most tournaments adhere to. Furthermore, the ITF typically sanctions competitions featuring players of either gender who are ranked lower in the standings. The ATP and WTA sanction the more important national and international competitions.
However, the Grand Slam tournaments themselves are typically run independently of any group. For instance, the US Open is run by the USTA (United States Tennis Association), which is a nonprofit organization that aims to help grow the game of tennis in the United States.
Unblock Your Favorite Events & Teams With a VPN
If you can't watch your favorite events or teams because of your location, a VPN will allow you to get the access you are entitled to, plus extra security and unequalled privacy. Check out our VPN Guide for everything you need to know, including our top pick ExpressVPN.
2023 US Open Schedule
The 2023 US Open will run from Monday, August 28th through Sunday, September 10th. We will provide schedule details when they become available. We will also provide men's the women's singles matches results.
2022 US Open Defending Champions
Men's Singles: Carlos Alcaraz
Women's Singles: Iga Swiatek
Men's Doubles: Rajeev Ram / Joe Salisbury
Women's Doubles: Barbora Krejčiková / Kateřina Siniaková
Mixed Doubles: Storm Sanders / John Peers
Wheelchair Men's Singles: Alfie Hewett
Wheelchair Women's Singles: Diede de Groot
Wheelchair Quad Singles: Niels Vink
Wheelchair Men's Doubles: Martín de la Puente / Nicolas Peifer
Wheelchair Women's Doubles: Diede de Groot / Aniek van Koot
Wheelchair Quad Doubles: Sam Schröder / Niels Vink
Boys' Singles: Martín Landaluce
Girls' Singles: Alex Eala
Boys' Doubles: Ozan Baris / Nishesh Basavareddy
Girls' Doubles: Lucie Havlícková / Diana Shnaider
Where to Watch the US Open
The 2022 US Open will be broadcast primarily on ESPN but also other ESPN channels and even some content on ESPN+.
Live TV Streaming Services
Most of the major services provide ESPN and ESPN2 in their base live TV streaming packages. You can watch on DIRECTV STREAM, Vidgo, and YouTube TV but these are our choices for watching the US Open:
FuboTV

The FuboTV Pro package is available for $74.99/mo and comes with both ESPN and ESPN2. You will also get access to a variety of other great sports channels such as CBS Sports Network, FS1, FS2, and various channels from TUDN and beIN Sports. There are many options to greatly extend this past it's 110+ base channels.
All FuboTV plans come with 1000 hours of cloud DVR storage and simultaneous streaming on up to ten devices. All the details can be found in our FuboTV review.
Sign Up for a Free 7-Day Fubo Trial
DIRECTV STREAM

If you are not sure about ditching cable, DIRECTV STREAM is the way to go. It provides everything you will find with cable. But it's still contract-free and inexpensive. Its base plan offers 75+ channels including ESPN and ESPN2 for $74.99/mo. But its 100+ Choice plan for $99.99/mo is much more popular since it includes by far the best RSN selection in the industry.
All DIRECTV STREAM plans come with unlimited cloud DVR storage and streaming on an unmatched unlimited devices at the same time. See our DIRECTV STREAM review for all the details.
Get DIRECTV STREAM Free for 5 Days
Sling TV

ESPN, ESPN2, and ESPN3 are all available as part of the Sling Orange package. You get 30+ live TV channels for just $40.00/mo. You also get TBS, and TNT. If you are looking to acquire other sports channels, you can bundle this package with the Sling Blue package for a total of $55.00/mo.
Sling TV is the best service in terms of flexibility. You can put together pretty much any kind of plan you want. See our Sling TV review for more information.
Hulu + Live TV

For $69.99/mo, you can get Hulu + Live TV, which comes with 85+ live channels, unlimited cloud DVR with 9 months of storage, and the ability to stream on up to two devices at once.
The base service package comes with ESPN, ESPN2, and other sports channels such as CBS Sports Network, FS1, and the college networks for ACC and SEC. It also includes ESPN+ and Disney+.
For more information, see our Hulu + Live TV review.
Other Streaming Options
ESPN+ will be streaming "outer court" events as well. Starting in 2021 US Open, qualifying matches were broadcast to American viewers exclusively through this service. But this year they look to be available on ESPNews.
In addition to coverage of this event, you can also watch a variety of professional and college basketball, football, and hockey games throughout the year.
The service can be purchased on its own for just $9.99/mo, so it's a good addition to other streaming services. But you automatically get it (along with Disney+) when you sign up for Hulu + Live TV for $69.99/mo.
Stream US Open Outside the US
If you are watching the US Open from outside of the United States, there are several ways that you can do so live.
In Canada, the tournament will be broadcast on both TSN and RDS. In 2021, TSN broadcast the event in English while RDS provided French-language coverage.
In Mexico, you can watch live through ESPN International. It may also be possible to watch the tournament in Spanish on ESPN Deportes throughout North America.
Those who are watching the US Open in Britain will need to have a subscription to Amazon Prime Video to do so. It is the only streaming provider that has the rights to broadcast the event in its entirety.
Australian viewers were able to stream the event live on Kayo in 2021. It's likely that Kayo will have the streaming rights to the event in 2022.
SuperSport is the broadcast partner of the US Open throughout much of Africa, and portions of the event may be available for free without a subscription. However, this network is only available in certain countries, so check your local listings before making plans to watch the event.
Sign Up for a Free 7-Day Fubo Trial
TVs and Devices to Live Stream the US Open
All the three main TV streaming services we discussed above support the following streaming devices: Amazon Fire TV, Android mobile, Android TV, Apple TV, Chromecast, iOS (iPad, iPhone), LG smart TVs, Roku, Samsung smart TVs, Xbox gaming systems, and web browsers.
Vizio smart TVs are supported by FuboTV and Hulu. The PlayStation and Nintendo Switch are supported by Hulu.
ESPN+ uses the ESPN app, which supports all the same devices as Hulu.
Note that these are just the most popular devices that are supported. See our streaming reviews for complete lists.
Summing Up
The US Open is one of the most prestigious tennis tournaments in the world. It attracts players from multiple countries each year.
Taking place in early September, the US Open is generally considered to be the start of the unofficial transition from summer to fall.
You can stream the event in the United States on Hulu + Live TV, FuboTV, or other streaming services.
Superpower Your Streaming With a VPN
For the sake of privacy, security, and access, you should be using a VPN. They are low-cost and easy to use. We've been using them for years and our top pick is ExpressVPN. Be sure to check out our Cyber Monday 2022 deals on ExpressVPN, NordVPN, SurfShark and PureVPN.
Frequently Asked Questions
When are the Grand Slam matches taking place?
The 2022 US Open begins on the final Monday of August and will continue until the second Sunday in September when the men's champion is determined. The women's final will take place the night before while the doubles final is held just hours before the men's final begins.
The Australian Open is the first Grand Slam tournament of the calendar year and in 2023 will take place in Melbourne from Jan 16 through Jan 29. It is followed by the French Open at Roland Garros from May 28 through Jun 11. The Championships will take place (as always) at Wimbledon from July 3 through July 16.
Sign Up for a Free 7-Day Fubo Trial
Who won the 2021 US Open?
There were 15 different events at the 2021 US Open. These are the final matches with the winner listed in bold:
Men's Singles: Daniil Medvedev (Russia) vs Novak Djokovic (Serbia)
Women's Singles: Leylah Fernandez (Canada) vs Emma Raducanu (UK)
Men's Doubles: Jamie Murray (UK) & Bruno Soares (Brazil) vs Rajeev Ram (USA) & Joe Salisbury (UK)
Women's Doubles: Coco Gauff (USA) & Caty McNally (USA) vs Samantha Stosur (Australia) & Zhang Shuai (China)
Mixed Doubles: Desirae Krawczyk (USA) & Joe Salisbury (UK) vs Giuliana Olmos (Mexico) & Marcelo Arévalo (El Salvador)
Boys' Singles: Shang Juncheng (China) vs Daniel Rincón (Spain)
Girls' Singles: Kristina Dmitruk (Belarus) vs Robin Montgomery (USA)
Boys' Doubles: Viacheslav Bielinskyi (Ukraine) & Petr Nesterov (Bulgaria) vs Max Westphal (France) & Coleman Wong (Hong Kong)
Girls' Doubles: Reese Brantmeier (USA) & Elvina Kalieva (USA) vs Ashlyn Krueger (USA) & Robin Montgomery (USA)
Wheelchair Men's Singles: Alfie Hewett (UK) vs Shingo Kunieda (Japan)
Wheelchair Women's Singles: Diede de Groot (Netherlands) vs Yui Kamiji (Japan)
Wheelchair Quad Singles: Dylan Alcott (Australia) vs Niels Vink (Netherlands)
Wheelchair Men's Doubles: Gustavo Fernández (Argentina) & Shingo Kunieda (Japan) vs Alfie Hewett (UK) & Gordon Reid (UK)
Wheelchair Women's Doubles: Diede de Groot (Netherlands) & Aniek van Koot (Netherlands) vs Yui Kamiji (Japan) & Jordanne Whiley (UK)
Wheelchair Quad Doubles: Dylan Alcott (Australia) & Heath Davidson (Australia) vs Sam Schröder (Netherlands) & Niels Vink (Netherlands)
How can I watch tennis live without cable generally?
See the following guides for more information:
Ditch "Big Cable" Now – 3 Simple Steps to Cut the Cord
Pick the right streaming service
Get the content you deserve with the best VPN.
Supercharge your internet provider
That's it — you'll save money, take back control, and enjoy TV more!
Latest posts by Frank Moraes
(see all)