The 2023 NFL regular season is starting soon. Learn how fans in Georgia can watch Atlanta Falcons games live on a budget with Sling TV.
In a hurry? Falcons fans in and around Atlanta can stream most Falcons games on Fox 5 with the the Sling Blue plan. Save 50% on your first month of Sling TV.
Broadcasting of NFL games is complicated. But one aspect of it that makes sense is that most games featuring the local team will be broadcast on Fox (NFC teams) or CBS (AFC teams).
For the Atlanta Falcons, this breaks down as follows:
Fox — 11 games
CBS — 5 games
ESPN+ — 1 game
In addition, all 3 preseason games will be on Fox 5.
Local Channels for the Atlanta Falcons
The Fox affiliate in Atlanta is WAGA-TV, Fox 5. It will air the vast majority of regular season games and all of the preseason games.
A smaller but substantial number of games will air on the CBS affiliate WANF, Channel 46.
One game streams exclusively on ESPN+.
Streaming Atlanta Falcons Games With Sling TV
The vast majority of games (those airing on Fox 5) can be watched directly with the Sling Blue plan. This is because Fox 5 is included for all subscribers in the greater Atlanta area.
Things are more complicated for Channel 46, however. This is because it is not available through Sling TV. However, it is still most cost-effective to use the Sling Blue plan and combine it with a Paramount+ subscription for just $5.99/mo more.
Alternatively, you can integrate a digital antenna with Sling TV to pick up Channel 46.
This year, the Falcons will not be featured on any primetime games. But long-term, you may want to get access to these. Monday Night Football airs on ESPN. You can get it by upgrading to the Sling Orange & Blue plan for $55.00/mo. Similarly, Amazon Prime Video streams Thursday Night Football and Peacock streams Sunday Night Football.
Sling TV for More Than Falcons Games
Sling TV is a standout in the streaming industry. It has many advantages that the others do not. The biggest of these is simply that it is by far the cheapest streaming service that offers substantial sports and news.
Sling TV Pricing
For subscribers in Atlanta, Sling Blue is just $40.00/mo. Even with the addition of Paramount+, that's only $45.99/mo. Compare that to the other streaming services. That's a savings of $25 to $30 per month!
DIRECTV STREAM: $74.99/mo
Fubo: $74.99/mo
Hulu + Live TV: $69.99/mo
YouTube TV: $72.99/mo.
Sling TV Channel Options
Sling Blue comes with 40+ channels including: AMC, BET, Bravo, CNN, Cartoon Network/Adult Swim, Comedy Central, Discovery, HGTV, FX, National Geographic, Syfy, TBS, TNT, USA Network, and many more. Sling TV also offers access to ABC and NBC but currently not in the Atlanta area.
The Sling Blue plan also includes the sports channels Fox Sports 1 (FS1) and NFL Network. If you want, you can upgrade with the Sports Plus add-on for $11/mo. It includes MLB Network, MLB Strike Zone, NBA TV, NHL Network, beIN Sports, Big Ten Network, Pac-12 Network, FS2, Golf Channel, and Tennis Channel.
But more important, Sports Extra includes NFL RedZone, a special channel that lets you follow up to 8 games at once on Sundays when multiple games are taking place at the same time.
What's more, Sling TV offers an unmatched collection of add-on channels. So you can get exactly what you want without paying a bunch for stuff you don't want.
Sling TV Features
All subscriptions come with the ability to watch on up to three devices at once. So when you are watching a game, others in your household can be watching other live TV shows, movies, and on-demand content.
And you also get 50 hours of cloud DVR storage so you can watch games when you aren't around live.
Sling TV Streaming Devices
Sling TV provides apps on almost every device currently in use to live stream Atlanta Falcons games. These include mobile devices running Android and iOS (iPhone) devices.
You can also use the standard streaming devices Amazon Fire TV, Apple TV, Chromecast, and Roku.
Most smart TVs are also supported including those based on Android TV as well as models from LG, Samsung, and Vizio.
And you can watch on gaming devices like the Xbox and Oculus.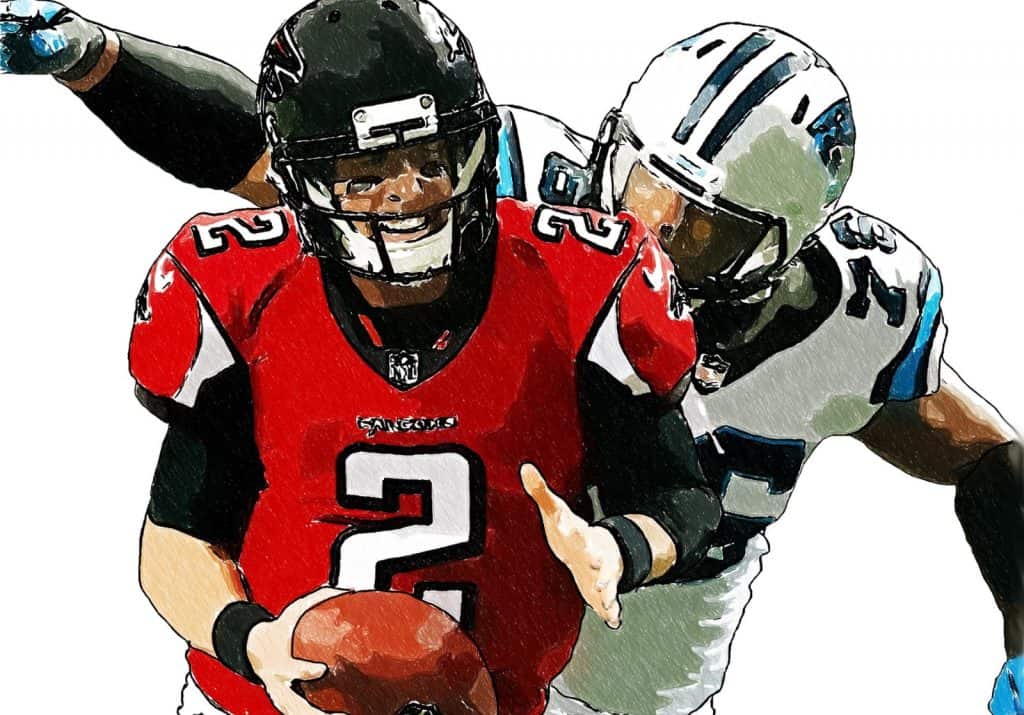 Atlanta Falcons 2023 TV Schedule
The three preseason games of the Atlanta Falcons will all be broadcast on Fox 5:
Fri Aug 11 : @ Miami Dolphins (Fox 5)
Fri Aug 18 : vs Cincinnati Bengals (Fox 5)
Thu Aug 24 : vs Pittsburgh Steelers (Fox 5)
Here is the regular season schedule:
Sun Sep 10 : vs Carolina Panthers (Fox 5)
Sun Sep 17 : vs Green Bay Packers (Fox 5)
Sun Sep 24 : @ Detroit Lions (Fox 5)
Sun Oct 1 : vs Jacksonville Jaguars (ESPN+)
Sun Oct 8 : vs Houston Texans (Fox 5)
Sun Oct 15 : vs Washington Commanders (WANF)
Sun Oct 22 : @ Tampa Bay Buccaneers (Fox 5)
Sun Oct 29 : @ Tennessee Titans (WANF)
Sun Nov 5 : vs Minnesota Vikings (Fox 5)
Sun Nov 12 : @ Arizona Cardinals (WANF)
Sun Nov 26 : vs New Orleans Saints (Fox 5)
Sun Dec 3 : @ New York Jets (Fox 5)
Sun Dec 10 : vs Tampa Bay Buccaneers (WANF)
Sun Dec 17 TBD: @ Carolina Panthers (Fox 5)
Sun Dec 24 : vs Indianapolis Colts (Fox 5)
Sun Dec 31 : @ Chicago Bears (WANF)
Sun Jan 7 TBD: @ New Orleans Saints (Fox 5)
We will have the playoff schedule when it is available. We do know that the NFC Championship game will appear on Fox 5 and the Super Bowl will be on WANF.
Wrapping Up
By signing up with Sling TV, you can watch two-thirds of the 2023 games for $40.00/mo. With the addition of Paramount+ for $5.99/mo, you can watch all but one game. Save 50% on your first month of Sling TV.
FAQs
Can I use NFL Sunday Ticket to watch the Falcons in Atlanta?
NFL Sunday Ticket will now allow you to watch the Falcons. It is an out-of-market package. That means that people outside of the Falcons' local media market will be able to watch all of their games but not those in Georgia. On the plus side, it is cheaper for local fans to watch their favorite team.
Does NFL Game Pass allow Georgia fans to watch the Falcons?
NFL Game Pass is now only available to fans outside the United States. There is, however, a low-cost replacement called NFL+. It will allow you watch every Falcons game. But there's a catch. You are limited to watching on mobile devices. But if you are okay streaming the Falcons on your phone, this is a great option!
Photo Credit: f11photo / Shutterstock
Latest posts by Frank Moraes
(see all)