English Premier League is back.

Stream it live on NBCUniversal channels with Fubo!
For US-based viewers, there has never been a better time to enjoy Spanish-language TV. And cord-cutters have a lot of options.
In a hurry? If you just want a great streaming service to allow you to watch Spanish-language shows and events, these will work great:
FuboTV: Gives you 33 sports-heavy TV channels for $33/mo. Fubo allows you to try out its service with a free trial.
DIRECTV STREAM: Get almost 60 Spanish-language channels with its Español add-on for $15/mo. A 5-day free trial is now available for DIRECTV STREAM.
Sling TV: Provides region-specific packages for as little as $10/mo. Save 50% on Sling TV now!
There has never been a better time to cut the cable cord (that is, quit your cable company and find an alternative TV provider), and that's even more true for Spanish-speakers. New Spanish-language services are popping up like crazy.
From traditional over-the-air (OTA) channels you can pick up with an antenna to on-demand pay services that transmit over the internet, hispanohablantes have more choices than ever descartar su cuenta de cable without missing out on any of their favorite programas de televisión.
There are basically tres general ways to cut the cord (OTA/antenna, on-demand streaming, and live TV streaming). Most cord-cutters go with at least two out of three, but you can use as many or as few as your watching habits and budget call for.
OTA Antenna
OTA TV channels are typically included with cable plans and streaming services, where available. They're called OTA because they transmit a radio signal Over The Air. These can be received by anyone within range with an antenna, no subscription needed.
Depending on where you are located, these will include the local channels ABC, CBS, The CW, Fox, and NBC. And it will include Spanish-language channels like Telemundo, Univision, UniMás, and more.
If you like the programming on these channels and don't mind TV schedules or commercials, then you could be set for just the relatively low price ($20) of an antenna.
Here's a rundown of OTA Spanish-language channels currently broadcasting in the United States.
General Programming
Azteca TV
Estrella TV
LATV
Mega TV
Multimedios Televisión (Canal 6)
TeLe-Romántica
Telemundo
TeleXitos
UniMás
Univision.
Religious
3ABN Latino (Three Angels Broadcasting Network)
Almavision
Enlace (Trinity Broadcasting Network)
Tele Vida Abundante
Tvida Vision.
Unblock Your Favorite Movies and Shows With a VPN
If you can't watch your favorite movies and shows because of your location, a VPN will allow you to get the access you are entitled to, plus extra security and unequalled privacy. Check out our VPN Guide for everything you need to know, including our top pick ExpressVPN.
Other brands worth checking out include Hotspot Shield and CyberGhost.
On-Demand Streaming Services
On-demand streaming, sometimes called SVOD (Streaming Video On Demand), means you pick and choose what you want to watch from a catalog of options. These usually consist of rows of shows or movies grouped by genre. Or they might be similar to other things you've watched or liked.
Many services have live and on-demand components, but most focus on one or the other. Some services, like Peacock and Pluto TV, blur the line of on-demand and live by having continuously streaming channels that mimic live TV. These typically consist of a single narrow genre or even marathons of a single show.
Peacock TV

Peacock TV has a good section of Latino content that is conveniently accessible from a link right up top. Much of it is from Telemundo (both are owned by NBCUniversal).
On-demand content is its main focus, however, and featured shows include:
Parientes a la Fuerza
Malverde: El Santo Patrón
Así se Baila
Café con Aroma de Mujer
Una Casa Para Azul.
It has two Spanish live channels: Telemundo Al Día and Casa Cerrado.
A lot of Peacock's content is available for free, but you can unlock everything for $4.99/mo. If you want to go ad-free, get the Premium plan for $9.99/mo.
Hulu

Hulu has an entire dedicated hub for Latino content, as well as a section for Telemundo programs.
Featured programs and movies include:
Terapia Alternativa (Hulu original)
No Fue Mi Culpa (Hulu original)
Galácticos
Texicanas
Second Act
Rica, Famosa, Latina.
Hulu's on-demand library (separate from its Live TV service, more on that below) is $6.99/mo with ads and $12.99/mo without ads.
Netflix
Netflix also has a section for Spanish-Language TV, with several exclusives and originals."Trending Now" titles:
Where is Marta?
Pablo Escobar: El Patrón del Mal
The Five Juanas
El Chapo
Club de Cuervos.
Netflix starts at $9.99/mo, though for streaming on up to four devices at a time and HDR/4K video, you'll need the Premium plan for $19.99/mo.
Amazon Prime Video
An Amazon Prime Video subscription includes a lot of Spanish-language content, such as Amazon Original series and movies like The Voyeurs, Manor, I Know What You Did Last Summer, and If You Give a Mouse a Cookie with Spanish audio tracks.
You can find more Spanish-language fare in the "Channels" section, a la carte add-ons that vary in price. Current Spanish channels are:
El Gourmet/Cocina On ($3.99/mo)
FlixLatino ($2.99/mo)
Pantaya ($5.99/mo)
Pongalo Next ($3.99/mo)
Vemox Cine ($3.99/mo).
An Amazon Prime Video subscription by itself is $8.99/mo, but most people enjoy it as an included benefit of their Amazon Prime membership, which is $14.99/mo or $139/yr.
Other On-Demand Spanish-Language Streaming Service
Pantaya
Pantaya was launched in 2017 as a joint venture between Lionsgate and Hemisphere Media Group. It just released the second season of its first original series, El Juego de las Llaves.
Other featured series are:
De viaje con los Derbez (Original)
R (Original)
Herederos por accidente (Exclusive)
La Negociadora (Original).
Pantaya is $5.99/mo, streams on all major platforms, and is 100% commercial-free. They have a seven-day free trial going right now for new members.
PrendeTV
PrendeTV is Univision's foray into the wide world of on-demand streaming, building on the back of their recent acquisition of VIX. Featuring a wide variety of Spanish-language programming, from Hollywood box office hits to documentaries to Univision and Televisa classics, there should be something for everyone.
Prende has over 85 unique channels and thousands of movies and episodes. There's no login and all content is free, though there are limited ads. Currently, featured titles include:
Robocop 3
Crímenes Imperfectos
Marisol
Vecinos
Hell's Kitchen.
VIX
VIX was the largest Latino ad-supported free on-demand streaming platform in the world. It was purchased earlier this year by Univision, which has said it plans to combine it with its own new streaming service, PrendeTV.
Currently still available throughout North and Central America, there's no word on whether VIX will survive as a separate brand. Featured programs include:
Un regalo esencial
Enredados – La confusión
De Chef a Princesa en Navidad
Teresa
Postalmente enamorados.
TubiTV
Tubi TV is "the leading free, premium, on-demand video streaming app." It claims the largest content library containing over 20,000 movies and TV shows. There's no Latino or Spanish section per se, but there are several Spanish-only channels:
Para Familias

La Leyenda De La Llorona
De Chef a Princesa en Navidad

Películas En Español
Telenovelas y Series

MasterChef Mexico
La Promesa

Ganadores y Nominados

Leap Year
The Crime of Padre Amaro.
PureFlix
PureFlix specializes in family-friendly and faith-based documentaries, talk shows, children's programs, and animated shows. They have an entire Spanish-language site with over 400 titles on-demand, including:
La Última Oportunidad
Dios no está Muerto 2
The Hardy Boys
Babar, Rey de los Elefantes
Franklin.
PureFlix is available for $7.99/mo or $69.99/yr.
OnDemandLatino (ODL)
ODL contains "free and diverse content" from across Latin America from, of all places, ODK Media, the Korean-based company behind OnDemandKorea and OnDemandChina.
Featured shows on the website are:
Guatemala Afternoon
Ana Cristina
Colombian Evening News.
Besides noticias, it also has películas, telenovelas, deportes, and programs for los muchachos. The UI also has filters by country: Mexico, Guatemala, Dominican Republic, Peru, Ecuador, Venezuela, and Puerto Rico.
Plex
Plex aims to be a one-stop media shop with movies, TV, podcasts, web series, and streaming music. For Spanish-speakers, they've got dubbed and native Spanish movies, classic telenovelas, classic TV sitcoms dubbed in Spanish, the Latido Music channel, documentaries, and children's shows.
A selection of Spanish-language channels:
Canela.TV
Cine Sureño
Cine Real
La Corriente
Estrella TV
El Gourmet
Horrorfy
Más Chic
Nosey Escandalas

Run:Time TV
Sony Canal Comedias
Sony Canal Competencias
Sony Canal Novelas
Top Cine
Tu Cine.
Plex is largely free, though some features are only available with a "Plex Pass," which is $4.99/mo.
Superpower Your Live TV Streaming With a VPN
You can't beat a VPN for privacy, security, and access. We have used them for years as an important part of our streaming toolkit and we recommend ExpressVPN. Other brands worth checking out include Hotspot Shield and CyberGhost.
Live TV Streaming Services
Live TV streaming works like traditional cable TV, where you turn it on and pick a channel, often with the help of a grid-style schedule showing you what's on each station now and for the next few hours.
All of the services below have at least some Spanish-language channels, but some have more than others.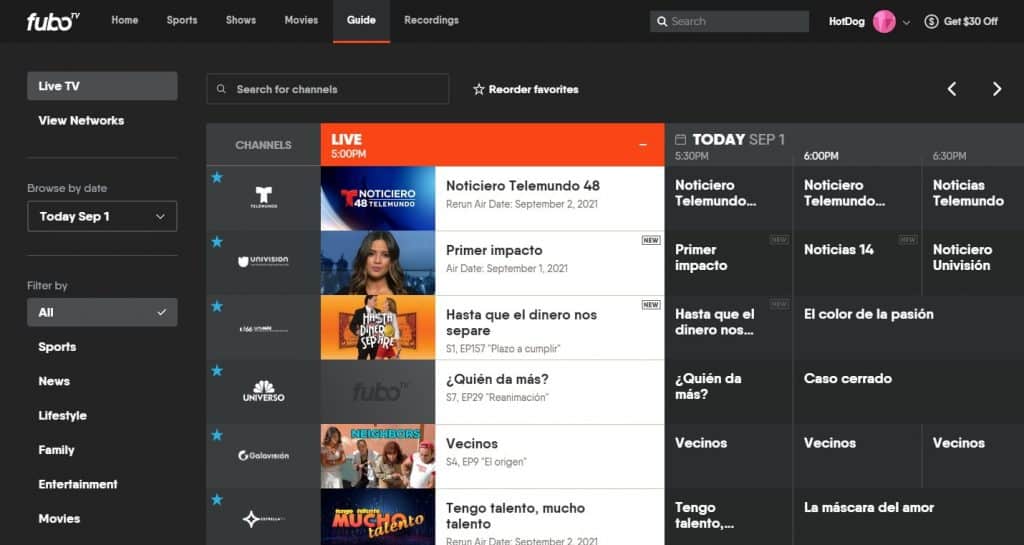 FuboTV

FuboTV is the service if you love deportes. The Latino Quarterly plan contains 33 channels for $33/mo. You should be aware that 11 of those are TUDNxtra 1-11, Univision's live sports channels, and Telemundo is missing from the lineup. But Fubo does have exclusive coverage of CONMEBOL qualifier matches.
Latino Quarterly Channels:
beIN Sports English
beIN Sports
beIN Sports Xtra
Cine Sony
Discovery Familia
Discovery en Español
ESPN Deportes
El Gourmet
Estrella TV
Galavisión
GolTV

Más Chic

NatGeo Mundo
Nuestra Tele
Telefe
Tr3s
TUDN
TUDNxtra 1
TUDNxtra 2
TUDNxtra 3
TUDNxtra 4
TUDNxtra 5
TUDNxtra 6

TUDNxtra 7

TUDNxtra 8
TUDNxtra 9
TUDNxtra 10
TUDNxtra 11
TyC Sports
Univision
UniMás
Zona Futbol
Fubo also provides lots of Spanish-language channels in its standard plans. Starter plan subscribers, for example, get Univision, Telemundo, UniMás, Estrella TV, Galavisión, NBC Universo, beIN Sports En Español, beIN Sports Xtra En Español, and the 12 TUDN channels. It's more expensive at $69.99/mo but includes a total of well over 100 channels.
Note that the Latino plan is, as its name suggests, a quarterly plan. It is paid $99 every three months. It comes with 1000 hours of cloud DVR storage and allows 10 devices to stream at a time. For more information, see our FuboTV review.
DIRECTV STREAM

DIRECTV STREAM (formerly AT&T TV) has a mucho fantástico lineup of Spanish channels. The Español add-on has over 55 channels, far more than anyone else, except Sling if you got all the Spanish packages.
The downside is that you need to order the base package first, which costs $69.99/mo (although it does provide roughly 80 English-language channels). And the Español add-on is $15/mo on top of that. Is it worth it? That's up to you. Take a look at the channels for yourself:
Antena 3
Atres Series
Azteca
BabyTV
Bandamax
Canal 22 Internacional
Caracol TV
Centraméica TV
Cine Estelar
Cine Mexicano
Cine Nostalgia
Cinelatino
De Película
Discovery en Español
Discovery Familia
Ecuador TV
Ecuvisa Internacional
Enlace
ESPN Deportes
Estrella TV

FOROtv
Fox Deportes
FOXlife
Galavisión
History En Español
HITN TV
¡HOLA! TV
MegaTV
Multimedios
Nat Geo Mundo
NTN24
Nuestra Tele
Once Mexico
Pasiones
Perú Mágico
Sony Cine
SUR Perú
TeleCentro

Telefe
Telemundo
Tr3s
TUDN
TV Chile
TVE
TVV
TyC Sports
UniMás
Universo
Univision East
Univision tlnovelas
VePlus
VideoRola
ViendoMovies
Vme
Wapa América
ZooMoo.
Sling TV

Sling TV has a somewhat different structure from most live TV streaming services. It has several different Spanish-language packages based on country (there is also a "Best of Spanish TV" plan). Each is $10/mo with a variable number of channels. If you choose more than one service, you save $5/mo.
Best of Spanish TV
Universo
History en Español
Estrella TV
Azteca
Nat Geo Mundo
Discovery en Español
Discovery Familia
beIN Spors en Español
beIN Sports Connect
Cinelatino
Cine Sony
Tarima TV
Nuestra Vision
Pasiones
France 24 en Espanol
Vme Kids
PX Sports
NTN24
BabyTV Español
El Financiero Bloomberg TV
¡HOLA! TV
México
Canal Once
CBTV Michoacán
Multimedios Televisión
Cinema Dinamita
Mexicanal
AZ Clic
A3 Series
Milenio Televisión

TeleFórmula
AZ Cinema
Teleritmo
Video Rola
AZ Corazón.
Caribe
Wapa América
Cuba Max TV
Telemicro
TV Quisqueya

Dominica View
Supercanal Caribe
Televunivérso

Cinelatino
Pasiones.
Sudamérica
A3 Series
Canal Sur
Caracol
Ecuavisa Internacional
El Trece Internacional
Estudio 5
NTN24
Nuestra Tele
RCN Novelas
Telefe Internacional
Todo Noticias
TV Venezuela
Centroamérica
Centroamerica TV
Multimedios Costa Rica
Tele El Salvador
España
TV Española Internacional
Antena 3
A3 Series
A3Cine
Then, on top of all that, you can also sign up for a la carte premium channels/services like Pantaya, Flix Latino, Cocina ON, and Cadena de Noticias Dominican Republic (CDN) for a few dollars more each.
You can stream your channels on up to 3 devices at a time. It comes with 50 hours of cloud DVR but for $5/mo more, you can upgrade that to 200 hours of storage. See our Sling TV review for details.
Hulu + Live TV

Hulu + Live TV is the most popular cable replacement service — and one of our favorites. But it doesn't have a lot of Spanish options compared to its competitors. The base package is $69.99/mo for over 85 (English) channels (notably, Telemundo is included).
Hulu Live also comes with the standard on-demand library, which does have more Spanish content. The Español add-on is another $4.99/mo but does provide you with seven popular channels:
CNN en Español
Discovery en Español
Discovery Familia
ESPN Deportes
History en Español
Universo
Fox Deportes.
Vidgo

Vidgo is the only streaming service listed here that offers a non-credit card-based subscription. You can sign up with a credit card on the website like any other service, but you can also prepay a subscription through a network of wireless and other local retailers.
Vidgo's Spanish package provides 29 channels for $30/mo:
AltresSeries
Antena 3
AtresCine
Baby TV
BeIN Sports
Canal Sur
Centroamerica TV
Cinelatino
Cine Sony
Discovery
Discovery Familia

Estudio5
Fox Deportes
Fox Life
¡HOLA! TV
Hogar de HGTV
Nat Geo Mundo
NTN24
Nuestra Tele

Pasiones
RCN Novelas
Telefe
TV Azteca
TV Dominicana
TYC Sports
VideoRola
WAPA America.
PlutoTV

PlutoTV is a free ad-supported streaming service owned by Paramount Global (formerly ViacomCBS). It has about 75 Spanish channels, which air movies, telenovelas, US sitcoms and dramas dubbed in Spanish, and Paramount Global channels en español such as MTV and Comedy Central.
It also has an on-demand section. Spanish categories are mixed in with the rest, so you have to scroll, but there are a lot of them:
Badass Novelas
Cine Adrenalina
Cine navideño
Cine Premiere
Cine Terror
Crímenes
James Bond en español
Novelas con la Abuela

Nuestros Mundos
Séptimo Arte
Series Adictivas
Solo para Hinchas
Trending Ahora.
Other
There are other live streaming services that provide Spanish-language channels:
Telemundo App
The Telemundo app is great — if you have a TV provider subscription that offers Telemundo. Otherwise, you won't be able to access much, if anything.
Univision Now
Univision Now is more accessible. You can use it to stream Univision and UniMás live. You can also watch on-demand programming from Galavisión and TUDN. A stand-alone subscription is $10.99/mo, and you can stream from their website or their app, which is available on all the standard streaming platforms.
YouTube TV
YouTube TV has lagged the other streaming services. But they have finally come out with a Spanish-language plan. It offers ~29 channels for $34.99/mo.
Antena 3
Baby TV Español
Bandamax
beIN Sports en Español
Cine Mexicano
Cine Sony
Cinelatino
CNN en Español
De Película
De Película Clásico
Discovery en Español
Discovery Familia
ESPN Deportes
Estrella TV
FOROtv
Fox Deportes
Galavisión
NTN 24
Nuestra Tele
Pasiones
Tastemade en Español
Telehit
Telehit Música
tlnovelas
TyC Sports
UniMás
Univision
WAPA América
Weather Channel en Español
TVs and Streaming Devices
At a bare minimum, all you need to subscribe to any of the above services and start watching is a screen and an internet connection. Since you're reading this right now, you obviously have both. All streaming services work with the major web browsers Chrome, Microsoft Edge, Firefox, Opera, and others.
But unless you're intending to sneak La Reina Del Sur at work, you would probably rather watch either from the comfort of your living room or the convenience of your phone. These platforms are universally supported by all streaming services:
Amazon Fire TV
Apple TV
Chromecast
Roku
Android and iOS mobile devices.
PrendeTV is the exception; you can only currently watch it on your smartphone or computer.
Lots of smart TVs come with streaming apps built-in without the need to mess around with an external device, and the newer the TV, the more likely it is to have all the apps.
DIRECTV STREAM has its own proprietary device similar to a cable box, available for purchase directly. They advise using it for the best experience (it has a voice-activated remote and other goodies), but you don't have to.
Many apps are available on more exotic devices, such as PlayStation 4, Xbox, and Facebook Portal TV.
Summary
As you can see, Spanish speakers who are considering cutting the cord should absolutely take the plunge. There are almost too many services with different channels and shows and movies and live sports. And they are available as live streams and on-demand.
One thing is certain: you will not miss your cable company. Or it's huge bills and incomprehensible contracts. Sign up for one of the services above and enjoy all your películas y telenovelas favoritas today!
FAQs
How can I watch Spanish channels without cable?
There are many options available to you. You can sign up with a live streaming TV provider and enjoy live channels from the US, across Latin America, and around the world. There are several free ad-supported live and on-demand services that let you watch a wide variety of content. There are also pay subscription services with premium content that do the same. Check out all the options above for more details.
How can I get Telemundo and Univision without cable?
The easiest way to get Telemundo and Univision is with an antenna, which you can buy for under $100 — often under $20. Then you can tune into any broadcast station within range for free, forever. This includes Telemundo and Univision, assuming they have transmitters near you.
If not, you can still get Univision by itself through Univision Now, which is $10.99/mo. You can get both Telemundo and Univision from many live TV streaming services such as FuboTV.
What streaming service has the most Spanish channels?
There are two streaming services that offer similar numbers of Spanish-language channels. DIRECTV STREAM has 58 channels in its Español add-on. It costs $69.99 for the base plan and $15 for the add-on for a total of $84.99/mo. Sling TV has a total of around 58 channels across all six of its Latino packages, which would run you $55/mo total.
You can get 33 channels for $33/mo from FuboTV and 29 channels for $30/mo from Vidgo. And even the mostly-English FuboTV Starter plan includes 20 Spanish-language channels in its 100+ channel lineup.
How can I get free Spanish channels?
Several services allow partial or total access to their Spanish-language content free of charge. However, you won't see free content without commercials. Also, no free service will have the same channels you would see on a paid service. If it shares a name, they probably share some content or have similar programming, but there will be some programming reserved for the folks who pay.
The services that have free content include:
OnDemandLatino
Peacock
Plex
PlutoTV
PrendeTV
TubiTV
VIX.
Ditch "Big Cable" Now – 3 Simple Steps to Cut the Cord
Pick the right streaming service
Get the content you deserve with the best VPN.
Supercharge your internet provider
That's it — you'll save money, take back control, and enjoy TV more!
Page Updates
▼
▲
Image changes. Added links. Misc content updates.

Added VPN info. Added sub-section. Pricing updates. Cleaned up list.

Mentioned channel info. Added useful links. Pricing updates. Various content updates.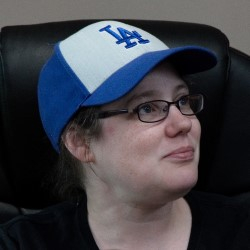 Latest posts by Alanna Baker
(see all)