Since their inception, the Jaguars have been a formidable team, making it to the playoffs numerous times. This is just one of the reasons their loyal fans continue to fill the stadium each week. But if you can't do that, you can still watch live — and you don't need cable!
In a hurry? If you just want to start watching the Jacksonville Jaguars live, these services will do that and more:
Fubo: The best streaming service for international sports also provides 150+ well-selected channels. Fubo allows you to try out its service with a free trial.
DIRECTV STREAM: Get a great channel lineup with the best selection of RSNs in the industry. A 5-day free trial is now available for DIRECTV STREAM.
If you can't watch your favorite sports because of your location, get ExpressVPN to access the content you deserve.
Unfortunately, we don't know a streaming service in that covers this sport. But if you've already paid for the right service, and just can't watch because of your location, there is an easy way to get the content you deserve. You need a VPN, like one of the following.
| | | |
| --- | --- | --- |
| | ExpressVPN: Known as "The VPN that just works," it combines remarkable ease of use with with state-of-the-art power, speed, security, and privacy. Get three extra free months when you sign up for a year. Unleash your streaming with this top-rated VPN. | Sign Up Now |
| | Surfshark: Surfshark: Secure and easy to use with thousands of servers around the world. Of special note is its excellent collection of servers inside the US, which is great for regional sports lie NFL, MLB, and NBA. Get it now with an incredible 82% discount on a 24-month plan. | Sign Up Now |
| | NordVPN: One of the top VPNs with extremely fast servers all over the world. Great for streaming with tested perfomance on the biggest servers and included ad-blocking. Currently offering 70% discount on 2-year plans. | Sign Up Now |
If you're overwhelmed and not sure where to begin, you'll find all the answers in our full VPN guide.
Bottom line: 15 of the 17 regular season Jaguars games will air on live TV, with two streaming only (on ESPN+ and Amazon Prime Video). The services above have you covered for the regular and postseason. See the Jaguars schedule below.
If you continue reading, you should find all the details you need to watch the Jacksonville Jaguars matchup streaming without cable. You'll find the TV channels you need and where to find them without cable. If you're new to streaming, you'll also find out how easy it is to finally get rid of cable!
Easiest way to see if the Jags are playing today? Check our full guide on the next Jaguars game, updated 24/7!
Jacksonville Jaguars Game This Week
Sun Sep 24 : Houston Texans at Jaguars (Fox)
Which Channels Do I Need to Watch the Jacksonville Jaguars?
The Jacksonville Jaguars live stream will occur on a variety of channels this season, like all the other NFL teams in the league. The more channels you have, the more likely you'll be to be able to watch the complete season.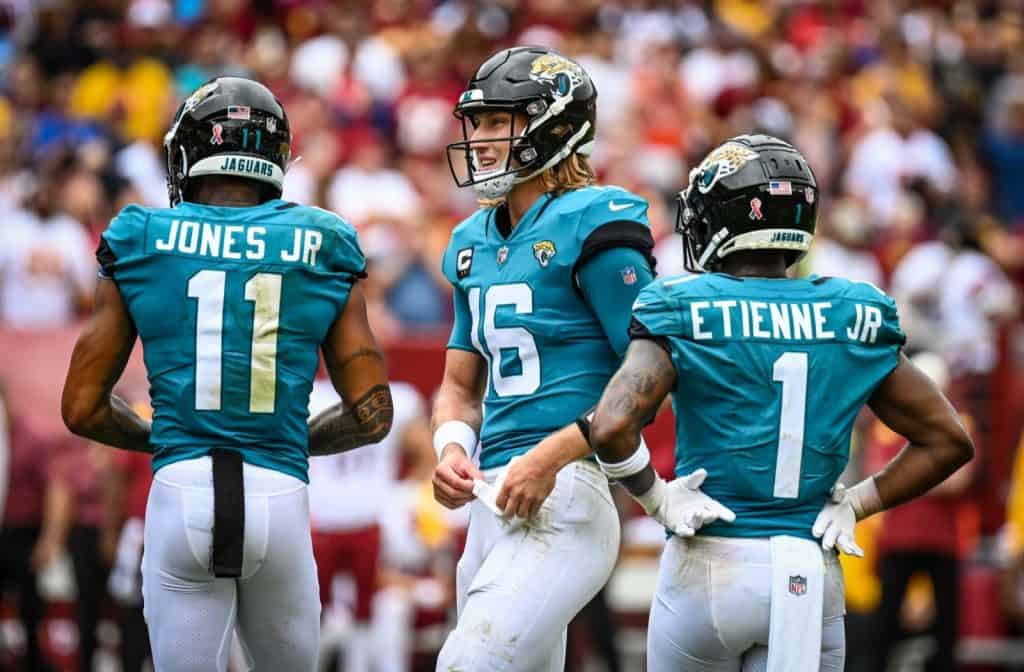 When it comes to local channels, you can use a digital antenna or, depending on your location, a streaming service. You'll need CBS, NBC, and FOX to watch the Jacksonville Jaguars live stream.
You can also use a streaming service to watch broadcast networks, ESPN and NFL Network, which you'll also need.
Unblock Your Favorite Events & Teams With a VPN

If you can't watch your favorite events or teams because of your location, a VPN will allow you to get the access you are entitled to, plus extra security and unequaled privacy. Check out our VPN Guide for everything you need to know, including our top pick ExpressVPN.

Other brands worth checking out include Hotspot Shield and CyberGhost.
How to Watch the Jacksonville Jaguars Game without Cable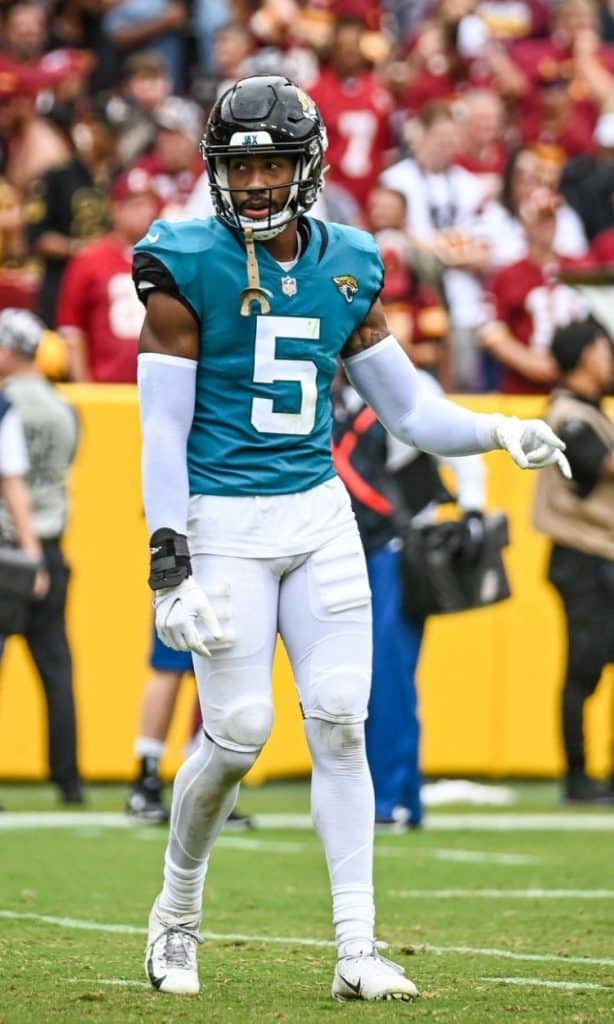 Streaming has never been easier. Even if you recently had cable, it's likely that you have some experience with streaming, even if it's an on-demand service like Netflix.
Live TV streaming services work very similarly, using the Internet and streaming devices (Roku, Chromecast, Apple TV, etc.) to allow you to watch what you want without the aid of a cable connection.
Two of our favorite services when it comes to sports viewing are Fubo (free trial) and Hulu Live. Both options are reasonably priced and come with a variety of upgrades and options.
So, when we tell you more about how to watch the Jacksonville Jaguars online, that's where we'll start. After that, we'll look at all the other ways you might be able to get a Jaguar live stream. No matter which option you choose, you shouldn't have any problems streaming the Jags this season.
Out-of-Market Jacksonville Jaguars Games
Jacksonville Jaguars fans outside its broadcast area may find it difficult to watch many games. This is because Sunday afternoon games are regional. They focus on the teams in the local area. So you need to find ways besides your local CBS affiliate to watch.
For an overview of your options, see NFL Out-of-Market Football Games. It gives you complete details.
The simplest option is to get NFL Sunday Ticket, the out-of-market league pass for the NFL. But to get it, you must sign up with the satellite plan from DIRECTV. In other words, there are no cord-cutting options at this time. This should change next year, however.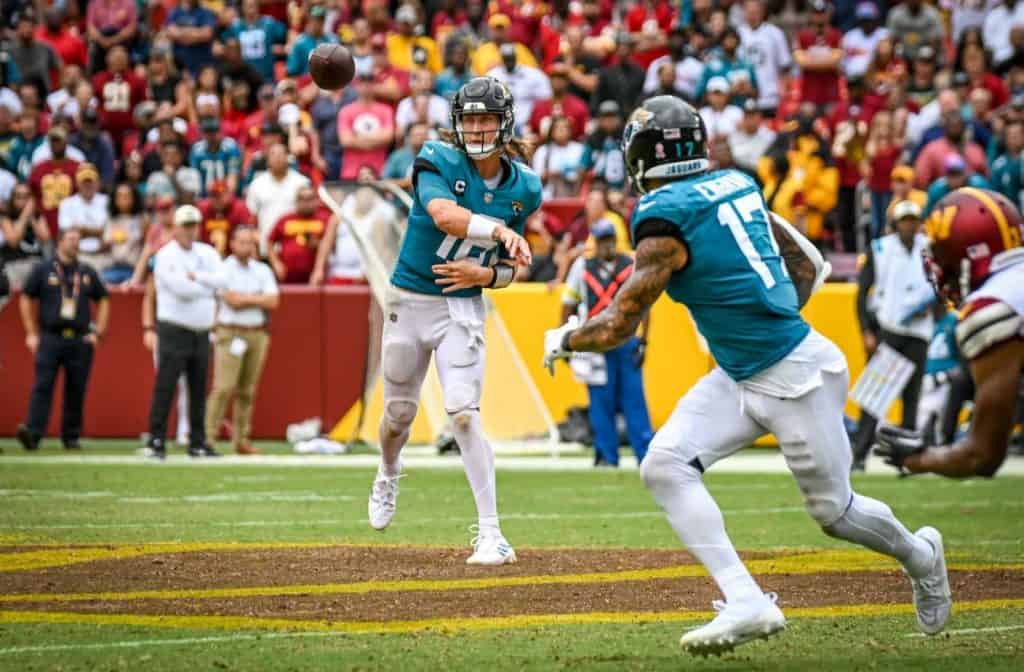 Another option is to use a VPN. It is a powerful tool. Check out ExpressVPN.
Watch the Jacksonville Jaguars without Cable on Fubo
Fubo (formerly FuboTV) offers a large package for a fair price. Over 35 sports channels are included in a package with more than 130 channels. This should cover the interests of most people. If you need more channels, several options are available. You can also gain access to more content through TV Everywhere apps. More Fubo details:
Watch more than 130 channels – numerous ways to watch sports without cable
Available local channels are live in most locations, such as NBC (lets you watch Sunday Night Football), CBS, and Fox
Watch ESPN and NFL Network with Fubo
Stream on mobile devices, Amazon Fire TV, Roku, Android TV, mobile devices, and more
Cloud DVR with 1000 hours of storage
Learn more in our Fubo review
$74.99/mo after free trial
Fubo should work for most families. It has everything you need for NFL, allowing you to watch local channels (including CBS, FOX, and NBC) along with ESPN and NFL Network. The price is reasonable and there's plenty to watch.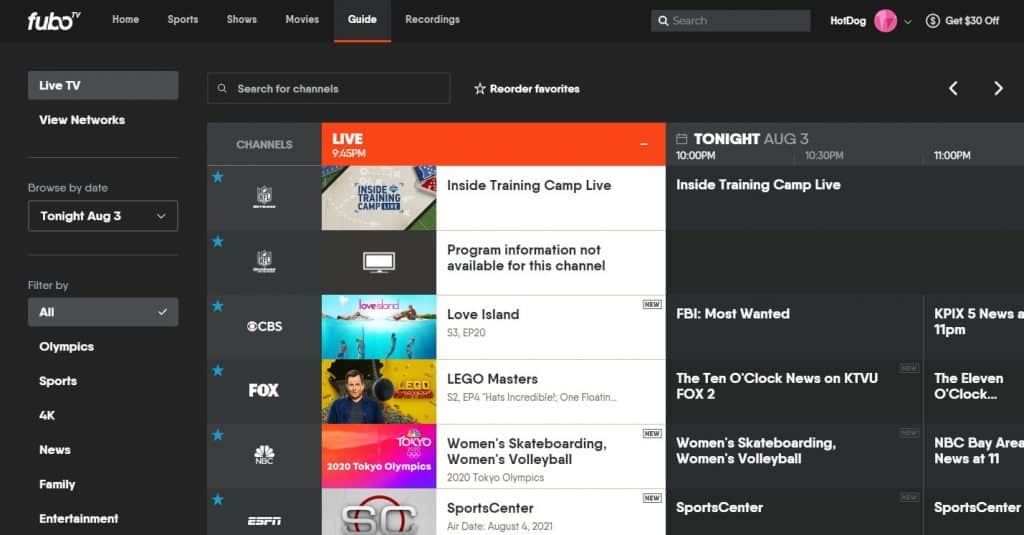 You can choose between live or on-demand TV through Fubo or using TV Everywhere apps. Streaming is possible on multiple devices at the same time, so everyone is free to watch what they want.
Watch Jacksonville Jaguars With DIRECTV STREAM
You can watch most Jaguars games with DIRECTV STREAM. It comes with 75+ channels including all those that feature the NLF: ABC, CBS, Fox, NBC, and ESPN. It has higher-level plans as well, which include (among many others) pretty much every regional sports network in the nation.
Watch preseason games and regular season games on DIRECTV
Local channels are available
Watch ESPN and NFL Network with Fubo
Cloud DVR with unlimited hours of storage
$74.99/mo after trial
Regardless of the package you choose, you will get unlimited cloud DVRs and streaming on as many devices as you like.
Stream on mobile devices, Android TV, Computer, iOS & Android, Roku devices, Telly TV, and more
Check out our DIRECTV STREAM review for more information.
Get DIRECTV STREAM Free for 5 Days
Watch the Jacksonville Jaguars Online via Hulu + Live TV
Hulu Live TV is a popular option for streaming because, in addition to 85+ live channels, you receive Hulu on-demand. They offer exceptional access to local channels, which also makes it a good choice to watch the Jacksonville Jaguars online without cable. Here's more on Hulu Live:
85+ channels at $69.99/mo
Hulu on-demand along with Disney+ and ESPN+ are also included
5 ESPN channels included with base plan
Unlimited cloud DVR (9 month storage)
Watch on Apple TV, Chromecast, iOS/Android, Amazon Fire TV, Roku, and more
Visit our Hulu + Live TV review to find out more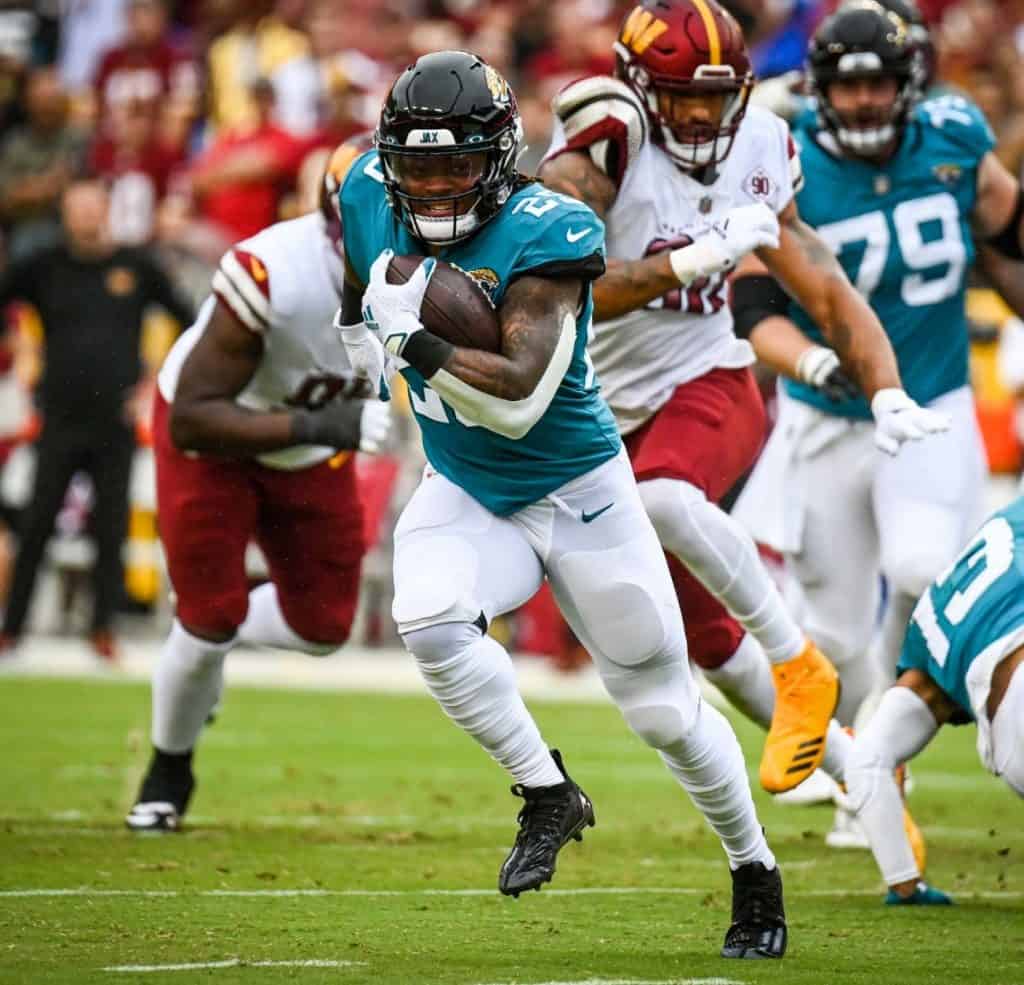 Hulu + Live TV gives you the best of both worlds with a wide selection of live and on-demand TV. The prices are fair. And with no contracts, you're free to cancel whenever you want.
It also offers plenty of room for customization and upgrades, too, so if you want more in your package, you've got options (e.g., NFL RedZone).
Superpower Your Sports Streaming With a VPN

For the sake of privacy, security, and access, you should be using a VPN. They are low-cost and easy to use. We've been using them for years and our top pick is ExpressVPN. Other brands worth checking out include Hotspot Shield and CyberGhost.
Other Options to Watch Jacksonville Jaguars Online
While Fubo, Hulu + Live TV, and DIRECTV are two of the most popular service for watching the NFL, there are other great options to live stream the Jacksonville Jaguars. If you're interested in learning about other services, keep reading. Here are your other options: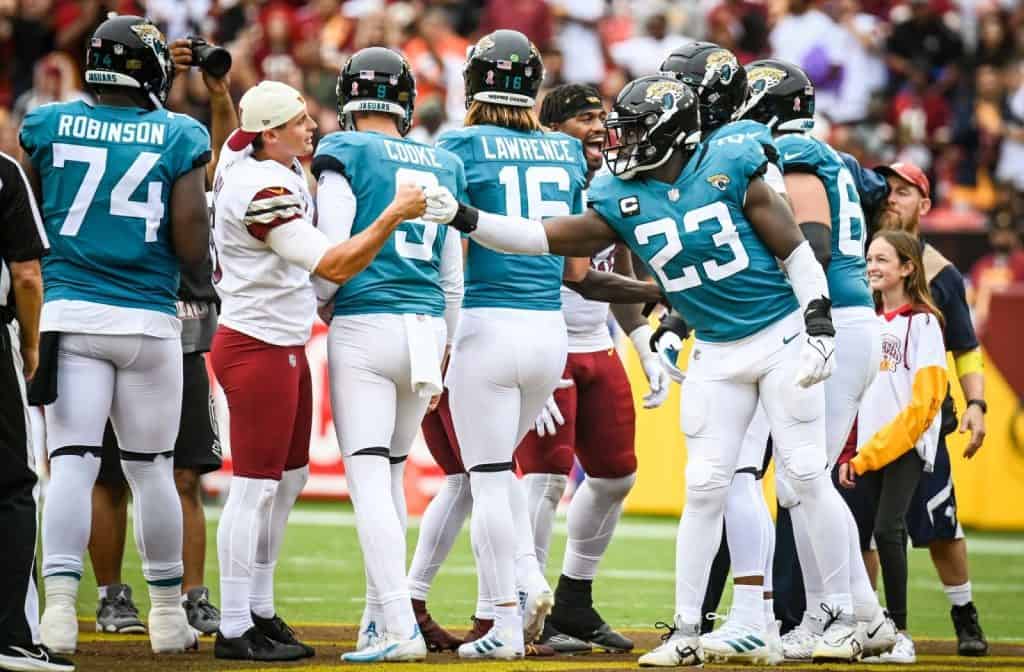 About the Jacksonville Jaguars
The Jaguars did just enough to win the AFC South title this season, courtesy of pulling 3-7 and 4-8 records up over the .500 mark at 9-8.
They then extended their winning streak to six after defeating the Chargers, 31-30, in the wild card round in one of the greatest comebacks in NFL history, having trailed, 27-0. They played right with the Chiefs in the divisional round before falling, 27-20.
Looking ahead to their 2023 season, getting another top cornerback is one of their biggest priorities. They might sign a free agent to solidify that position although their relative lack of cap space will hurt that option. Another possibility is drafting one, utilizing their 24th selection to secure the services of a top college recruit.
2023-24 Jacksonville Jaguars Schedule
How do I watch the Jacksonville Jaguars game tonight?

If you are searching for a broadcast of tonight's Jaguars telecast, initially check out NFL Network, ESPN, NBC, and Fox as it will likely be shown on one of those channels. Also note that a game broadcast nationally on a non-over-the-air channel, such as ESPN, will also be shown on an over-the-air affiliate in the Jacksonville area. If you are looking to stream tonight's game, Fubo and Sling TV should always have you covered.
Sat Aug 12 : Jaguars (28) @ Dallas Cowboys (23) [Preseason]
Sat Aug 19 : Jaguars (25) @ Detroit Lions (7) (NFLN) [Preseason]
Sat Aug 26 : Jaguars (31) vs Miami Dolphins (18) [Preseason]
Sun Sep 10 : Jaguars (31) @ Indianapolis Colts (21) (Fox)
Sun Sep 17 : Jaguars (9) vs Kansas City Chiefs (17) (CBS)
Sun Sep 24 : vs Houston Texans (Fox)
Sun Oct 1 : vs Atlanta Falcons (ESPN+)
Sun Oct 8 : vs Buffalo Bills (NFLN)
Sun Oct 15 : vs Indianapolis Colts (CBS)
Thu Oct 19 : @ New Orleans Saints (Prime Video)
Sun Oct 29 : @ Pittsburgh Steelers (CBS)
Sun Nov 12 : vs San Francisco 49ers (Fox)
Sun Nov 19 : vs Tennessee Titans (CBS)
Sun Nov 26 : @ Houston Texans (CBS)
Mon Dec 4 : vs Cincinnati Bengals (ESPN)
Sun Dec 10 : @ Cleveland Browns (CBS)
Sun Dec 17 : vs Baltimore Ravens (NBC)
Sun Dec 24 : @ Tampa Bay Buccaneers (CBS)
Sun Dec 31 : vs Carolina Panthers (CBS)
Sun Jan 7 TBD: @ Tennessee Titans (CBS)
Wrapping Up
You don't need any experience to use a streaming service. The process has been made as simple as possible to ensure that anyone that wants to stream their favorite shows is able to do so.
Hopefully, you've learned all you need to know so you can watch the Jacksonville Jaguars online without cable. If you have questions, be sure to let us know!
Fubo is our top choice for Jaguars fans. Fubo allows you to try out its service with a free trial.
FAQs
How do I watch other NFL teams?
Need more information on how to watch the NFL without cable, tailored specifically to your favorite team? Click on your team below.
What radio stations are the Jacksonville Jaguars on?
Jacksonville Jaguars radio affiliates are mostly located in Florida, with several more situated in adjacent Georgia and nearby South Carolina. The franchise's flagship radio stations are Jacksonville-based WJXL AM 1010 and WJXL FM 92.5. If you are situated outside the team's radio network's coverage area, you will be able to catch a select number of the team's games on your local Westwood One Sports affiliate. Most notably, this includes all of Jacksonville's playoff games.
You can also listen to all games with SiriusXM.
How do I watch the Jacksonville Jaguars on my phone?
NFL+ provides football fans with the option to watch games on mobile devices. Conversely, if you are a Jaguars fan and are based elsewhere, you may want to consider subscribing to NFL Sunday Ticket and watching out-of-market games through its app (mobile and otherwise). Most general streaming services like Fubo and Hulu + Live TV also allow you to watch on your phone.
How many championships have the Jacksonville Jaguars won?
The Jaguars are just one of two NFL teams to have both never played in a Super Bowl and never won an NFL championship in the league's pre-Super Bowl period; the other is the Houston Texans. However, Jacksonville played in the AFC championship games following the 1996, 1999, and 2017 seasons. In addition, the franchise has claimed three division championships, which were won in 1998 (AFC Central), 1999 (AFC Central), and 2017 (AFC South).
How do I record Jacksonville Jaguars live NFL games?
Satellite or cable providers normally offer the ability to record programming, including Jacksonville Jaguars games. Streaming services like Fubo and Sling TV normally offer cloud DVRs with their base plans. You can always record NFL games airing on regular channels. But some sources like NFL Sunday Ticket do not allow recording.
Ditch "Big Cable" Now – 3 Simple Steps to Cut the Cord
Pick the right streaming service
Get the content you deserve with the best VPN.
Supercharge your internet provider
That's it — you'll save money, take back control, and enjoy TV more!
Page Updates
▼
▲
Added links to streaming services. Updated some sub-sections. Updated some section headings. Changes to sections.

Changed some content in main section. Added some links. Various changes to content.

Reworked one section. Image changes. Changes to formatting.

Updated one section. Image changes. Mentioned offers.

Added new section. Added links. Changed a few bits of content. Reformatting.

Added buttons for streaming services. Added links to streaming services. Pricing updates. Mentioned offers. Linking.

Added buttons for streaming services. Additional links. Pricing updates. Reformatting.

Reworked one section. Changed some content in main section. Added useful links.
Latest posts by Frank Moraes
(see all)