You missed it live, but you can still see the full halftime show on YouTube, and check out more sports with a FuboTV 7-day trial!
The Super Bowl is about more than the NFL championship game. Many people show up for the commercials and the halftime show, which features some of the biggest performing artists in the world each year.
In a hurry? You can watch Super Bowl 2023 halftime show on Fox this year. It is available from all of these great live TV streaming services:
Fubo: The best streaming service for international sports also provides 150+ well-selected channels. Fubo allows you to try out its service with a free trial.
DIRECTV STREAM: Get a great channel lineup with the best selection of RSNs in the industry. A 5-day free trial is now available for DIRECTV STREAM.
Sling TV: This low-cost service allows you to select just the channel lineup you want. Save 50% on your first month of Sling TV.
If you can't watch your favorite sports because of your location, get ExpressVPN to access the content you deserve.
Unfortunately, we don't know a streaming service in that covers this sport. But if you've already paid for the right service, and just can't watch because of your location, there is an easy way to get the content you deserve. You need a VPN, like one of the following.
| | | |
| --- | --- | --- |
| | ExpressVPN: Known as "The VPN that just works," it combines remarkable ease of use with with state-of-the-art power, speed, security, and privacy. Get three extra free months when you sign up for a year. Unleash your streaming with this top-rated VPN. | Sign Up Now |
| | Surfshark: Surfshark: Secure and easy to use with thousands of servers around the world. Of special note is its excellent collection of servers inside the US, which is great for regional sports lie NFL, MLB, and NBA. Get it now with an incredible 82% discount on a 24-month plan. | Sign Up Now |
| | NordVPN: One of the top VPNs with extremely fast servers all over the world. Great for streaming with tested perfomance on the biggest servers and included ad-blocking. Currently offering 70% discount on 2-year plans. | Sign Up Now |
If you're overwhelmed and not sure where to begin, you'll find all the answers in our full VPN guide.
Super Bowl XXVII was memorable for the fact that it was the third straight time that the Buffalo Bills represented the AFC in the league title game. It was also remembered as the matchup in which Don Beebe swatted the ball out of Leon Lett's hands inches before he crossed the goal line late in a 52-17 Cowboys blowout win.
However, just as importantly, it featured a 1993 performance by Michael Jackson that ushered in the modern era of the Super Bowl halftime show. Since then, the halftime show has featured some of the biggest names in music and is often one of the most anticipated events of the year.
How to Watch the Super Bowl LVII Halftime Show
Super Bowl LVII will see the Kansas City Chiefs take on the Philadelphia Eagles on February 12 at State Farm Stadium in Glendale, Ariz., outside Phoenix. State Farm Stadium, home of the Arizona Cardinals, also served as the host for Super Bowl XLII between the New England Patriots and New York Giants in 2008 as well as Super Bowl XLIX between the Patriots and Seattle Seahawks in 2015.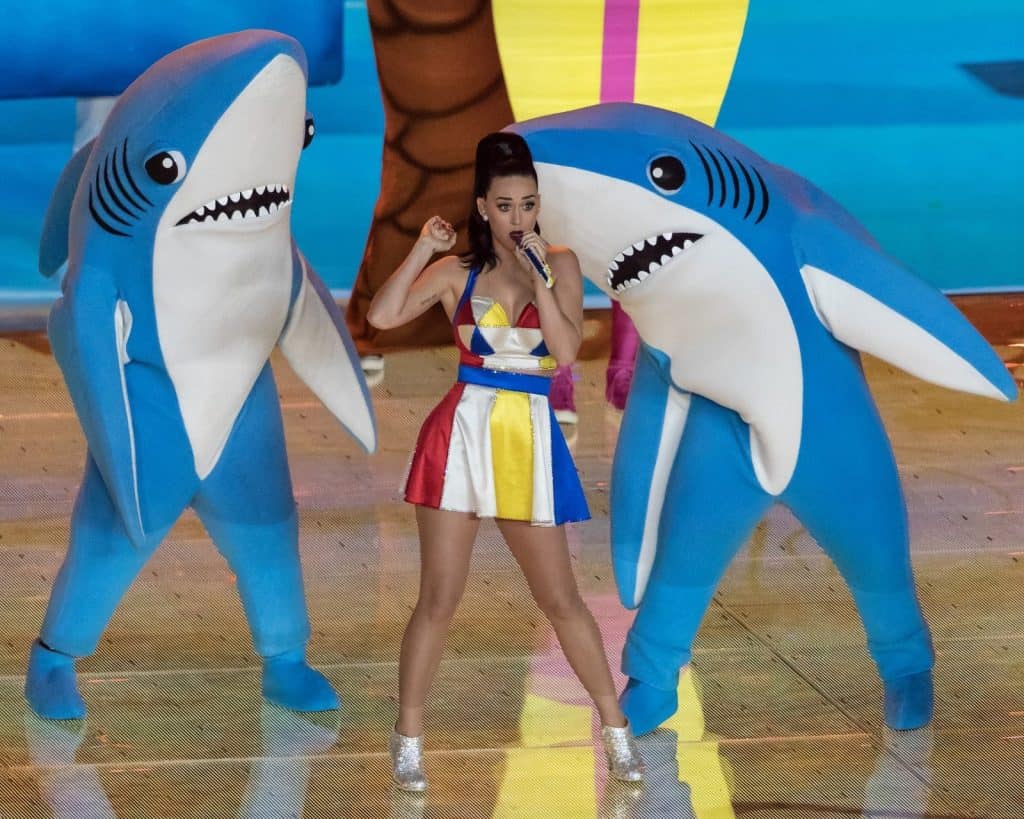 The big game is scheduled to kickoff at approximately and will be broadcast on Fox in the United States. The game can also be seen on Sky Showcase in the United Kingdom, on Seven Network in Australia and on ProSieben in Germany.
What to Watch for During the Apple Music Super Bowl Halftime Show
This year's Super Bowl halftime show is the first year sponsored by Apple Music, who is replacing Pepsi, the sponsor for the previous ten years. The event, the result of a partnership between Apple Music, the NFL, and Roc Nation, Jay-Z's entertainment agency, will headline international superstar Rihanna, who has been signed with Roc Nation since 2014.
"RiRi," as she's known to her fans, will be making her first live appearance since performing at the Grammy Awards in 2018. She hasn't released an album since 2016's ANTI, and just last year she dropped her first single in a long time, "Lift Me Up" from Black Panther: Wakanda Forever.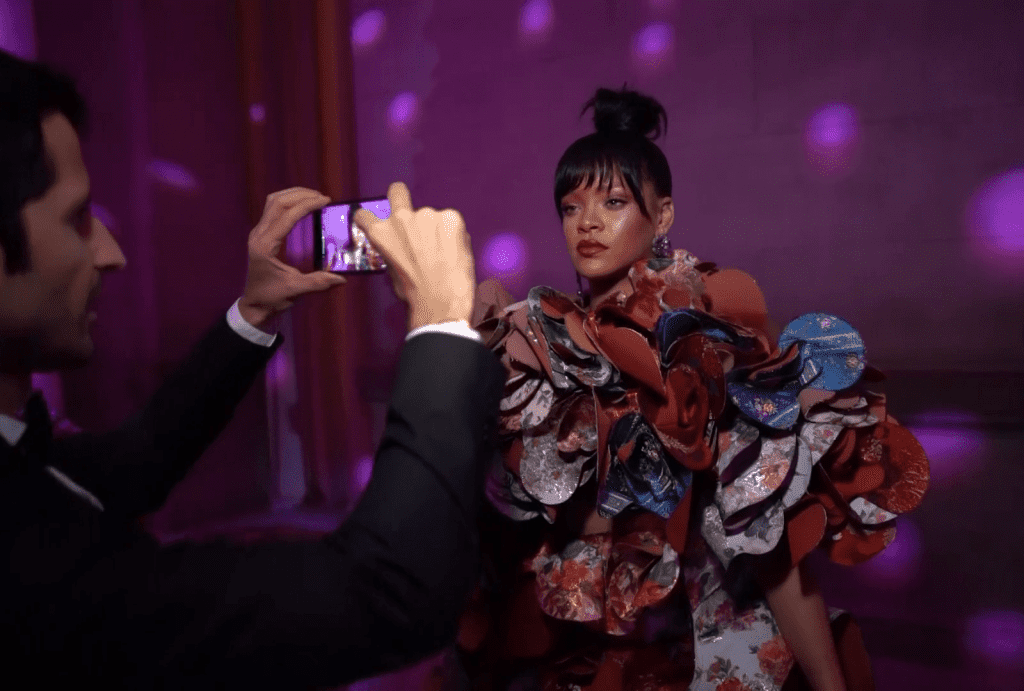 The Barbados-born artist is keeping details on her big show under tight wraps. She did say in a press conference on Thursday, February 9 that the hardest part was narrowing down the set list. She also told Apple Music Radio's Nadeska Alexis that her performance will represent her native island in the Caribbean.
But the most speculation centers on who might be joining her on stage. Her special guests may be recent collaborators Calvin Harris, Drake, or even Jay-Z himself. Or, she may appear with other Roc Nation performers, which include such diverse sounds as Megan Thee Stallion, J. Cole, Big Sean, Alicia Keys, Christina Aguilera, DJ Khaled, and Robin Thicke.
There's also a growing expectation that the Fenty Beauty founder and new mom may announce new music in the form of a long-awaited album and — her fans hope — a tour.
Rihanna's Halftime Show is not the only performance at this year's Super Bowl. Grammy Award-winning country artist Chris Stapleton will be singing the national anthem, while Oscar-winning CODA actor Troy Kotsur performs the anthem in American Sign Language.
The Tony Award-winning star of Abbott Elementary, Sheryl Lee Ralph, will sing "Lift Every Voice and Sing," with Justin Miles signing. And 12-time Grammy winner Babyface will perform "America the Beautiful," accompanied in ASL by Navajo Nation member Colin Denny. The pregame ceremonies are scheduled to start at 6 pm Eastern.
How to Watch the Super Bowl Performances
Super Bowl LVII is at on Sunday, February 12, 2023. The halftime show will air roughly an hour and a half later, depending on how the game goes. You can watch it all on Fox.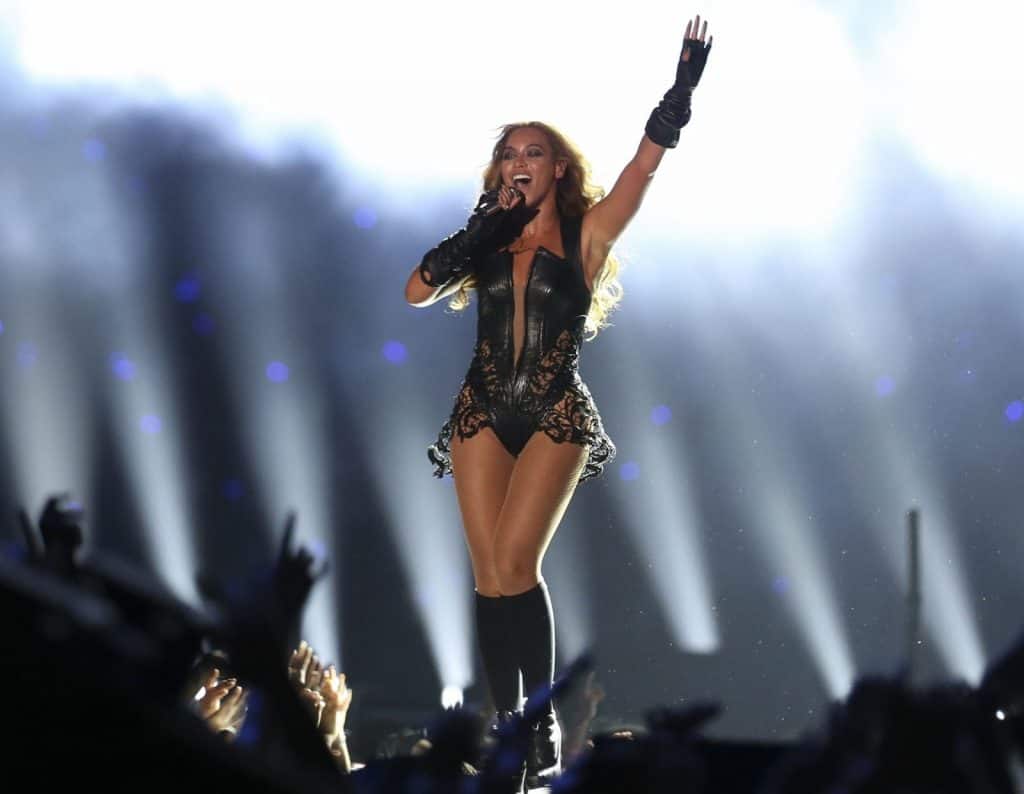 If you prefer to stream the game, you have many great options:
Since Super Bowl 57 is broadcast on Fox, you can watch it free by seting up an HD antenna.
Streaming Devices
All of these services support the vast majority of streaming devices. They all allow you to watch on Amazon Fire TV (Fire Stick), Android TV, Apple TV, Chromecast, Roku, and most web browsers. You can also watch on mobile devices with Android and iOS (iPhone/iPad).
Wrapping Up
The Super Bowl halftime show is the basis of much Monday morning work chat each year. If you don't want to miss it, we recommend signing up with FuboTV as it allows you to watch all the NFL playoffs and much more. But if you are on a budget, Sling TV is a great deal!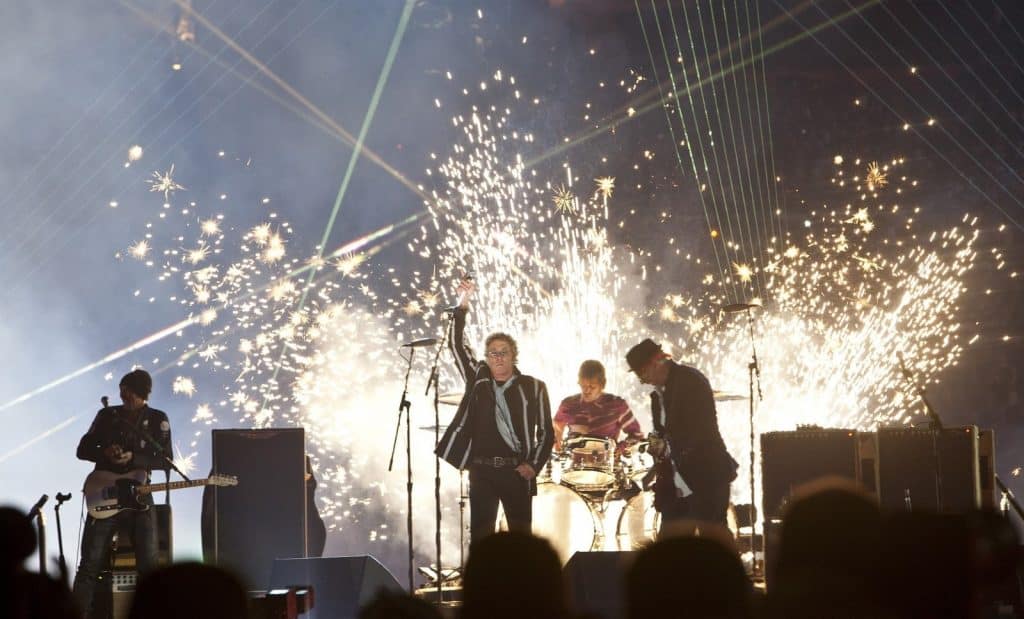 Find official licensed sports merchandise for top leagues like the NBA and Premier League at Fanatics. Celebrate your favorite NFL team's Conference Championship with a commemorative t-shirt, just in time for the Super Bowl.

Get Fanatics' current offer of 70% off and free shipping on orders over $24 (use code 24SHIP). Shop now!
FAQs
Why hasn't Rihanna performed at the Super Bowl before this?
Rihanna told Vogue Magazine that she turned down previous offers to appear at the Super Bowl in 2018 and 2019 because of her views on the NFL's treatment of Colin Kaepernick. There is a belief that Kaepernick was effectively blackballed from the league for his activism against police brutality and other social causes.
In 2016, he decided to take a knee while the national anthem played prior to a game against the Los Angeles Rams. By the middle of the season, several other players would kneel while the anthem was played as a form of silent protest.
Why did she change her mind?
In recent years, the NFL has given racial equity and inclusion greater visibility. Phrases such as "end racism" or "choose love" adorn the helmets of every player and are displayed in bold letters on playing surfaces and other prominent areas of most stadiums.
Roc Nation, which had been co-producing the Super Bowl Halftime performance since 2020, took over production last year. The 2022 halftime event made showcasing marginalized voices a top priority.
Who performed at last year's halftime show?
The 2022 show featured performances by various artists, including headlining rapper Dr. Dre and special guests Snoop Dogg, Kendrick Lamar, and Mary J. Blige, along with Eminem, a frequent collaborator of Dr. Dre. It ended up collecting five Emmy nominations, three of which it won — the first time for a Super Bowl Halftime Show performance.
How long is the Super Bowl halftime show?
The Super Bowl XLII halftime show should last about 15 minutes. However, unlike a regular season or conference playoff game, there is generally no set limit for how long a performance will go. Instead, the exact length of a given show is largely determined by the artists, producers, and others within the league itself.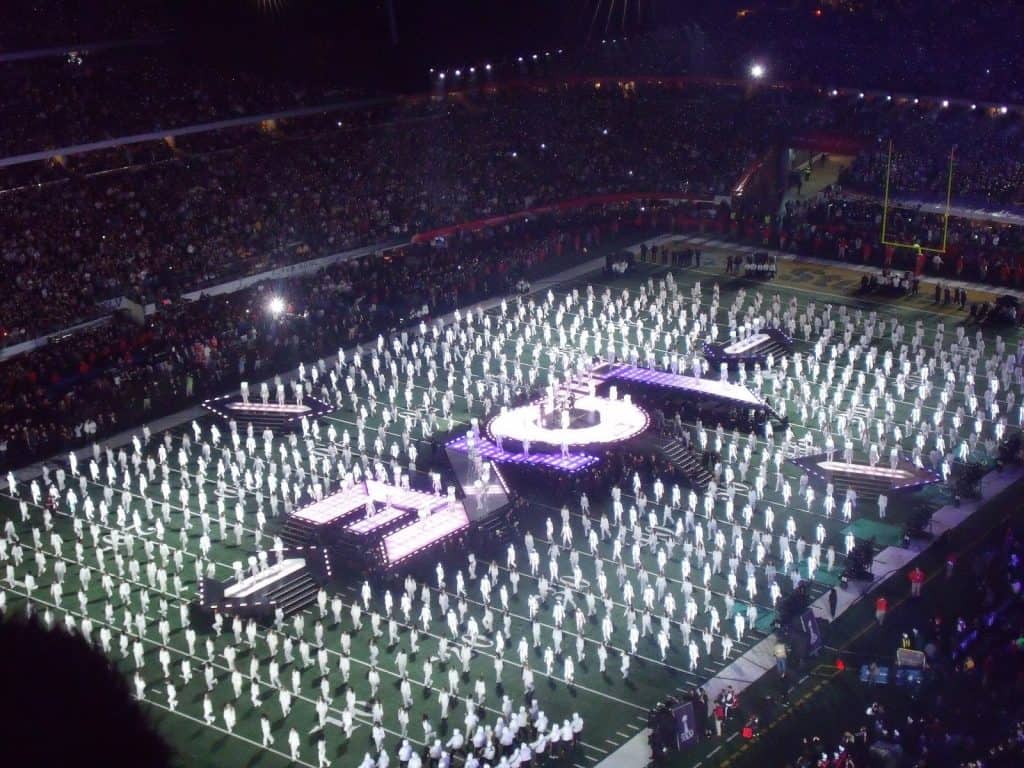 What happened during halftime before Super Bowl XXVII?
While the Super Bowl has always generated a lot of buzz and fan interest, the halftime show was largely an afterthought until the early 1990s. Typically, there would be performances by high school or college marching bands or performances featuring professional saxophone or trumpet players.
What are some of the best halftime shows in Super Bowl history?
Michael Jackson's performance is considered to be the best in halftime show history. In 2007, Prince gave what was widely praised by critics as one of the best musical performances of the 21st century. Beyoncé has the rare distinction of being part of one of the best and worst shows of all time. She would headline the 2013 event to rave reviews, while making a cameo appearance in a relatively weak 2016 show headlined by Coldplay.
Which artists have headlined the show prior to 2022?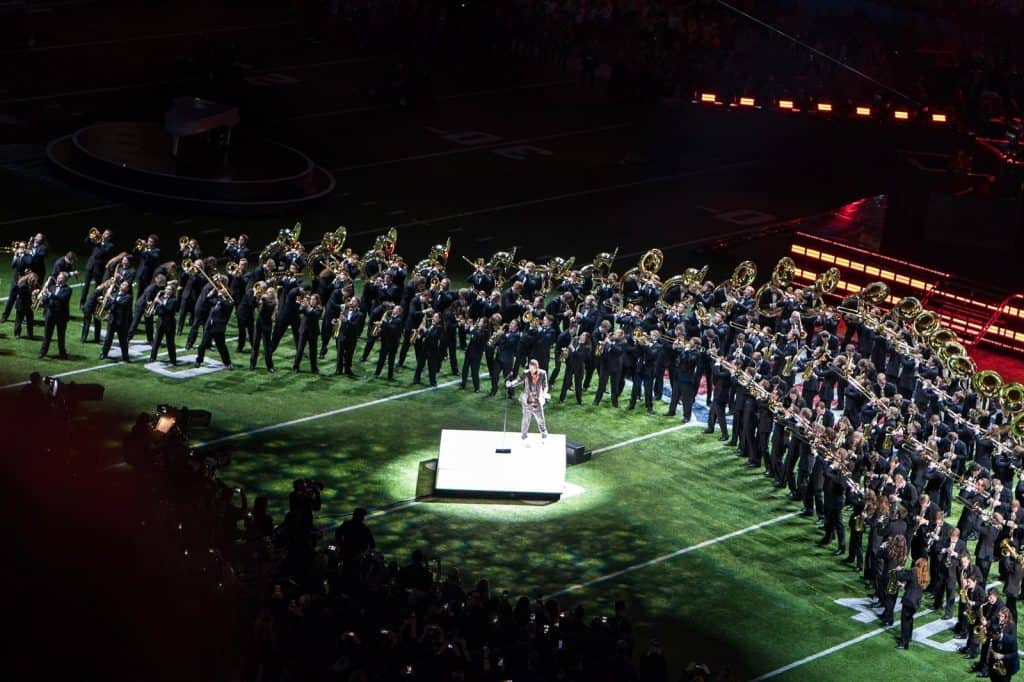 Performers such as Jennifer Lopez, Shakira, and The Weeknd have been among some of the biggest names to perform at the Super Bowl in recent years. Maroon 5, Lady Gaga, and Katy Perry are other big names who have headlined the show since 2016. In 2018, Justin Timberlake headlined the halftime event, despite his involvement in the infamous 2004 halftime show "wardrobe malfunction" with Janet Jackson.
Featured photo at top: Super Bowl LIV Halftime Show Starring Jennifer Lopez and Shakira (2020) by elisfkc2 under CC BY-SA 2.0.
Page Updates
▼
▲
Linking. Various changes to content. Deleted unneeded sub-section.

Added links to streaming services. Added buttons for streaming services. Added some links. Image changes. Reworded some things.

Added sub-section. Updates to a section. Added a few links. Various changes to content.
Latest posts by Frank Moraes
(see all)