English Premier League is back.

Stream it live on NBCUniversal channels with Fubo!
Watch Super Bowl LVII with Fubo!
Fubo (formerly FuboTV) is one of the hottest live TV streaming services for sports fans and a great choice to stream NFL games. Read on to learn all you need to stream the preseason, regular season, and postseason!
In a hurry? Fubo is a great choice for NFL football fans. Fubo allows you to try out its service with a free trial.
Fubo Channels You Need to Watch NFL Games
So the key TV channels you need to watch NFL, all of which Fubo provides, are:
In order to watch NFL on Fubo, you'll need to be in a location that has access to CBS, NBC, and Fox. These local channels broadcast almost all the NFL games. CBS and Fox share the Sunday afternoon games. And NBC airs Sunday Night Football.
ESPN (sometimes along with ABC) airs Monday Night Football. Thursday Night Football used to be the domain (although not exclusive) of NFL Network. But starting in 2022, that is not the case.
Amazon Prime Video is the exclusive home of most Thursday Night Football games. If you want to watch it, you will need to sign up for that service. However, most people already do.
(NFL Network will be airing much of the preseason and a handful of regular season games.)
But other than the Thursday night matchups, Fubo has you covered for all the channels. There is one wrinkle, however. Most Sunday afternoons feature 3 games playing at a time on both CBS and Fox. And your local affiliates will carry only one at a time.
The solution? NFL RedZone. It allows you to watch all of the games at the same time with the most important moments getting the focus. The service shows up to 8 games at a time. It is also commercial-free.
Pro Tip: You don't need NFL RedZone add-on to watch the playoffs and the Super Bowl.
You can get NFL RedZone as part of the Sports Plus add-on for $10.99/mo extra. This add-on includes 25+ other sports channels including MLB Network, MLB StrikeZone, NBA TV, and NHL Network.
That all means you can watch NFL games on Fubo all season long. You won't miss a thing! It's a complete cable replacement.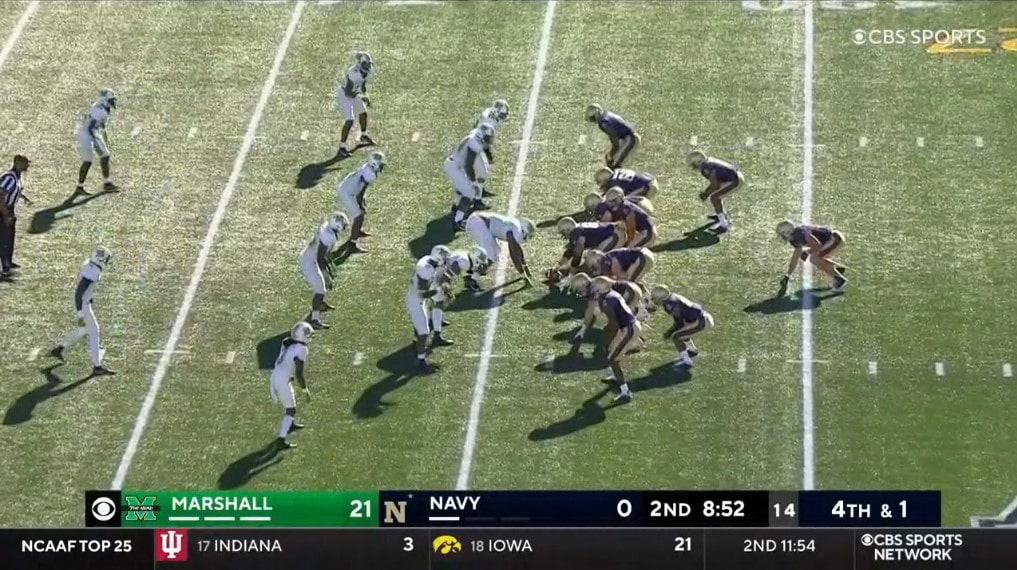 2023 NFL Playoffs Schedule on Fubo
Fubo provides all the channels you need to watch all the NFL playoff games with its base (Pro) plan.
How to Watch the NFL on Fubo
So now you know Fubo has the channels you need to watch all your NFL games, but how can you watch?
How Fubo Works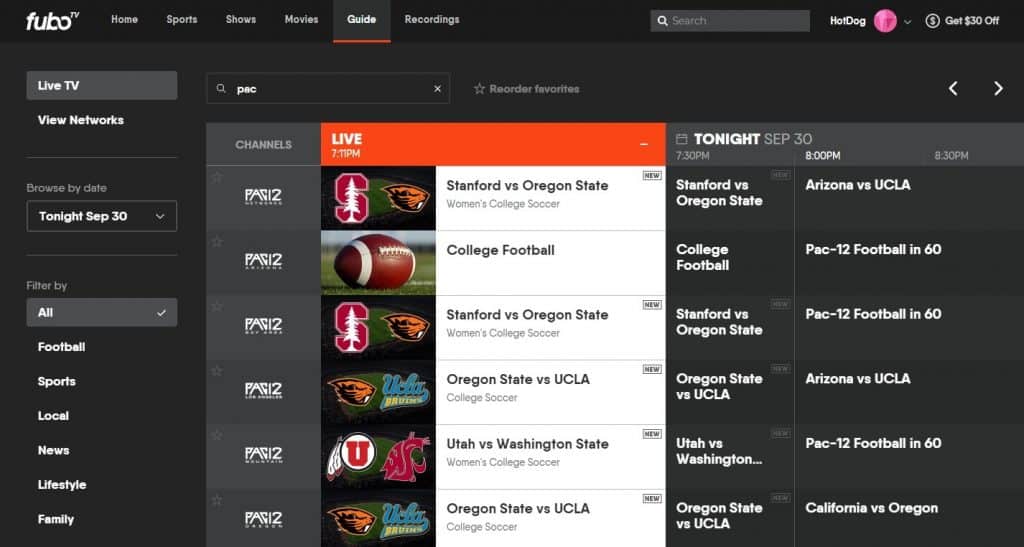 Let's talk about how Fubo works. Think of it as cable. It looks very similar. It functions similarly, too.
The base plan, called Pro, offers well over 100 channels for $74.99/mo. This plan gives you ABC, CBS, Fox, and NBC. It also provides all the major national sports channels ESPN, ESPN2, CBS Sports Network, FS1, FS2, Golf Channel, and NFL Network. And it features international sports coverage with many channels of beIN Sports (English/Spanish) and TUDN (Spanish).
Depending where you live, Fubo provides your regional sports networks (RSNs). These include all of those from NBC Sports as well as AT&T SportsNet, Marquee Sports Network, MSG Network, NESN, Root Sports Northwest, and SportsNet New York.
Fubo also provides the general "cable" channels you expect like AMC, BET, Comedy Central, Discovery Channel, Disney Channel, FX, HGTV, MTV, Nickelodeon, OWN, Syfy, and USA.
The Elite plan adds the Fubo Extra and News Plus add-ons for $84.99/mo. And the Premier plan adds another 9 channels (Showtime) for $94.99/mo.
All Fubo plans have a guide you can scroll through that lists the channels and what is playing live on air. You also get 1,000 hours of cloud DVR storage for NFL games or other TV shows. It also has a solid selection of on-demand content available.
Fubo's Supported Streaming Devices
Now the way you watch is a bit different. That's because rather than watching by a cable box or satellite, you're streaming via your internet connection. That means that you can watch on your computer, smartphone, tablet, or smart TV.
Fubo supports most streaming devices. These include Amazon Fire TV, Android mobile, Android TV, Apple TV, Chromecast, Hisense smart TVs, iOS (iPhone, iPad), LG smart TVs, Roku, Samsung smart TVs, Xbox One gaming systems, and more.
Read more about which device brands and models Fubo supports.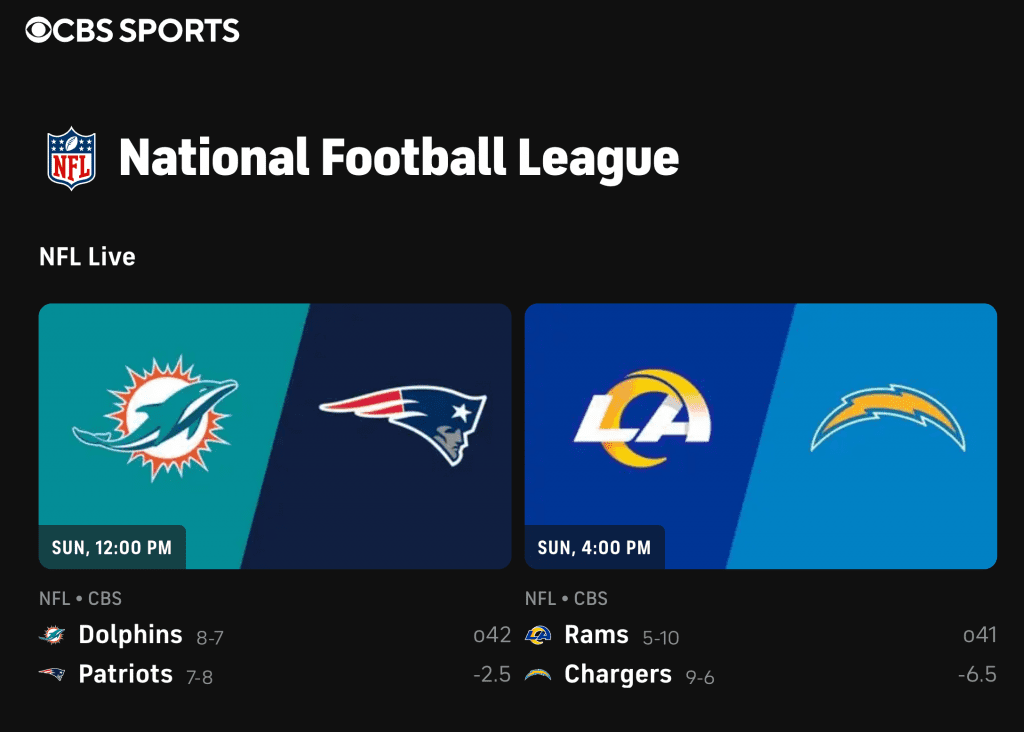 Fubo Alternatives For NFL
Fubo is a great choice for fans of all live sports. But there are other excellent choices:
DIRECTV STREAM: The base plan has you set up to watch the NFL season for $74.99/mo. But if you go up to the Choice plan ($99.99/mo), you will get unequalled access to MLB, NBA, and NHL coverage. (DIRECTV STREAM review)
Hulu + Live TV: Get all the NFL channels along with Disney+ and ESPN+ for $69.99/mo. (Hulu + Live TV review)
Sling TV: Although it doesn't provide access to all of the NFL channels, you can watch a lot for as little as $40.00/mo. Sling Blue offers Fox and NBC. Sling Orange offers ESPN. (Sling TV review) (Super Bowl on Sling)
Vidgo: Offers most NFL channels for $69.99/mo. This is a particularly good service for college sports fans. (Vidgo review)
YouTube TV: Provides all the NFL channels in a plan that is similar to Hulu + Live TV for $72.99/mo.
There are also network-specific streaming services Peacock (NBC) and Paramount+ (CBS).
Wrapping Up
Fubo is a great service for NFL fans. And you can try it for free for a week. Sign up today!
More Information About Fubo
We have several Fubo articles, guides, and reviews for those already subscribed to Fubo, or interested in the service. See:
Think you might want to watch NFL on Fubo?
FAQs
Can I watch the Super Bowl with Fubo?
Fubo allows you to watch the Super Bowl — this year and every other year. Beyond that, it allows you to watch every game of the playoffs. It also allows you to watch every regular season game that is broadcast in your area. Because many games are played at the same time, not all games are available to all viewers — regardless of the service you have.
How do I watch the NFL playoffs on Fubo?
All you need to do to watch the NFL playoffs with Fubo is sign up. Its base (Pro) plan provides all the channels that air the games: ABC, CBS, ESPN, ESPN2, Fox, and NBC. The Fubo app has a guide with all the channels listed. Just select the channel for each game and you will be on your way.
Actually, it's easier than that. Fubo will show you the most popular programs coming up when you enter the app. The NFL playoff games will always be displayed. Just point and click and you'll be watching in a second or two.
Which Fubo package has all NFL games?
Fubo's cheapest plan, called the Pro plan, for $74.99/mo, is all you need to watch most NFL games — including the NFL postseason and Super Bowl LVII. This plan has CBS, ESPN, Fox, NBC, and the NFL Network. Of course, you get a lot more than just football. You can find out more about what channels come with Fubo's Pro plan in our Fubo review.
What is the difference between the Fubo package with NFL games and the "regular" Fubo plan?
Nothing! NFL fans can rejoice: Fubo's lowest-priced plan, called the Pro plan ($74.99/mo), provides all the channels you need to watch NFL games. You get CBS, ESPN, Fox, NBC, as well as the NFL Network, so you won't need a higher-priced plan to get your football fix. So grab the chips and salsa and root for the home team!
Is the CBS live stream on Fubo?
Yes, Fubo carries all the content that CBS offers, including live coverage on the CBS Sports Network, which will also get you NFL games as well as college football (NCAA) games. Without Fubo, if you just want to watch CBS without cable, you can install an over-the-air antenna and get HD live streams from your local CBS affiliate, too.
How do I find out more about the teams I can watch with Fubo?
We've put together viewer's guides for all the NFL teams. Once you subscribe to Fubo, you will have access. But these guides provide schedules and more.
Ditch "Big Cable" Now – 3 Simple Steps to Cut the Cord
Pick the right streaming service
Get the content you deserve with the best VPN.
Supercharge your internet provider
That's it — you'll save money, take back control, and enjoy TV more!
Page Updates
▼
▲
Added links to streaming services. Misc changes.

Added links to streaming services. Added buttons for streaming services. Linking. Updates to a section. Misc changes.

Added FAQ section. Added sub-section. Added streaming info. Updates to a section. Reworked one section. Updated some sub-sections.

Added buttons for streaming services. Added useful links. Misc content updates. Changes to formatting.

Added new section. Added links to streaming services. Mentioned channel info. Updated one section. Changed some content in main section. Updates to a section. Cleaned up list.

Updates to a section. Put related links.
Latest posts by Frank Moraes
(see all)