Whether you are a fan or not, the Super Bowl is a big event. Sadly, you can't watch it with the normal Hulu on-demand service. But read on to learn how you can easily watch it.
In a hurry? Hulu + Live TV provides all the live channels you need to watch not just the Super Bowl but the entire NFL season. And a lot more. It is a complete cable replacement service that costs less: just $69.99/mo for 85+ channels in addition to Disney+ and ESPN+. Try one month for $69.99.
Whether you're a diehard football fan or a casual viewer, the Super Bowl provides a great excuse to spend time with your friends. Even if the game is a dud, you can usually count on the commercials to provide some level of entertainment. In most years, the halftime show is also something that you can look forward to if the game itself is of little interest to you.
And who knows?! The game might be great! We lay out all your options to watch it this year on screens big and small.
Super Bowl LVI
As of Dec 9, there are 12 teams in the AFC that have at least six wins on the season. Meanwhile, only three teams in the conference have been eliminated from postseason contention. In the NFC, there are five teams that have at least eight wins while no other team has more than six.
While the NFC is perceived to be home to the league's elite teams this season, there are plenty of AFC squads that could make some noise once the calendar turns to January. The two teams that will play in the Super Bowl will be determined on Jan 30, which is the date of the AFC Championship and NFC Championship games.
In many cases, the conference title games are better than the Super Bowl itself because there is a greater chance for an upset to occur. Furthermore, the games take place at the home field of the higher seed as opposed to the neutral site where the Super Bowl is played.
Therefore, the fans add a dimension to the game that is largely missing during the Super Bowl.
Super Bowl: When and Where
This year, the Super Bowl will be much like the Sunday Night Football we've been enjoying throughout the season. Okay, it will air a bit earlier but that's just because we don't need to wait for other games to finish up:
Sun Feb 13 :

Super Bowl (

NBC

)
The game will be played at SoFi Stadium in Inglewood, California. Sunset that day is , so this game will start during the day and end at night.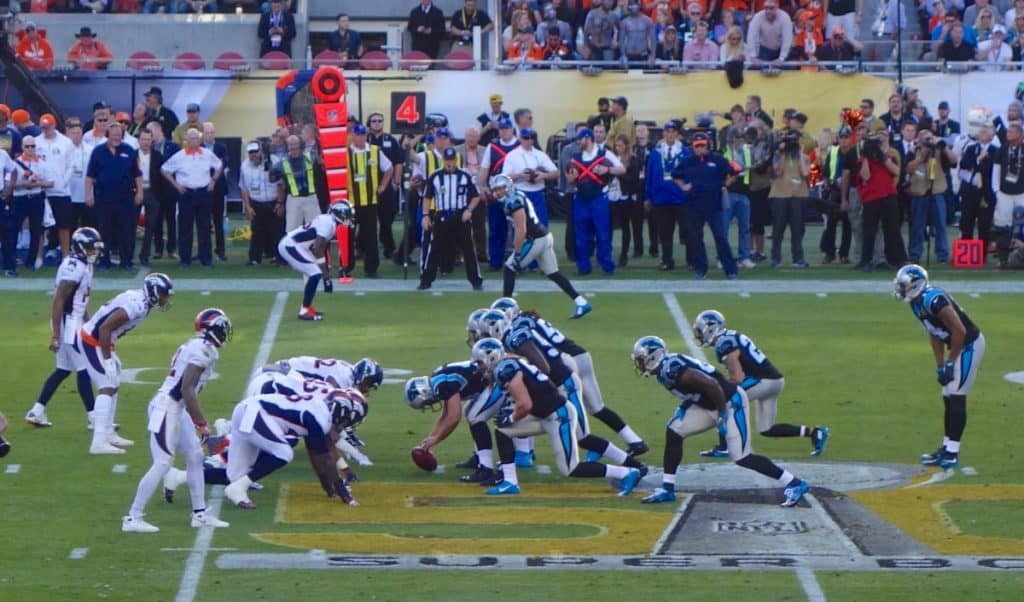 Live Stream the Super Bowl on Hulu + Live TV
The basic Hulu service does not allow you to watch most live sporting events such as the Super Bowl. To do so, you will need to upgrade to the Hulu + Live TV package, which starts at $69.99/mo.
You can pay $6/mo more to get ad-free streaming of on-demand content. That doesn't apply to the Super Bowl regardless.
Hulu + Live TV gives you access to all the network (ABC, CBS, Fox, and NBC) pretty much everywhere in the US. You only need NBC for the Super Bowl. But CBS and Fox air the AFC and NFC championship games.
You will also have access to a lot of other live sports-oriented channels: ESPN, ESPN2, ESPNU, CBS Sports Network, FS1, FS2, Golf Channel, TBS, TNT, NFL Network, and the NCAA league networks for ACC, Big Ten, and SEC.
Hulu also has all the channels you normally think of as "cable" such as FX, HGTV, History, Nickelodeon, SyFy, USA, and the Big 3 cable news channels CNN, Fox News, and MSNBC.
ESPN+ and Disney+
Starting Dec 21st, 2021, Hulu + Live TV has gone up in price to $69.99/mo. But with it comes ESPN+ and Disney+. Neither of these will air the Super Bowl but they are amazing additions to sports fans and families and more. See these articles for more information:
Hulu + Live TV Alternatives
Hulu + Live TV is one of the best streaming services but there are others worth considering:
TVs and Streaming Devices to Watch the Super Bowl With Hulu
Hulu Live works with most streaming devices. It's as good as any streaming service and better than many.
Amazon Fire TV
Android mobile
Android TV
Apple TV
Chromecast
iOS
LG smart TVs

.
Nintendo Switch

PlayStation
Roku
Samsung smart TVs
Vizio smart TVs
Xbox
Web browsers.
In Summary
The Super Bowl ("The Big Game") is one of the most popular sporting events in the United States and throughout the world. Airing on NBC, you will be treated to a game featuring two of the best teams in the NFL doing whatever it takes to earn the Lombardi Trophy.
If you aren't much of a football fan, you'll still enjoy the commercials, the iconic Super Bowl halftime show, and the great food that you made your friends specifically for the watch party.
You can get access to NBC through your local satellite/cable provider, your favorite streaming platform, or through the use of an antenna. Hulu + Live TV offers NBC throughout the country. And it offers a whole lot more than that.
FAQs
How can I watch the Super Bowl for free?
As a traditional broadcast network, NBC is broadcast over the air by local affiliates that an antenna can pick up. Therefore, if you have an antenna connected to your television, you can use it to watch the Super Bowl for free. In exchange for your email address, you can get full access for seven days.
How can I stream the Super Bowl without using Hulu?
FuboTV and Sling TV are streaming services that you can use to watch the Super Bowl without the need for an antenna or a cable subscription. FuboTV offers a 7-day free trial. After that, it is $74.99/mo. Sling TV doesn't offer a trial. Save 50% on your first month of Sling TV. After that, it's $40.00/mo.
Who are the current Super Bowl champions?
The Tampa Bay Buccaneers are the current champions with Tom Brady having led them to 31-9 win over the Kansas City Chiefs in Super Bowl LV. Thus far this year, the Buccaneers and Chiefs are doing well. They could well play again. This has only happened once before when the Dallas Cowboys and Buffalo Bills met in 1993 and 1994.
Ditch "Big Cable" Now – 3 Simple Steps to Cut the Cord
Pick the right streaming service
Get the content you deserve with the best VPN.
Supercharge your internet provider
That's it — you'll save money, take back control, and enjoy TV more!
Page Updates
▼
▲
Put related links. Image changes. Various changes to content.

Image changes. Added some links. Misc changes to content.

Added table of contents. Mentioned offers. Added links. Various changes.

Pricing updates. Added links. Reworded some things.

Added some more links. Pricing updates. Misc changes.
Latest posts by Frank Moraes
(see all)