Thanksgiving is now one of the biggest football days of the year with back-to-back NFL games broadcast nationwide. This Thursday, November 24th will feature games starting at , , and . Read on to learn how to watch them all with Sling TV.
In a hurry? Sling Blue provides the channels you need to watch the second and third games. And we'll show you below how you can integrate a digital antenna with the Sling TV app to watch the first!
Thanksgiving Football 2022
Over the decades, Thanksgiving has become an NFL football day just as New Year's Day is an NCAA football day. Unlike Sundays, when football fans have to pick and choose which games they want to watch, the Thanksgiving schedule is set up so you can watch every game.
Thursday November 24 : Buffalo Bills at Detroit Lions (CBS)
Thursday November 24 : New York Giants at Dallas Cowboys (Fox)
Thursday November 24 : New England Patriots at Minnesota Vikings (NBC)
Note that despite all these games being on Thursday, none of them are Thursday Night Football games. Those are streamed live through Amazon Prime Video and this event takes a break this week.
In 2023, the NBC Thanksgiving Day game
Buffalo Bills vs Detroit Lions
The Bills (7-3) have had an excellent season coming into Week 12 of the playoffs. Other than a humiliating defeat to the Carolina Panthers in Week 3, even when they've lost, the Bills have kept games close. Although last week's win against the Cleveland Browns wasn't as strong as it should have been.
The Lions (4-6) have struggled this season but recently have been playing well. Still, the odds-makers see this inter-conference matchup to be lopsided with Bills dominating despite the Lions being at home at Ford Field. It is expected to be a high-scoring content with a predicted final score of 32-22. But we won't be surprised if it's a lot closer.
The game will air at on CBS with Jim Nantz doing play-by-play, Tony Romo with color commentary, and Tracy Wolfson doing sideline reporting.
New York Giants at Dallas Cowboys
The NFC East is the best division in the NFL with the Giants and Cowboys tied for second place despite both having 7-3 records this year. The last-place Washington Commanders would be all alone in first place if they were in the NFC South.
The New York Giants are coming off a tough loss to the Lions on Sunday. But overall, they are a strong team with a solid season. The Dallas Cowboys are generally considered the stronger of the teams, however. Dallas beat the Giants 23-16 when they last meet on September 26th. And this time, they play at AT&T Stadium in Arlington, TX.
The Cowboys are expected to win by 9-10 points in a hard-fought game with a final score of 18-27.
This game will be broadcast at on Fox. Calling the game will be Kevin Burkhardt with Greg Olsen providing analysis. Erin Andrews should be the sideline reporter.
New England Patriots at Minnesota Vikings
This is another good inter-conference matchup between the AFC's New England Patriots and the NFC's Minnesota Vikings. The Vikings have had a great season with an 8-2 record, but they are coming off a crushing home defeat to the Dallas Cowboys.
The Patriots struggled early in the season but have been doing well recently including a solid defeat of the Jets last week. But with the home-field advantage at the US Bank Stadium in Minneapolis, the Vikings are expected to win by roughly a field goal with a final score of 19-22.
The game airs on NBC at . Mike Tirico will provide play-by-play with Cris Collinsworth for color commentary. On the sidelines should be Melissa Stark.
How to Watch Thanksgiving Football With Sling TV
Watching all the Thanksgiving games is pretty simple with Sling TV. With the Sling Blue plan, you get Fox and NBC in select markets. We have a complete list of the affiliates they provide in our Sling TV Local Channel Guide. Check there.
More generally, Fox allows you to watch Sunday afternoon football and NBC allows you to watch Sunday Night Football.
Sling TV does not offer CBS. So how can you watch the Bills-Lions game? The good news is that Sling TV was designed to deal with this problem. It is the only streaming service that allows you to integrate an HD antenna with your streaming channels.
Sling TV offers the Better Locals Bundle for $74.00 when you sign-up for six months of service. This comes with AirTV Mini, AirTV 2, and an indoor HD antenna. That's a $204.97 value. And it allows you to watch all your local channels from within the Sling TV app. It's a great system and an even better deal!
Your other option is just to sign up with Paramount+, which allows you to watch all CBS Sports broadcasts live for just $4.99/mo. But it comes with a free 7-day trial, so you wouldn't even need to purchase it.
Other Sling Blue Features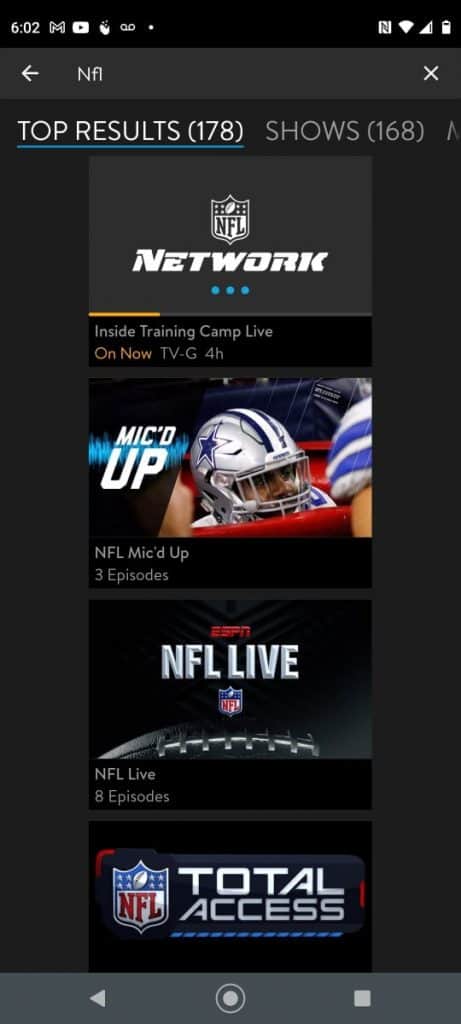 The Sling Blue plan comes with a total of roughly 40 channels for $40.00/mo. One great thing about Sling is that it doesn't burden you with a bunch of channels you don't want. The channel list includes Adult Swim, AMC, BET, Comedy Central, FX, History, National Geographic, Syfy, TBS, TNT, and USA. It also includes NFL Network.
The plan comes with 50 hours of cloud DVR storage. And it allows you to stream on up to three devices at the same time.
The thing Sling TV is most known for is all its channel add-ons. You can read all about them in our Sling TV Packages Guide. But one you may be particularly interested in is the Sports Extra add-on. For $11/mo more, it gives you 11 sports channels including NFL RedZone, MLB Network, NBA TV, and NHL Network.
Sling Orange & Blue
You might also be interested in upgrading to the Orange & Blue plan. This combines the two plans together for an extra $15/mo. Of particular note is that it includes Disney Channel as well as ESPN, ESPN2, and ESPN3. This last channel is particularly important because, through it, you can watch all events that ABC Sports carries. It also allows you to watch every week of Monday Night Football.
Live Streaming Devices for Thanksgiving Football With Sling TV
Sling TV provides excellent support for streaming devices. If you own it, odds are, Sling supports it. See our Sling TV Devices Guide for a complete list but here are the most popular devices:
Amazon Fire TV (Firestick)
Android mobile
Android TV
Apple TV
Chromecast
iOS (iPhone, iPad)
LG TVs
Roku
Samsung TVs
Vizio TVs
Web browsers
Xbox
Why Sling TV This Thanksgiving
Sling TV isn't your only choice for watching Thanksgiving football this year. But it is arguably the best:
It is simply the least expensive top-level streaming service costing not much more than half what you need to get the base plans of FuboTV, Hulu + Live TV, DIRECTV STREAM, and YouTube TV.
Arguably the best device support in the industry
The only service to provide antenna integration
True a la carte channel selection — both as packages and alone
Excellent selection of on-demand shows and films.
Wrapping Up
This Thanksgiving will feature three excellent matchups. Watch it all with Sling TV.
Watch Other NFL Teams With Sling TV
Page Updates
▼
▲
Added table of contents. Added new section. Added links. Reworded some things.
Latest posts by Frank Moraes
(see all)