It's NCAA football season again! See below for schedules and channels. And read on to learn how to watch it all without cable!
In a hurry? If you are in no mood for details and just want to start streaming NCAA football now, these services are our favorites:
Fubo: The best streaming service for international sports also provides 150+ well-selected channels. Fubo allows you to try out its service with a free trial.
DIRECTV STREAM: Get a great channel lineup with the best selection of RSNs in the industry. A 5-day free trial is now available for DIRECTV STREAM.
Sling TV: This low-cost service allows you to select just the channel lineup you want. Save 50% on Sling TV now.
If you can't watch your favorite sports because of your location, get ExpressVPN to access the content you deserve.
Unfortunately, we don't know a streaming service in that covers this sport. But if you've already paid for the right service, and just can't watch because of your location, there is an easy way to get the content you deserve. You need a VPN, like one of the following.
| | | |
| --- | --- | --- |
| | ExpressVPN: Known as "The VPN that just works," it combines remarkable ease of use with with state-of-the-art power, speed, security, and privacy. Get three extra free months when you sign up for a year. Unleash your streaming with this top-rated VPN. | Sign Up Now |
| | Hotspot Shield: Connect to servers in 80+ different countries and 25+ US cities. HotSpot Shield features extremely fast servers and connections and is specially tuned for use with streaming services. And you can try it risk-free with a 7-day free trial and a 45-day money-back guarantee! | Sign Up Now |
| | CyberGhost: Great low-cost service with ultra-fast servers in 90+ countries for smooth live sports streaming. It also provides great security and privacy. See if it's right for you with a free 24-hour trial and test it out with a 45-day money-back guarantee. | Sign Up Now |
If you're overwhelmed and not sure where to begin, you'll find all the answers in our full VPN guide.
The first week of NCAA football will feature over 80 games broadcasted. And it continues on like that. You might spend a small fortune getting a cable subscription that includes all the channels you need.
The good news is, you can get everything you need and more (including a free cloud DVR with most services) for far less.
There are many schedules online, but NCAA.com is usually a good place to check when your favorite teams are playing. ESPN also has a good schedule available on their site.
You will want to reference the NCAA football schedule before deciding on a viewing strategy. There are a LOT of channels that broadcast college football, and it can differ quite a bit from team to team. So, we recommend looking for a schedule for the team(s) you like to follow, to check which networks their games usually air on.
But we know what's on your mind, "How do I watch college football without cable?" The simple answer is: very easy! Let's get to the details.
Friday's NCAA Football Games
See also our schedule below for games that are coming up. Here are the games taking place September 29th:
: Louisville vs NC State (ESPN)
: Columbia vs Princeton (ESPNU)
: Utah vs Oregon State (FS1)
: Louisiana Tech vs UTEP (CBSSN)
: Cincinnati vs BYU (ESPN)
College Football Channels
To figure out how you can watch college football online without cable, you need to know the television channels that you need access to. With a few exceptions, you'll find that most college football games air on the following networks:
Overall, the ESPN family of networks is the most important, as ESPN hosts the majority of college football. This is particularly true for the bigger teams and more popular conferences. So you will definitely want to make sure that you have access to ESPN and their other networks, like the ESPN channels, ACCN, and SECN.
Also important, are the Fox channels: FOX itself, FS1, FS2, and Big-Ten Network (BTN). Of increasing importance to NCAA football fans is ESPN+. This service provides exclusive access to some games, mostly from lower-tier schools.
Now that you know where the action is, let's take a look at how to watch college football online and over-the-air.
Unblock Your Favorite Events & Teams With a VPN

If you can't watch your favorite events or teams because of your location, a VPN will allow you to get the access you are entitled to, plus extra security and unequaled privacy. Check out our VPN Guide for everything you need to know, including our top pick ExpressVPN.

Other brands worth checking out include Hotspot Shield and CyberGhost.
Stream College Football Live Online
Online streaming services are a great way to watch college football online. In recent years the rise of live television streaming has given way to previously cable-only channels, like ESPN, to become part of the online live streaming lineup.
Because college sports are a lot more fragmented than the professionals, it's going to be difficult to catch EVERY college game. Aside from the physical limitations of watching every game on Saturday, different services will simply offer you access to different NCAA conferences.
To help you out with your search for that perfect college football-friendly streaming service, here's a quick rundown of the available live television streaming services that are good to watch college football without cable.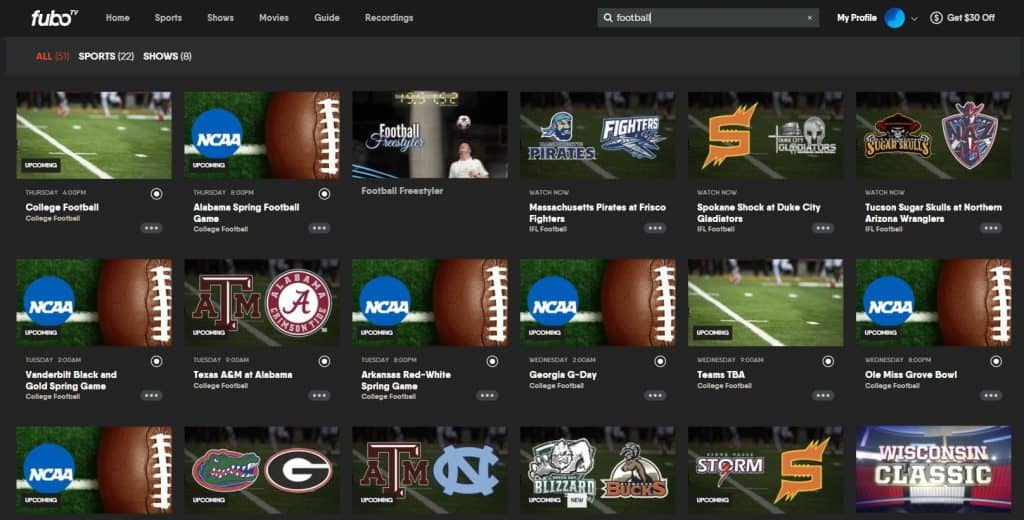 Watch NCAA Football With FuboTV

FuboTV (free trial) is an online streaming service designed primarily for fans who want to watch sports without cable. In fact, FuboTV is one of the best options for watching college football. You get over 120 channels with a sports focus for $74.99/mo.
Read our fuboTV review for an in-depth look at the service.
Here are the college football-relevant sports channels that you get with FuboTV:
For an additional $10.99 a month, you can get the Sports Plus add-on, which includes the following:
ACCN
ESPNU
Pac-12 Network (Base, Arizona, Bay Area, Oregon, Washington, Mountain, Los Angeles)
SEC Network
Stadium (4 channels).
Stream College Football With Sling TV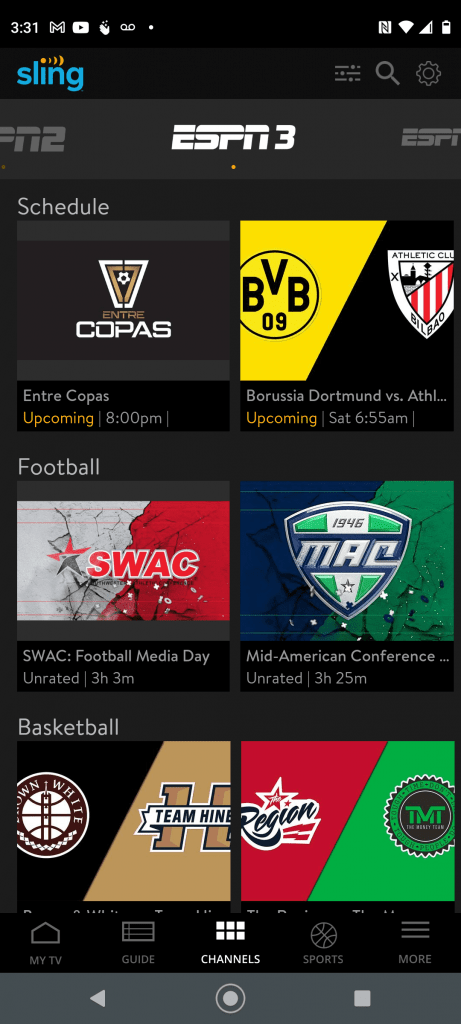 Sling TV is a budget-friendly online streaming service that offers a good way to watch college football games online. It offers two primary subscription plans; Sling Orange and Sling Blue. They are $40.00/mo each or you can get both $55.00/mo.
Read this Sling TV review for an in-depth look at Sling's packages.
Here are some of the most important college football channels that you get with each plan:
Sling TV Orange
Sling TV Blue
Fox (in select areas)
NBC (in select areas)
NBC Sports Network
FS1
In addition to the two plans, you can pay $11 extra for a sports add-on and get additional channels that air college football ($15 for Orange + Blue). What channels come with the sports add-on will depend on which main plan you're subscribed to, however, there is a bit of overlap.
Here's what the sports-add on looks like for both plans.
Sports Extra Orange
ACC Network
ACC Network X
SEC Network
SEC Network+
ESPNU
LHN (Longhorn Network)
Sports Extra Blue
The bottom line is this: Sling TV is the most affordable way to watch college football games without cable. Technically an antenna is cheaper but antennas offer fairly limited coverage of college football as they don't include any of the ESPN channels.
Note that Sling TV allows you to easily integrate an antenna with its system, which would provide you with ABC and CBS in addition to all the others. See our Sling TV Bowl Game Viewer's Guide.
DIRECTV STREAM for College Football

DIRECTV STREAM (formerly AT&T TV) is another streaming service that's similar to many we've already discussed.
DIRECTV STREAM has a number of channel packages available. They start at $74.99/mo but you may want to upgrade to the Choice plan for $99.99/mo. This is because it gives you access to its unequalled section of regional sports networks (RSN).
This may not be a big deal for college football but these stations are usually the place to go for local games in MLB, NBA, NHL, MLS, and many others.
Get DIRECTV STREAM Free for 5 Days
Hulu + Live TV

Hulu Live is the streaming giant's attempt at breaking into the live television streaming market with this cable TV alternative. Currently, there is only one plan available with 85+ channels for $69.99/mo.
Read out Hulu Live review for an in-depth look.
Here are the relevant sports channels included in the plan:
ABC
ACC Network
BTN
CBS
ESPN
ESPN2
ESPN3 (via ESPN App)
ESPNU
ESPN College Extra
Fox
FS1
FS2
NBC
SEC Network
Hulu is perhaps the most complete way to watch college football without cable. It includes many of the most important channels you'll need to keep up, all in one package. Not only does it cover ESPN's network of channels, but it offers local channels in most areas.
Hulu offers excellent value. This is particularly true if you consider the fact that Hulu + Live TV comes with the original Hulu, which is a huge on-demand library of thousands of entertainment options (similar to Netflix).
Vidgo

Vidgo is one of the newest ways to watch college football online without cable TV. And it's available for only $69.99/mo with 100+ channels.
Read out Vidgo review for an in-depth look.
Here are the relevant Vidgo channels that you get:
ABC
ACC Network
BTN
ESPN
ESPN2
ESPNU
Fox
FS1
FS2
Longhorn Network
Pac-12 Network (7 channels)
SEC Network
Vidgo is a great, inexpensive way to watch college football online. Try one month for $20.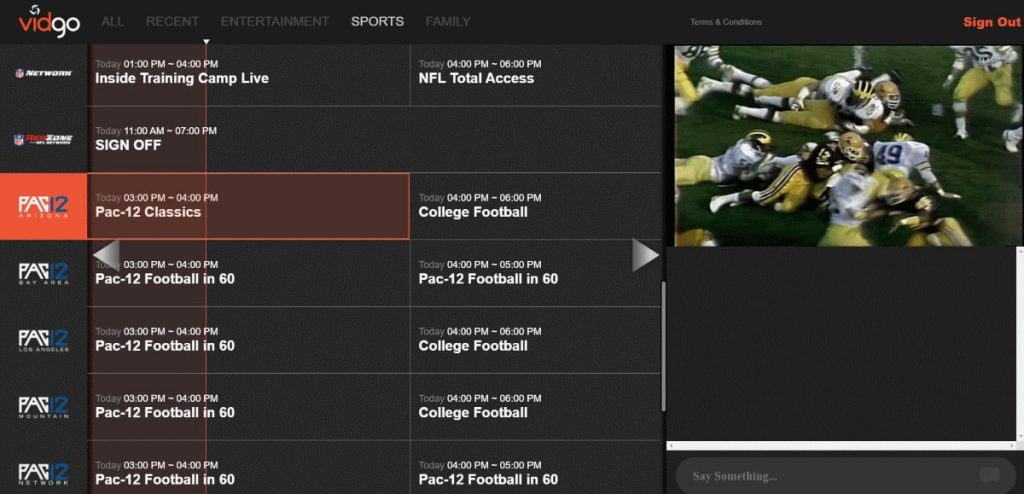 ESPN+

ESPN+ is a new service that comes directly from ESPN itself. It's available without a cable subscription and costs only $9.99/mo. The service provides limited access to some live college football games.
The games are mostly from less popular/lower-tier schools. But for $5 a month, it's a service that's well worth having for any sports fan.
Read our ESPN+ review for a closer look.
Keep in mind that ESPN+ is definitely not a full-fledged way to watch live college football. It's meant to supplement other sources, as much of the content on ESPN+ is exclusively on ESPN+.
At the same time, you won't see big primetime games airing on this service, so it's far from a complete solution.
YouTube TV

YouTube TV is another option. It is very much like Hulu + Live TV.
YouTube TV has only one package. It costs $72.99/mo and covers 100+ channels.
YouTube TV offers a solid all-around selection. It's useful for watching college sports online, as well as keeping up with news, TV shows, etc.
Read our YouTube TV review for an in-depth look.
College Sports Live
College Sports Live is an online streaming service dedicated to providing you with complete coverage of all college sports from 50 schools across the nation. This is a great service for people that follow smaller schools or just want a little extra coverage.
The only catch is that it airs non-televised events, which means if your school is playing on ESPN, you can not stream it on College Sports Live.
Read our College Sports Live review for an in-depth look.
You can either pay $9.95 a month for College Sports Live or you can pay $99.95 for the entire year. If you love other college sports besides football, and only want to catch a few occasional games, this is definitely worth a look.
It's far from a complete solution, though.
Watch College Football Free with an Antenna
The only way to watch college football for free is by using an over-the-air antenna. With an OTA antenna, you will be able to pick ABC, NBC, CBS, and FOX (although the networks you get will depend on where you live, and the quality of your antenna).
OTA antennas are cheap, there are no monthly fees, and everything you watch will show up in 1080i HD.
Typically, you're going to see a lot of prime-time games airing on ABC and Fox. NBC and CBS air some NCAA football games but not a lot.
Here is a link to an article on NCAA.com with a decent list of upcoming college football games, along with what channels they will air on.
Keep in mind that antennas ONLY cover games on NBC/FOX/CBS/ABC. For games airing on ESPN and all the other college football channels, you'll need another option – see the streaming services above.
Also, remember that antenna reception varies a lot depending on where you live. If you live near a major city, you'll probably get most of the networks you want. If you're more rural, you may find that you only get 1 or 2 of the major networks, if that.
You can use online tools to get an idea of what channels you may pick up in your area, or refer to streaming service websites to check your local channel eligibility.
Listen to College Football
If all else fails, and you just can't find the game you're looking for, or you are really strapped on cash, then you might want to turn to the radio. Most games will have live audio coverage, and more often than not schools will stream the radio broadcast online on the team's website.
Listen to college sports on SiriusXM.
Barring that, you can always use online radio apps, such as TuneIn, to find local broadcasts of the team you're looking for. TuneIn has one of the widest selections of terrestrial radio stations, and, best of all, it's free.
You can search by location, language, topic, and more. It's super easy to find everything and you don't need an incredibly fast connection in order to stream. If you've got a little imagination, it's the perfect penny-pinching cable TV alternative.
Superpower Your Sports Streaming With a VPN

For the sake of privacy, security, and access, you should be using a VPN. They are low-cost and easy to use. We've been using them for years and our top pick is ExpressVPN. Other brands worth checking out include Hotspot Shield and CyberGhost.
Stream on Your Smart TV or Device
Just because you are streaming NCAA football games doesn't mean your friends need to huddle around your computer screen. (Although you can do that: all the streaming services provide support for web browsers and you can connect via HDMI or casting to a TV.)
All the services we've mentioned support almost all of the streaming devices on the market.
TVs and TV Streaming Devices
To use a streaming service with your TV, you need to have a supported smart TV or TV device. Any smart TV that is compatible with Android TV will work (except with AT&T TV). Most also support Samsung and LG models. If you have something else, check our streaming service reviews for more details.
All the services support the following TV devices as well:
Amazon Fire TV: A device that plugs into your TV's HDMI jack to allow it to run streaming apps provided by the services.
Apple TV: This is Apple's version of the Fire TV stick.
Roku: Similar to the others, this device has been around since the beginning and is very popular.
Mobile Devices
If you are on the go and want to stream on your phone or tablet, you are all set.
Android: Android-powered smartphones are universally supported
iOS devices (iPhones, iPads): The smartphones and tablets from Apple are also fully supported.
You can also use your mobile device to cast a streaming service to your smart TV or regular TV with a Chromecast device.
Gaming Consules and VR
If you want to watch on gaming consoles, you have a lot of options. Most of the services support Xbox. Hulu also supports PlayStation and Echo Show. Are you a VR fan? If so, Sling TV supports Oculus.
2023 College Football Schedule
Thursday, September 28
: Temple vs Tulsa (ESPN)
: Middle Tennessee vs Western Kentucky (CBSSN)
: Jacksonville State vs Sam Houston (ESPNU)
Friday, September 29
: Louisville vs NC State (ESPN)
: Columbia vs Princeton (ESPNU)
: Utah vs Oregon State (FS1)
: Louisiana Tech vs UTEP (CBSSN)
: Cincinnati vs BYU (ESPN)
Saturday, September 30
: Utah State vs UConn (CBSSN)
: TBD (CBS/Paramount+)
: USF vs Navy (CBSSN)
: San Diego State vs Air Force (CBSSN)
Watch Your Favorite College Team
Click your favorite team below for more specific info on how to stream their games.
Watching College Football Without Cable
Sometimes watching college football without cable can seem tricky, but it really isn't anymore. And with help from today's guide, you should have no problem finding the game of your choice at a price you can afford.
If you need a quick recap, here's my recommendation: Sign up for a streaming service like FuboTV, Sling TV, or Hulu with Live TV. This will give you most of the channels you need to watch tons of college football games, alongside other sports, news, and entertainment.
All these services are non-contract, so you can cancel at any time if it doesn't work out.
What's your favorite NCAA conference? SEC? Big Ten? Or maybe something a little smaller? Let us know in the comments below or sound off on social media! And don't forget to catch your favorite talent as they show off for the scouts in the NFL Combine.
Want to watch college football online while also keeping up with NFL, USFL, and XFL? See our guide on how to watch NFL games without cable and how to watch XFL online (specifically, on Sling TV).
FuboTV is our top charge for watching college football. Fubo allows you to try out its service with a free trial.
2022 College Football Schedule
Here is the I-A NCAA's Bowl game schedule from last year. The bowl games started on Friday 16 December.
Ditch "Big Cable" Now – 3 Simple Steps to Cut the Cord
Pick the right streaming service
Get the content you deserve with the best VPN.
Supercharge your internet provider
That's it — you'll save money, take back control, and enjoy TV more!
Page Updates
▼
▲
Added links to streaming services. Added buttons for streaming services. Updated some sub-sections. Updated some section headings. Mentioned offers. Removed section.

Updated some sub-sections. Misc changes to content.

Updated some sub-sections. Image changes. Reformatting.

Updated some sub-sections. Added some links. Formatting changes.

Added buttons for streaming services. Added sub-section. Mentioned offers. Misc changes to content.

Mentioned offers. Added a few links. Misc changes.

Added new section. Added links to streaming services. Added sub-section. Updated some sub-sections. Pricing updates. Added links. Cleaned up list. Deleted unneeded sub-section.

Pricing updates. Added useful links. Image changes.
Latest posts by Frank Moraes
(see all)