The Texas Longhorns are one of the most popular NCAA football teams. Normally, about half of their games air on broadcast TV. Read on to learn how to watch every game.
In a hurry? You can watch all the Texas football games this year by getting the Sling Orange & Blue plan along with the Sports Extra add-on. Sign up for Sling TV now and get a 50% discount on your first month!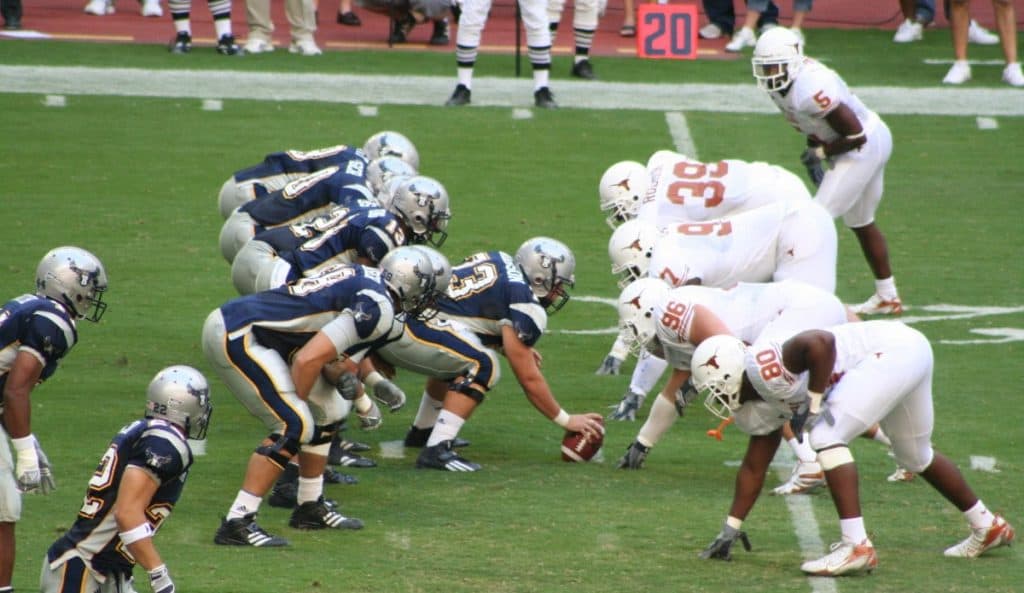 Texas Longhorns Football Channels
Longhorns games air on these channels:
ABC (ESPN3)
ESPN
Fox
FS1
Longhorn Network
Note that Texas moves to the Southeastern Conference next year. This will change its broadcasting rights to some extent. Primarily, we are likely to see some games on CBS, which we will discuss below. And we will definitely see some games on SEC Network, but it comes along with Longhorn Network with Sling TV.
Read on to learn how to get all these channels.
Streaming Longhorns Football With Sling Orange
Sling Orange is a great way to follow the Longhorns all season long. It doesn't provide all the games (read on to find out about that), but it will allow you to watch all the games on ESPN and ABC (through ESPN3). Last year, that would have provided coverage of 7 of 13 games. That's all for just $40.00/mo.
If you got the Sports Extra add-on for $11/mo extra, that would have provided coverage of two more games.
Sling Orange comes with a total of 32 channels. These also include the Disney Channel, MotorTrend, Freeform, and QVC. And you get 25 channels shared with the Sling Blue plan, including Adult Swim, AMC, BET, CNN, Comedy Central, HGTV, Lifetime, Nick Jr, TBS, TNT, and more.
Sling Orange & Blue
If you want to watch all the Texas Longhorns football games this season, you will need to get the Sling Orange & Blue plan for $55.00/mo ($5/mo more if ABC is included). This added ABC, Fox, and NBC local affiliates in select markets.
You also get FS1, which aired 3 games last season. And you get Bravo, Discovery, FX, Fox News, MSNBC, NFL Network, National Geographic, Syfy, TLC, USA Network, and more.
Sports Extra
You need the Sports Extra add-on to get Longhorn Network. What it offers depends on which base plan you get:
Sports Extra Orange ($11/mo): Longhorn Network, ACC Network, ACC Network Extra, beIN Sports, ESPNU, ESPNews, MLB Network, MLB Network Strike Zone, NBA TV, NHL Network, Pac-12 Network, SEC Network, SEC Network Plus, and Tennis Channel
Sports Extra Orange & Blue ($15/mo): All the Sports Extra Orange channels plus Big Ten Network, FS2, Golf Channel, and NFL RedZone.
Features
All the Sling TV base plans come with 50 hours of cloud DVR storage. Note that you cannot record streaming-only channels ESPN3, ACC Network Extra, and SEC Network Plus.
The channels that are specific to Sling Orange (including ESPN, ESPN2, and ESPN3) can only be streamed on one device at a time. Sling Blue channels can be streamed on up to 3 devices at once. Channels in both plans can be streamed on up to 4 devices at once.
Sling TV provides apps for most streaming devices. These include, but are not limited to, Amazon Fire TV, Android Mobile, Android TV, Apple TV, Chromecast, iOS devices, LG smart TVs, Oculus VR system, Roku devices, Samsung smart TVs, Vizio smart TVs, and Xbox One gaming systems.
CBS
Longhorns games have rarely been aired on CBS. And it doesn't look like there will be any in 2023. But that will likely change next year when Texas joins the SEC. Most SEC teams end up on CBS a couple of times per season. So looking forward, you will want CBS.
You have two options with Sling TV:
Paramount+ Premium ($11.99/mo): Provides streaming access to your local CBS affiliate and tons of live sports. It's also a great on-demand streaming service including Showtime.
Antenna: Sling is the only streaming service that allows you to integrate a digital antenna right in with its app. If you live reasonably close to an urban area, you can get a bunch of channels including CBS, ABC, Fox, and NBC. There is more information in our Sling Local TV Guide.
Sling TV Advantages for Longhorns Fans
Sling TV features the lowest price of any streaming service that offers substantial sports and local programming. And when it comes to ESPN, there is simply no other way to get it for so little. Fubo, DIRECTV STREAM, Hulu + Live TV, Vidgo, and YouTube TV all offer ESPN but for a cost upwards of twice Sling TV's base price of $40.00/mo.
Despite being being the low-price leader, Sling TV is also the unmatched leader in terms of customization. It offers a half dozen channel package add-ons and a few dozen individual channel add-ons. See our package discussion for all the details so you can get exactly what you want.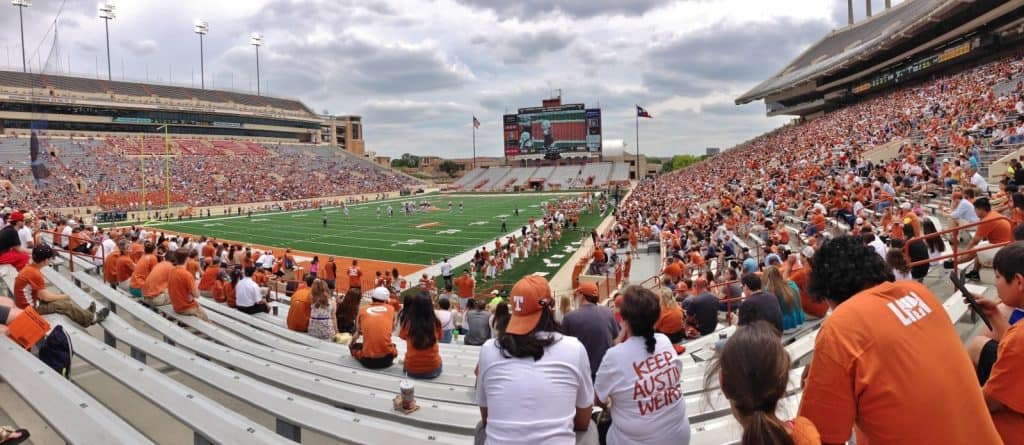 Texas Longforms Football
The Texas Longhorns has one of the most storied football programs in the NCAA. They are normally one of the best as well. They enter the 2023 season ranked No 11 in the AP polling.
2023 Texas Longhorns Football Schedule
Sat Sep 2 : Rice Owls at Texas Longhorns (Fox)
Sat Sep 9 : Texas Longhorns at Alabama Crimson Tide (ESPN)
Sat Sep 16 : Wyoming Cowboys at Texas Longhorns (LHN)
Sat Sep 23 TBD: Texas Longhorns at Baylor Bears
Sat Sep 30 TBD: Kansas Jayhawks at Texas Longhorns
Sat Oct 7 TBD: Oklahoma Sooners at Texas Longhorns (ABC)
Sat Oct 21 TBD: Texas Longhorns at Houston Cougars
Sat Oct 28 TBD: BYU Cougars at Texas Longhorns
Sat Nov 4 TBD: Kansas State Wildcats at Texas Longhorns
Sat Nov 11 TBD: Texas Longhorns at TCU Horned Frogs
Sat Nov 18 TBD: Texas Longhorns at Iowa State Cyclones
Fri Nov 24 : Texas Tech Red Raiders at Texas Longhorns (ABC)
Wrapping Up
Longhorns fans can enjoy the whole season on a budget with Sling Orange. But super-fans should get Sling Orange & Blue along with the Sports Extra add-on.
Check out Sling TV now with a 50% discount on your first month!
Latest posts by Frank Moraes
(see all)