Super Bowl LVI took place on Feb 13 at 6:30 pm (EST) with the NFC's Los Angeles Rams beating AFC's Cincinnati Bengals 23-20 in a close-fought match at the SoFi Stadium in southern California. Be sure to come back next season for all the information about watching the playoffs without cable!
In a hurry? Most games will air on the networks, so you could just set up an antenna. Or sign-up with one of these streaming services:
The 2021 season was the first in which all 32 teams will play 17 games during the regular season. It was also the second time in league history that these games had been played over the course of 18 weeks. In 1993, each team played 16 games over the course of 18 weeks as the league wanted to see what would happen if an extra bye week was built into the schedule.
The other three division champions in each conference will be seeded second through fourth and play at home in the first round of the playoffs. In addition, three wild card teams will be seeded fifth through seventh and play on the road against the divisional champions.
In the divisional round, the top two remaining seeds will play at home against the other two teams that win their opening-round games. The winners of those games meet to determine who represents their conference in the Super Bowl. As with the other playoff games, the top remaining seed is the home team in the conference title game.
The seven NFC teams to make the cut are:
Green Bay Packers (13-4)
Tampa Bay Buccaneers (13-4)
Los Angeles Rams (12-5)
Dallas Cowboys (12-5)
Arizona Cardinals (11-6)
San Francisco 49ers (10-7)
Philadelphia Eagles (9-8).
And the seven AFC teams are: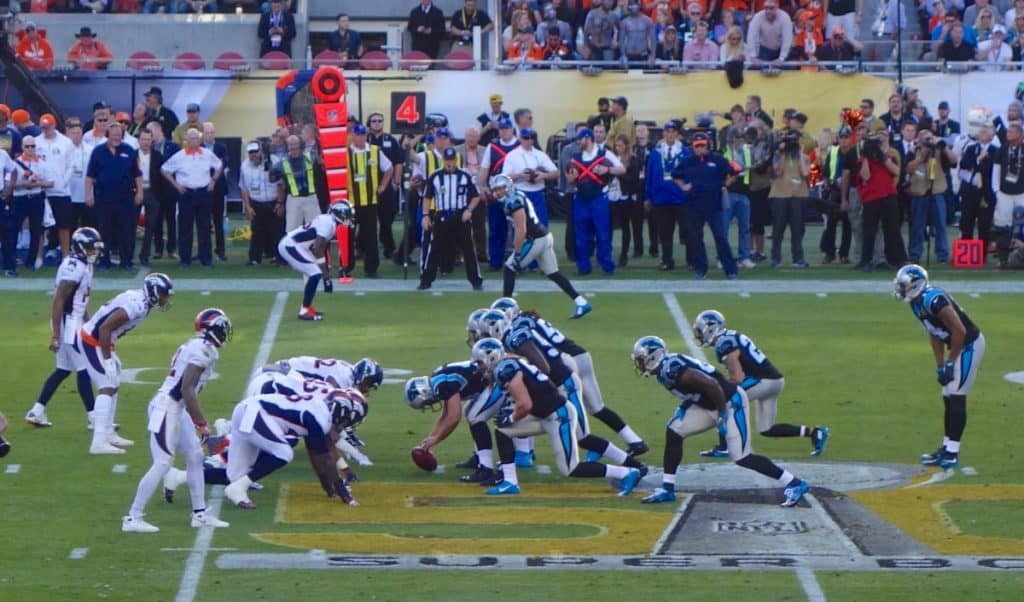 2021-2022 NFL Playoff Schedule
If all that made your head spin, we understand. Here is the schedule with all the information currently known. We will update it as more information comes in.
You can catch the games broadcast on ESPN, CBS, Fox, and NBC via FuboTV!
Super Bowl LVI
Super Bowl LVI is set:
Sun Feb 13 6:30 pm (EST): Cincinnati Bengals (20) vs Los Angeles Rams (23) (NBC)
Both the Bengals and Rams came into the Super Bowl after two close, hard-fought games. Will this continue when they meet next Sunday?
Super Bowl games are often disappointments. But that wasn't the case this year. The Rams and Bengals were well-matched. The handicappers gave the Rams a 4.5 point margin, which wasn't much considering an over-under of 48.5. The final score was pretty close with Cincinnati beating the line by 1.5 points and the game coming in under by 5.5 points.
Do You Need a VPN?
If you find you can't watch particular events because of your location, a VPN should allow you to get the access you are entitled to. It also provides extra security and unequalled privacy. See our complete VPN Guide for all you need to know.
NFL Playoff Channels
As a general rule, playoff games featuring AFC teams are broadcast on CBS. And playoff games featuring NFC games tend to be broadcast on Fox. There are exceptions like the Jan 10th \,2021 wildcard game between NFC teams Saints and Bears that was broadcast on CBS.
Since the 2014-2015 season, ESPN/ABC has broadcast one playoff game each season. Until last year, it was always the first game of the season. This year, ESPN is slotted to air the last wildcard game.
NBC gets to broadcast a single game in primetime during each of the first two rounds, and this game is generally the one that is perceived to bring in the highest ratings regardless of which conference the teams play in.
It's also worth noting that a game was broadcast on Nickelodeon, and it's possible that the children's network will get another chance to be part of the playoff television fun this year. The same is true of Amazon, which isn't surprising given its increasing presence in the league generally.
Super Bowl LVI will be broadcast on NBC and Telemundo, and the game is scheduled for Feb 13, 2022. This will be the first Super Bowl to take place at the same time as the Olympics. The game will also be available on NBC's streaming platform Peacock.
Streaming Services to Watch NFL Playoffs
The NFL is too popular for there not to be good options to streaming games. That's true of the regular season and even more true of the playoffs!
FuboTV

The FuboTV Pro package is $69.99 and comes with NBC, CBS, Fox, and ESPN — everything you need to watch every game!
But there's a lot more — over 100 live TV channels with a special focus on sports with CBS Sports Network, FS1, FS2, ESPN2, Galavision, Golf, NFL Network, and a whole collection of channels from beIN Sports and TUDN. It also includes The Olympic Channel.
All FuboTV plans come with a minimum of 750 hours of cloud DVR storage and the ability to watch on up to 10 devices simultaneously.
Find out more in our FuboTV review.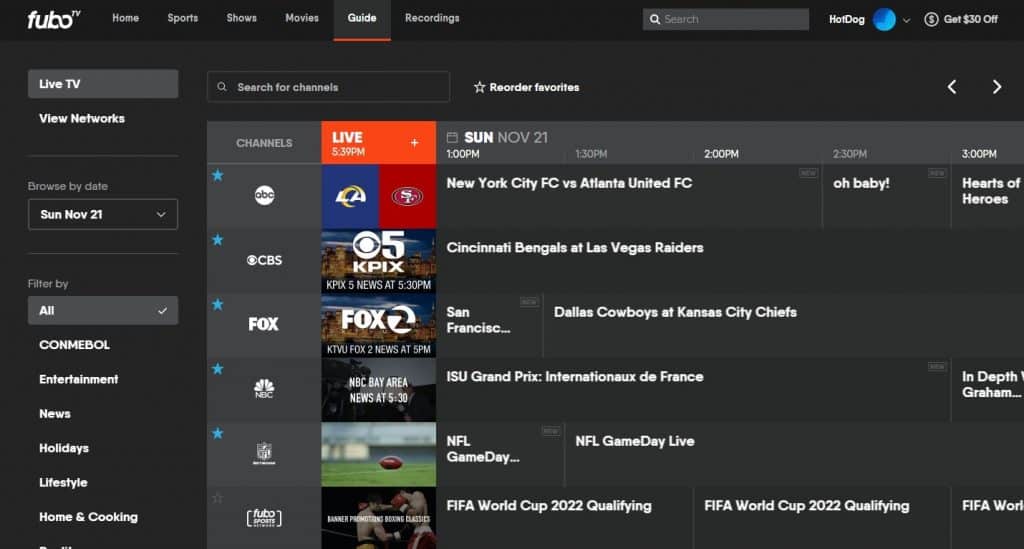 Hulu + Live TV

For $69.99 per month, you can get Hulu + Live TV. This service adds 85 live TV channels to the base Hulu on-demand plan. It includes all the playoff channels (CBS, Fox, NBC, and ESPN) plus NFL Network.
Hulu + Live TV comes with unlimited cloud DVR (9 months of storage) and the ability to stream on up to two devices at once.
See our Hulu + Live TV review for more details.
DIRECTV STREAM

The DIRECTV STREAM (formerly AT&T TV) Entertainment package comes with local feeds of national channels such as NBC, CBS, and Fox as well as standard "cable" channels like ESPN. In all, you get roughly 80 channels for $69.99 per month. There are three other plans if you want more including your local regional sports networks (RSN).
DIRECTV STREAM comes with unlimited cloud DVR (as long as you sign up online) and the ability to stream on up to 20 devices at once.
Our DIRECTV STREAM review has more details.
Sling TV

Sling TV is the most customizable of the streaming services but this does mean that it can be confusing to get the exact package you want. Its Blue plan ($35/mo) includes NBC and Fox. Its Orange plan ($35/mo) comes with ESPN. You can get them both for $50/mo.
You can't get CBS directly through Sling TV. But if you pay for two months' service upfront, they will give you a free indoor HD antenna, which will allow you to watch CBS — right from within the Sling TV interface!
The base Sling TV plans come with 50 hours of cloud DVR storage. The Blue plan comes with the ability to stream on up to 3 devices at once. But the Orange plan channels (eg, ESPN) can only be streamed on one device at a time.
See our Sling TV review for more.
Vidgo

For $59.95 a month, Vidgo provides access to ABC, Fox, and ESPN. In total, you get 100+ channels, which include NFL Network as well as NFL RedZone, which are great for the regular season. They also offer an outstanding selection of channels for NCAA sports fans.
There is one major problem with Vidgo: it does not offer NBC and CBS. You can, however, get those by signing up for Peacock and Paramount+. Note also that Vidgo does not come with a cloud DVR. It does, however, allow simultaneous streaming on up to 3 devices.
For more see our Vidgo review.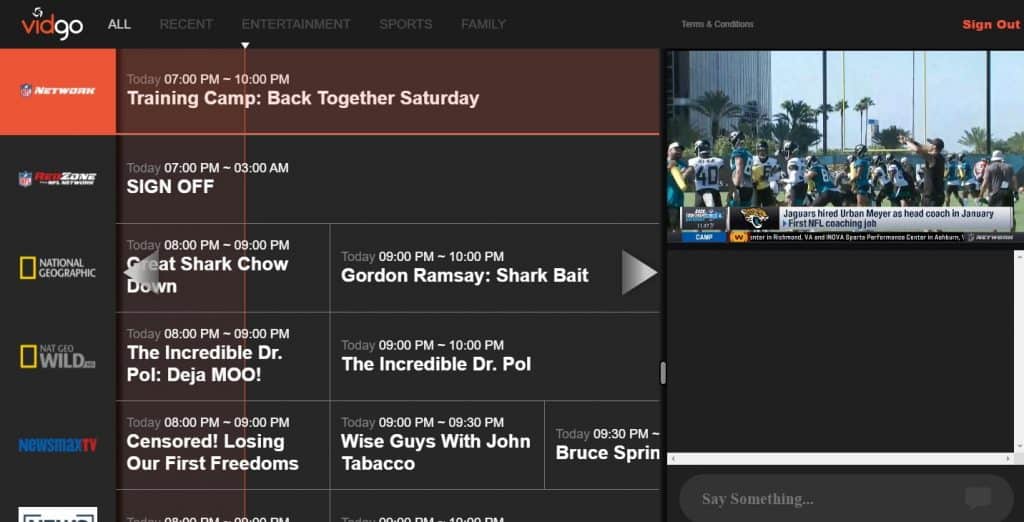 Other Options
There are other options for watching the NFL playoffs:
Streaming Devices for the NFL Playoffs
It's pretty easy to find a streaming service that will allow you to watch the NFL playoffs on your TVs and other devices. Most are supported.
Other than Vidgo, Samsung smart TVs are supported by all the streaming services. Fubo, Hulu, and Sling all support LG and Vizio smart TVs. And all the services (other than DIRECTV STREAM) support Android TV-based devices.
TV devices are supported by everyone: Amazon Fire TV, Apple TV, and Roku. And so are mobile devices based on Android and iOS. Similarly, you can use the Chromecast standard to cast from browsers and mobile devices to your TV.
FuboTV, Sling TV, and Hulu + Live TV support the Xbox One gaming system. Hulu also supports the PlayStation.
You will find complete lists of supported devices in our individual streaming service reviews linked to above.
Superpower Your Streaming With a VPN
For the sake of privacy, security, and access, you should be using a VPN. They are low-cost and easy to use. We've been using them for years and our top pick is ExpressVPN.
Wrapping Up
The NFL playoffs may be the most popular sporting event in the United States. Games generally draw millions of viewers regardless of who is playing, what time they are played, or what network they appear on.
NFL postseason contests will appear on NBC, CBS, Fox, and ESPN. They will also be simulcast on other stations and streaming platforms like Amazon Prime Video, Paramount+, and Peacock.
FAQs
Which teams are betting favorites to make the Super Bowl?
In July, the Tampa Bay Buccaneers, Kansas City Chiefs, and the Los Angeles Rams were the three teams that bettors believed had the best chance of going to the Super Bowl. However, as of Nov 12, the Buffalo Bills moved into the top tier to win the big game.
The Bills and Bucs were both +600 heading into their next games on while the Chiefs saw their odds drop from +450 to +1200 according to BetMGM. However, it's likely that those odds will change once again after the Chiefs recent win against the Raiders and the Bucs loss to the 3-6 Washington Football Team.
Which teams are expected to make it to the playoffs?
In the AFC, the favorites to make the playoffs include the Kansas City Chiefs, Buffalo Bills, and Tennessee Titans. The Pittsburgh Steelers, New England Patriots, and the Los Angeles Chargers are also among AFC squads who experts believe have a good chance of playing in the postseason.
In the NFC, the favorites to play in the postseason include the Tampa Bay Buccaneers, the Arizona Cardinals, and Green Bay Packers. The Los Angeles Rams, New Orleans Saints, and Dallas Cowboys also have a strong chance of making the playoffs this season.
How can I get information on watching specific games?
These articles provide details on watching different parts of the playoffs:
For more information, see our guide on how to watch NFL without cable.
Latest posts by Frank Moraes
(see all)