Watch the entire NFL season through the Super Bowl with FuboTV.
You can almost feel it. The crisp, early-autumn air that signals the start of the NFL Football season. We love football and if you're here, you do too. But if you're concerned about cutting the cord and losing access to games, don't! You don't need cable to watch all the action!
In a hurry? If you just want to make sure you have access to the entire NFL season, these streaming services will give you everything you need and more:
Looking for info on watching the regular season? See our complete NFL Viewer's Guide.
Watching the regular season can be complicated if you want more than the local and primetime games. Learn how to watch it all in our NFL Out-of-Market Game Guide.
Preseason Football Schedule
This is the first season with 3 preseason weeks and 18 regular season weeks (with each teaming getting one bye week for 17 total games). But the season starts with the Hall of Fame game on Thursday, Aug 4th at (EDT).
The normal preseason games start on Aug 11th.
Hall of Fame
Thu Aug 4 : Jaguars (11) at Raiders (27) (NBC)
Preseason Week 1
Thu Aug 11 : Giants (23) at Patriots (21) (NFLN)
Thu Aug 11 : Titans (10) at Ravens (23)
Fri Aug 12 : Falcons (27) at Lions (23) (NFLN)
Fri Aug 12 : Browns (24) at Jaguars (13)
Fri Aug 12 : Cardinals (36) at Bengals (23)
Fri Aug 12 : Jets (24) at Eagles (21)
Fri Aug 12 : Packers (21) at 49ers (28) (NFLN)
Sat Aug 13 : Panthers (23) at Commanders (21)
Sat Aug 13 : Chiefs (14) at Bears (19) (NFLN)
Sat Aug 13 : Colts (24) at Bills (27) (NFLN)
Sat Aug 13 : Seahawks (25) at Steelers (32) (NFLN)
Sat Aug 13 : Dolphins (26) at Buccaneers (24)
Sat Aug 13 : Saints (13) at Texans (17)
Sat Aug 13 : Cowboys (7) at Broncos (17) (NFLN)
Sat Aug 13 : Rams (29) at Chargers (22)
Sun Aug 14 : Vikings (20) at Raiders (26) (NFLN)
Sign Up for a Free 7-Day Fubo Trial
Preseason Week 2
Thu Aug 18 : Bears (27) at Seahawks (11) (ESPN)
Fri Aug 19 : Panthers (10) at Patriots (20) (NFLN)
Fri Aug 19 : Saints(10) at Packers (20)
Fri Aug 19 : Texans (24) at Rams (20) (NFLN)
Sat Aug 20 : Lions (27) at Colts (26)
Sat Aug 20 : Broncos (15) at Bills (42) (NFLN)
Sat Aug 20 : Commanders (14) at Chiefs (24) (NFLN)
Sat Aug 20 : Buccaneers (3) at Titans (13) (NFLN)
Sat Aug 20 : 49ers (17) at Vikings (7)
Sat Aug 20 : Steelers (16) at Jaguars (15)
Sat Aug 20 : Raiders (15) at Dolphins (13)
Sat Aug 20 : Cowboys (32) at Chargers (18) (NFLN)
Sun Aug 21 : Eagles (21) at Browns (20) (NFLN)
Sun Aug 21 : Bengals (22) at Giants (25) (NFLN)
Sun Aug 21 : Ravens (24) at Cardinals (17) (Fox)
Mon Aug 22 : Falcons (16) at Jets (24) (ESPN)
Preseason Week 3
Thu Aug 25 : Packers (10) at Chiefs (17) (NFLN)
Thu Aug 25 : 49ers (0) at Texans (17) (Prime Video)
Fri Aug 26 : Bills (0) at Panthers (21)
Fri Aug 26 : Seahawks (26) at Cowboys (27) (NFLN)
Fri Aug 26 : Chargers (10) at Saints (27)
Fri Aug 26 : Patriots (6) at Raiders (23)
Sat Aug 27 : Jaguars (12) at Falcons (28) (NFLN)
Sat Aug 27 : Rams (7) at Bengals (16) (NFLN)
Sat Aug 27 : Commanders (15) at Ravens (17)
Sat Aug 27 : Eagles (10) at Dolphins (48)
Sat Aug 27 : Bears (21) at Browns (20)
Sat Aug 27 : Cardinals (23) at Titans (26)
Sat Aug 27 : Buccaneers (10) at Colts (27)
Sat Aug 27 : Vikings (13) at Broncos (23) (NFLN)
Sun Aug 28 : Giants (27) at Jets (31)
Sun Aug 28 : Lions (9) at Steelers (19) (CBS)
Note that the games that do not have a channel will be available to stream with NFL+. This is subject to blackout for local games. See our review for more information.
Unblock Your Favorite Events & Teams With a VPN
If you can't watch your favorite events or teams because of your location, a VPN will allow you to get the access you are entitled to, plus extra security and unequalled privacy. Check out our VPN Guide for everything you need to know, including our top pick ExpressVPN.
How to Watch the NFL Preseason Without Cable TV
As you can see in the schedule above, NFL Network is the place for preseason action. Of the 27 preseason games that will be aired, 23 will be on it.
For people who are limited to the local over-the-air channels, the preseason coverage will be pretty thin. You will only get to watch two games via antenna, both on the last day: Dolphins at Bengals (CBS) and Browns at Falcons (NBC). And the Hall of Fame game will air on Fox.
Here's where the NFL preseason will air:
NFL Network (21 games)
ESPN (2 games)
Fox (1 game)
CBS (1 game)
NBC (1 game)
Amazon Prime (1 game).
Once the season starts, things will be different. Thursday Night Football will be airing on Amazon Prime. And NBC is airing the first week.
Sunday afternoon games will be split between CBS (AFC) and Fox (NFC). And Sunday Night Football will be on NBC. Monday Night Football is on ESPN (and sometimes also ABC).
So football fans want to sign up with a service that gives them NFL Network, ESPN, and all the networks. Luckily, there are a lot of options for this!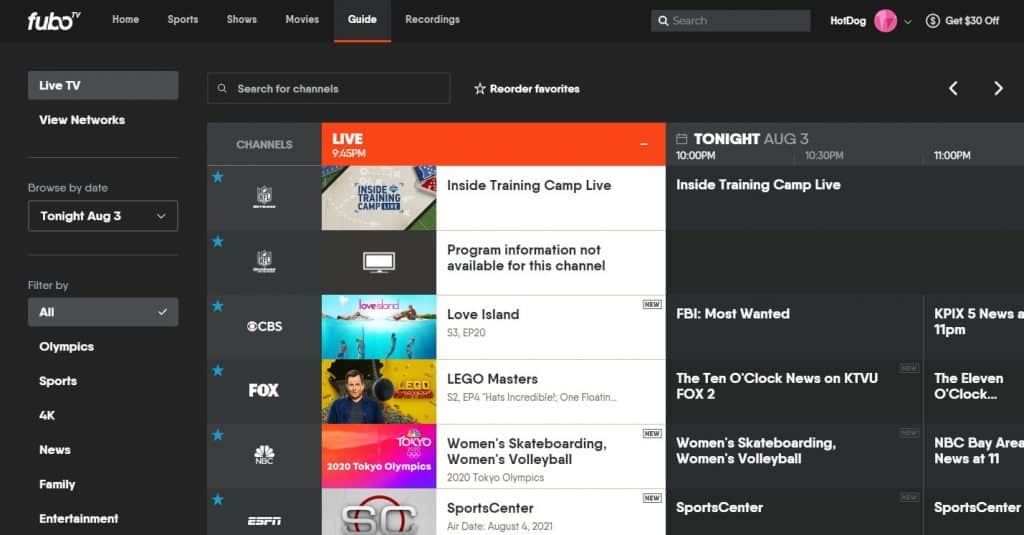 FuboTV
FuboTV is one of the best streaming services for sports fans. They offer NFL Network, ESPN, CBS, Fox, NBC, and a whole lot more. Their basic plan comes with 130+ channels including over 35 sports-focused ones. Regardless of your favorite sport, FuboTV has you covered.
If this isn't enough for you, you can get the Sports Plus add-on for $10.99/mo. It includes NFL RedZone, which allows you to easily keep up on all the games — even the ones playing at the same time. And it comes with 25 other sports channels including the 7 Pac-12, ACCN, SEC Network, and the three big league channels MLB Network, NBA TV, and NHL Network.
All plans come with 1000 hours of cloud DVR storage. You can also watch on up to 10 devices at the same time. It's easy to find out if FuboTV is right for you. Sign up for a free for 7 days. Or check out our extensive articles:
Sign Up for a Free 7-Day Fubo Trial
Sling TV
Sling TV is the low-cost streaming leader. The Sling Blue plan is just $40.00/mo and includes NFL Network as well as Fox and NBC in most areas (so you're also good for the Super Bowl most years). If you want ESPN, you can opt for the Orange & Blue plan for $55.00/mo.
The hole in Sling TV's coverage is CBS. There are a couple of ways to get around this. You can integrate a TV antenna (free if you sign up for two months) with the Sling TV interface. All that is required is that you have a CBS affiliate in your area. Or you could get a Paramount+ subscription.
Sling TV comes with 50 hours of cloud DVR storage and the ability to stream up to three devices at once. See our articles on Sling TV for more information:
Hulu + Live TV
We'd like to welcome Hulu + Live TV into the fold. Until recently, it wasn't offering NFL Network. But just in time for the 2021 NFL preseason, Hulu has added the network back to its live TV plan.
In addition, you get ESPN, CBS, Fox, and NBC. And, of course, 85+ other channels in addition to its exceptional on-demand library — all for $69.99/mo. And NFL RedZone is now available as an add-on for $10.99/mo.
Hulu + Live TV also comes with unlimited DVR storage and the ability to stream on up to two devices at once.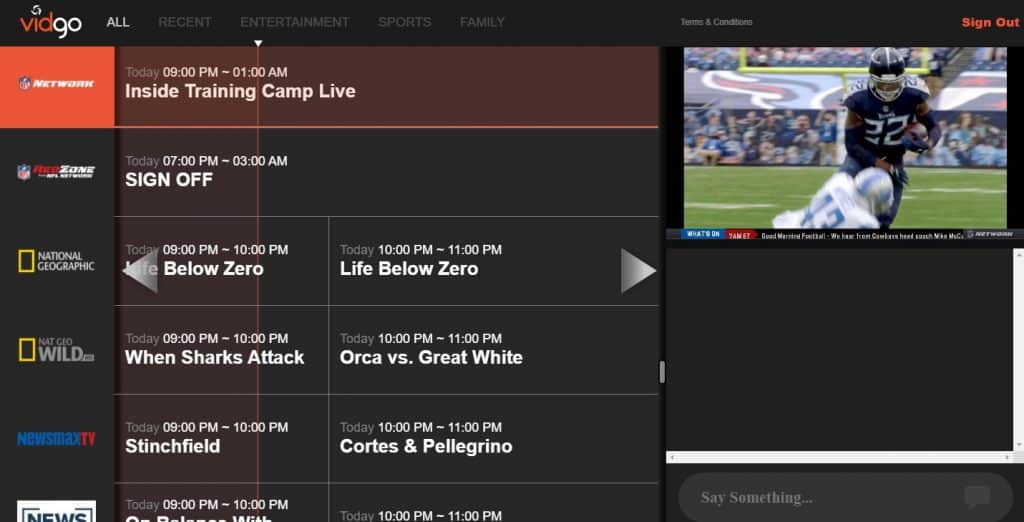 Vidgo
Vidgo is a low-cost streaming service offering over 110 channels for just $69.99/mo. They offer a great selection of national TV channels. These include NFL Network and ESPN. They also offer the local Fox affiliate in most areas.
The downside of Vidgo is that it doesn't provide CBS and NBC. This won't be a big deal during the preseason but you really want these channels for the regular season. You can, however, make up for this by installing an antenna.
Vidgo doesn't provide a cloud DVR but you can run your own at home. It does allow you to stream on up to three devices at once. Try one month for $64.95. Check out our articles on Vidgo:
Other Ways to Watch the NFL Preseason
There are other ways to watch NFL from the Hall of Fame game to the Super Bowl:
NFL+: The base plan allows you to watch local and primetime games on mobile devices for just $4.99/mo. With NFL+ Premium for $9.99/mo, you also get replays of all games on all supported devices. It comes with a 7-day free trial! See our NFL+ review for more information.
NFL App: You will still need your streaming service credentials to log in, but this allows you to watch the preseason wherever you are.
YouTube TV: Another streaming service similar to Hulu + Live TV, you get all the channels you need to enjoy the NFL season.
Sign Up for a Free 7-Day Fubo Trial
TVs and Devices to Stream the NFL Preseason
The services that we've discussed above support almost all the streaming devices currently in use. Except for Vidgo, they support the recent smart TVs from Samsung and LG. Hulu supports the VIZIO SmartCast TVs. And FuboTV supports Hisense. And all of them Android-based smart TVs.
If you have a "stick" TV device, you are also covered: Amazon Fire TV, Apple TV, and Roku. The same goes for Chromecast devices. And Android and iOS (iPhone, iPad) mobile devices are universally supported.
Finally, all the services except Vidgo support the Xbox One. Hulu even supports the Nintendo Switch and PlayStation. And the VR fans out there can use their Oculus with Sling TV.
And of course, web browsers are also universally supported. And most devices that run them can either cast or physically connect to a TV.
Superpower Your Streaming With a VPN
For the sake of privacy, security, and access, you should be using a VPN. They are low-cost and easy to use. We've been using them for years and our top pick is ExpressVPN. Be sure to check out our deals page on ExpressVPN, NordVPN, SurfShark and PureVPN.
Wrapping Up
You can stream the NFL preseason live with any of these services that we've discussed above. If you want to know more about watching NFL, check out the following articles:
Have more questions about how to watch the NFL Preseason without cable? Let us know by leaving a comment below.
FAQ
What is the NFL preseason for?
Preseason games act as an extension of training. Each game allows the coaching staff to try out new strategies and see how players react on the field outside of practice. Some players will make the cut and some won't. Your favorite players, the starters, may not see too many downs in these preseason games, but that doesn't mean you don't want to watch to see how your team matches up.
Can I watch the NFL preseason on Amazon Prime?
Amazon Prime will not be airing any of the NFL preseason games. They will, however, be airing some Thursday Night Football games this season. And starting in the 2022 season, Amazon Prime will be the exclusive provider of the game. So you don't need it yet, but starting next year, NFL fans may want to sign up for Amazon Prime.
How can I watch my favorite NFL team?
For those who want to know how to watch their favorite team, we've put together specific articles:
More Info on NFL Without Cable
If you still have questions, these resources should help: