The NFL is one of the most popular sports in Canada. And if you are lucky enough to live there, you'll find it even easier to follow the NFL in Canada than we here in the states. In fact, cord-cutters can get it all in one place. Read on to learn how.
In a hurry? NFL games play on regular Canadian channels but to get access to all the games, you really need to subscribe to DAZN. For just CA$24.99/mo, you get all of the NFL and a lot more sports besides. They don't offer a free trial, but it costs just CA$24.99/mo for a month, or CA$16.67/mo (CA$199.99/yr) if you subscribe yearly.
The National Football League is the rare US-based major sports league without any Canadian representation whatsoever. Despite this, it is one of the most popular sports in Canada. In fact, the Super Bowl is the most-watched television broadcast on Canadian television in many years. For example, from 2010-19, the Super Bowl topped the annual list of most-watched Canadian television broadcasts five times.
Fortunately, it is simple and affordable to live stream NFL games in Canada. That is because DAZN (pronounced "Da Zone"), an international sports streaming service, provides access to all of them for CA$24.99/mo or CA$199.99/yr.
NFL in Canada
Although there has been talk of the NFL expanding into Canada, it has never happened. This is partially because many Canadians do not want their own version of the sport, which is played in the CFL, to suffer as a result.
American teams have dabbled in playing across the northern border, but the ticket sales for these games were disappointing.
However, bringing an NFL team to Toronto is an idea that has not been completely sidelined. Support for it would presumably be greater than the handful of times the Buffalo Bills played home games there, as fans would instead have a team that they could call their own.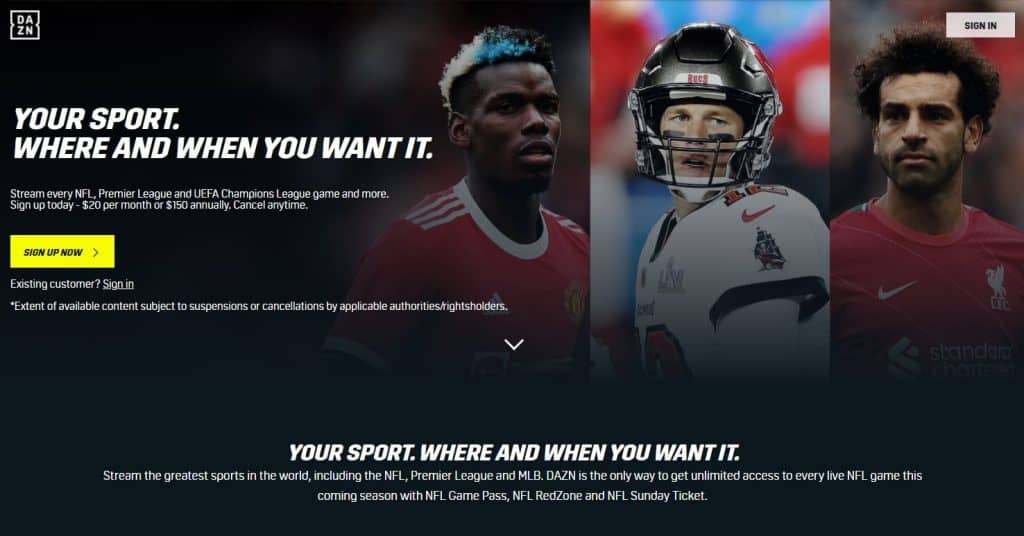 NFL on Canadian Television
CTV, CTV2, TSN, RDS, and RDS2 broadcast NFL games to Canadians throughout the season. CTV/CTV2, TSN, and RDS/RDS2 generally team up to simultaneously broadcast games in all time slots.
For example, during the first week of the 2021 season, CTV, TSN, and RDS2 broadcast the Thursday Night Football game between the Dallas Cowboys and Tampa Bay Buccaneers. Meanwhile, CTV2, TSN, and RDS showed the Monday Night Football contest that was played between the Baltimore Ravens and Las Vegas Raiders.
Keep in mind that CTV and TSN are broken into various regional stations as well. A game that is available on one may not necessarily be available on another.
As for the Super Bowl, it is shown on CTV, TSN, and RDS, the latter option offering French-language commentary to viewers.
Note that NFL games broadcast on US-based channels that are available on the Canadian side of the border may be viewed here as well. Some can be accessed over the air with an antenna (such as Fox, CBS, and NBC) while some are available through Canadian cable and satellite provider packages (ESPN).
Live Streaming the NFL
With that said, things simplify greatly for football fans who want to stream the NFL live as all of them are offered by DAZN for CA$24.99/mo or CA$199.99/yr. That is because the NFL Game Pass is included with the base DAZN subscription.
This means Canadian DAZN subscribers get:
Every single game, live, as it's happening: primetime games and Sunday afternoon matchups
The entire NFL season: preseason, regular season, the playoffs, and the Super Bowl
Replays of games on demand, including full, condensed, and Coaches Film
NFL RedZone, which is seven hours of whip-around coverage of every touchdown, major drive, and spectacular pass on Sunday afternoons
NFL Network, 24 hours a day
The NFL is not the only thing that DAZN provides its subscribers. If you are also a fan of association football (soccer), you will surely be checking out DAZN's UEFA Champions League, UEFA Europa League, and MLS offerings as well. It also streams plenty of tennis, darts, rugby, and boxing action. Meanwhile, many baseball fans regularly watch its streaming of the MLB Network.
DAZN also provides NFL broadcasts and other sports events to subscribers who are based in Austria, Germany, Switzerland, and Japan.
DAZN Canada Live Streaming Devices for NFL
DAZN supports a wide variety of streaming devices:
Smart TVs and Devices: Amazon Fire TV, Android TV, Apple TV, Chromecast, Cox, LG Smart TV, Samsung Smart TV, Roku TV, Vizio TV, Xfinity
Mobile: Amazon Fire tablet, Android OS devices, iOS devices
Gaming: PlayStation 4/5, Xbox One (X|S).
Wrapping Up
If you are an NFL fan, want to go cordless, and are located in Canada, you should subscribe to DAZN (CA$24.99/mo). If you do so, you will be able to view every NFL game, all the way through to the Super Bowl in February.
FAQ
Can you watch the NFL in Canada for free?
Depends on where you live, but, broadly speaking, CTV and TSN should provide free coverage of at least some games. The question is whether those games involve the teams you want to see. If you find the teams you would like to see are consistently not shown in your area, you should strongly consider subscribing to DAZN to get access to all the NFL games everywhere.
Is NFL Sunday Ticket available in Canada?
Technically speaking, DAZN holds the Canadian rights to NFL Sunday Ticket (in the US available exclusively from YouTube TV). But Sunday Ticket exists for one purpose, and that is to provide out-of-market Sunday afternoon games. Outside the US, the term "out-of-market" isn't very useful — which is why the NFL Game Pass doesn't bother to differentiate.
What is the difference between NFL Sunday Ticket, NFL Game Pass, NFL+, and NFL Network, and which one(s) does DAZN provide?
The only thing these all have in common is that they are all directly owned and provided by the NFL itself. Let's go through one by one:
NFL+ Premium: The current official NFL streaming service in the United States. Inferior to the NFL Game Pass, which is only available outside the US, it strictly limits live games to local-to-you and nationally televised on your mobile device (you can watch replays of any game on any device). Not available in Canada.
NFL Network: The official cable channel of the NFL, it features some preseason games and some international NFL games, plus a lot of news and analysis and some original productions. It used to show Thursday Night Football, but that got taken over by Amazon. Included with DAZN in Canada.
NFL Sunday Ticket: The only way in the US to watch non-local Sunday afternoon games live. It only covers Sunday afternoon regular season games, and only the ones that are not shown on your local TV stations. Included with DAZN in Canada.
NFL Game Pass: The international NFL streaming service, currently distributed by DAZN. In Canada and some other countries, it's part of the DAZN subscription. In other countries, it's a stand-alone service. In some countries, such as China, it's not available at all. It is not available in the US. Included with DAZN in Canada.
Has there ever been a Canadian NFL team?
No. There's been some support for it, but the closest that this has come to happening occurred when the Buffalo Bills played a home game in Toronto every season from 2008-13. However, attendance in those matchups disappointed. The final one drew just 38,969 fans. That was for the Atlanta Falcons 34-31 overtime win over the Bills on Dec 1, 2013, the last time that an NFL regular-season game took place in Canada.
A preseason contest was later played in Winnipeg, Manitoba, in 2019. But that game experienced controversy as the end zones were proven to be unusable. Additionally, the attendance was only 21,992 — apparently due to high ticket prices.
Does Canada get NFL games on TV?
It certainly does. Canadians across the country can watch NFL games on their regular live TV channels: CTV, CTV2, TSN, RDS, and RDS2. See our section above on Canadian Television for more info. However, similar to the US, piecing together the different rights-holders across networks can be a pain in the neck.
The breakdown as of this writing goes like this:
Thursday Night Football (shown in the US exclusively through Amazon Prime Video) is on Bell Media (TSN, RDS, and CTV2).
Sunday afternoon games (on CBS or Fox in the US) are distributed through CTV (early games) and TSN (late games).
Sunday Night Football (presented by NBC in the US) is on TSN
Monday Night Football (aired on ESPN or ABC in the US) is also on TSN, which carries ESPN's original programming in Canada.
What's the cheapest way for me to watch NFL games as a Canadian travelling in the US?
You'd need a US method of payment to swing it, but you could get yourself a Sling TV subscription. Sling TV is a US-based streaming service, and the cheapest way of watching ESPN. It also includes NBC and Fox in select locations. It does not have CBS. The least expensive way to add CBS to the mix, short of an antenna, is to subscribe to Paramount+.
An alternative to Sling would be ESPN+, ESPN's own stand-alone streaming service, but ESPN+ only has the main feed for a few games. For most games, it has alternate presentations, such as the Manningcast. For some, that's a plus.
Sling TV, Paramount+, and ESPN+ are all month-to-month services with no contracts or commitments — you can pay for one month and cancel. If you subscribe at the right time, you might even score a free trial.
What are the names of all the NFL teams?
There are currently 32 teams in the NFL, divided into the American and National Football Conferences, and further divided into North, South, East, and West divisions within each conference.
More Info on NFL Without Cable
If you still have questions, these resources should help:
Page Updates
▼
▲
Updated some section headings. Cross linking.

Cross linking. Pricing updates. Reformatting.

Linking. Various changes to content. Formatting changes.

Pricing updates. Linking. Various content updates.

Image changes. Added a few links.

Reworked one section. Cross linking.

Put related links. Mentioned offers. Changed a few bits of content.
Latest posts by Frank Moraes
(see all)