Every college football season ends with a flurry of games featuring the top teams in all the biggest conferences. Starting Friday, December 16th and running into the new year, Bowl Season will feature 43 individual games!
And by far the cheapest way to watch almost all of these games is the Sling Orange plan for $40.00/mo. We have all the details below!
In a hurry? The Sling Orange plan provides ESPN, ESPN2, and ABC Sports — the channels you need to watch 40 of the 43 games for just $40.00/mo! And you get other channels like TNT and TBS, so you can watch March Madness when it comes along.
Live TV With Sling
Although it seems like the hip upstart of the streaming world, Sling TV is actually the oldest live TV streaming service. That may explain why it is so unique. DIRECTV STREAM, FuboTV, Hulu + Live TV, and YouTube TV — they all offer plans that are based on what the cable companies offer. Sling goes its own way.
Sling TV starts with low-cost base plans: Orange (ESPN, Disney) and Blue (Fox, NBC). You can then build on them with different channel packages, over 40 specific channel plans, and the best foreign-language options in the industry. Sling allows you to get the channel lineup you want rather than weighing you down with large plans will with channels you don't care about.
You also get 50 hours of cloud DVR storage with Sling TV. If you love channel-surfing, this may not be the way to go. But if you know what you want and you don't want to spend a lot of money, Sling TV is the obvious choice.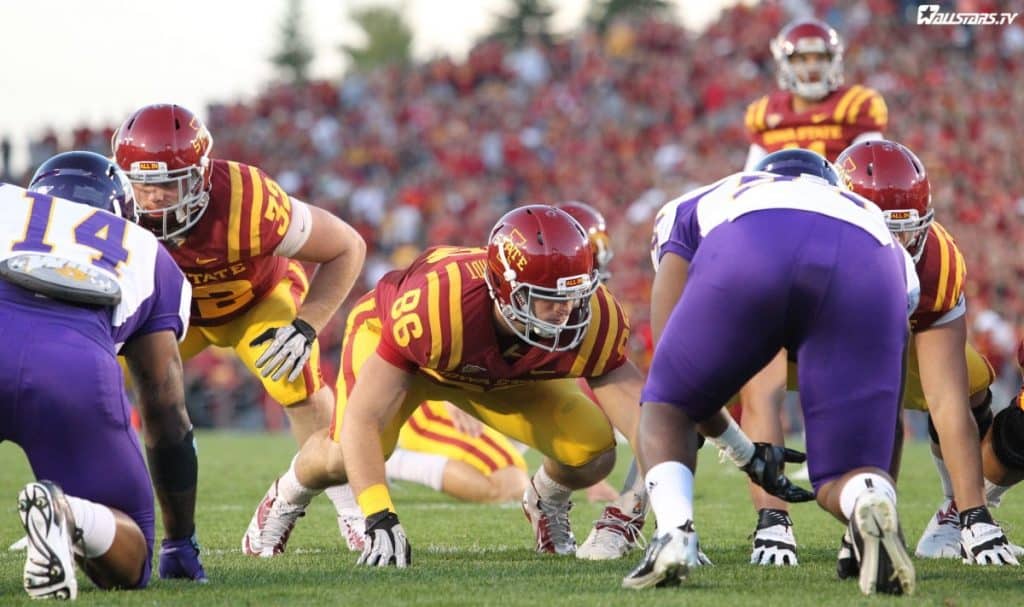 NCAA Bowl Season on Sling TV
Bowl Season has grown a lot over the years. It started with only one major game in 1930:
1930: 1
1940: 5
1950: 8
1960: 8
1970: 11
1980: 15
1990: 19
2000: 25
2010: 35
2022: 43.
Two new bowl games were introduced just this year. It's a Christmas gift to NCAA football fans everywhere.
Almost all of the games air on ESPN/ABC channels. That means you can watch 40 of the 43 games with just a Sling Orange plan. The three that aren't included are:
Fri Dec 30 : Sun Bowl — available on CBS with Paramount+
Fri Dec 30 : Arizona Bowl — available for free with the Barstool Sports app
Mon Jan 9 : National Championship Game — available with Sling Orange & Blue on Fox
2022 Bowl Season Schedule
Here are all the games that you can watch with a Sling Orange subscription:
College Football Playoffs
The College Football Playoffs consist of three games this year. On Saturday, December 31st, the Fiesta Bowl will feature matchup between Michigan and TCU at . At the same day is the Peach Bowl featuring Georgia vs Ohio State. Both games are on ESPN and thus part of the Sling Orange plan.
The two winners of these games compete a week later in the College Football Championship game on January 9th at at SoFi Stadium in Inglewood, California. This game is on Fox and so you will need to get Sling Orange & Blue.
College Football on Sling TV
The base Sling Orange package will provide you with all the sports coverage you need — especially when it comes to NCAA sports. But if you want more, you can have it.
Sports Extra Add-on
The Sports Extra add-on gives you many extra channels — especially when it comes to NCAA sports. For $11/mo extra, you get 14 channels:
Sling Blue
Sling Blue is the other base plan. You can combine it with the Orange plan for $55.00/mo. It adds about 20 total channels to the package. This includes sports channels Fox, FS1, NBC, USA, and NFL Network.
You can also get further channels through the Sports Extra package ($15/mo when you get Orange & Blue): Big Ten Network, FS2, Golf Channel, and NFL RedZone.
Why Choose Sling TV for Bowl Season
You can watch most of the college football bowl games on the major streaming services. But Sling TV offers much to recommend it:
Much less expensive than other services — other competitors like FuboTV, Hulu + Live TV, DIRECTV STREAM, and YouTube TV are more than three times as expensive as the first month of Sling TV.
Support for most streaming devices currently in use
Only service with real antenna integration
Unmatched channel add-on selection including 46 specific channel add-ons
Great on-demand selection
Comes with cloud DVR with 50 hours of storage.
Devices to Live Stream Bowl Games on Sling TV
Sling TV offers pretty much every streaming device in use. The only notable exception is the PlayStation. See our full list of devices if you have questions, but you'll probably find your devices here:
Amazon Fire TV (Firestick)
Android Mobile
Android TV
Apple TV
Chromecast
iOS (iPad, iPhone)
LG TVs
Roku
Samsung TVs
Vizio TVs
Web browsers
Xbox
Wrapping Up
For just $40.00/mo, you can watch virtually all of the college bowl games. Sign up now!
FAQs
Does Sling TV offer ABC?
Sling TV does not offer ABC but it does offer all the sports that air on ABC including the five bowl games that will be broadcast there. This is because ESPN3 shows all ABC Sports events live. And Sling TV is the only streaming service that offers ESPN3.
Can I watch the bowl games for free?
Most of the bowl games air on ESPN — and one on ESPN2. These are cable TV channels and they are not free. You need to get them through a paid streaming service. Six games appear on over-the-air local channels — five on ABC and one on CBS. These channels can be viewed for free with an antenna. If you are interested in this, Sling TV makes it easy to integrate with your streaming channels. Check out its service!
Featured image based on Alabama Football via Picryl (public domain).
Page Updates
▼
▲
Additional links. Various content updates.

Added FAQ section. Added links to streaming services. Added buttons for streaming services. Updated one section. Added useful links. Misc content updates.
Latest posts by Frank Moraes
(see all)