Are you interested in combat sports and athletic and musical entertainment? If so, you should consider giving FITE.TV a try. For nominal prices per month, you can take advantage of one or more of its various subscription packages.
In a hurry? The Fite+ subscription is the plan that will appeal to most fans and at just $4.99/mo it's hard to pass up.
What Is FITE.TV?
FITE.TV is a streaming service that was launched in 2012 and has dual offices in New York and Sofia, Bulgaria. It focuses on pro wrestling, boxing, and mixed martial arts — both live and replays. But its offerings aren't limited to those.
Over the past decade, it has also carried motorsports, basketball, and soccer competitions (including FIFA World Cup qualifiers). It's even hosted major musical events, such as "Kiss 2020 Goodbye."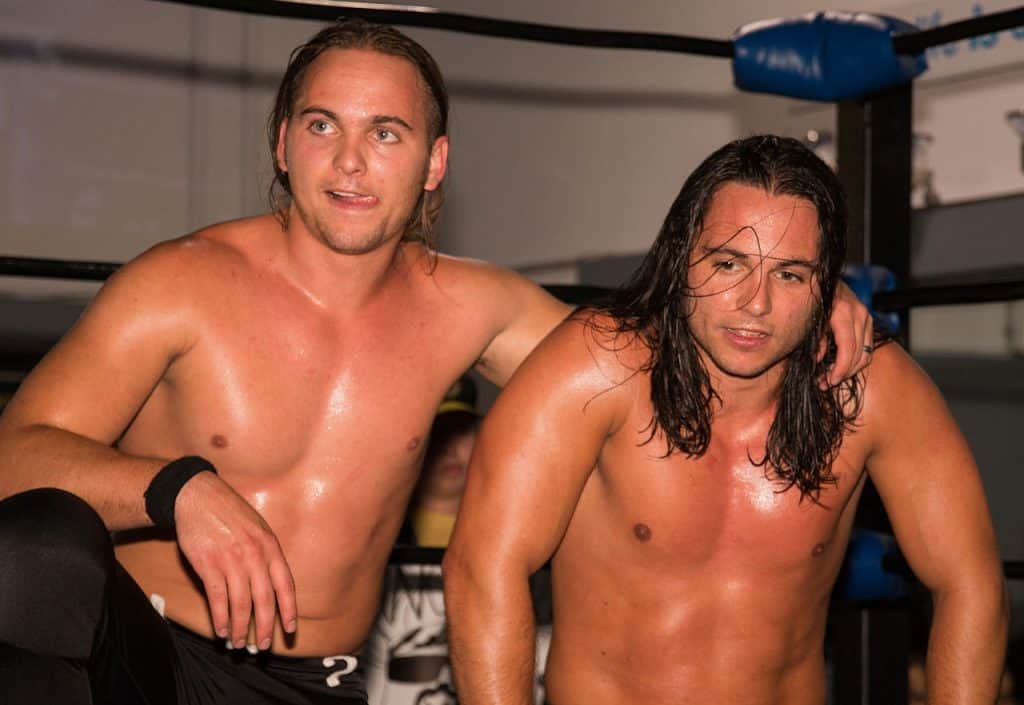 Wrestling
All Elite Wrestling is one of FITE.TV's most popular offerings. AEW has quickly grown in stature since its founding in 2019 to threaten WWE's spot at the top of professional wrestling. It is judged by most experts to be the WWE's greatest threat in decades.
CM Punk's return to wrestling with AEW in front of a sold-out United Center in Chicago on Aug 20, 2021, is the AEW's top moment to date. Its weekly show, AEW Dynamite, is now broadcast on TBS.
National Wrestling Alliance (NWA) competitions are also regularly streamed through FITE.TV. NWA is an organization that has been around much longer than AEW and even WWE, having been founded in 1948. NWA Powerrr is one of the popular programs that FITE.TV streams.
FITE.TV also carries Ring of Honor events, but that organization went on hiatus in late 2021, and it is unclear if it will be returning to action. ROH officials are hoping to do so at some point in 2022.
Pay-per-view (PPV) wrestling competitions are also available through FITE.TV. But note that watching them live is sometimes not possible through FITE.TV for subscribers in the US. However, archived PPV events are widely available to all through this streaming service, particularly competitions airing more than 30 days before.
However, viewing programming such as AEW Dynamite through FITE.TV is not possible in the US. Those here need to secure access to TBS to watch that weekly show.
Another wrestling organization that FITE.TV offers content of is Nacion Lucha Libre.
Other Events
FITE.TV provides access to an impressive selection of boxing matches.
As far as PPV boxing events go, its selection varies. One event was Fight Night 15: Celebrity Net Fights 2, which was scheduled for Jan 22, 2022, with a cost of $29.99, and was made available in the US. An event that was not made available here through FITE.TV was Jake Paul vs Tyron Woodley II. Although it could have been purchased by most outside the US through FITE.TV, most here got it through Showtime.
FITE's mixed martial arts offerings are extensive as well. For example, you can watch MMA Power Hour, Brazilian Jiu-Jitsu events, and Bare Knuckle Fighting Championship (BKFC) matchups, some for free and some PPV.
Although the above sports and types of entertainment are FITE.TV's focus, it does offer a variety of other live events. For example, if you want to watch the Valencia Marathon, which was held in Spain on Dec 5, 2021, you can do so here for free.
It has also streamed FIFA World Cup qualifiers played by South American national teams in 2020 as PPV content. Although FITE.TV's soccer offerings have decreased since then, matchups are still available from time to time. One example is a men's friendly played between Colombia and Honduras in Fort Lauderdale, FL, on Jan 16, which was available to watch for $24.99.
FITE.TV's auto racing streams — some are free and some are PPV — include events such as drag racing and competitions such as the Grand Prix of St Petersburg, which takes place in Florida.
Concerts involving acts such as The Rolling Stones, Black Sabbath, and Kiss have been on FITE.TV as well.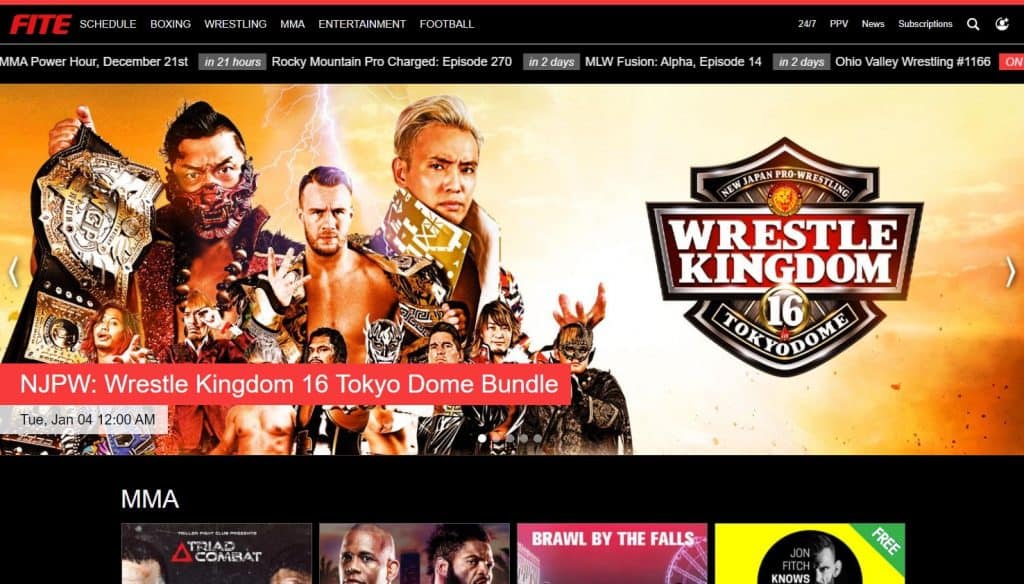 Subscription Plans
FITE.TV offers a number of subscription plans, both monthly and annual as well as ones specific to a single event (pay-per-view). The availability of these varies, depending on where you are located. In particular, what is available to those in the US is different than in most other countries.
Free Stream
Before getting into the subscription plans, note that FITE.TV offers a free 24-7 stream that is widely available. Its focus is boxing, MMA, and wrestling. And it features past matches and clips.
Fite+
Fite+ ($4.99/mo) offers access to numerous boxing, MMA, wrestling, and related events from an extensive list of organizations that includes Star Boxing, Celebrity Championship Boxing, Unified MMA, Top Rank, and Shamrock.
Delayed access to numerous pay-per-view events may also be watched through this subscription; you need to wait 30 days to view those broadcasts.
NWA Powerrr
Another widely available subscription that FITE.TV offers is NWA Powerrr for $4.99/mo. This subscription provides you with access to new and past NWA Powerrr episodes as well as some past PPV events.
TrillerVerzPass and TrillerPass
TrillerVerzPass ($2.99/mo) provides access to Triller Fight Club events, which consist of an intriguing blend of fighting done in a historical style and music, the latter sometimes consisting of rap battles.
TrillerPass ($29.99/mo) is what you want if you do not mind paying a premium to be able to also watch live pay-per-view events that are being put on by this organization.
The list of fighters and musicians who have been watched through this includes Mike Tyson, Evander Holyfield, Wiz Khalifa, and Snoop Dogg.
HonorClub and HonorClub VIP
The fifth subscription offered by FITE is HonorClub for $9.99/mo. Through it, you can enjoy extensive access to Ring of Honor wrestling events. If you want to move up to its related HonorClub VIP subscription ($119.99/yr), your payment will provide you with access to any ROH PPV events as well.
AEW Plus and Top Rank
A couple of subscriptions that are not available in the US are AEW Plus and Top Rank (both $4.99/mo). The former provides a way for those abroad to watch US-broadcast shows such as AEW Dynamite and AEW Dark. The latter is the place to go to view prestigious boxing events of the present and past.
DVR
DVR capability is available on FITE.TV, including for its free stream.
Supported Devices
You can watch FITE.TV events through an impressive selection of streaming devices and TVs. The FITE app is available on the following:
Amazon Fire Tablet
Amazon Fire TV
Android mobile
Android TV-compatible TVs
Apple TV
Cox Contour
Chromecast
DIRECTV STREAM devices
Hisense smart TVs
iOS
LG smart TVs
Netgem set-top boxes
Panasonic smart TVs
PlayStation (PS4)

Roku
Samsung smart TVs
Sharp smart TVs
Shaw TV
Sony smart TVs
TiVO boxes
Virgin TV
Vizio SmartCast TVs
Web browsers
Xbox One
Xfinity Flex/X1.
Alternatives
If you are looking for content that is similar to what is available on FITE.TV through other means, you have options.
YouTube
YouTube is a free one to consider. For example, the official All Elite Wrestling YouTube channel provides access to a tremendous selection of AEW content, including several 60+ minute videos showing wrestling competitions.
Showtime
Showtime is an option to watch premier PPV events that are available through FITE.TV to some but not to those in the US. Note that you do not need to have subscribed to Showtime to watch its PPV streams. For more about the service, see our Showtime review.
Sling TV
Sling TV is another option for watching PPV events. For example, it, like Showtime, offered access to "Jake Paul vs Tyron Woodley II." However, you needed a Sling TV subscription to pay for this on top of that. They offer solid live TV plans for $35/mo, which will also give you TBS that will allow you to watch AEW Dynamite on TBS. See our SlingTV review for more information.
ESPN+
ESPN+ exclusively streams some UFC PPV events. For example, you could have watched UFC 269 on Dec 11, 2021, by paying for an ESPN+ base subscription for $6.99/mo and the PPV cost for this event of $69.99. For more information, see our ESPN+ review.
DAZN
DAZN is a popular place for boxing fans. For $19.99/mo ($99.99/yr — $8.33/mo), you can enjoy its live and archived programming, which focuses on boxing. It also offers some soccer content, and it streams UEFA Women's Champions League matches on YouTube. Get more details in our DAZN review.
Wrapping Up
If you are a wrestling fan, FITE.TV is a streaming service that you should look into. Take advantage of its free live stream and see if that intrigues you enough to cause you to consider paying for one or more of its subscriptions.
Its offerings in sports such as boxing and MMA are not as extensive, but they may be of interest as well. Plus, you may enjoy its other sports content and music events.
Latest posts by Frank Moraes
(see all)