Are you interested in combat sports and athletic and musical entertainment? If so, you should consider giving FITE.TV a try. For nominal prices per month, you can take advantage of one or more of its various subscription packages.
In a hurry? The Fite+ subscription is the plan that will appeal to most fans and at just $7.99/mo it's hard to pass up.
What Is FITE.TV?
FITE.TV is a streaming platform that was launched in 2012 and has dual offices in New York and Sofia, Bulgaria. It focuses on pro wrestling, boxing, and mixed martial arts — both live and replays. But its offerings aren't limited to those.
Over the past decade, it has also carried motorsports, basketball, and soccer competitions (including FIFA World Cup qualifiers). It's even hosted major musical events, such as "Kiss 2020 Goodbye."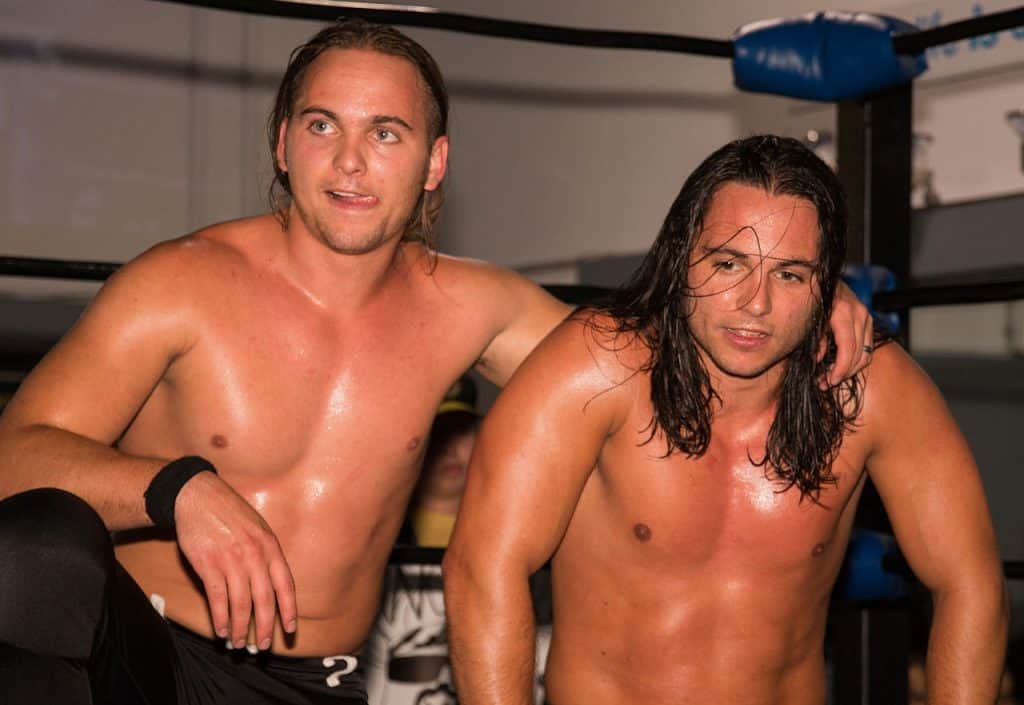 Wrestling
All Elite Wrestling is one of FITE.TV's most popular offerings. AEW has quickly grown in stature since its founding in 2019 to threaten WWE's spot at the top of professional wrestling. It is judged by most experts to be the WWE's greatest threat in decades.
CM Punk's return to wrestling with AEW in front of a sold-out United Center in Chicago on Aug 20, 2021, is the AEW's top moment to date. Its weekly show, AEW Dynamite, is now broadcast on TBS.
Unfortunately, viewing programming such as AEW Dynamite through FITE.TV is not possible in the US. Those here need to secure access to TBS to watch that weekly show.
National Wrestling Alliance (NWA) competitions are also regularly streamed through FITE.TV. NWA is an organization that has been around much longer than AEW and even WWE, having been founded in 1948. NWA Powerrr is one of the popular programs that FITE.TV streams.
Other popular wrestling promoters you can find on FITE.TV include:
Impact Wrestling: Just celebrated its 20-year anniversary in June with its annual Slammiversary PPV.
Ring of Honor: went on hiatus in late 2021, but made a comeback in 2022 with two PPV events, most recently the July "Death Before Dishonor" event
New Japan Pro-Wrestling (NJPW): Japanese wrestling at the Tokyodome and home of Wrestle Kingdom
Game Changer Wrestling (GCW): These boys have come a long way from Jersey! Keep an eye on this MMA-influenced indie up-and-comer.
Pay-per-view (PPV) wrestling competitions are also available through FITE.TV. Note that not all PPV events are available live to US subscribers. But archived PPV events are widely available to all through this streaming service, particularly competitions airing more than 30 days before.
Other Events
FITE.TV provides access to an impressive selection of boxing matches.
As far as PPV boxing events go, its selection varies. One event was Fight Night 15: Celebrity Net Fights 2, which was scheduled for Jan 22, 2022, with a cost of $29.99, and was made available in the US. An event that was not made available here through FITE.TV was Jake Paul vs Tyron Woodley II. Although it could have been purchased by most outside the US through FITE.TV, most here got it through Showtime.
FITE's mixed martial arts offerings are extensive as well. For example, you can watch MMA Power Hour, Brazilian Jiu-Jitsu events, and Bare Knuckle Fighting Championship (BKFC) matchups, some for free and some PPV.
Although the above sports and types of entertainment are FITE.TV's focus, it does offer a variety of other live sports events. For example, if you want to watch the Valencia Marathon, which was held in Spain on Dec 5, 2021, you can do so here for free.
It has also streamed FIFA World Cup qualifiers played by South American national teams in 2020 as PPV content. Although FITE.TV's soccer offerings have decreased since then, matchups are still available from time to time. One example is a men's friendly played between Colombia and Honduras in Fort Lauderdale, FL, on Jan 16, which was available to watch for $24.99.
FITE.TV's auto racing streams — some are free and some are PPV — include events such as drag racing and competitions such as the Grand Prix of St Petersburg, which takes place in Florida.
Concerts involving acts such as The Rolling Stones, Black Sabbath, and Kiss have been on FITE.TV as well.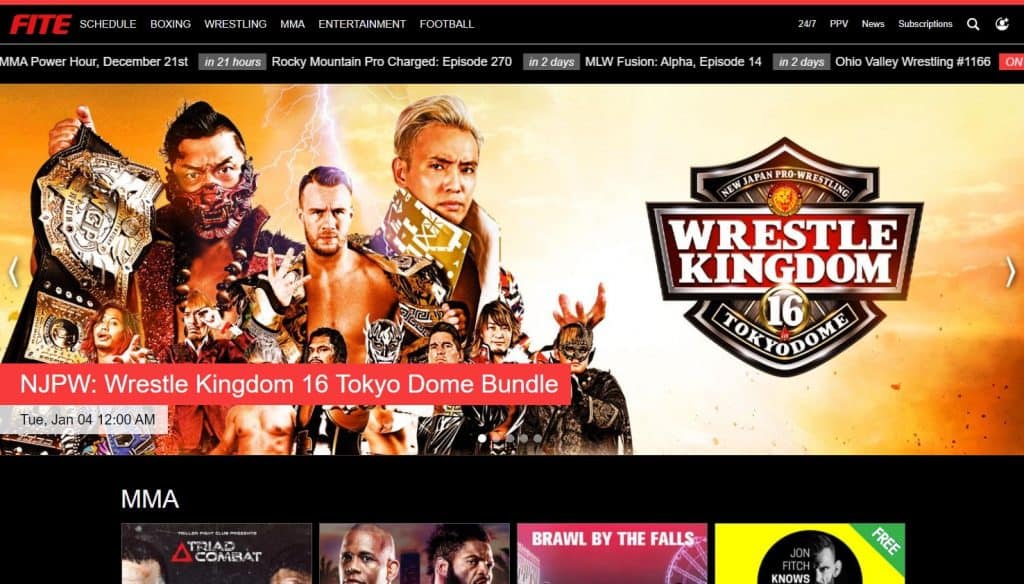 Subscription Plans
FITE.TV offers several subscription plans, both monthly and annual in addition to being able to purchase PPVs individually. The availability of these varies, depending on where you are located.
Before getting into the subscription plans, note that FITE.TV offers a free 24-7 stream that is widely available. Its focus is boxing, MMA, and wrestling. And it features past matches and clips.
Fite+
Fite+ ($7.99/mo or $79.99/yr) offers access to numerous boxing, MMA, wrestling, and related events from an extensive list of organizations that includes Star Boxing, Celebrity Championship Boxing, Unified MMA, Top Rank, and Shamrock.
Delayed access to many pay-per-view events may also be watched through this subscription; you need to wait 30 days to view those broadcasts.
Fite+ is available in the United States.
TrillerVerzPass
TrillerVerzPass ($2.99/mo or $29.99/yr) provides access to Triller Fight Club events, which consist of an intriguing blend of fighting done in a historical style and music, the latter sometimes consisting of rap battles.
The list of fighters and musicians who have been watched through this includes Mike Tyson, Evander Holyfield, Wiz Khalifa, and Snoop Dogg.
TrillerVerzPass is available in the United States.
NWA All Access
Another widely available subscription that FITE.TV offers is NWA Powerrr for $4.99/mo (or $49.99/yr). This subscription provides you with access to new and past NWA Powerrr and NWA USA episodes as well as all past and future NWA PPV events.
NWA All Access is available in the United States.
AEW Plus
$6.99/mo for all of AEW's weekly shows, all in one place. Watch Dynamite, Rampage, Dark, and Elevation live, or past shows on-demand. You also get Battle of the Belts specials.
AEW Plus is not available in the United States.
FITE.TV Features
DVR capability is available on FITE.TV, including for its free stream. You can watch PPVs on up to two screens on the same network.
Supported Devices
You can watch FITE.TV events through an impressive selection of streaming devices and TVs. The FITE app is available on the following:
Amazon Fire Tablet
Amazon Fire TV
Android mobile
Android TV-compatible TVs
Apple TV
Cox Contour
Chromecast
DIRECTV STREAM devices
Hisense smart TVs
iOS
LG smart TVs
Netgem set-top boxes
Panasonic smart TVs
PlayStation (PS4)

Roku
Samsung smart TVs
Sharp smart TVs
Shaw TV
Sony smart TVs
TiVO boxes
Virgin TV
Vizio SmartCast TVs
Web browsers
Xbox One
Xfinity Flex/X1.
Alternatives
If you are looking for content that is similar to what is available on FITE.TV through other means, you have options.
YouTube
YouTube is a free one to consider. For example, the official All Elite Wrestling YouTube channel provides access to a tremendous selection of AEW content, including several 60+ minute videos showing wrestling competitions.
Showtime
Showtime is an option to watch premier PPV events that are available through FITE.TV to some but not to those in the US. Note that you do not need to have subscribed to Showtime to watch its PPV streams. For more about the service, see our Showtime review. Get Showtime with Paramount+.
Sling TV
Sling TV is another option for watching PPV events. For example, it, like Showtime, offered access to "Jake Paul vs Tyron Woodley II." However, you needed a Sling TV subscription to pay for this on top of that. They offer solid live TV plans for $40.00/mo, which will also give you TBS that will allow you to watch AEW Dynamite on TBS. See our SlingTV review for more information.
ESPN+
ESPN+ exclusively streams some UFC PPV events. For example, you could have watched UFC 269 on Dec 11, 2021, by paying for an ESPN+ base subscription for $9.99/mo and the PPV cost for this event of $99.99/yr. For more information, see our ESPN+ review.
DAZN
DAZN is a popular place for boxing fans. For $24.99/mo, you can enjoy its live and archived programming, which focuses on boxing. It also offers some soccer content, and it streams UEFA Women's Champions League matches on YouTube. Get more details in our DAZN review.
Wrapping Up
If you are a wrestling fan, FITE.TV is a streaming service that you should look into. Take advantage of its free live stream and see if that intrigues you enough to cause you to consider paying for one or more of its subscriptions.
Its offerings in sports such as boxing and MMA are not as extensive, but they may be of interest as well. Plus, you may enjoy its other sports content and music events.
FAQ
How do I get FITE.TV?
You can watch the free live stream on the website or through the FITE.TV app. Individual events can be purchased directly through the website (via coupons, credit/debit card, pre-paid card, or PayPal) or the app (billing will vary depending on the device, and you can use FITE credits).
To sign up for one of FITE.TV's subscriptions, just go to the Subscriptions section and click on the View Options button for the one you're interested in. Choose between the Monthly and Annual options and click the appropriate Join button near the top. Just follow the instructions on your screen.
Is FITE.TV free?
FITE 24/7 is FITE.TV's free stream. As the name implies, it's always on. There are previews, live countdown shows, and behind-the-scenes specials. You can catch motorsports, combat sports, soccer, basketball, football, and music. Plus, you can live-chat with the rest of the FITE.TV community. You can even DVR stuff you can't catch live. Content changes weekly, check the FITE.TV website for a schedule of upcoming programming.
You do need to make an account, but registration is free and doesn't even require a credit card.
If you want to watch any of the actual fights, matches, games, or races in their entirety, you'll have to pony up. You can buy events individually, sign up for a subscription, or use FITE.TV credits.
How much does FITE.TV cost?
PPV events range from $9.99 to $99.99. Many are free. Events that included in subscriptions are clearly marked as such, but also have options to buy. Subscribing always cheaper than buying, since it's only $7.99/mo and you can cancel after one month if you just want that one event.
Triller's Fight Club events are a bit different, and a TrillerPass is $2.99/mo.
If you live outside the US, AEW Plus runs $6.99/mo.
For all subscriptions, you get two months free if you pay yearly.
Is there a FITE.TV app?
FITE.TV apps are available for Android and Apple on mobile, and for all the devices listed above. You can find detailed instructions for each device on FITE.TV's website (look for "How to Watch" in the Help section). Like most streaming services, your account will sync across your devices. You can start and stop watching on any device and not lose your place.
Is FITE.TV available on Roku?
You bet, straight from the Roku Channel Store. If you already have a FITE.TV account, you can just sign in. Otherwise, you can sign up free right on your Roku. Requires Roku version 7.7 or higher.
Can I watch FITE.TV on my phone?
Absolutely. You can get it from the iOS App Store or Google Play for Android. You can also use the phone app to cast to your smart TV, Amazon Fire TV, or Chromecast. The FITE app features a TV Connect Wizard that will find and connect your TV as long as it's on the same network.
Does FITE.TV have a free trial?
Not for the subscriptions, but you can get a fairly good idea of whether FITE.TV's mix of combat sports and music is right for you from the free FITE 24/7 livestream. Plus, there is zero commitment, so we're talking risking $7.99 or less for a month.
How many devices can I watch on at a time?
Pay content is available to up to two devices on the same network and the same IP. So you and your kids can watch the same event from different rooms in your house, but you can't share it with your buddies across town. You can refer them, though, and you'll both get credits you can use to pay for PPV events.
Can I download events to watch offline?
While the website doesn't explicitly say you can't, we can't find anywhere where it says you can. FITE instead extensively details the benefits of being able to rewind and pause your event. Typically, DVR for live TV is used so you don't miss a scheduled show or event, but FITE PPVs usually include unlimited replays.
Broadly speaking, cloud-based DVR usually defaults to not allowing downloads, which is why services like Playon exist. So we're going to say, probably not.
Does FITE.TV have ads?
The free FITE 24/7 livestream is ad-supported. Free events also usually have some ad content. PPV events are ad-free. Subscriptions remove the ads from most FITE shows. So, to sum up, it's the usual deal: you can either put up with ads, or pay for your entertainment, but you can't have both.
What promoters does FITE.TV carry?
FITE.TV partners with many of the biggest names in boxing, wrestling, MMA, cage fighting, bare knuckle, Brazilian jiu-jitsu, karate, muay thai, sumo, kickboxing, lucha libre, and more. But it also supports indie newcomers that show promise. Keep your eye on these, so in a few years you can say you saw so-and-so in his first televised fight.
Here's a a very partial list of current promoters from FITE.TV's website:
Triller
PBC
Top Rank Boxing
Triller Fight Club
AEW
Verzuz
Matchroom Boxing
NJPW
Bare Knuckle FC
Impact Wrestling
ROH
You can find the full list on the "Promotions" tab of the FITE.TV website.
Ditch "Big Cable" Now – 3 Simple Steps to Cut the Cord
Pick the right streaming service
Get the content you deserve with the best VPN.
Supercharge your internet provider
That's it — you'll save money, take back control, and enjoy TV more!
Page Updates
▼
▲
Pricing updates. Image changes. Linking.

Additional links. Misc changes to content.

Added buttons for streaming services. Pricing updates. Mentioned promotions. Added a few links.

Added new section. Updated some sub-sections. Updated one section. Pricing updates.

Image changes. Additional links. Misc changes.

Updated some sub-sections.
Latest posts by Frank Moraes
(see all)