Disclosure:
Your support helps keep our site running! We earn referral fees for some of the products & services we recommend.
Learn more
Wimbledon has a special status with many tennis fans — even beyond it being a Grand Slam match. Regardless, all tennis fans want to watch this event. And thankfully, there's no reason you need cable to do so.
In a hurry? ESPN and its related properties will air all of Wimbledon. There are a number of good options for streaming but our first is certainly the best:
Hulu + Live TV: Offering 85+ live TV channels including a bunch from ESPN, this plan also includes ESPN+. Try it free for 7 days!
FuboTV: Especially great for international sports, you get 100+ channels. See if it's right for you with a 7-day free trial.
Sling TV: Watch most of Wimbledon for as little as $35/mo. Try it with a 3-day free trial.
Wimbledon is regarded by many as the world's most prestigious tennis tournament. It is the oldest, first being held in 1877, and it is the only Grand Slam event to take place on grass.
It is also famous for its many traditions, such as the eating of strawberries and cream by those in attendance and the wearing of white uniforms by its players, which is a rule that is strictly enforced by officials.
Wimbledon
Wimbledon started in 1877 with a men's singles competition. This consisted of a 22-player all-British field.
Spencer Gore defeated William Marshall, 6-1, 6-2, 6-4, in the final in front of 200 spectators. This historic moment occurred nine years after the All England Lawn Tennis and Croquet Club, Wimbledon's organizing body, was founded.
The inaugural women's singles competition took place in 1884. Maud Wilson outlasted a 13-player field to win the tournament. She her first two matches in straight sets. But she was tested in her semifinal and final contests, rallying from a set down in both. She claimed the final, 6-8, 6-3, 6-3, over Lilian Watson.
A significant change occurred in 1922. In nearly all prior years, whoever won the title the previous edition only had to claim one match to repeat as champion, against whoever outlasted the rest of the field through several rounds of play. Now, they enter the main draw with everyone else.
Another change occurred in 1968 when professionals were initially allowed to take part.
Today, 128 men and 128 women participate in its singles competitions, playing through seven rounds to decide the winners. Doubles, junior, and wheelchair events are held here as well.
Nineteen courts are in use during the fortnight, and two, Centre Court and No 1 Court, can be protected from wet or hot weather conditions by their retractable roofs.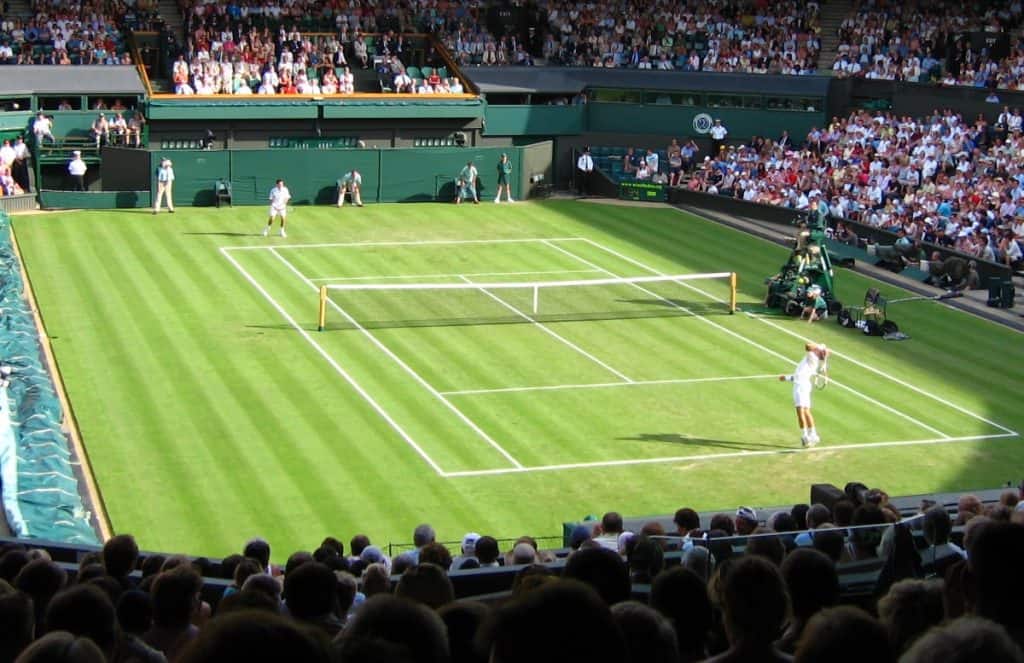 Middle Sunday Play Starting in 2022
One of the traditions of Wimbledon has been that the middle Sunday is not a match day. There were, however, exception for when weather or other delays backed up the schedule enough to necessitate it being used. This occurred in 1991, 1997, 2004, and 2016.
This will no longer be the case. Starting in 2022, that middle Sunday will be treated as a regular match day.
Many preferred having that middle Sunday off, for tradition and rest-related reasons. But one of the benefits of having it be a regular match day is that top women's players will no longer have to play their round of 16 and quarterfinal matches on back-to-back days, on the following Monday and Tuesday.
Generally, players will now all enjoy a regular one-day-on, one-day-off playing schedule.
Tiebreakers in Deciding Set Implemented at 12-12
In 2010, John Isner and Nicolas Mahut played what many view as the most epic match in the sport's history. With no tiebreakers being implemented in the final set at that time, there was no ceiling on how long theirs or any Wimbledon match could go.
And theirs went to levels never seen before. Isner prevailed, 6-4, 3-6, 6-7 (7), 7-6 (3), 70-68, in a match that lasted 11 hours and five minutes, making it the longest in tennis history by both games played and time contested.
Partially as a result of that, Wimbledon officials implemented a tiebreaker in the final set once it reaches 12-12, ensuring that there is a ceiling as far as how long these matches can last. That rule change was put into effect in 2019.
Grass
Wimbledon is the last Grand Slam event to be played on grass. However, it did not always stand out in that respect. The Australian Open had been played on that surface until 1988 while the US Open was contested on grass until 1975.
Grass' effects on the sport include it creating a faster-paced ball that experiences lower bounces. Players with good serves and solid net play tend to experience more success here.
Grand Slam
Wimbledon is the third Grand Slam event of the year. The first one is the Australian Open, which takes place in the middle of the summer in that Southern Hemisphere country, in January.
The next one is the French Open, which is scheduled just before Wimbledon, in May and June. Wimbledon is in July.
The Grand Slam portion of the tennis season comes to an end in September with the US Open.
Where to Watch Wimbledon
Those based in the US can watch Wimbledon through ESPN, ESPN2, and ESPN+ while ABC shows archived broadcasts of the men's and women's finals.
ABC actually introduced this competition to Americans. It initially showed highlights during an episode of Wide World of Sports episode in 1963. After that, NBC, HBO, TNT, and ESPN had coverage in many of the intervening years. ESPN took sole possession in 2012.
Meanwhile, fans who are based in the UK can watch the action on the BBC with matches being broadcast on BBC One, BBC Two, BBC Red Button, BBC Radio 5 Live, 5 Live Sports Extra, BBC iPlayer, and BBC online. Eurosport also broadcasts Wimbledon in the UK.
Rights vary elsewhere in the world. For example, Canadians can watch Wimbledon on TSN, Aussies can do so on the Nine Network, and New Zealanders can view play on Sky Sports.
Meanwhile, those in many areas of Europe can watch on Eurosport while beIN Sports is the home for Wimbledon in France and the Middle East.
Ways to Watch Wimbledon Without Cable
Americans have numerous options when deciding how to stream Wimbledon matches.
Hulu + Live TV

The best option for watching Wimbledon is Hulu + Live TV ($69.99/mo). This is because it not only offers ESPN, ESPN2, and several other channels that show tennis and other sporting events. Its base plan also includes access to ESPN+.
Hulu Live comes with 50 hours of cloud DVR storage and the ability to stream on up to two devices at once. For more information, see our Hulu + Live TV review.
FuboTV

FuboTV ($64.99/mo) is another solid multi-channel streaming service that offers access to ESPN, ESPN2, and numerous other sports-oriented and general-interest channels. However, you would need to pay separately for access to ESPN+ ($6.99/mo) and complete Wimbledon coverage.
FuboTV comes with 250 hours of cloud DVR storage and three simultaneous streams. See our FuboTV review for details.
Sling TV

The Sling Orange plan ($35/mo) features ESPN and ESPN2 in addition to other channels that may be of interest to you, such as TBS and TNT. Combining this with an ESPN+ subscription ($6.99/mo) is your cheapest option for securing complete access to Wimbledon.
Sling TV provides 50 hours of cloud DVR storage but limits you to a single screen with this plan. See our Sling TV review for more information.
DIRECTV STREAM

DIRECTV STREAM offers ESPN and ESPN2 through its Entertainment plan ($69.99/mo). Also included in that rate are channels such as Fox Sports 1 (FS1), but you would need to get its Choice plan ($84.99/mo) to access the Tennis Channel. ESPN+ access would need to be purchased separately for $6.99/mo.
DIRECTV STREAM comes with only 20 hours of cloud DVR storage but it does allow you to stream on up to 20 devices at once. For more, see our DIRECTV STREAM review.
Other Streaming Services
ESPN is widely available from streaming services so there are other options.
Vidgo ($55/mo): Provides access to ESPN, ESPN2, and numerous other channels in its base rate. Our Vidgo review explains everything.
YouTube TV ($64.99/mo): Provides a plan similar to Hulu + Live TV although it lacks ESPN+.
Outside the US
Unfortunately, many of the streaming services that are available in the US are not accessible elsewhere. ESPN+ is included in that group. However, many based elsewhere can secure streaming access to Wimbledon through other means.
For example, Brits are taken care of as the BBC provides streaming access to this competition. Additionally, Eurosport offers Wimbledon streams to many Europeans who subscribe to its service.
Meanwhile, those in Australia can watch Wimbledon through 9Now while Sky Sport Now is what New Zealanders need.
Streaming Devices to Watch the Wimbledon Live
Most streaming devices are supported by the live TV services we've discussed: Amazon Fire TV, Android mobile, Apple TV, Chromecast, iOS, Roku, Samsung smart TVs, and web browsers.
Hulu, Fubo and Sling also support Android TV, LG smart TVs, and Xbox gaming systems. Hulu and Fubo support Vizio smart TVs. Hulu also supports PlayStation units. DIRECTV STREAM offers its own device, which can be useful for people just making the switch from cable.
Other streaming devices are supported to a lesser extent. See our reviews for details.
Summing Up
US-based tennis fans looking for the cheapest option to watch Wimbledon should get the Sling Orange plan ($35/mo) and ESPN+ ($6.99/mo). But our top pick is Hulu + Live TV, which includes ESPN+ access in its $69.99/mo base rate.
Latest posts by Frank Moraes
(see all)