Wimbledon has a special status with many tennis fans — even beyond it being a Grand Slam match. The 2023 event starts July 3rd and runs through July 16th. Regardless, all tennis fans want to watch this event. And thankfully, there's no reason you need cable to do so.
In a hurry? ESPN and its related properties will air all of Wimbledon. There are a number of good options for streaming but our first is certainly the best:
Fubo: The best streaming service for international sports also provides 130+ well-selected channels. Fubo allows you to try out its service free for 7 days.
DIRECTV STREAM: Get a great channel lineup with the best selection of RSNs in the industry. A 5-day free trial is now available for DIRECTV STREAM.
Sling TV: This low-cost service allows you to select just the channel lineup you want. Save 50% on your first month of Sling TV.
If you can't watch your favorite sports because of your location, get ExpressVPN to access the content you deserve.
Unfortunately, we don't know a streaming service in that covers this sport. But if you've already paid for the right service, and just can't watch because of your location, there is an easy way to get the content you deserve. You need a VPN, like one of the following.
| | | |
| --- | --- | --- |
| | ExpressVPN: Known as "The VPN that just works," it combines remarkable ease of use with with state-of-the-art power, speed, security, and privacy. Get three extra free months when you sign up for a year. Unleash your streaming with this top-rated VPN. | Sign Up Now |
| | Surfshark: Surfshark: Secure and easy to use with thousands of servers around the world. Of special note is its excellent collection of servers inside the US, which is great for regional sports lie NFL, MLB, and NBA. Get it now with an incredible 82% discount on a 24-month plan. | Sign Up Now |
| | NordVPN: One of the top VPNs with extremely fast servers all over the world. Great for streaming with tested perfomance on the biggest servers and included ad-blocking. Currently offering 70% discount on 2-year plans. | Sign Up Now |
If you're overwhelmed and not sure where to begin, you'll find all the answers in our full VPN guide.
Wimbledon is regarded by many as the world's most prestigious tennis tournament. It is the oldest, first being held in 1877, and it is the only Grand Slam event to take place on grass.
It is also famous for its many traditions, such as the eating of strawberries and cream by those in attendance and the wearing of white uniforms by its players, which is a rule that is strictly enforced by officials.
Sign Up for a Free 7-Day Fubo Trial
Wimbledon
Wimbledon started in 1877 with a men's singles competition. This consisted of a 22-player all-British field.
Spencer Gore defeated William Marshall, 6-1, 6-2, 6-4, in the final in front of 200 spectators. This historic moment occurred nine years after the All England Lawn Tennis and Croquet Club, Wimbledon's organizing body, was founded.
The inaugural women's singles competition took place in 1884. Maud Wilson outlasted a 13-player field to win the tournament. She her first two matches in straight sets. But she was tested in her semifinal and final contests, rallying from a set down in both. She claimed the final, 6-8, 6-3, 6-3, over Lilian Watson.
A significant change occurred in 1922. In nearly all prior years, whoever won the title the previous edition only had to claim one match to repeat as champion, against whoever outlasted the rest of the field through several rounds of play. Now, they enter the main draw with everyone else.
Another change occurred in 1968 when professionals were initially allowed to take part.
Today, 128 men and 128 women participate in its singles competitions, playing through seven rounds to decide the winners. Doubles, junior, and wheelchair events are held here as well.
Nineteen courts are in use during the fortnight, and two, Centre Court and No 1 Court, can be protected from wet or hot weather conditions by their retractable roofs.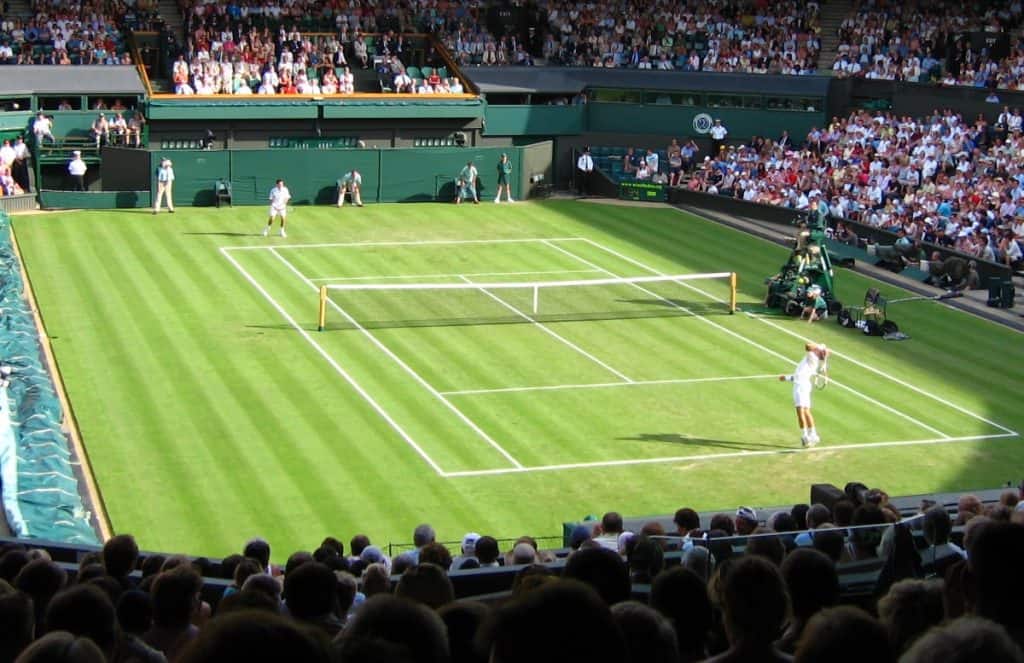 Middle Sunday Play Starting in 2022
One of the traditions of Wimbledon has been that the middle Sunday is not a match day. There were, however, exception for when weather or other delays backed up the schedule enough to necessitate it being used. This occurred in 1991, 1997, 2004, and 2016.
This will no longer be the case. Starting in 2022, that middle Sunday will be treated as a regular match day.
Many preferred having that middle Sunday off, for tradition and rest-related reasons. But one of the benefits of having it be a regular match day is that top women's players will no longer have to play their round of 16 and quarterfinal matches on back-to-back days, on the following Monday and Tuesday.
Generally, players will now all enjoy a regular one-day-on, one-day-off playing schedule.
Tiebreakers in Deciding Set Implemented at 12-12
In 2010, John Isner and Nicolas Mahut played what many view as the most epic match in the sport's history. With no tiebreakers being implemented in the final set at that time, there was no ceiling on how long theirs or any Wimbledon match could go.
And theirs went to levels never seen before. Isner prevailed, 6-4, 3-6, 6-7 (7), 7-6 (3), 70-68, in a match that lasted 11 hours and five minutes, making it the longest in tennis history by both games played and time contested.
Partially as a result of that, Wimbledon officials implemented a tiebreaker in the final set once it reaches 12-12, ensuring that there is a ceiling as far as how long these matches can last. That rule change was put into effect in 2019.
Sign Up for a Free 7-Day Fubo Trial
Grass
Wimbledon is the last Grand Slam event to be played on grass. However, it did not always stand out in that respect. The Australian Open had been played on that surface until 1988 while the US Open was contested on grass until 1975.
Grass' effects on the sport include it creating a faster-paced ball that experiences lower bounces. Players with good serves and solid net play tend to experience more success here.
Grand Slam
Wimbledon is the third Grand Slam event of the year. The first one is the Australian Open, which takes place in the middle of the summer in that Southern Hemisphere country, in January.
The next one is the French Open (on Sling TV), which is scheduled just before Wimbledon, in May and June. Wimbledon is in July.
The Grand Slam portion of the tennis season comes to an end in September with the US Open.
Unblock Your Favorite Events & Teams With a VPN
If you can't watch your favorite events or teams because of your location, a VPN will allow you to get the access you are entitled to, plus extra security and unequalled privacy. Check out our VPN Guide for everything you need to know, including our top pick ExpressVPN.
2023 Wimbledon
The 2023 Wimbledon starts on July 3rd and runs through July 16th. We will have complete information when they become available.
Where to Watch Wimbledon
Those based in the US can watch Wimbledon through ESPN, ESPN2, and ESPN+ while ABC shows archived broadcasts of the men's and women's finals.
ABC actually introduced this competition to Americans. It initially showed highlights during an episode of Wide World of Sports episode in 1963. After that, NBC, HBO, TNT, and ESPN had coverage in many of the intervening years. ESPN took sole possession in 2012.
Meanwhile, fans who are based in the UK can watch the action on the BBC with matches being broadcast on BBC One, BBC Two, BBC Red Button, BBC Radio 5 Live, 5 Live Sports Extra, BBC iPlayer, and BBC online. Eurosport also broadcasts Wimbledon in the UK.
Rights vary elsewhere in the world. For example, Canadians can watch Wimbledon on TSN, Aussies can do so on the Nine Network, and New Zealanders can view play on Sky Sports.
Meanwhile, those in many areas of Europe can watch on Eurosport while beIN Sports is the home for Wimbledon in France and the Middle East.
Ways to Watch Wimbledon Without Cable
Americans have numerous options when deciding how to stream Wimbledon matches.
FuboTV

FuboTV ($74.99/mo) is another solid multi-channel streaming service that offers access to ESPN, ESPN2, and numerous other sports-oriented and general-interest channels. However, you would need to pay separately for access to ESPN+ ($9.99/mo) and complete Wimbledon coverage.
FuboTV comes with 1000 hours of cloud DVR storage and ten simultaneous streams. See our FuboTV review for details.
Sign Up for a Free 7-Day Fubo Trial
DIRECTV STREAM

DIRECTV STREAM offers ESPN and ESPN2 through its Entertainment plan ($74.99/mo). Also included in that rate are channels such as Fox Sports 1 (FS1), but you would need to get its Choice plan ($99.99/mo) to access the Tennis Channel. ESPN+ access would need to be purchased separately for $9.99/mo.
DIRECTV STREAM comes with unlimited cloud DVR storage as long as you sign-up online and it does allow you to stream on unlimited devices at once. For more, see our DIRECTV STREAM review.
Get DIRECTV STREAM Free for 5 Days
Sling TV

The Sling Orange plan ($40.00/mo) features ESPN and ESPN2 in addition to other channels that may be of interest to you, such as TBS and TNT. Combining this with an ESPN+ subscription ($9.99/mo) is your cheapest option for securing complete access to Wimbledon.
Sling TV provides 50 hours of cloud DVR storage but limits you to a single screen with this plan. See our Sling TV review for more information.
Hulu + Live TV

The best option for watching Wimbledon is Hulu + Live TV ($69.99/mo). This is because it not only offers ESPN, ESPN2, and several other channels that show tennis and other sporting events. Its base plan also includes access to ESPN+.
Hulu Live comes with unlimited cloud DVR (9 month storage) and the ability to stream on up to two devices at once. For more information, see our Hulu + Live TV review.
Other Streaming Services
ESPN is widely available from streaming services so there are other options.
Vidgo ($69.99/mo): Provides access to ESPN, ESPN2, and numerous other channels in its base rate. Our Vidgo review explains everything.
YouTube TV ($72.99/mo): Provides a plan similar to Hulu + Live TV although it lacks ESPN+.
Outside the US
Unfortunately, many of the streaming services that are available in the US are not accessible elsewhere. ESPN+ is included in that group. However, many based elsewhere can secure streaming access to Wimbledon through other means.
For example, Brits are taken care of as the BBC provides streaming access to this competition. Additionally, Eurosport offers Wimbledon streams to many Europeans who subscribe to its service.
Meanwhile, those in Australia can watch Wimbledon through 9Now while Sky Sport Now is what New Zealanders need.
Streaming Devices to Watch the Wimbledon Live
Most streaming devices are supported by the live TV services we've discussed: Amazon Fire TV, Android mobile, Apple TV, Chromecast, iOS, Roku, Samsung smart TVs, and web browsers.
Hulu, Fubo and Sling also support Android TV, LG smart TVs, and Xbox gaming systems. Hulu and Fubo support Vizio smart TVs. Hulu also supports PlayStation units. DIRECTV STREAM offers its own device, which can be useful for people just making the switch from cable.
Other streaming devices are supported to a lesser extent. See our reviews for details.
Superpower Your Streaming With a VPN
For the sake of privacy, security, and access, you should be using a VPN. They are low-cost and easy to use. We've been using them for years and our top pick is ExpressVPN. Be sure to check out our deals page on ExpressVPN, NordVPN, SurfShark and PureVPN.
Summing Up
US-based tennis fans looking for the cheapest option to watch Wimbledon should get the Sling Orange plan ($40.00/mo) and ESPN+ ($9.99/mo). But our top pick is Hulu + Live TV, which includes ESPN+ access in its $69.99/mo base rate.
FAQs
What happened at the 2022 Wimbledon?
The 2022 Wimbledon started on Monday, June 27th and completed on Sunday, July 10th. Here is the general schedule for Singles matches with other event starting dates listed:
Mon Jun 27: First Round
Tue Jun 28: First Round
Wed Jun 29: Second Round (Doubles start)
Thu Jun 30: Second Round
Fri Jul 1: Third Round (Mixed Doubles start)
Sat Jul 2: Third Round (Boys and Girls Singles start)
Sun Jul 3: Fourth Round
Mon Jul 4: Fourth Round (Boys Doubles start)
Tue Jul 5: Quarter-Finals (Girls Doubles, Invitation Doubles start)
Wed Jul 6: Quarter-Finals
Thu Jul 7: Semi-Finals (Wheelchair Singles, Boys and Girls U14 Singles start)
Fri Jul 8: Semi-Finals
Sat Jul 9: Lady's Finals
Sun Jul 10: Gentlemen's Finals
First Round
Men
Monday, Jun 27 — starting at (EDT)
Paul vs Verdasco
Marterer vs Bedene
Ruud vs Ramos-Viñolas
Tiafoe vs Vavassori
Etcheverry vs Humbert
Mannarino vs Purcell
Monteiro vs Munar
Paire vs Halys
Davidovich Fokina vs Hurkacz
Basilashvili vs Rosol
Norrie vs Andújar
Couacaud vs Isner
Tabilo vs Ðere
Kokkinakis vs Majchrzak
Coria vs Veselý
Millman vs Kecmanovic
Djokovic vs Kwon
Otte vs Gojowczyk
Altmaier vs Ymer
Griekspoor vs Fognini
Lajovic vs Carreño
Sinner vs Wawrinka
Clarke vs Harrison
Struff vs Alcaraz Garfia
van Rijthoven vs Delbonis
Bublik vs Fucsovics
Goffin vs Albot
Daniel vs Baez
Peniston vs Laaksonen
Johnson vs Dimitrov
Taberner vs Opelka
Murray vs Duckworth
Tuesday, Jun 28 — starting at TBD (EDT)
Cerúndolo vs Nadal
Shapovalov vs Rinderknech
Martínez vs Molcan
de Minaur vs Dellien
López vs van de Zandschulp
Bergs vs Draper
Nakashima vs Kuhn
Krajinovic vs Lehecka
Rune vs Giron
Broady vs Klein
Auger-Aliassime vs Cressy
Galán vs Koepfer
Querrey vs Berankis
Kolar vs Bonzi
Jubb vs Kyrgios
Cilic vs McDonald
Sousa vs Gasquet
Carballés Baena vs Thompson
Kubler vs Evans
Ruusuvuori vs Nishioka
Zapata Miralles vs Sock
Sonego vs Kudla
Gray vs Tseng
Ritschard vs Tsitsipas
Popyrin vs Gaston
Musetti vs Fritz
Ymer vs Garin
Balázs vs Bautista Agut
Novak vs Bagnis
Huesler vs Grenier
Kukushkin vs Brooksby
Coric vs Schwartzman
Women
Monday, Jun 27 — starting at (EDT)
Burrage vs Tsurenko
In-Albon vs Riske
Kalinina vs Bondár
Siniaková vs Chwalinska
Marino vs Kawa
Krunic vs Cîrstea
Juvan vs Haddad Maia
Osorio Serrano vs Mertens
Tauson vs Hontama
Pera vs Kontaveit
Niemeier vs Wang
Kanepi vs Parry
Bjorklund vs Jabeur
Garcia vs Miyazaki
Collins vs Bouzková
Inglis vs Gálfi
Linette vs Contreras Gomez
Korpatsch vs Watson
Bencic vs Wang
Zidanšek vs Udvardy
Trevisan vs Cocciaretto
Sharma vs Maria
Bronzetti vs Li
Van Uytvanck vs Raducanu
Sakkari vs Hives
Kerber vs Mladenovic
Gorgodze vs Begu
Gavrilova vs Tomova
Dodin vs Ostapenko
Wickmayer vs Zhu
Zhang vs Doi
Kostyuk vs Swan
Tuesday, Jun 28 — starting at (EDT)
Badosa vs Chirico
Harrison vs Rus
Wang vs Anisimova
Muguruza vs Minnen
Zheng vs Stephens
Vekic vs Pegula
Paolini vs Kvitová
Gauff vs Ruse
Burel vs Boulter
Bogdan vs Yastremska
Kucová vs Pigossi
Bara vs Paquet
Williams vs Tan
Cornet vs Putintseva
Zanevska vs Krejcíková
Bektas vs Andreescu
Brengle vs Davis
Buzarnescu vs Schunk
Giorgi vs Frech
Sorribes Tormo vs McHale
Martincová vs Plíšková
Peterson vs Schmiedlová
Teichmann vs Tomljanovic
Rogers vs Martic
Liu vs Parrizas-Diaz
Muchová vs Halep
Golubic vs Petkovic
Flipkens vs Fourlis
Kartal vs Kerkhove
Vandeweghe vs Rybakina
Swiatek vs Fett
Second Round
Men
Wednesday, Jun 29 — starting at (EDT)
Tabilo vs Kecmanovic
Peniston vs Johnson
Tiafoe vs Marterer
Ruud vs Humbert
Goffin vs Baez
Otte vs Harrison
Bublik vs Lajovic
Djokovic vs Kokkinakis
Veselý vs Davidovich Fokina
Paul vs Mannarino
Basilashvili vs Halys
Sinner vs Ymer
Norrie vs Munar
Griekspoor vs Alcaraz Garfia
Murray vs Isner
van Rijthoven vs Opelka
Thursday, Jun 30 — starting at (EDT)
Thompson vs Tsitsipas
Cressy vs Sock
Giron vs Molcan
Broady vs Schwartzman
Gray vs Fritz
Sonego vs Gaston
McDonald vs Gasquet
Novak vs Kubler
de Minaur vs Draper
Berankis vs Nadal
Ruusuvuori vs van de Zandschulp
Garin vs Grenier
Bonzi vs Brooksby
Shapovalov vs Nakashima
Galán vs Bautista Agut
Krajinovic vs Kyrgios
Women
Wednesday, Jun 29 — starting at (EDT)
Kalinina vs Tsurenko
Zhang vs Kostyuk
Vekic vs Pegula
Masarova vs Dart
Niemeier vs Kontaveit
Maria vs Cîrstea
Bouzková vs Li
Wickmayer vs Ostapenko
Kerber vs Linette
Cocciaretto vs Begu
Chwalinska vs Riske
Parry vs Hontama
Garcia vs Raducanu
Udvardy vs Mertens
Gálfi vs Juvan
Kawa vs Jabeur
Sakkari vs Tomova
Wang vs Watson
Thursday, Jun 30 — starting at (EDT)
Frech vs Schmiedlová
Liu vs Cornet
Minnen vs Zheng
Martic vs Kucová
Tomljanovic vs Harrison
Flipkens vs Halep
Andreescu vs Rybakina
Golubic vs Krejcíková
Davis vs Anisimova
Swiatek vs Kerkhove
Badosa vs Bara
Gauff vs Buzarnescu
Dart vs Pegula
Boulter vs Plíšková
Sorribes Tormo vs Tan
Bogdan vs Kvitová
Third Round
Men
Friday, Jul 1 — starting at (EDT)
Basilashvili vs van Rijthoven
Tiafoe vs Bublik
Paul vs Veselý
Humbert vs Goffin
Sinner vs Isner
Djokovic vs Kecmanovic
Otte vs Alcaraz Garfia
Norrie vs Johnson
Saturday, Jul 2 — starting at (EDT)
Garin vs Brooksby
Gasquet vs van de Zandschulp
Kyrgios vs Tsitsipas
Nakashima vs Galán
Sonego vs Nadal
Molcan vs Fritz
de Minaur vs Broady
Sock vs Kubler
Women
Friday, Jul 1 — starting at (EDT)
Begu vs Ostapenko
Tsurenko vs Niemeier
Watson vs Juvan
Sakkari vs Maria
Parry vs Jabeur
Bouzková vs Riske
Kerber vs Mertens
Zhang vs Garcia
Saturday, Jul 2 — starting at (EDT)
Swiatek vs Cornet
Tan vs Boulter
Frech vs Halep
Tomljanovic vs Krejcíková
Badosa vs Kvitová
Gauff vs Anisimova
Martic vs Pegula
Zheng vs Rybakina
Round of 16
Men
Sunday, Jul 3 — starting at (EDT)
Goffin vs Tiafoe
Norrie vs Paul
Sinner vs Alcaraz Garfia
Djokovic vs van Rijthoven
Monday, Jul 4 — starting at (EDT)
van de Zandschulp vs Nadal
Garin vs de Minaur
Kubler vs Fritz
Nakashima vs Kyrgios
Women
Sunday, Jul 3 — starting at (EDT)
Bouzková vs Garcia
Maria vs Ostapenko
Watson vs Niemeier
Mertens vs Jabeur
Monday, Jul 4 — starting at (EDT)
Anisimova vs Tan
Badosa vs Halep
Cornet vs Tomljanović
Rybakina vs Martic
Quarter-Finals
Men
Tuesday, Jul 5 — starting at (EDT)
Wednesday, Jul 6 — starting at (EDT)
Women
Tuesday, Jul 5 — starting at (EDT)
Wednesday, Jul 6 — starting at (EDT)
Semi-Finals
Women
Thursday, Jul 7 — starting at (EDT)
Men
Friday, Jul 8 — starting at (EDT)
What was the result of the 2022 Wimbledon Final?
Women
Saturday, Jul 9 — starting at (EDT)
Elena Rybakina vs Ons Jabeur
Men
Sunday, Jul 9 — starting at (EDT)
Nick Kyrgios vs Novak Djokovic
How do I watch other tennis tournaments?
The list below has all the details you need to watch tennis tournaments through the season:
Ditch "Big Cable" Now – 3 Simple Steps to Cut the Cord
Pick the right streaming service
Get the content you deserve with the best VPN.
Supercharge your internet provider
That's it — you'll save money, take back control, and enjoy TV more!
Page Updates
▼
▲
Updated some sub-sections. Updated some section headings. Linking.

Added buttons for streaming services. Added sub-section. Image changes. Mentioned offers. Changed a few bits of content.

Reworked some sections. Reworked one section. Updates to a section.

Updated some sub-sections. Put related links. Reformatting.

Added new section. Image changes. Small layout changes. Changed a few bits of content.

Image changes. Pricing updates. Additional links.
Latest posts by Frank Moraes
(see all)