Real, soulful, and emotionally engaging: that's OWN for you — and for millions of its subscribers. You'll find OWN in the base plan of nearly every cable provider. But, if you're sick of paying tons, you can still watch OWN without cable.
This guide will show you how.
In a hurry? Here are some of the options available that are easy to sign-up with and will also give you a great deal.
How to Access OWN without Cable
When you start getting saturated with algorithmic, targeted content, there is nothing like entertainment and lifestyle programming to unwind. Plus, if talk shows are your thing, there is something that was made specifically for you.
Say hello to OWN channel, the brainchild of the namesake Oprah Winfrey! Often bundled in cable packages, OWN is available to tens of millions of television households. But what happens if you don't have cable?
Don't worry! There are still plenty of other ways to access OWN and get your daily fix of Oprah. This guide will show you how.
Sign Up for a Free 7-Day Fubo Trial
Unblock Your Favorite Movies and Shows With a VPN
If you can't watch your favorite movies and shows because of your location, a VPN will allow you to get the access you are entitled to, plus extra security and unequalled privacy. Check out our VPN Guide for everything you need to know, including our top pick ExpressVPN.
Streaming Services with OWN
Streaming services are designed to give you freedom from your cable bill and contract. All you need is to pick a service, subscribe, and have a strong internet connection.
Here's a bit about the different streaming services that offer OWN so you can find the one that works for your family.
FuboTV for OWN
FuboTV serves the spirit of cord-cutters: zero hidden fees and no contract, which means you can cancel whenever. Plans start at $74.99/mo and that gets you OWN along with 130+ other channels, including Discovery, TLC, Animal Planet, and many others. You also get access to more than 130 4K events
FuboTV comes with a cloud DVR with 1000 hours of space. It also provides family sharing, allowing you to use up to ten TVs/devices at once. Find out more about FuboTV:
Sign Up for a Free 7-Day Fubo Trial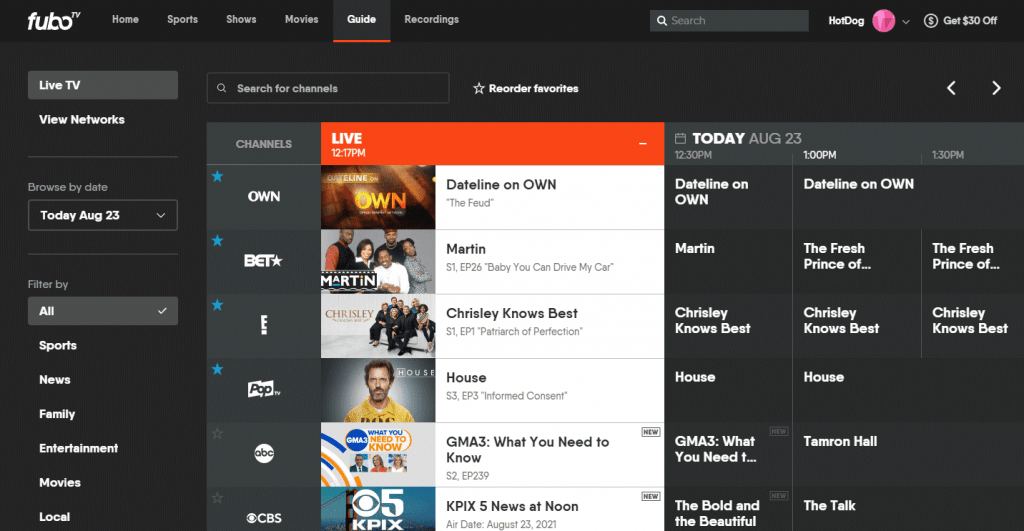 Philo for OWN
Philo is one of the most affordable streaming options for OWN. For only $25/mo, you get to experience the realism of OWN, alongside 60+ other channels such as Discovery, Animal Planet, Science Channel, TLC, and HGTV. You'll also get access to an enormous library of on-demand content.
What stands out with Philo is their unlimited DVR, which lets you record whatever OWN content you want, for up to one year. You are also allowed three devices, so you can binge-watch Love & Marriage: Huntsville while another member of your family follows up on Super Soul.
Also consider their add ons, including MGM+ and STARZ for movies and original series. Learn more here:
DIRECTV STREAM for OWN
To access OWN with DIRECTV STREAM (formerly AT&T TV), you'll need to look at the Choice Package at $99.99/mo plus tax. The Choice package gives you access to 100+ live channels (including OWN), together with 45,000 on-demand titles, including Discovery, HGTV, MotorTrend, and Animal Planet. Spanish-language channels are also included in the package!
The basic plan includes unlimited DVR storage as long as you sign-up online. You can save seasons upon seasons of Dr Phil on your cloud DVR. On the other hand, this package allows you to stream on unlimited TVs/devices at once so it's a great deal for large households. It even allows you to stream on devices away from home.
See our DIRECTV STREAM review for more details.
Get DIRECTV STREAM Free for 5 Days
Hulu + Live TV for OWN
With the Hulu + Live TV plan, at $69.99/mo, you get access to OWN and many other lifestyle and entertainment channels. In all, you get 85+ live channels. You also get ESPN+ and Disney+ in addition to the Hulu on-demand library. The base plan allows you to watch on up to two TVs/devices at the same time. And you can record with unlimited cloud DVR (9 month storage).
If you don't care about the live stream, you can get lots of OWN content with the Hulu on-demand plan for only $7.99/mo. This plan is extremely popular, since you get access to thousands of other shows and movies, out of Discovery, HGTV, TLC, and more.
To enjoy true soulful content on OWN ad-free, go with the $12.99 plan, where you get to download content too.
For more information, see the following:
Vidgo for OWN
Vidgo is a straightforward streaming service that provides OWN for $69.99/mo. Besides OWN, you get access to 110+ channels, including Discovery, Animal Planet, TLC. You can also use three devices (mix between home and mobile) to use at once.
There are some downsides for Vidgo, however. There is no DVR but you could buy your own and run it at home. And the Vidgo app itself is not as polished as its competitors. But for most people, these are minor issues.
If you're a Dr Phil fan, there's no better way to watch with family and friends than with Vidgo's watch parties. There's also a Spanish package available. Find out more: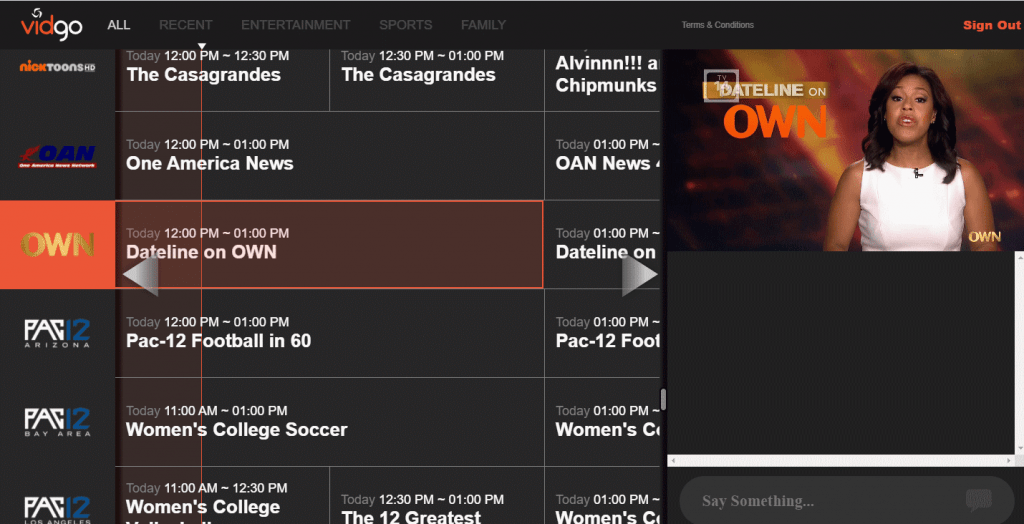 Other Ways to Get OWN
Here are some other ways to watch OWN without cable:
Watch OWN: This app lets you watch OWN whenever, wherever life takes you. It also has some free content. Or, you can access the full library of on-demand episodes with closed captioning by signing in with your cable or streaming provider. Episodes typically stream a day after they've aired live.
YouTube TV: You can also watch OWN, as well as over 100 other live channels, for $72.99/mo.
Discovery+ for OWN: Even though OWN is owned by Discovery, the streaming service Discovery+ only gives you access to Super Soul from OWN and starts at $4.99 per month.
YouTube.com: OWN also has a strong presence on YouTube. While there is a chance to find a full episode, you'll mostly find clips.
Superpower Your Live TV Streaming With a VPN
You can't beat a VPN for privacy, security, and access. We have used them for years as an important part of our streaming toolkit and we recommend ExpressVPN.
Watching OWN on TVs and Other Devices
The last few years have really changed the streaming industry. Now, all the major live TV streaming services support the vast majority of smart TVs and other streaming devices.
Every service other than DIRECTV STREAM runs on smart TVs based on Android TV. Pretty much all modern TVs can be cast to. If not, you can use a Chromecast device. You can use any service to cast its video stream to your TV. This is an increasingly popular way to watch.
Many of the services directly support some smart TVs — especially Samsung. FuboTV and Hulu support LG smart TVs. FuboTV also offers support for Hisense TVs.
All streaming services support the big TV devices Amazon Fire TV, Apple TV, and Roku.
And if you want to watch OWN on your phone or tablet, all providers support iOS (iPhone, iPad) and Android.
As for gaming consoles, FuboTV and Hulu support the Xbox One, while Hulu also supports the PlayStation and Nintendo Switch.
These are not the only supported devices. Check the service provider's website if you don't see yours listed here.
Wrapping Up
OWN started out as a personality brand that has evolved itself into a highly curated form of entertainment. That's what sets OWN apart too while content everywhere else is centered around the audience.
Recognizing Oprah's inertial influence, Discovery has contracted her for years of future mentorship. You get to share in the magic and enjoy her content, only you don't have to pay in the millions.
Given the various ways you can access OWN, you are spoiled for choice and there are no excuses. If you want the episodes when they first air, you want to subscribe to a live TV streaming service of your choice. Especially one where you get access to other channels such as TLC, HGTV, and Discovery.
So take the leap and cut the cord already so you can go on a journey of finding yourself with the unique content on OWN.
Sign Up for a Free 7-Day Fubo Trial
FAQs
What shows are on OWN?
We all have our favorites, but here are some of the most popular shows on OWN.
Super Soul
Put a Ring on It
Love and Marriage: Huntsville
Family or Fiance
David Makes Man
Queen Sugar
Tyler Perry's The Haves and the Have Nots
The Oprah Winfrey Show
For Better or Worse
Love Thy Neighbor
If Loving You is Wrong.
Can I Watch OWN for Free?
Unfortunately, you can only watch a limited amount of OWN content for free at this time. However, there are streaming options to watch OWN starting at less than a dollar a day, plus you'll get extras on top! If you're still wondering whether the service or channel is worth it, check out one of the many free trials to see the content's appeal or how well it streams with your Internet connection.
How can I watch other entertainment channels?
We've written articles about a large selection of entertainment TV channels. Check out the list below.