If you cannot get out to 106,572-capacity Beaver Stadium, one of the world's largest facilities, for this weekend's Penn State football game, rest assured that you will be able to watch the matchup through a streaming service.
In a hurry? Like many Big Ten schools, you can watch a lot of games on network TV. You can get all the channels you need with one of these services:
Fubo: The best streaming service for international sports also provides 150+ well-selected channels. Fubo allows you to try out its service with a free trial.
DIRECTV STREAM: Get a great channel lineup with the best selection of RSNs in the industry. A 5-day free trial is now available for DIRECTV STREAM.
If you can't watch your favorite sports because of your location, get ExpressVPN to access the content you deserve.
Unfortunately, we don't know a streaming service in that covers this sport. But if you've already paid for the right service, and just can't watch because of your location, there is an easy way to get the content you deserve. You need a VPN, like one of the following.
| | | |
| --- | --- | --- |
| | ExpressVPN: Known as "The VPN that just works," it combines remarkable ease of use with with state-of-the-art power, speed, security, and privacy. Get three extra free months when you sign up for a year. Unleash your streaming with this top-rated VPN. | Sign Up Now |
| | Surfshark: Surfshark: Secure and easy to use with thousands of servers around the world. Of special note is its excellent collection of servers inside the US, which is great for regional sports lie NFL, MLB, and NBA. Get it now with an incredible 82% discount on a 24-month plan. | Sign Up Now |
| | NordVPN: One of the top VPNs with extremely fast servers all over the world. Great for streaming with tested perfomance on the biggest servers and included ad-blocking. Currently offering 70% discount on 2-year plans. | Sign Up Now |
If you're overwhelmed and not sure where to begin, you'll find all the answers in our full VPN guide.
Superpower Your Sports Streaming With a VPN

For the sake of privacy, security, and access, you should be using a VPN. They are low-cost and easy to use. We've been using them for years and our top pick is ExpressVPN. Other brands worth checking out include Hotspot Shield and CyberGhost.
This Week's Penn State Football Game
Sat Sep 23 : Iowa Hawkeyes at Penn State (CBS/Paramount+)
Penn State Channels
With how college football scheduling works, many game times and television/streaming assignments are not decided upon and released until a week or two before the specified game. However, prior to the start of the 2023 campaign, half of PSU's games already had assigned timing and broadcasting information.
For example, two games will be shown on NBC, versus West Virginia on September 2 and Michigan State on November 24, while two more will be on FOX, against Illinois on September 16 and Michigan on November 11, and another will be featured on CBS, a matchup with Iowa on September 23.
However, that type of information for the showdown with Ohio State on October 21 will most likely be released earlier in October.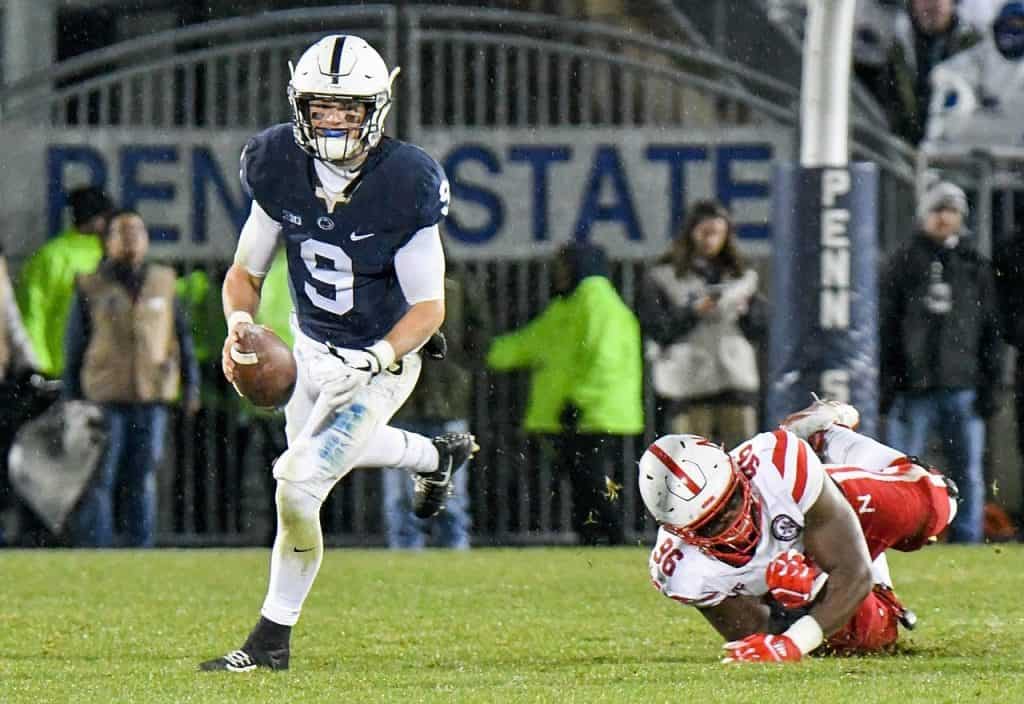 Stream Penn State Football
Of course, you're here because you want to stream Penn State football games and want to know how to do so. Fortunately, you have several options available to you that will provide you with access to those highly anticipated broadcasts.
Live TV Streaming Services
You can watch Penn State games shown on NBC, FOX, CBS, and ABC on Fubo. All subscribers get access to college football games shown on Big Ten Network. In total, the plan comes with 150+ TV channels including CBS Sports Network, ESPN, ESPN2, FS1, FS2, beIN Sports, and TUDN.
DIRECTV STREAM offers extensive access to local network affiliates while ESPN and FS1 are available through its Entertainment plan and both plus Big Ten Network with its Choice plan.
To watch PSU on Sling TV, you need its combined Orange and Blue plan. Sling Blue includes Fox Sports 1 (FS1) and NFL Network as well as ABC, Fox, and NBC in select markets. You must get the Sports Extra add-on to get Big Ten Network access.
Hulu + Live TV is a great option for watching the blue and white compete on fall Saturdays as its default plan offers all of NBC, CBS, ABC, FOX, ESPN, FS1, and the Big Ten Network. It also includes ESPN+ and Disney+ in its base plan.
If you want to watch the Nittany Lions on Vidgo, you should consider also getting an antenna so that you can watch over-the-air channels as that streaming service does not offer CBS or NBC affiliates.
YouTube TV is a good option for Penn State fans as it carries all of the channels that will most likely broadcast the school's games: NBC, ABC, CBS, FOX, FS1, ESPN, and the Big Ten Network.
All of these services come with a cloud DVR. Some (Sling TV and Vidgo) offer relatively small storage but the rest offer liberal amounts.
Other Options
A substantial number of Penn State football games appear on other-the-air channels — especially Fox. So you can watch about half the games for free if you set up a digital antenna.
We highly recommend doing this anyway. Unless you live in a very remote location, an antenna is the cord cutter's secret weapon. And sadly, it is the most under-utilized.
Two specialty streaming services will allow you to watch some Nittany Lions games:
Peacock: This premium service will allow you to watch the first, second, and last games of the season. The second game is currently scheduled as only available through Peacock.
Paramount+ Premium: This service allows you to watch CBS and much more including a tremendous amount of sports.
Note that a B1G+ subscription will not get you access to any live PSU football games. However, you can watch archived football matchups there as well as livestreams of many non-football sporting events.
Devices for Penn State Nittany Lions Football Live Streaming
Regardless of the streaming devices or TVs you use, there are streaming services that support them.
Samsung smart TVs are available from all the services except Vidgo. Fubo, Hulu + Live TV, Sling TV, and YouTube TV also all support smart TVs from LG and Vizio. Android TV-based smart TVs are supported by all.
Amazon Fire TV, Apple TV, and Roku are universally supported. So are iOS and Android mobile devices. And finally, Chromecast allows you to send live TV from your phone to your TV.
Xbox One is supported by Fubo, Hulu, Sling, and YouTube TV. Sling TV supports Oculus devices. Hulu supports the Nintendo Switch. And PlayStation is supported by Hulu + Live TV and YouTube TV.
See our streaming reviews for complete lists of supported devices.
Penn State Nittany Lions
Pennsylvania State University is located in Happy Valley, which is situated in a less densely populated part of the state in the middle of it, roughly three hours from both Philadelphia and Pittsburgh. However, many do make those drives for games as its average attendance – 107,739 in 2022 – is usually second nationally.
The football program also has a revered history, having won more than 900 games, one of the 10 highest totals in the country. In addition, it has claimed a pair of national championships, which were secured in 1982 and 1986.
Of course, sports is usually more of a what-have-you-done-lately venture, and the current state of the program is elite as well. The 2022 Nittany Lions went 7-2 in Big Ten play, the league's third-best record, and finished with an 11-2 overall mark, ending its campaign with a 35-21 win over Utah in the Rose Bowl.
Heading into the 2023 regular season, James Franklin remains as head coach. He is leading a young but impressive team. The offense features quarterback Drew Allar who takes over from Sean Clifford who has moved on to the NFL and the Green Bay Packers. The offense also features running backs Kaytron Allen and Nick Singleton. They have more experience on the defense. But overall, it should be an exciting and energetic season.
Many Nittany Lions fans are most looking forward to a showdown with Ohio State in Columbus on October 21 and a visit by Michigan to Beaver Stadium on November 11. However, it all starts with a West Virginia-Penn State rivalry matchup on September 2, their first meeting since 1992.
Beaver Stadium
Beaver Stadium is the home of the Nittany Lions football team on the Penn State campus in University Park. It is one of the top settings in college football, and that reputation has much more to do with the atmosphere that envelopes this place on fall Saturdays than the impressive attendance figures. It all starts with epic tailgating sessions and continues in the stands, sometimes in White Out conditions.
This facility is a newer one by college football standards, having been built in 1960 with an initial capacity of 46,284. Its former home was New Beaver Field, where it played from 1909-59, although, in a way, Beaver Stadium is a continuation of that former facility as it was essentially moved in 700 pieces to its current location a mile and a half away.
Nittany Lions
How did the name Nittany Lions come about? The school's nickname is partially inspired by nearby Mount Nittany and partially by the mountain lions that roamed the area that the school is located in until the 1800s.
2023 Pen State Football Schedule
Sat Sep 2 : vs West Virginia Mountaineers (NBC/Peacock)
Sat Sep 9 : vs Delaware Blue Hens (Peacock)
Sat Sep 16 : at Illinois Fighting Illini (Fox)
Sat Sep 23 : vs Iowa Hawkeyes (CBS/Paramount+)
Sat Sep 30 TBD: at Northwestern Wildcats
Sat Oct 14 : vs UMass Minutemen
Sat Oct 21 TBD: at Ohio State Buckeyes
Sat Oct 28 TBD: vs Indiana Hoosiers
Sat Nov 4 TBD: at Maryland Terrapins
Sat Nov 11 : vs Michigan Wolverines (Fox)
Sat Nov 18 TBD: vs Rutgers Scarlet Knights
Fri Nov 24 : at Michigan State Spartans (NBC/Peacock)
Other Penn State Sports
Of course, PSU sponsors an entire athletics department of teams, many of which are also highly successful.
Both of Penn State's volleyball squads have claimed national titles, including the men winning one in 2008 in the midst of a dynasty by the women's program, which had a four-peat from 2007-10 and also won twice more in 2013 and 2014. Both programs claimed a title apiece in the 1990s as well. In fact, Penn State is the only school outside of California and Hawaii to have won both men's and women's volleyball titles.
The Nittany Lions women's soccer team is also amongst the nation's best and that squad's team members lifted the championship trophy at the end of a historic 2015 campaign.
Meanwhile, the school's women's lacrosse program won it all in 1987 and 1989 while its men's lacrosse, men's ice hockey, women's ice hockey, women's field hockey, baseball, and softball teams also have devoted fan bases.
With all of that said, same as at most schools, the sport that garners the most interest behind football is men's basketball although it does struggle to fill the 15,261-seat Bryce Jordan Center. That team did make it to the Final Four in 1954. More recently, it advanced to the round of 32 in 2023. These games are shown on similar outlets as its football team with a focus on the Big Ten Network.
The Lady Lions women's basketball program also has a Final Four appearance to its credit, achieved in 2000. However, it was last selected to the NCAA Tournament field in 2014.
Sports events played by these teams and others are often shown on the Big Ten Network as well as streamed through B1G+ while ESPN owns postseason broadcasting rights for most of these sports.
Unblock Your Favorite Events & Teams With a VPN

If you can't watch your favorite events or teams because of your location, a VPN will allow you to get the access you are entitled to, plus extra security and unequaled privacy. Check out our VPN Guide for everything you need to know, including our top pick ExpressVPN.

Other brands worth checking out include Hotspot Shield and CyberGhost.
Summing Up
If you are not able to yell, "We Are Penn State," on campus prior to Saturday's game at Beaver Stadium or away from Happy Valley, make sure to get a streaming service that will broadcast it for you.
Fubo is our top choice for streaming Penn State football. Fubo allows you to try out its service with a free trial.
FAQs
Who are Pen State's biggest rivals?
Historically, the Pittsburgh Panthers were probably the Nittany Lions biggest rivals. But it has fallen apart to a large extent recently since the two teams rarely meet anymore. That's also true of old rivalries with the Syracuse Orange and Alabama Crimson Tide.
Today, the Ohio State Buckeyes may well be the biggest rivalry since the two teams play each year and are currently two of the best teams in all of NCAA football — with 2023 preseason rankings of No 3 (Ohio State) and No 5 (Penn State).
Penn State also has a major rivalry with the Maryland Terrapins even though it isn't very competitive — at least in football. (Maryland has a much better basketball program.) Other rivalries are with the Michigan State Spartans, Minnesota Golden Gophers, Temple Owls, and West Virginia Mountaineers.
What channel is the Penn State game on?
See our complete 2023 Penn State game schedule for all the available information. But in general, you are best to try your local network affiliates from ABC, CBS, Fox, and NBC. Some games also appear on traditional "cable" channels like FS1 and Big Ten Network.
How can I watch other college teams?
We have a great selection of guides for watch college football and bowl games. If you are looking for a particular team, check out one of these:
We go beyond football with college basketball and March Madness guides as well as guides for the top teams:
Ditch "Big Cable" Now – 3 Simple Steps to Cut the Cord
Pick the right streaming service
Get the content you deserve with the best VPN.
Supercharge your internet provider
That's it — you'll save money, take back control, and enjoy TV more!
Image cropped from Penn State vs Pitt: Trace McSorley (September 9, 2017) by Chris Spon under CC BY-SA 4.0.
Latest posts by Frank Moraes
(see all)