English Premier League is back.

Stream it live on NBCUniversal channels with Fubo!
Ligue 1 is where the top French soccer teams play. The league is going back to its 18-team lineup for the 2023-24 season. And it is easier than ever for cord-cutters to watch it. Read on to learn all your options.
In a hurry? The various beIN Sports channels are the place for Ligue 1. These services offer them and much more:
FuboTV: Includes all the beIN Sports channels and all the TUDN channels and much more! Fubo allows you to try out its service with a free trial.
Sling TV: A great low-cost way to watch Ligue 1. Save 50% on Sling TV now!
Fanatiz: Sports-only streaming services with great soccer coverage.
Ligue 1 is the top soccer league in France while Paris Saint-Germain is its most-known club. PSG has been a recent power as well, having claimed eight of 10 trophies from 2013-14 to 2022-23. Meanwhile, its rivalry with Olympique de Marseille, Le Classique, is an intense one.
This competition is considered by nearly every measure as one of the six best leagues in Europe.
Those based in the United States looking to watch Ligue 1 matches will need to secure access to beIN Sports. This can be done through FuboTV, Sling TV, and Fanatiz.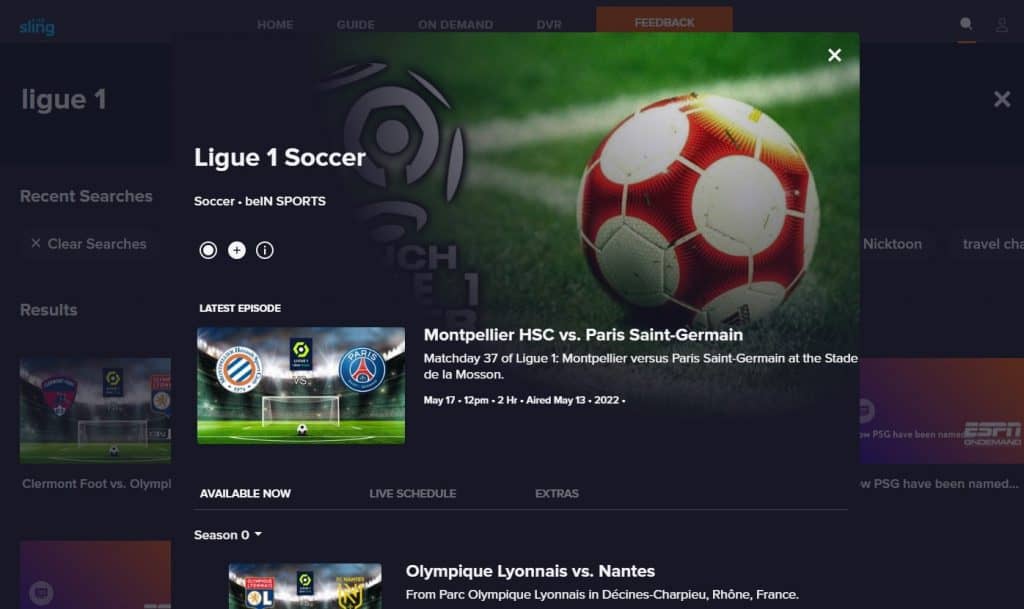 Unblock Your Favorite Events & Teams With a VPN

If you can't watch your favorite events or teams because of your location, a VPN will allow you to get the access you are entitled to, plus extra security and unequaled privacy. Check out our VPN Guide for everything you need to know, including our top pick ExpressVPN.

Other brands worth checking out include Hotspot Shield and CyberGhost.
Watching Ligue 1
Ligue 1 is available to watch throughout the world. Unsurprisingly, coverage is especially good throughout Europe.
United States
Those based in the US can view Ligue 1 games on beIN Sports. Note that fans who want to enjoy as many matches of this competition as possible should ensure that they have access to beIN Sports Connect as well.
A significant benefit to those interested in French soccer is that they can get multiple French-based competitions in one place as beIN Sports also owns the rights to broadcast the Coupe de France and Ligue 2.
These are your options for getting beIN Sports:
Your only other consideration would be securing access to European competitions through Paramount+ ($5.99/mo) in order to watch French sides battle for continent-wide glory. See our Paramount+ review for more information.
Get Paramount+ for 7 Days Free
Elsewhere
Those based in France can view Ligue 1 matches on Canal+ (20%) and Amazon Prime (80%).
Canadians, Australians, and New Zealanders should, like those based in the US, head to their own versions of beIN Sports in order to see French clubs in action on a weekly or biweekly basis.
Also of note for Canadians is that Lille matches can be seen on OneSoccer as well.
Meanwhile, those based in the United Kingdom and Ireland who want to check out the action on the other side of the English Channel can see some matches on BT Sport.
Superpower Your Sports Streaming With a VPN

For the sake of privacy, security, and access, you should be using a VPN. They are low-cost and easy to use. We've been using them for years and our top pick is ExpressVPN. Other brands worth checking out include Hotspot Shield and CyberGhost.
How to Watch Ligue 1 on Your TVs and Devices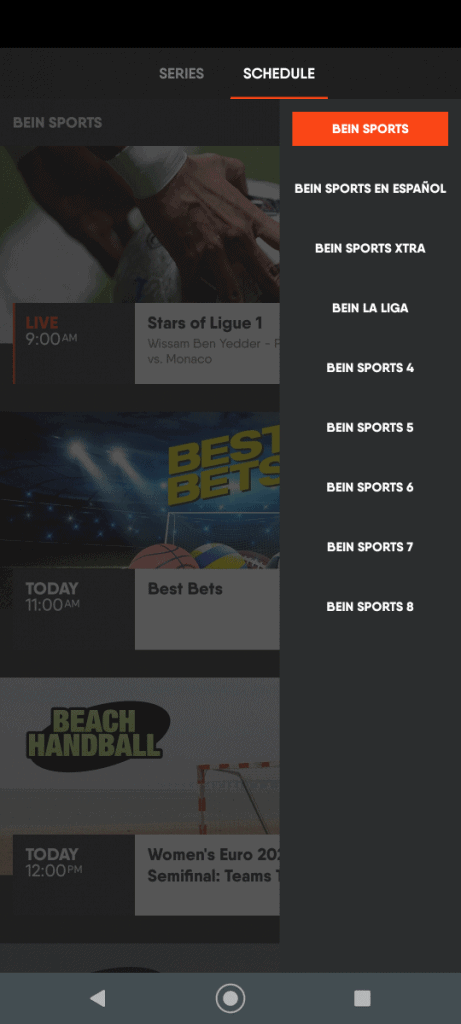 Regardless of your hardware, you should have no problem watching Ligue 1 on it. All of the streaming services above support these devices:
Amazon Fire TV
Android Mobile
Android TV
Apple TV
Chromecast
iOS
Roku
Web browsers.
FuboTV and Sling TV also support other devices including LG, Samsung, and VIZIO smart TVs as well as the Xbox gaming consoles. There are other supported devices. See our devices pages for FuboTV and Sling TV.
Details About Ligue 1 Soccer
Professional soccer got a later start in France than in many other countries as Ligue 1, the nation's first professional league, had its first season in 1932-33. The initial title winner was Olympique Lillois, which would later merge with SC Fivers to become Lille OSC, a current Ligue 1 club.
With the 2021-22 season, Paris Saint-Germain and Saint-Etienne have won the most league trophies with 10 apiece while Marseille has nine plus one that was claimed before the professional era began. That first one was won in 1928-29. Monaco and Nantes are next on this list with eight titles apiece.
Prior to the professional era, the country's first national competition started with its 1893-94 campaign. However, this had a cup format. Standard Athletic Club claimed the final over The White Rovers.
Structure
Ligue 1 consists of 18 clubs as of the 2023-24 season. It had been 20 from the 2002-03 campaign.
Every team plays the other once at home and once away, resulting in a total of 34 matches. This represents each team playing the other twice — once at home and once away.
In most seasons, two teams get relegated to Ligue 2 for the following campaign. The third-from-the-bottom side plays a playoff against a club from Ligue 2 for a spot in the following Ligue 1 season.
In 2022-23, promotion and relegation was different because of the league's move from 20 to 18 teams. Four clubs were relegated and Ligue 2 clubs were promoted.
PSG claimed the 2022-23 crown. But Lens surprised many with a very strong finish to end second. Other top clubs that campaign included Marseille, Rennes, Lille, Monaco, Lyon, and Clermont.
The top three finishers qualify for the following season's UEFA Champions League competition. Another team advances to the UEFA Europa League and one qualifies for the UEFA Europa Conference League. A sixth might go to the Europa League as well. It depends on who wins the Coupe de France.
2023-24 Ligue 1 Schedule
The 2023-24 Ligue 1 season will start August 12th, 2023 and run for 34 rounds ending May 18th, 2024. The two legs of the 2023-24 playoffs will be May 30th 2024 and June 2nd 2024.
Note that not all matches will be played on the matchday given. They will generally be Friday through the Sunday date given.
Sunday October 1st
Clermont vs Paris Saint-Germain
Le Havre vs Lille
Lorient vs Montpellier
Monaco vs Marseille
Nice vs Brest
Reims vs Lyon
Rennes vs Nantes
Strasbourg vs RC Lens
Toulouse vs Metz
2023-24 Ligue 1 Teams
Ligue 1 has contracted from 20 teams to 18 teams starting in the 2023-24 season. As a result, only two teams were promoted from Ligue 2 this year: Le Havre and Metz. And four teams to be relegated: AJ Auxerre, AC Ajaccio, Angers SCO, and ES Troyes AC.
Brest (Stade Brestois 29)
Clermont (Clermont Foot 63)
Le Havre AC
RC Lens
Lille OSC
FC Lorient
Lyon (Olympique Lyonnais)
Marseille (Olympique de Marseille)
FC Metz
AS Monaco FC
Montpellier HSC
FC Nantes
OGC Nice
Paris Saint-Germain FC
Stade de Reims
Rennes (Stade Rennais FC)
RC Strasbourg Alsace
Toulouse FC
Related Competitions
The major domestic cup in France is the Coupe de France, and all Ligue 1 sides enter in the ninth round (the round of 64). The winner qualifies for the UEFA Europa League. Toulouse took the trophy for the 2023 campaign, defeating Nantes, 5-1, in the final in front of 78,000 at the Stade de France.
Note that the Coupe de la Ligue is no longer in existence. It was last held during the 2019-20 season.
Ligue 2 is France's second-tier league. Its setup is similar to Ligue 1. It will also reduce its membership to 18 for the 2024-25 campaign. Currently, the top two teams go up while the third-, fourth- and fifth-place sides qualify for the playoffs. Meanwhile, the bottom two sides go down, and the 18th-place club participates in those playoffs. However, just two went up in 2022-23, and there will be no playoffs awarding a spot to Ligue 1 that season.
Six French clubs participate in European soccer, three to the UEFA Champions League, two to the UEFA Europa League, and one to the UEFA Europa Conference League. Also, teams that start in one competition may sometimes be moved to a lower one in lieu of being eliminated.
In 2020, PSG became the first French-based club to play in the Champions League final in 16 years. The Parisians fell to Bayern Munich, 1-0. The last French team to win this competition was Marseille (1992-93).
Meanwhile, the most recent French club to play in the Europa League final was Marseille (2017-18) while no side from France has ever won it.
Wrapping Up
Many soccer fans worldwide, including those in the US, who want to watch Ligue 1 matches throughout the campaign should secure access to beIN Sports.
FuboTV is our top choice for streaming Ligue 1. Fubo allows you to try out its service with a free trial.
FAQs
Has a Ligue 1 team ever won the UEFA Champions League?
Yes, a Ligue 1 team has won the UEFA Champions League. Olympique de Marseille claimed the trophy in 1992-93. After securing nine points from six group stage matches, Marseille advanced to the final. There, the provincial club eased past AC Milan, 1-0, at Olympiastadion in Munich, Germany. French teams to make the final but fall in the final include Reims (1955-56 and 1958-59), Saint-Etienne (1975-76), and Paris Saint-Germain (2019-20). Also, Marseille lost the final in 1990-91.
Does Ligue 1 have playoffs?
Usually, Ligue 1 has playoffs. This has been the case since the 2016-17 season. The team that finishes in 18th place takes on a club from Ligue 2. Initially, this was a simple head-to-head match-up with the third-place team from the second-tier league. However, that changed to be against whichever team advanced from Ligue 2 playoffs involving the third-, fourth-, and fifth-place sides. With all of that said, there was no playoffs in 2022-23 because of the move from 20 to 18 teams.
What were the final results of the 2022-23 Ligue 1 season?
Paris Saint-Germain topped the final 2022-23 Ligue 1 standings with a record of 24-4-7. Here are the complete results:
Paris Saint-Germain (27-4-7)
RC Lens (25-9-4)
Marseille (22-7-9)
Rennes (21-5-12)
Lille (19-10-9)
Monaco (19-8-11)
Lyon (18-8-12)
Clemont (17-8-13)
Nice (15-13-10)
Lorient (15-10-13)
Reims (12-15-11)
Montpellier (15-5-18)
Toulouse (13-9-16)
Brest (11-11-16)
Strasbourg (9-13-16)
Nantes (7-15-16)
Auxerre (8-11-19)†
Ajaccio (7-5-26)†
Troyes (4-12-22)†
Angers (4-6-28)†
† Relegated to Ligue 2.
How do I go about watching other soccer events?
These guides explain how to watch the other major soccer leagues and events:
Featured image made with Ligue 1 Logo by Ligue 1 under CC BY-SA 4.0.
Ditch "Big Cable" Now – 3 Simple Steps to Cut the Cord
Pick the right streaming service
Get the content you deserve with the best VPN.
Supercharge your internet provider
That's it — you'll save money, take back control, and enjoy TV more!
Page Updates
▼
▲
Added useful links. Various content updates. Reformatting.

Updated some sub-sections. Updated some section headings. Added links.

Added useful links. Changed a few bits of content.

Various changes. Small layout changes.

Added links. Changed a few bits of content. Formatting.

Added links to streaming services. Image changes. Formatting changes.

Added buttons for streaming services. Put related links. Various content updates.

Added links to streaming services. Added sub-section. Added info about guide. Additional links. Various changes. Reformatting.
Latest posts by Frank Moraes
(see all)