Professional wrestling is bigger than it has ever been but despite a lot of great competition, WWE is still king. But there is no reason that WWE fans need to be tied to cable contracts. Learn everything you need to know.
In a hurry? The Big Three WWE shows air on Fox and NBC channels. These are our choices for fans:
Fubo: The best streaming service for international sports also provides 150+ well-selected channels. Fubo allows you to try out its service with a free trial.
DIRECTV STREAM: Get a great channel lineup with the best selection of RSNs in the industry. A 5-day free trial is now available for DIRECTV STREAM.
Sling TV: This low-cost service allows you to select just the channel lineup you want. Save 50% on your first month of Sling TV.
If you can't watch your favorite sports because of your location, get ExpressVPN to access the content you deserve.
Unfortunately, we don't know a streaming service in that covers this sport. But if you've already paid for the right service, and just can't watch because of your location, there is an easy way to get the content you deserve. You need a VPN, like one of the following.
| | | |
| --- | --- | --- |
| | ExpressVPN: Known as "The VPN that just works," it combines remarkable ease of use with with state-of-the-art power, speed, security, and privacy. Get three extra free months when you sign up for a year. Unleash your streaming with this top-rated VPN. | Sign Up Now |
| | Hotspot Shield: Connect to servers in 80+ different countries and 25+ US cities. HotSpot Shield features extremely fast servers and connections and is specially tuned for use with streaming services. And you can try it risk-free with a 7-day free trial and a 45-day money-back guarantee! | Sign Up Now |
| | CyberGhost: Great low-cost service with ultra-fast servers in 90+ countries for smooth live sports streaming. It also provides great security and privacy. See if it's right for you with a free 24-hour trial and test it out with a 45-day money-back guarantee. | Sign Up Now |
If you're overwhelmed and not sure where to begin, you'll find all the answers in our full VPN guide.
World Wrestling Entertainment (WWE) features a combination of wrestling and storytelling to create a compelling experience for its fans. As a general rule, WWE events take place throughout the country, so you may have an opportunity to see your favorite performers live. Alternatively, you can watch live weekly shows and premium events on Fox and USA Network.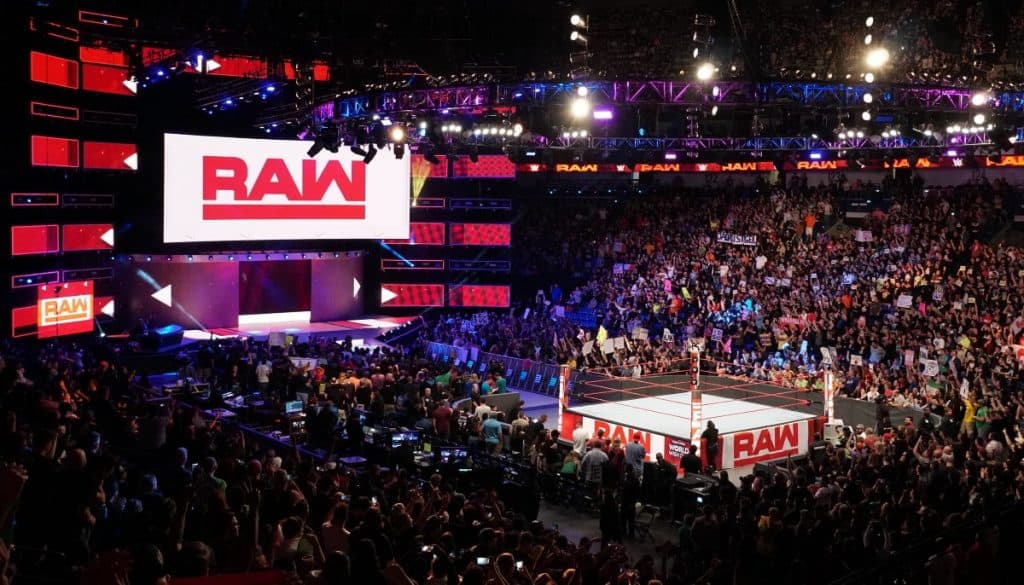 What Is WWE?
WWE is a sports entertainment company that showcases wrestling matches and talking segments. A standard match features two performers battling each other in an effort to obtain a victory by pinfall or submission. In a standard match, a referee is in the ring alongside the competitors.
However, the referee's primary job is not to enforce the rules. Instead, his or her main role is to make sure that the match goes off properly and to communicate with the performers if anything unexpected happens like an injury or a fan running into the ring.
In addition to traditional singles matches, there are tag team matches featuring teams of two or more people competing against other teams. There are also ladder matches, over-the-top rope matches, and other formats that may be used when storylines call for them.
The modern era of WWE began in 1980 when Vincent McMahon trademarked the name World Wrestling Federation (WWF) and operated the entity as Titan Sports Inc. The name would be changed to WWE in 2003 after a judge ruled that it violated the intellectual property rights of the World Wildlife Foundation, which was also known as the WWF.
Unblock Your Favorite Events & Teams With a VPN

If you can't watch your favorite events or teams because of your location, a VPN will allow you to get the access you are entitled to, plus extra security and unequaled privacy. Check out our VPN Guide for everything you need to know, including our top pick ExpressVPN.

Other brands worth checking out include Hotspot Shield and CyberGhost.
WWE Properties
Broadly speaking, there are two kinds of WWE properties: weekly shows and periodic events.
WWE Shows
Monday Night Raw, Smackdown, and NXT 2.0 are the three main WWE weekly shows.
As the name implies, Raw airs on Monday nights on USA Network. NXT 2.0 airs its weekly show on Tuesday nights, also on USA. Smackdown is broadcast on Friday nights on Fox and is sometimes referred to as Friday Night Smackdown.
NXT is WWE's top developmental brand. Its roster rarely interacts with those who compete on the Raw or Smackdown brands. But it's a good place to go to see performers who will soon be on those shows.
All three of these shows stream on Peacock the same night that they are broadcast on their network stations. You can also watch archived episodes whenever you want.
Big Five
Throughout the year, WWE runs five shows that are labeled as prime live events. The three biggest events are the Royal Rumble in January, WrestleMania in late March or early April, and Summerslam in late July or August. WrestleMania is considered to be the most important event on the calendar. The Royal Rumble event is typically used to begin or develop storylines that will conclude at this show.
The Money in the Bank event usually takes place in July or August and features ladder matches to determine the top contenders to the men's and women's titles. The winners of each match obtain a briefcase that contains a contract for a title match at any time that they want.
Survivor Series takes place in November and typically features at least one elimination match between two teams of five competitors. In recent years, two such matches have been included on the card. One match features male competitors while another features female competitors.
Others
WWE has a number of shows that take place outside of its professional wrestling universe. These shows include Total Bellas, MIZ and MRS, and After the Bell. Other shows that are considered part of WWE canon include 205 Live and NXT UK.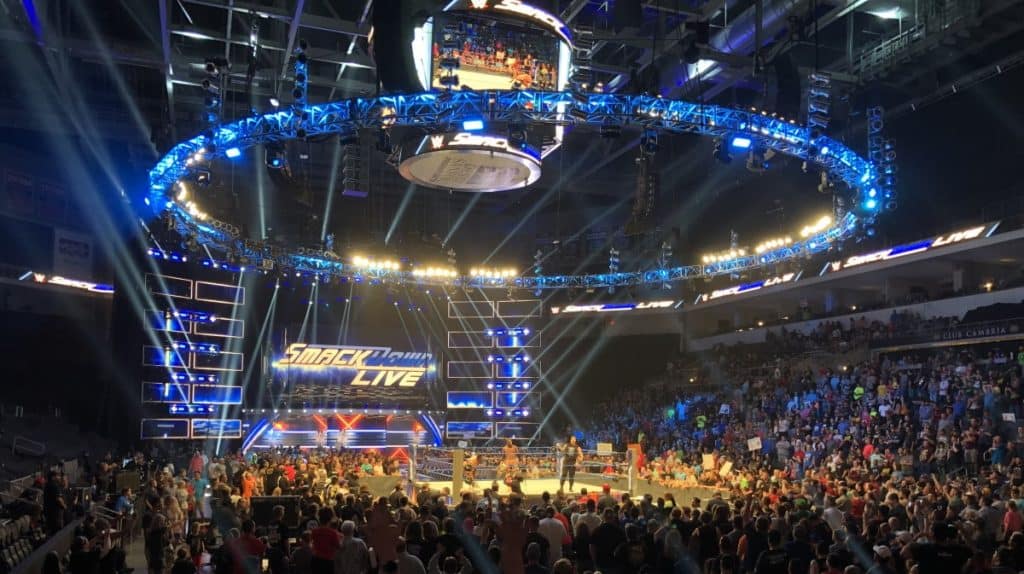 Streaming WWE on Live TV
Many streaming services allow you to watch Fox, FS1, and USA — the channels that air WWE's weekly shows. But if you are a total WWE fanatic, you should consider Peacock to watch as much WWE action as possible.
You can also watch at least some WWE with YouTube TV and Vidgo.
WWE on Peacock
In 2021, the WWE Network merged with Peacock and became part of the streaming service's premium service tier. A premium Peacock subscription gives you access to the entire WWE library, which includes content from historic promotions such as Extreme Championship Wrestling (ECW) and World Championship Wrestling (WCW).
More important, you get access to its PPV events. This is why true WWE fans should sign-up for Peacock, regardless of what they do regarding live TV streaming.
Superpower Your Sports Streaming With a VPN

For the sake of privacy, security, and access, you should be using a VPN. They are low-cost and easy to use. We've been using them for years and our top pick is ExpressVPN. Other brands worth checking out include Hotspot Shield and CyberGhost.
Alternatives to WWE
The two main alternatives to WWE at this point are All Elite Wrestling (AEW) and Impact Wrestling. AEW is considered WWE's biggest competitor. AEW Dynamite is an extremely popular show that WWE fans should enjoy.
Impact Wrestling is considered to be more of a niche product that happens to have a national television contract. Other competitors that have a significant presence in the industry include Ring of Honor (ROH), Pro Wrestling Guerrilla (PWG), and New Japan Pro Wrestling.
TVs and Devices to Live Stream WWE
All the streaming services we've highlighted above allow you to watch on Samsung smart TVs. That's also true of Amazon Fire TV, Apple TV, and Roku. Fubo, Hulu, and Sling also support LG, VIZIO, and Android TV-powered TVs.
All the services also support smartphones and tablets with Android and iOS. And these devices can cast TVs using Chromecast.
You can also watch the WWE shows on most web browsers.
All the services but DIRECTV STREAM allow you to watch Xbox One units. Hulu also supports the PlayStation and Nintendo Switch.
Our individual streaming reviews have complete details.
Wrapping Up
If you are a wrestling fan, there is a good chance that you watch WWE content on a regular basis. Although there are alternatives to the content that WWE produces, it remains the largest sports entertainment company in the world. The company makes it easy to access its live shows and events either by buying tickets to those shows or by watching its shows through services like Sling TV.
FAQs
What happened to the WWE Network?
The WWE Network merged with Peacock in January 2021 as part of a streaming rights deal forged by WWE and NBCUniversal. In January 2022, WWE signed a streaming deal with Disney, which may provide fans with an additional way to watch a variety of content in an affordable and convenient manner.
Can I watch WWE for free?
You can get a free trial from Sling TV and FuboTV. But these are short-term. You can also set up an antenna, which will allow you to watch Smackdown for free. Other than that, you will, at a minimum, need to pay $4.99 to watch WWE on Peacock.
How can I watch specific pro wrestling shows without cable?
Here are our guides on watching wrestling shows without cable:
Ditch "Big Cable" Now – 3 Simple Steps to Cut the Cord
Pick the right streaming service
Get the content you deserve with the best VPN.
Supercharge your internet provider
That's it — you'll save money, take back control, and enjoy TV more!
Page Updates
▼
▲
More links. Misc content updates.

Image changes. Put related links. Formatting.

Added buttons for streaming services. Put related links. Misc changes to content.

Pricing updates. Added useful links.

Pricing updates. Added a few links. Image changes.

Added sub-section. Changes to sections. Added a few links. Pricing updates.
Latest posts by Frank Moraes
(see all)