History is a fun channel! Does it have anything to do with what we normally think of as history? Does it matter? History channel airs some of the most popular shows on TV. If you can't live without it, you aren't alone. Luckily, it's easy to get it without resorting to cable or satellite providers.
In a hurry? If you are just looking for a great cable replacement service that includes history, these will make you very happy:
DIRECTV STREAM: Makes it easy to switch from cable to streaming with their 75+ channel Entertainment plan and options for much more. A 5-day free trial is now available for DIRECTV STREAM.
Sling TV: The top low-cost streaming service provides a great base channel lineup in both its plans. Save 50% on your first month of Sling TV.
Hulu + Live TV: This service adds 85+ live TV channel to their outstanding on demand service as well as Disney+ and ESPN+.
In 2008, the channel formerly known as The History Channel was rebranded as simply "History," and much of the documentary content was replaced with reality shows of questionable historical merit, such as Pawn Stars and Ice Road Truckers, and speculative pseudo-documentary series like Ancient Aliens.
Reality TV and sensationalist documentaries get a bad rap, but there's a reason they're popular — vicarious thrills and secret conspiracies are fun! Ancient curses might be hoaxes (Or are they? You decide!), but the high-priced, locked-in curse that is your cable bill is all too real. Fortunately, it's one that's super easy to break.
Read on to learn how you can continue enjoying American Pickers while sending your cable bill to the dustbin of…
How to Watch History Live Without Cable
History is owned by A+E Networks, which also owns A&E, Vice, FYI, Crime + Investigation, and Lifetime in addition to History, Military History, and History en Español. Other channels often watched with History are Discovery, American Heroes Channel, MotorTrend, Science Channel, and Curiosity Stream.
History is a pay channel, meaning it's not available over the air (OTA). You can't watch it for free with an antenna. Instead, you need to subscribe to a paid service from a TV provider to watch it. That TV provider doesn't have to be a cable or satellite company, though.
Over-the-top (OTT) services deliver the same channels through the internet, for lower prices with no contracts, commitments, or installation visits. Read on to find out which services carry History.
Streaming Services with History
Sorry, sports fans; the sports-oriented FuboTV does not carry History. The same goes for YouTube TV. Neither offers any of the A&E channels. But the rest of the major streaming services all do!
Most of the services that carry History also have the Spanish-language History en Español available as well. Unfortunately, their hawkish brother Military History is not as ubiquitous — it only shows up in Hulu + Live TV's lineup. So let's look at Hulu's Live service first.
DIRECTV STREAM

DIRECTV STREAM (formerly AT&T TV) is the priciest option on here, but, without FuboTV, it's your best one if you're hardcore into sports, especially local sports.
It offers a four-tiered system starting with the Entertainment package at $69.99/mo. It includes well over 75 channels, including History, Discovery, MotorTrend, and your local network affiliates.
If you upgrade to the Choice package ($89.99/mo), you also get the Science Channel included, plus all the regional sports channels in your area and 3 months HBOMax free. Go up to the Ultimate for $104.99 and you get everything in the lower packages as well as American Heroes Channel and FYI.
Military History and Curiosity Stream are not available, History en Español is available as an add-on.
See our detailed review for more information.
Sling TV

Sling TV divides their channels up a bit differently, with a Blue and an Orange package, $35/mo each for both for $50/mo. History is available with both, but Discovery is only on Blue and MotorTrend is only on Orange. These plans come with 50 hours of DVR storage.
Sling TV gives you great latitude in customizing your lineup with Extras — add-on packages of 5-10 channels for $6 each (except for Sports Extra, which is $11).
American Heroes Channel is included in the Heartland Extra, FYI is in the Lifestyle Extra, and Science is in the News Extra. You can get each one separately (for a total of $18/mo extra), or go for the Total TV Deal for $21/mo extra, which gets you all the Extras (including Sports) and bumps your DVR storage from 50 to 200 hours.
Sling TV also has premium channels like Curiosity Stream available a la carte starting at $3/mo each. History en Español is part of the "Best of Spanish TV" package, including 6 Spanish-language channels for $10/mo.
With Sling Blue, you can stream on up to 3 devices at a time. The Orange-only channels are limited to a single device.
Learn more in our Sling TV review.
Hulu + Live TV

Hulu has over a dozen History original series and specials available on their low-cost on-demand service, including multiple seasons of Ancient Aliens and Pawn Stars. Hulu + Live TV combines this library with over 85 channels and ESPN+ and Disney+ for $69.99/mo.
The live channel lineup includes History, Discovery, FYI, and MotorTrend. You can top it off with American Heroes Channel, Military History, and Science Channel by getting the Entertainment Add-on for $7.99/mo (and, as mentioned, this is the only service that offers Military History at all). History en Español is available with the Español Add-on.
Hulu + Live TV offers unlimited cloud DVR with 9 months of storage and streaming on two devices at once, plus all your local network stations are included.
See our complete review for more information.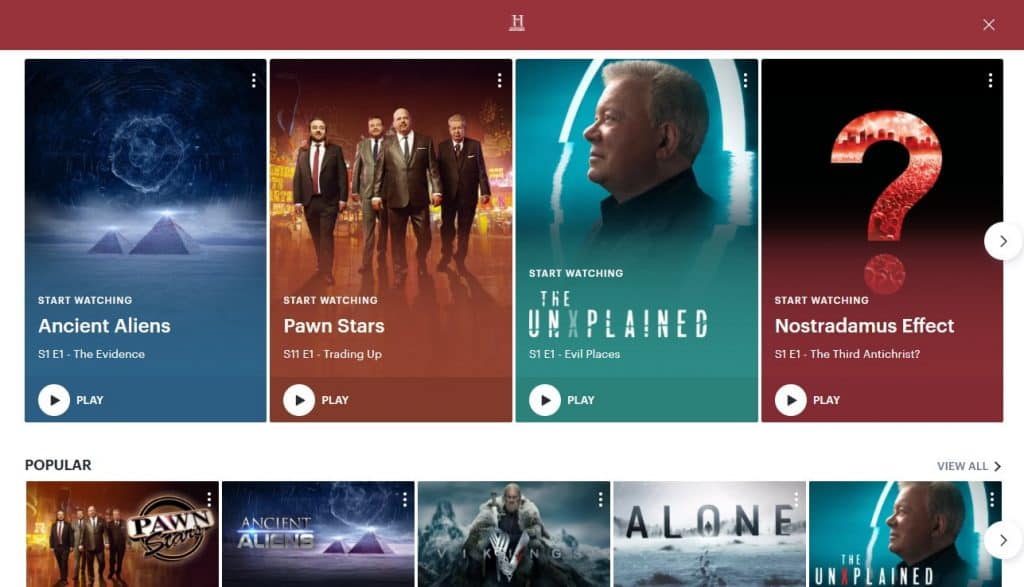 Philo

Philo is the one you want if you're #1 priority is to save money while still having some selection in your viewing. If you want over 60 channels, it doesn't come any cheaper than this: $25 per month, with a 7-day free trial.
The channel lineup includes History, American Heroes Channel, Discovery, FYI, MotorTrend, and the Science Channel. It also comes with unlimited cloud DVR storage and streaming on up to 3 stations.
Philo's drawbacks include pretty big gaps in their channel lineup. They provide no WarnerMedia, no NBCUniversal, and no local networks. And they offer limited premium channels. They do not currently carry Curiosity Stream, Military History, and they are the only major service to not carry any Spanish-language stations.
See our Philo review for more information.
Vidgo

Vidgo features lots of family-friendly movie channels, includes your local ABC and Fox stations in most areas, and streams on up to 3 screens at a time.
It's a mid-level service with over 100 channels for $59.95/mo, including History, Discovery, FYI, MotorTrend, and the Science Channel. History en Español is available in the Spanish-language package.
A big plus is that it has the hard-to-find science documentary channel Curiosity Channel, but it's a trade-off; American Heroes Channel and Military History are not available. Another downside is that they don't offer any cloud DVR service. There's also no free trial, but the first month is only $10.
For more information, see our Vidgo review.
Other Ways to Stream History
History Vault: History has its own streaming service that has commercial-free on-demand History documentaries and shows for $4.99/mo. It's not live-streaming, but it's the next best thing.
Pluto TV: A free on-demand streaming service that carries several History shows, such as seasons 14-16 of Modern Marvels and 2 seasons of Ancient Aliens.
Hulu On-Demand: Hulu has over a dozen History titles in their expansive on-demand streaming library.
Peacock: NBCUniversal's low-cost on-demand streaming service has several History series, including Ancient Aliens, The Curse of Oak Island, Pawn Stars, and American Pickers.
Watch History With Popular Streaming Devices and TVs
If you have a recent TV or other streaming device, chances are that it will be supported by most of the services we've discussed here. Here are some of the details; for more, see our individual stream service reviews.
Strangely, DIRECTV STREAM does not support Android TV-based televisions. But all the other services do. In its defense, DIRECTV STREAM supports its own device that you can purchase for $5/mo (for 24 months).
One of the more popular ways to stream video is to cast to your TV from a smartphone, tablet, or web browser. This is done with Chromecast either built-in as an external device. All services allow you to do this.
Hulu + Live TV, Sling TV, and DIRECTV STREAM support Samsung model smart TVs. Both Sling TV and Hulu also support LG and Vizio smart TVs.
All the services support the TV "stick" devices: Amazon Fire TV, Apple TV, and Roku. And the same goes for phones and tablets based on iOS and Android.
Hulu and Sling TV support the Xbox One gaming console. The PlayStation and Nintendo Switch are both supported by Hulu. And VR fans who sign up with Sling TV can use the Oculus.
Wrapping Up
Whether you're a fan of the few straight-facts shows left, like Modern Marvels or you just can't get enough of Giorgio Tsoukalos attributing anything and everything to aliens, you can watch History's Greatest Mysteries without cable.
Sign up for one of the streaming services listed here, and it'll be your cable bill that's history.
FAQ
What kind of shows can I watch on History?
Once upon a time, back in the mid-1990s, there was a cable station called The History Channel, and it got ribbed a little bit for showing a bit too many World War II documentaries. But on the whole, its content was educational and fact-based. (You can still find some remnants of "The Hitler Channel" on History's sister channel, Military History.)
History was one of several educational channels from the 80s and 90s to gradually but inexorably succumb to the siren song of inexpensive, unscripted "reality" programming and paranormal investigation shows after the turn of the millennium.
It's currently mainly known for two things: investigative docu-series and specials on various paranormal topics, such as Bigfoot, UFOs, aliens, and ancient curses; and non-history-related reality shows covering such diverse subjects as pawn shops, low-temperature ground shipping, wetlands-dwelling alligator hunters, wilderness survival, dumpster-diving for antiques, and auto repair.
The most popular shows currently are:
American Pickers
Ancient Aliens
The Curse of Oak Island
Pawn Stars
Swamp People.
Other shows featured on the History.com webpage include:
9/11: I Was There
Alone
American Pickers
Ancient Aliens
Assembly Required
Cities of the Underworld
The Curse of Oak Island
Desert One
Engineering That Built the World
Food That Built America
Forged in Fire
Four Flights
History's Greatest Mysteries
Modern Marvels
Mountain Men
Pawn Stars
Rise and Fall: The World Trade Center.
How can I watch entertainment channels besides History without cable?
Check out these guides for watching the most popular entertainment channels without cable: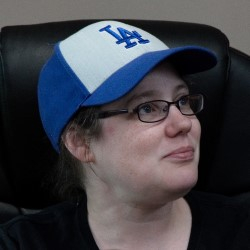 Latest posts by Alanna Baker
(see all)