Disclosure:
Your support helps keep our site running! We earn referral fees for some of the products & services we recommend.
Learn more
Most soccer (football, fútbol) fans are well aware of La Liga. Spain's premier football league has some of the most talented athletes offering some of the most exciting gameplay. And it isn't necessary to have cable or satellite to enjoy it. Read on to learn all about it.
In a hurry? You don't need to do a bunch of research to watch La Liga. In fact, soccer fans can watch everything in one place:
ESPN+: You'll find all the English-language coverage of La Liga here. And for just $6.99/mo, you should probably have it anyway.
FuboTV: This is the best live TV streaming service for soccer fans. And it includes ESPN and ESPN2. Try it free for a week!
Hulu + Live TV: A great overall streaming plan with a decent amount of sports. Good for the casual soccer fan. Use the free 7-day trial!
If you enjoy watching soccer, La Liga is a competition that needs to be on your radar. Although teams such as Barcelona, Real Madrid, and Atletico Madrid take many of the league's accolades, the entire 20-team competition provides drama and quality play throughout the season.
Fortunately, it is quite easy for Americans to watch La Liga matches as an ESPN+ subscription for just $6.99 per month will do the trick.
What Is La Liga?
La Liga is Spain's top soccer league and is comprised of 20 clubs. This roster changes somewhat from season to season because three teams get relegated to the second-tier Segunda Division each campaign, to be replaced by three from that competition the following season.
However, the top clubs are rarely in danger of being relegated. In fact, Barcelona, Real Madrid, and Athletic Bilbao have been in La Liga since its inaugural season of 1929 without being relegated even once. Meanwhile, Atletico Madrid has been relegated twice, in 1930 and 2000.
Of course, most of the interest tends to turn towards the top of the table. That is where you will generally find Atletico Madrid, Real Madrid, and Barcelona. In fact, those three clubs comprised the top three spots in the table in varying order every year from the 2012-13 campaign to the 2020-21 season.
During that time, Barcelona claimed five titles, Real had two, and Atletico brought home a pair. And they split the last three of that span with Barcelona winning the second of two straight in 2018-19, Real taking the honors in 2019-20, and Atletico doing so in 2020-21.
One of the most fascinating aspects of following a La Liga season is seeing who might break into that top-three grouping as well as who will secure the country's Champions League slots.
These 20 clubs play a 38-match, nine-month schedule in which everyone plays everyone else twice, once at home and once away. The season starts in the middle of August and runs to the middle of May.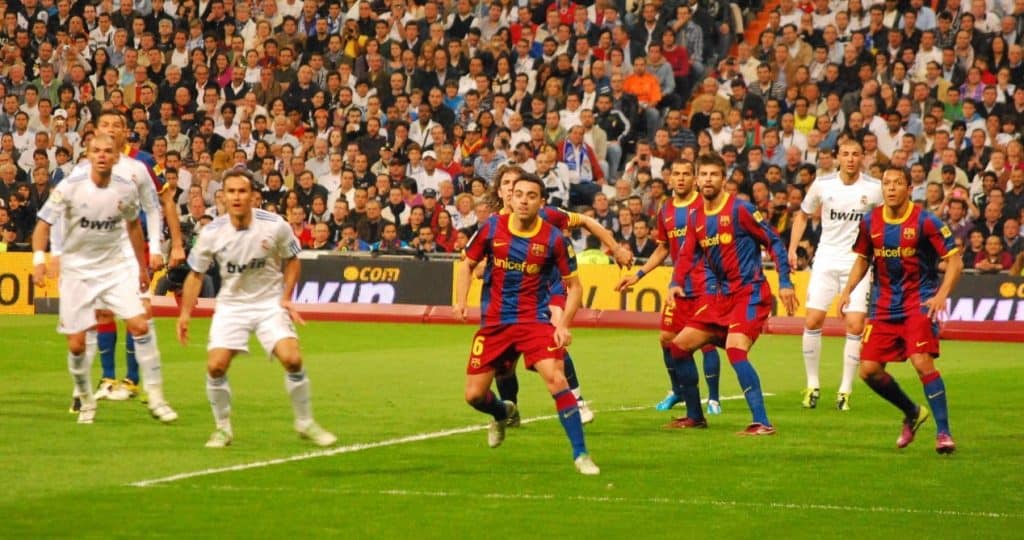 La Liga Rivalries
There are three primary rivalries in La Liga that garner interest internationally.
El Classico
Spanish soccer is perhaps best known for El Clasico, the rivalry match-up between Barcelona and Real Madrid. It garners amongst the most interest of any club soccer match-up in the world. Its intensity is due to a few factors.
A big factor is just that they are often battling for La Liga and other Spanish titles. However, there is also the cultural aspect of Barcelona being representative of Catalonia, which is home to many separatists, and Real Madrid symbolizing the central Spanish state, which is what gives this match-up that extra emotion, at least from Spain-based supporters of these clubs.
However, that is not the only rivalry that exists in Spanish soccer.
El Derbi Madrileno
El Derbi Madrileno (The Madrid Derby) involves Real Madrid and Atletico Madrid. Separated by just 6 miles, this rivalry has gotten more heated over the past several years with Atletico starting to compete for La Liga titles as well.
The 2012-13 campaign started a stretch of nine straight top-three finishes for Atletico heading into the 2021-22 season. Prior to that, it was last a top-three team in 2001-02. Meanwhile, Real Madrid has been a top-three club every season since 2004-05 and throughout much of its history.
This derby reached its apex twice, at the 2014 and 2016 UEFA Champions League finals. Real won both of those match-ups, 4-1 in 2014 and 5-3 in a penalty shootout following a 1-1 draw in 2016.
El Otro Clasico and Others
The lesser-known of these three rivalries is El Otro Clasico or The Other Classic. It dates to the 1920s and features Barcelona and Atletico Madrid. It does not have quite the intensity or the worldwide interest that the other two mentioned above do, but it is still a heated match-up with a lot on the line.
Of course, the country is full of passionate derbies that are just as important to supporters of those clubs even if the worldwide or even nationwide interest in them is not all that high.
A few other examples are the Galician Derby (Celta Vigo and Deportivo La Coruna), the Seville Derby (Sevilla and Real Betis), and the Basque Derby (Athletic Bilbao and Real Sociedad). All of those clubs play in La Liga with the exception of Deportivo La Coruna, which is a third-tier team in the Primera Division RFEF.
Other Competitions in Spain
Although La Liga season is the primary focus of every Spanish club fortunate enough to be in the league, that is far from their sole domestic focus.
Copa del Rey
The second-most significant competition in this Iberian country is the Copa del Rey. It is a single-elimination cup that involves more than 100 teams and lasts from around November to April, depending on the season. The final is held at a neutral-site stadium and generally draws at least 50,000 fans.
Supercopa de Espana
The Supercopa de Espana is another competition involving Spanish clubs. Unlike most super cups played in other countries that solely feature the previous season's league and cup winners, this is a four-team affair. Those two champions are guaranteed spots, and they are joined by those competitions' runners-up.
Segunda Division
Meanwhile, non-La Liga clubs play in the other leagues that comprise the Spanish football pyramid. At the second level, where three of next season's La Liga clubs are playing right now, is the Segunda Division.
How Spanish Clubs Qualify for European Competitions
The top four teams in the final La Liga table qualify for the next season's UEFA Champions League while the Copa del Rey winner and the fifth- and sixth-placed teams will play in the next campaign's UEFA Europa League.
If the Copa del Rey champion will instead be in the Champions League by virtue of a high league placement, the seventh-placed club in the La Liga table will go to the Europa League instead.
The current season's Champions League and Europa League champions are also assured berths in the following year's Champions League while the Europa Conference League winners will be entered into the next season's Europa League unless they have secured a spot in the Champions League that year.
Where Can I Watch La Liga Matches?
In the US, ESPN+ subscribers can watch La Liga matches for $6.99/mo. Some contests, generally one a weekend, are also broadcast on ESPN, ESPN2, and ABC. Spanish-language broadcasts also appear on ESPN Deportes.
However, keep in mind that games that are broadcast are not necessarily the most prestigious ones or the ones that would garner the highest television ratings. For example, on the weekend of Oct 23-24, 2021, the match-up between Valencia and Mallorca aired on ESPN2 and ESPN Deportes in addition to being streamed on ESPN+. The more popular Barcelona-Real Madrid El Clasico showdown was only available on ESPN+.
Also note that television rights vary greatly throughout the world.
For example, if you are in Austria, Germany, or Italy, you will want to get access to DAZN to catch all of the La Liga action. beIN Sports provides access in Australia, New Zealand, France, and throughout Southeast Asia.
And those in the United Kingdom who want to take a break from following the Premier League and take advantage of extensive La Liga coverage will need to pay for access to LaLigaTV while a few matches will be available for free through FreeSports TV.
How to Watch La Liga Matches
ESPN+ ($6.99/mo) is all that you need to watch every La Liga contest while that streaming service also provides access to select matches in the Copa del Rey, Supercopa de Espana, and Segunda Division.
However, that is not the only streaming service that you will need to purchase in order to watch La Liga clubs play their biggest matches. That is because Paramount+ ($4.99/mo) owns the rights to all UEFA Champions League and UEFA Europa League contests.
It streams every game from the group stages through to the finals, including all games contested in both of those competitions by Spanish clubs.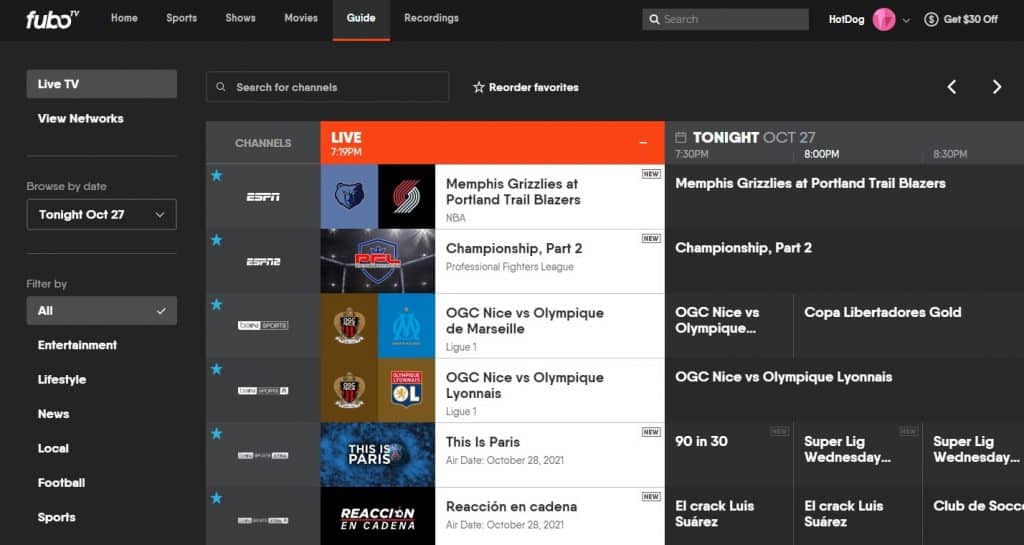 Cable Replacement Streaming Services
You can watch some La Liga matches with general cable replacement services.
FuboTV

If you want to catch all of the world's biggest soccer matches, you should consider subscribing to FuboTV for $64.99/mo. It is the best live sports streaming service with all the major national sports TV channels: Fox Sports 1 (FS1), Fox Sports 2 (FS2), ESPN, ESPN2, CBS Sports Network (CBSSN), NBC Sports Network (NBCSN), and more specialized channels like NFL Network, Olympic Channel, Golf Channels, and TVG.
Even better, you get 10+ channels each from beIN Sports and TUDN. These provide access to a wide variety of soccer including events as varied as South America's Copa Libertadores and the Africa Cup of Nations.
FuboTV comes with 250 hours of cloud DVR and the ability to stream live TV on up to three devices. Super-fans who get FuboTV, ESPN+, and Paramount+ will still end up with a relatively small "cable" bill of $76.97/mo.
For details, see our FuboTV review.
Other Cable Replacement Streaming Services
There are other streaming services to consider if you want to watch soccer matches but that isn't the focus of your viewing.
TVs and Devices to Live Stream La Liga
You can watch La Liga games on a number of devices depending upon the service you use.
ESPN+
ESPN+ works through the ESPN app.
You can watch on smart TVs from Samsung as well as units that are built on the Android TV standard.
You can also use the popular TV devices Amazon Fire TV, Apple TV, and Roku.
Smartphones and other devices built on iOS and Android are supported. And you can use them to cast to your TV using Chromecast (either built into the TV or through an external device).
You can also watch on a number of gaming systems: Xbox One, PlayStation, and Oculus.
FuboTV
FuboTV supports the same devices except for the gaming systems. It only supports the Xbox One.
It also supports LG, Vizio, and Hisense smart TVs.
Wrapping Up
To watch every match in one of the world's wealthiest and most popular sports leagues, subscribe to ESPN+ ($6.99/mo). If you want access to soccer all over the world, subscribe to FuboTV ($64.99/mo). Or perhaps get both!
FAQs
How many matches are played in a La Liga season?
With all 20 clubs playing everybody else twice, once at home and once away, that adds up to 38 matches per team or 380 total contests spread out from September to May. Most of those are played on the weekends, including Friday and Monday afternoons US time.
Which teams are in La Liga?
The 2021-22 lineup of La Liga clubs include:
Alaves
Athletic Bilbao
Atletico Madrid
Barcelona
Cadiz
Celta Vigo
Elche
Espanyol
Getafe
Granada
Levante
Mallorca
Osasuna
Rayo Vallecano
Real Betis
Real Madrid
Real Sociedad
Sevilla
Valencia
Villarreal.
Which competitions do Spanish clubs play in?
All La Liga teams take part in that competition as well as the Copa del Rey. Normally, four of them play in the Supercopa de Espana as well. Several will also participate in European competitions, such as the UEFA Champions League, UEFA Europa League, UEFA Europa Conference League, and UEFA Super Cup. The FIFA Club World Cup is another competition that can involve a Spanish element.
What other soccer can I watch with ESPN+?
ESPN+ has been adding a lot of soccer to their plan over the past few years, including:
A-League Men
Bundesliga
Copa del Rey
EFL Cup
Emirates FA Cup
Eredivisie
International Champions Cup
Lamar Hunt US Open Cup
Liga MX
MLS
Danish Superliga
UEFA Nations League
UEFA Super Cup
USL Championship.
How do I watch soccer other than La Liga?
Read these guides to help you watch other soccer leagues:
Latest posts by Frank Moraes
(see all)