As one of tennis' Grand Slam events, it is a must-watch for tennis fans. It runs from Sunday, May 21, 2023 through Sun, Jun 4, 2023. Read on to learn everything you need to know to enjoy the whole event without a cable or satellite contract.
In a hurry? If you want full coverage of the French Open, you really need to have both NBC and the Tennis Channel. These services provide them:
FuboTV: The best streaming service for international sports also provides 120+ well-selected channels. FuboTV allows you to try out its service free for 7 days.
Sling TV: This low-cost service allows you to select just the channel lineup you want. Save a bundle with Sling TV.
DIRECTV STREAM: Get a great channel lineup with the best selection of RSNs in the industry. A 5-day free trial is now available for DIRECTV STREAM.
If you can't watch your favorite sports because of your location, get ExpressVPN to access the content you deserve.
Unfortunately, we don't know a streaming service in that covers this sport. But if you've already paid for the right service, and just can't watch because of your location, there is an easy way to get the content you deserve. You need a VPN, like one of the following.
ExpressVPN: Premium VPN provider that just works, with 3,000+ locations in 94 countries. Supports five simultaneous devices and comes with a 30-day money-back guarantee. (ExpressVPN review)
Surfshark: Connect to over 3,200 servers in 99 countries (+ tonnes of US metro areas). Try it with a 7-day free trial.
NordVPN: Connect to over 5,000 premium servers in 60+ countries. Comes with a 30-day money-back guarantee!
If you're overwhelmed and not sure where to begin, you'll find all the answers in our full VPN guide.
The French Open, which is held in the heart of Paris and is officially known as Roland Garros, is famous for its clay surfaces and how tactically and physically demanding of a surface that is to play on. Regardless, as one of the four Grand Slam events held on an annual basis, it is a must-see event for tennis fans.
For just over two weeks every spring, 128 men and 128 women play through seven rounds of competition to determine which two are the last ones standing and the ones rewarded with the Coupe des Mousquetaires and Coupe Suzanne-Lenglen. Numerous other competitions, such as doubles, wheelchair, and youth events, are held here as well.
Those based in the US have many options to watch some or all of the event. The only streaming service that offers NBC, Tennis Channel, and Bally Sports channels is DIRECTV STREAM ($89.99/mo) while Peacock Premium ($4.99/mo) and Tennis Channel Plus ($109.99/yr) are standalone services.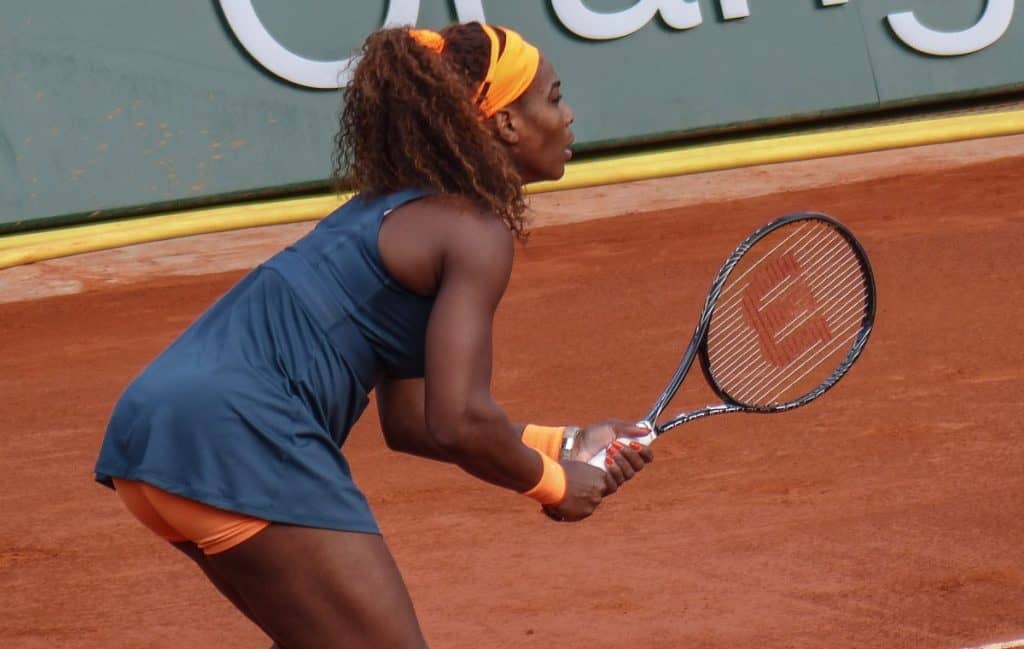 French Open
The storied history of the French Open dates to 1891, when the competition was solely open to players who were members of French-based clubs. However, it was not only open to French citizens as its first winner, H Briggs, was a British citizen who was a member of a Paris-based club. This restriction remained in place until 1925. Another step was taken in 1968, when it became an open event, allowing professionals to play in it as well.
Entering the 2022 competition, Rafael Nadal has the most French Open men's singles championships with 13, eight of those being won in the 2010s and another in 2020. He is followed on that list by Max Decugis, who won eight between 1903 and 1914.
The first women's champion was Adine Masson. She defeated Suzanne Girod in straight sets, 6-3, 6-1, in the 1897 final. Chris Evert has the most women's titles with seven, the first of which was won in 1974 and the last one in 1986. She is followed by Steffi Graf, who claimed six between 1987 and 1999, and Suzanne Lenglen, who won six as well, between 1920 and 1926.
No Tiebreaker in Final Set
The French Open is the only Grand Slam tournament in which no tiebreaker is ever implemented to decide a final set in singles play. In all other sets, the players will break a 6-6 tie with a tiebreaker, the first to seven while owning at least a two-point lead claiming it. Conversely, in the third set of women's matches and the fifth stanza in men's, if the score is 6-6, they will continue to play under regular tennis rules until one has taken a two-game lead.
This can lead to some epic matches. One of those was a men's contest in 2020 between Lorenzo Giustino and Corentin Moutet, which the former player won, 0-6, 7-6 (7), 7-6 (3), 2-6, 18-16, in six hours and five minutes, the second-longest match in French Open history.
It should be noted that Wimbledon matches can be long as well, but they can no longer reach a scoreline such as 18-16. There, a tiebreaker is implemented once the score is 12-12 in the final set.
Clay
The French Open's clay surface makes it a unique competition among the Grand Slam events. The two most significant impacts that this surface have on play is their slowing down of the ball and causing it to bounce higher. As a result of the longer rallies that result, endurance plays a significant role in determining who lasts the longest in the tournaments played here.
However, that does not apply to a player's health otherwise as this surface is particularly easy on joints and bones.
Grand Slam
The French Open is one of four Grand Slam events. The first is the Australian Open, which is played in Melbourne around the latter part of January. It is followed by the French Open, which starts in May and concludes in June.
The first part of July is when Wimbledon, which is in London, takes place. The final Grand Slam event is the US Open, which is held in August and September in New York.
Unblock Your Favorite Events & Teams With a VPN
If you can't watch your favorite events or teams because of your location, a VPN will allow you to get the access you are entitled to, plus extra security and unequalled privacy. Check out our VPN Guide for everything you need to know, including our top pick ExpressVPN.
2023 French Open Schedule
The 2023 French open runs from Sun, May 21st through Sun, Jun 4th. Here is the schedule so far as we know it at this time:
Sun May 21 – Tue May 23: 1st Round
Wed May 24 – Thu May 25: 2nd Round
Fri May 26 – Sat May 27: 3rd Round
Sun May 28 – Mon May 29: 4th Round
Tue May 30 – Wed May 31: Quarterfinals
Thu Jun 1 – Fri Jun 2: Semifinals
Sat Jun 3: Women's Finals
Sun Jun 4: Men's Finals
2022 French Open Results
Men's Singles Quarterfinals
Djokovic vs Nadal
Ruud vs Rune
Zverev vs Alcaraz Garfia
Rublev vs Čilić
Men's Singles Semifinals
Men's Singles Final
Women's Singles Quarterfinals
Trevisan vs Fernandez
Kudermetova vs Kasatkina
Gauff vs Stephens
Świątek vs Pegula
Women's Singles Semifinals
Women's Singles Finals
2022 French Open Defending Champions
Men's Singles: Rafael Nadal
Women's Singles: Iga Świątek
Men's Doubles: Marcelo Arevalo & Jean-Julien Rojer
Women's Doubles: Caroline Garcia & Kristina Mladenovic
Mixed Doubles: Ena Shibahara & Wesley Koolhof
Wheelchair Men's Singles: Shingo Kunieda
Wheelchair Women's Singles: Diede de Groot
Wheelchair Quad Singles: Niels Vink
Wheelchair Men's Doubles: Alfie Hewett & Gordon Reid
Wheelchair Women's Doubles: Diede de Groot & Aniek van Koot
Wheelchair Quad Doubles: Sam Schröder & Niels Vink
Boys' Singles: Gabriel Debru
Girls' Singles: Lucie Havlíčková
Boys' Doubles: Edas Butvilas & Mili Poljičak
Girls' Doubles: Sára Bejlek & Lucie Havlíčková
Where to Watch the French Open
Those in the US who want to watch extensive French Open coverage can get it via live TV streaming services that offer NBC and Tennis Channel (some content from Tennis Channel will likely also air on Bally Sports channel). Additionally, coverage will be available from specialty services Peacock Premium and Tennis Channel Plus.
The media entities that own French Open broadcasting and streaming rights vary around the world. For example, those in the UK can watch matches on ITV, and Aussies can watch on the Nine Network, both of those being free-to-air channels. Conversely, New Zealanders need to pay for access to Sky Sport to watch the French Open while Canadians will need to secure access to TSN.
In addition, Eurosport provides coverage of the French Open to Europeans, including those based in the UK.
Ways to Watch the French Open Without Cable
US-based cord-cutters looking to watch the French Open have a few options. However, unfortunately, it is not simple to enjoy comprehensive coverage of this tournament.
Antenna
With an antenna, you can watch all matches that are being broadcast nationally on NBC. Although this selection is limited, it does include the men's and women's finals, partial coverage of the men's and women's semifinals, and select weekend and Memorial Day contests. Best of all: it's free!
Find out more in our antenna guide.
Live TV Streaming Services
To get full coverage of this 2+ week event, you will need to have access to NBC and Tennis Channel. Only the highest-profile matches will appear on NBC so hardcore fans will want Tennis. Some coverage will likely appear on Bally Sports as well, but it isn't clear that this will be any different from what appears on Tennis.
FuboTV

FuboTV ($69.99/mo) offers NBC in almost universally in its 100+ channel lineup. You can also get the Tennis Channel by paying extra for its FuboTV Extra add-on ($7.99/mo) or its Sports Plus with NFL RedZone add-on ($10.99/mo). It includes 750 hours of cloud DVR and up to 10 simultaneous screens.
Our FuboTV review has complete details.
DIRECTV STREAM

DIRECTV STREAM's Choice plan ($89.99/mo) is the one that you want to get to secure access to NBC and the Tennis Channel as well as any Bally Sports affiliates that are available in your local area. It comes with unlimited cloud DVR as long as you sign-up online and an amazing 20 simultaneous streams at home and 3 on the road.
For more information, see our DIRECTV STREAM review.
Sling TV

Sling Blue ($35/mo) provides access to local NBC affiliates in select markets. You can get the Tennis Channel with its Sports Extra add-on ($11/mo). This plan comes with 50 hours of cloud DVR and streaming on 3 devices at the same time.
Get more information about Sling TV in our review.
Others
These two streaming services don't offer Tennis Channel but are otherwise excellent:
Hulu + Live TV ($69.99/mo): Offers 85+ live TV channels, an excellent on-demand library, and Disney+. It also includes ESPN+, which is great for watching the Australian Open, Wimbledon, and US Open.
YouTube TV ($64.99/mo): Offers 85+ live TV including a good selection of sports.
Specialty Streaming Services
Two channel-specific services provide live coverage. Note that neither offer their live channels but that shouldn't matter for this or any other sporting event.
Peacock Premium ($4.99/mo): This tends to consist of some of the action that is played in the evenings in Paris, in the late afternoons in the US. Peacock Premium's coverage also included the men's doubles final in 2021.
Tennis Channel Plus ($109.99/yr): Provides simultaneous access to multiple courts of action, the French Open mosaic. This is especially useful during the tournament's first week, when the 20-court complex is used extensively.
Outside the US
Some of the streaming options available to those outside of the US include the ITV Player (UK) and 9Now (Australia), both free to access. Eurosport also streams a significant selection of French Open matches to subscribers across Europe.
Superpower Your Streaming With a VPN
For the sake of privacy, security, and access, you should be using a VPN. They are low-cost and easy to use. We've been using them for years and our top pick is ExpressVPN. Be sure to check out our Cyber Monday 2022 deals on ExpressVPN, NordVPN, SurfShark and PureVPN.
Streaming Devices to Watch the French Open Live
The live TV services we discussed above support most of devices in use today: Amazon Fire TV, Android mobile, Apple TV, Chromecast, iOS, Roku, Samsung smart TVs, and web browsers.
FuboTV and Sling TV also support Android TV, LG smart TVs, and Xbox gaming systems. FuboTV supports Hisense and Vizio smart TVs. Sling TV supports the Oculus VR system. And DIRECTV STREAM offers its own device you can use.
Less popular streaming devices are also supported to some extent. See our reviews for complete details.
Summing Up
Those based in the US who want to enjoy as complete coverage of the French Open as possible should get DIRECTV STREAM (Choice — $89.99/mo), FuboTV, or Sling TV. For a whole new experience, you might want to check out Tennis Channel Plus ($109.99/yr).
Ditch "Big Cable" Now – 3 Simple Steps to Cut the Cord
Pick the right streaming service
Get the content you deserve with the best VPN.
Supercharge your internet provider
That's it — you'll save money, take back control, and enjoy TV more!
Latest posts by Frank Moraes
(see all)