The Tennis Channel is not the place to go to see the biggest matches. But it is the channel that fans require to see the full range of professional tennis the world over. And cord-cutters are in luck, because they have a number of options to watch it without cable.
In a hurry? Three of the biggest live TV streaming services offer options to watch Tennis Channel live:
FuboTV: The best streaming service for international sports also provides 130+ well-selected channels. FuboTV allows you to try out its service free for 7 days.
Sling TV: This low-cost service allows you to select just the channel lineup you want. Save a bundle with Sling TV.
DIRECTV STREAM: Get a great channel lineup with the best selection of RSNs in the industry. A 5-day free trial is now available for DIRECTV STREAM.
If you can't watch your favorite sports because of your location, get ExpressVPN to access the content you deserve.
Unfortunately, we don't know a streaming service in that covers this sport. But if you've already paid for the right service, and just can't watch because of your location, there is an easy way to get the content you deserve. You need a VPN, like one of the following.
ExpressVPN: Premium VPN provider that just works, with 3,000+ locations in 94 countries. Supports five simultaneous devices and comes with a 30-day money-back guarantee. (ExpressVPN review)
Surfshark: Connect to over 3,200 servers in 99 countries (+ tonnes of US metro areas). Try it with a 7-day free trial.
NordVPN: Connect to over 5,000 premium servers in 60+ countries. Comes with a 30-day money-back guarantee!
If you're overwhelmed and not sure where to begin, you'll find all the answers in our full VPN guide.
If you are a diehard tennis fan, you need to find a way to subscribe to the Tennis Channel. It offers more than 1,300 events each year both live and on-demand, which means that you will always have something exciting to watch.
This channel also features badminton, racquetball, and other tournaments featuring sports or games that are similar to tennis.
Sign Up for a Free 7-Day Fubo Trial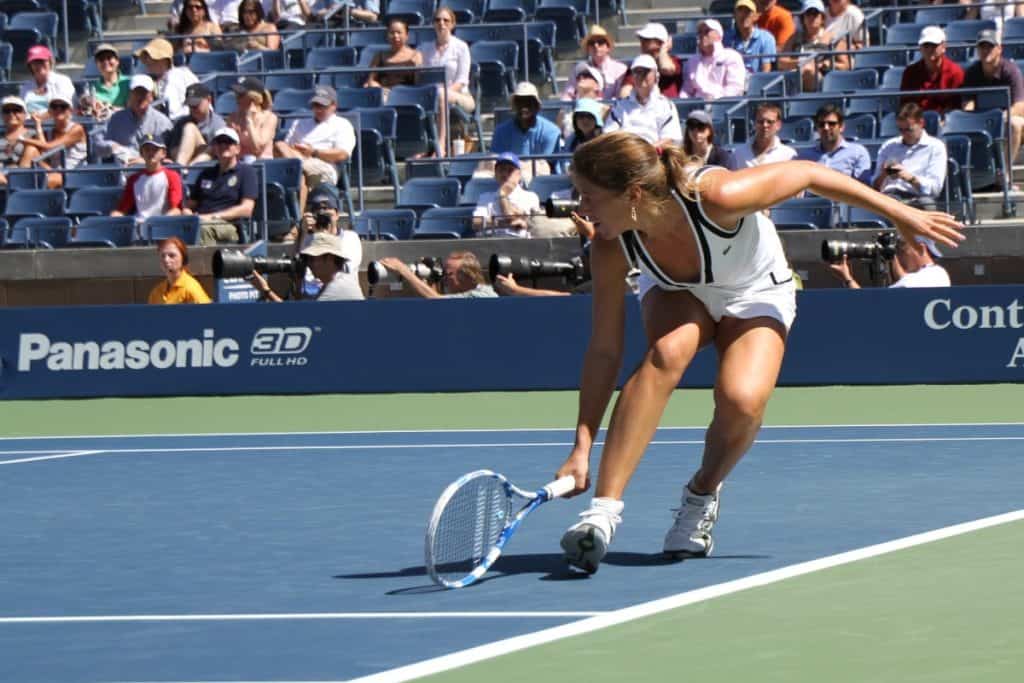 What Is Tennis Channel?
The Tennis Channel has been owned by Sinclair Broadcast Group since 2016. However, it was originally created in 2001 and aired its first tournament in 2003.
Original investors in the network included tennis stars Pete Sampras and Andre Agassi. Other notable investors included JP Morgan, Bain Capital, and Battery Ventures.
By 2006, it had become the lead sponsor to its first American Tennis Professional (ATP) tournament. The ATP is the governing body for men's tennis, and its job is to oversee the game and protect the interests of the players. Today, the channel has a broad agreement to showcase many ATP tournaments.
In addition, the channel had also acquired the rights to broadcast the French Open. Eventually, it would win the rights to the US Open, which it then shared with ESPN.
In 2022, the Tennis Channel is scheduled to broadcast three of the four Grand Slam tournaments. However, as ESPN owns the rights to the Australian Open and Wimbledon, it will only be allowed to broadcast replays of these events.
Starting in 2019, Tennis Channel had acquired the rights to almost 50 Women's Tennis Association (WTA) events. These events were originally supposed to air on beIN Sports, but the WTA decided that it wanted them to be showcased on a network that had a larger audience. Currently, the Tennis Channel is the exclusive broadcast home to Masters 1000 events.
The Tennis Channel is available through most cable providers in the United States as part of a basic package or an upgraded sports package. Furthermore, you can also get this channel through streaming services such as FuboTV and Sling.
Sign Up for a Free 7-Day Fubo Trial
In 2017, Sinclair obtained the rights to Tennis.com as well as Tennis magazine in an effort to boost the visibility of its television property. You can also get additional access to live and on-demand content by subscribing to Tennis Channel Plus.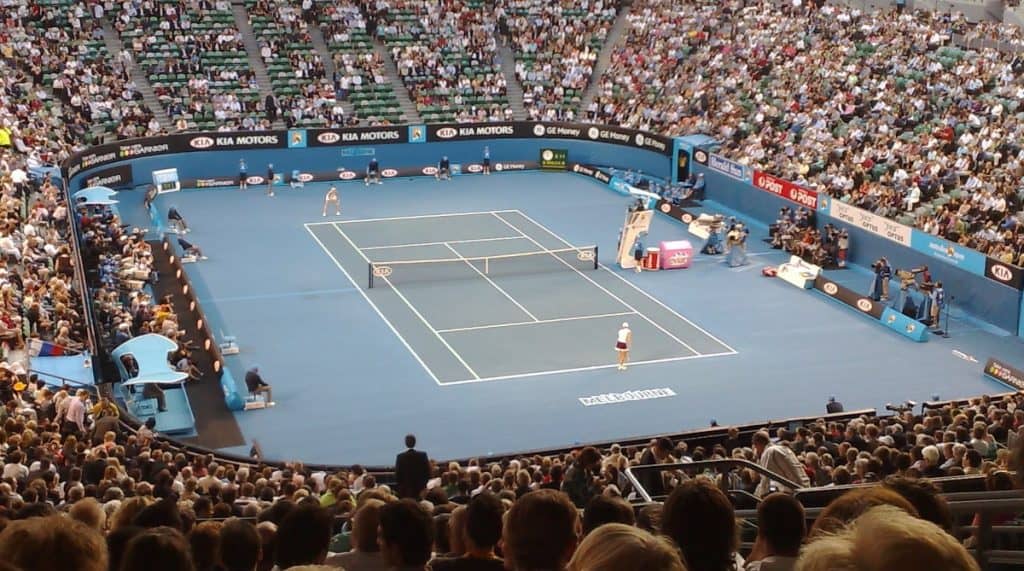 Unblock Your Favorite Movies and Shows With a VPN
If you can't watch your favorite movies and shows because of your location, a VPN will allow you to get the access you are entitled to, plus extra security and unequalled privacy. Check out our VPN Guide for everything you need to know, including our top pick ExpressVPN.
Streaming Tennis Channel
The Tennis Channel is "cable" (we need to find a better word) and so can't be watched via an antenna.
And strangely, the two biggest live TV streaming services, Hulu + Live TV and YouTube TV, do not offer Tennis Channel — even as an add-on. But there are three major streaming services that offer it:
FuboTV: Comes with 110+ well-selected channels for $69.99/mo with many options for add-ons. You get all your local channels and over 35 sports channels. The Tennis Channel is included with either the Fubo Extra ($7.99/mo) or Sports Plus ($10.99/mo) add-ons. Both those also include MLB Network, NBA TV, and NHL Network. All its plans come with 1000 hours of cloud DVR and streaming on up to 10 devices. For more information, read our FuboTV review.
DIRECTV STREAM (formerly AT&T TV): To get the Tennis Channel, you need to subscribe to the Choice plan for $89.99/mo. This gives you roughly 100 total channels including access to its unequaled selection of regional sports networks (RSNs). This plan comes with unlimited cloud DVR storage and simultaneous streaming on up to 20 devices. See our DIRECTV STREAM review for more.
Sling TV: Start with either the Sling Orange or Sling Blue plan for $35/mo. The Orange plan comes with ESPN, ESPN2, ESPN3, and Disney, but the Blue plan comes with NBC and Fox in select markets. Then add the Sports Extra add-on for $11/mo to get Tennis Channel. You have many other options to create just the channel lineup you want. Both plans come with 50 hours of cloud DVR and you should be able to stream Tennis Channel on three devices simultaneously. Our Sling TV review has all the details. See also our Australian Open guide.
Sign Up for a Free 7-Day Fubo Trial
TVs and Devices to Live Stream the Tennis Channel
The three services we've discussed support most of the streaming devices currently in use: Amazon Fire TV, Android mobile, Apple TV, Chromecast, iOS, Roku, Samsung smart TVs, and web browsers.
FuboTV and Sling TV also support Android TV devices, LG and VIZIO smart TVs, and Xbox gaming systems. FuboTV supports Hisense smart TVs and Sling TV supports the Oculus VR system.
Other devices are supported. See our streaming service reviews for complete details.
Superpower Your Live TV Streaming With a VPN
You can't beat a VPN for privacy, security, and access. We have used them for years as an important part of our streaming toolkit and we recommend ExpressVPN.
Wrapping Up
If you are a fan of ATP, WTA, or any other major tennis organization, you will want to find a way to access the Tennis Channel. At a minimum, it may be in your best interest to subscribe to Tennis magazine or visit Tennis.com to stay in the loop as to what your favorite athletes are doing.
The Tennis Channel is available from a number of the best streaming platforms. This means that you should be able to find a convenient and affordable way to gain access to your favorite sport. We recommend FuboTV although Sling TV is an excellent choice if you are on a budget.
In addition to live and encore coverage of major tournaments, you'll be able to watch historic events through the channel's on-demand service. You may also be able to access additional content produced by this network whenever you are in the mood to do so.
Sign Up for a Free 7-Day Fubo Trial
FAQs
What is Tennis Channel Plus?
Tennis Channel Plus is a streaming service that allows you to watch live events from wherever you happen to be. You will be able to watch a variety of tournaments featuring stars of the ATP and WTA tours. You will also have the ability to watch past tournaments with the tap of the screen or click of a button.
Tennis Channel Plus costs $109.99 per year, and the service can be canceled at any time. This service is available through a variety of platforms.
Does Tennis Channel air Grand Slam tournaments?
The Tennis Channel does air Grand Slam tournaments such as the Australian Open and Wimbledon. However, since the Tennis Channel doesn't own the rights to these events, they will not be shown live. The US Open will be shown live in 2022, and that event is scheduled to take place at the end of August and end in the middle of September.
How can I watch sports channels without cable other than the Tennis channel?
To watch games on other channels, see the complete list below:
Ditch "Big Cable" Now – 3 Simple Steps to Cut the Cord
Pick the right streaming service
Get the content you deserve with the best VPN.
Supercharge your internet provider
That's it — you'll save money, take back control, and enjoy TV more!
Latest posts by Frank Moraes
(see all)