Game Show Network (GSN) is the perfect repository for all your game show needs. In many families, it's one channel that everyone can agree on. But can you watch GSN online without cable? You can. Here's our guide to streaming GSN without cable.
In a hurry? If you just want to start streaming GSN, it's very easy. These services program it and a whole lot more:
Fubo: With 150+ channels, it offers something for everyone. Fubo allows you to try out its service with a free trial!
Philo: Super inexpensive live TV streaming service with 7-day free trial.
Sling TV: Probably the best streaming service in terms of customization with a 50% discount your first month.
If you can't watch your favorite sports, TV and movies because of your location, try ExpressVPN to get access to the content you deserve. Signup now.
Unfortunately, we don't know a streaming service in that offers this TV channel. But if you've already paid for the right service, and just can't watch because of your location, there is an easy way to get the sports, movies, and TV you deserve. You need a VPN, like one of the following.
| | | |
| --- | --- | --- |
| | ExpressVPN: Known as "The VPN that just works," it combines remarkable ease of use with with state-of-the-art power, speed, security, and privacy. Get three extra free months when you sign up for a year. Unleash your streaming with this top-rated VPN. | Sign Up Now |
| | Hotspot Shield: Connect to servers in 80+ different countries and 25+ US cities. HotSpot Shield features extremely fast servers and connections and is specially tuned for use with streaming services. And you can try it risk-free with a 7-day free trial and a 45-day money-back guarantee! | Sign Up Now |
| | CyberGhost: Great low-cost service with ultra-fast servers in 90+ countries for smooth live sports streaming. It also provides great security and privacy. See if it's right for you with a free 24-hour trial and test it out with a 45-day money-back guarantee. | Sign Up Now |
If you're overwhelmed and not sure where to begin, you'll find all the answers in our full VPN guide.
Game shows are one of TV's most enduring programs, and it's not hard to understand why. From playing along at home to dramatic prize reveals to the charismatic hosts, game shows make us cheer, laugh, and cry right along with the contestants. Whether you're home sick from school or tuning in after dinner, they're reliably comforting and entertaining
So it makes sense that the Game Show Network is so perennially popular. Launched in 1994 with a line-up of classics like Family Feud, What's My Line?, Jeopardy!, and Wheel of Fortune, it would go on to produce its own original game shows.
If you're a fan of game shows, but not your cable bill, you don't have to spin a wheel to find a better option. Read on to find out how you can watch Master Minds without losing your cash to the cable company.
How to Watch Game Show Network Live Without Cable
Game Show Network is owned by Sony Pictures Entertainment, which also owns getTV (classic TV shows) and Sony Movies, a channel showing movies from Sony Pictures Entertainment and its subsidiaries Columbia Pictures, TriStar Pictures, Sony Pictures Classics, and Destination Films, among others.
People who watch GSN often also enjoy watching Cartoon Network (Adult Swim), Boomerang, and VH1. So it's usually good to have these channels in your lineup.
Game Show Network is a pay channel, meaning you have to pay a TV provider to get it. But it doesn't have to be your local neighbourhood cable monopoly anymore.
Why do people "cut the cord?" Survey says… Number one: too expensive! Number two: Streaming provides the same service! Number three: no haggling! Number four: more choices and control with online streaming! Number five: no contracts with online streaming!
Which services carry Game Show Network? Survey says…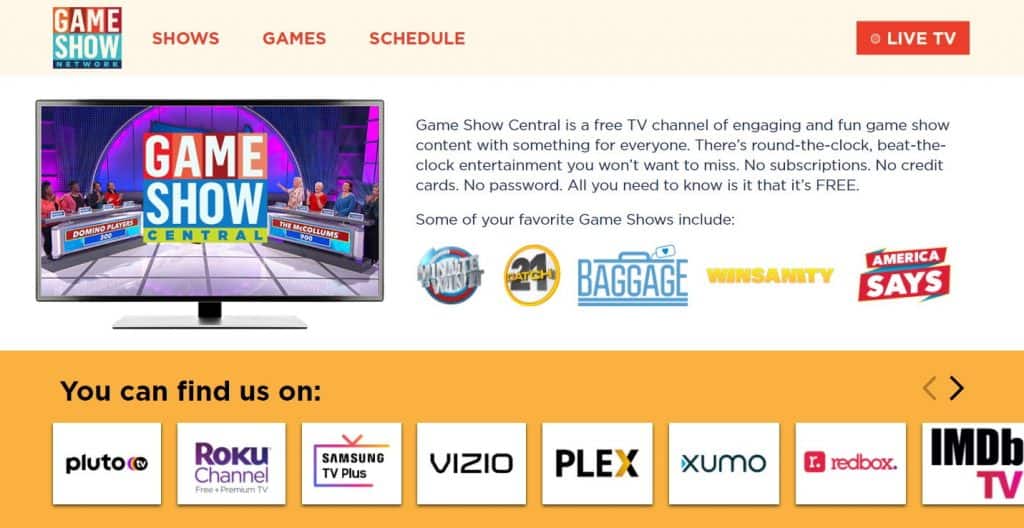 Unblock Your Favorite Movies and Shows With a VPN
If you can't watch your favorite movies and shows because of your location, a VPN will allow you to get the access you are entitled to, plus extra security and unequalled privacy. Check out our VPN Guide for everything you need to know, including our top pick ExpressVPN.
Other brands worth checking out include Hotspot Shield and CyberGhost.
Streaming Services with Game Show Network
Here is your clue, players, "These two are the only major streaming services that do not currently carry Game Show Network."
That's Hulu + Live TV and YouTube TV.
Correct! That means the rest all do carry it, so you've got some choices. Johnny, tell them about these streaming services!
FuboTV

Well, Bob, first up we have FuboTV, a service with over 130 channels, including over 35 sports channels, starting at $74.99/mo. It comes with 1000 hours of cloud DVR, all network stations, and streaming on up to 10 devices at one time.
FuboTV carries Game Show Network as part of its Extra package of 48 additional channels. Also available are getTV, Sony Movies, and VH1.
See our complete FuboTV review for all the details. FuboTV: come for the sports, stay for the entertainment!
Philo

Philo is a low-cost streaming service offering over 65 channels for $25/mo. The plan also comes with unlimited cloud DVR. And you can watch on up to 3 screens at a time. Philo carries getTV and VH1 in addition to Game Show Network.
Learn more in our Philo review. With Philo, everyone can watch!
Sling TV

Sling TV is the oldest live streaming service. Sling Blue comes with over 40 channels including local Fox and NBC affiliates for $40.00/mo. You can find Game Show Network in the Comedy Extra add-on, available for an additional $6/mo. Cartoon Network, Boomerang, and VH1 are also available.
See our Sling TV review for all the details. Sling TV: the best of cable at a better price!
DIRECTV STREAM

And finally, we have DIRECTV STREAM (formerly AT&T TV), a fine cable-replacement system. It has over 75 channels in its base Entertainment package, which starts at $74.99/mo, and comes with unlimited cloud DVR storage as long as you sign-up online and a full complement of network stations.
DIRECTV STREAM comes equipped standard with Game Show Network, Cartoon Network, Boomerang, and VH1. For more information, see our complete review. DIRECTV STREAM: get your TV together!
Get DIRECTV STREAM Free for 5 Days
Vidgo

Vidgo is a barebones streaming service with a simple user interface and no cloud DVR. But it makes up for this in offering over 110 channels (including local and sports) for just $69.99/mo. It's an especially good service for families and college sports fans.
In addition to GSN, it comes with getTV, Sony Movies, and VH1.
See our Vidgo review for more information. Vidgo: stream like the pros!
Back to you, Bob!
Other Ways to Stream Game Show Network
If none of those services seems like a winner to you, here are more ways to watch Game Show Network content!
Behind Door #1 is Frndly TV: Over 20 family-friendly channels including GSN and getTV starting at :frndly-price:/mo. (Frndly TV review)
Behind Door #2 we have Game Show Central: GSN's free version is available on Pluto TV, Roku, various smart TVs, Xumo, IMDb TV, and others.
And behind Door #3 is the Game Show Network App: Available on Android and iOS, it contains full episodes, clips, and bloopers of GSN original and classic games. Login with a pay-TV provider is required to unlock all content. Void where prohibited by law.
Superpower Your Live TV Streaming With a VPN
You can't beat a VPN for privacy, security, and access. We have used them for years as an important part of our streaming toolkit and we recommend ExpressVPN. Other brands worth checking out include Hotspot Shield and CyberGhost.
TVs and Stream Devices to Watch GSN
To watch GSN without cable, you'll need a TV or other device that can install and run streaming apps. The good news is that the streaming services we've discussed support most devices — most likely including the ones you own.
The most popular devices are the "sticks," which plug into your TV. All the streaming services support these:
Amazon Fire TV
Apple TV
Roku.
All the Android and iOS mobile devices are similarly supported. And you can use them to cast to your TV using Chromecast. And web browsers are universally supported. (Note that they can be connected to your TV with an HDMI cable.)
Android TV devices and TVs are supported by all the services except for DIRECTV STREAM.
All the services except Philo and Vidgo support Samsung smart TVs directly. LG and Vizio smart TVs are supported by FuboTV and Sling TV. FuboTV also supports Hisense smart TVs. Sling TV and FuboTV also support the Xbox One gaming console.
These are the main devices — there are others that are supported. See our individual reviews for complete lists.
Wrapping Up
No matter which way you solve this puzzle, choosing any of these streaming options will get you the cord-cutting grand prize: no more cable bills! Just sign up for one of the streaming TV providers listed above, tell the cable company "No deal!" and catch America Says whenever you want!
FAQ
What kind of shows can I watch on Game Show Network?
Unlike other channels, I could mention (History, we're looking at you), GSN is actually true to its name. After over a decade of wandering the wilderness of reality competition shows, poker and blackjack tournaments, and Extreme Dodgeball, in 2018 Game Show Network returned to showing game shows pretty much 'round the clock.
Today, the network shows a mix of their original shows and classics such as Match Game, Family Feud, and Deal or No Deal. Original shows you can watch on Game Show Network include:
America Says
Cash Cab
Catch 21
Chain Reaction
The Chase
Common Knowledge
Divided
Get a Clue
Idiotest
Master Minds
People Puzzler
Winsanity.
What is the cheapest way to get Game Show Network?
You can catch many of Game Show Network's original and classic shows free on Game Show Central, their free channel available through many free multichannel streaming services like Pluto TV or Xumo. Some favorites Game Show Central offers are Minute to Win It, Catch 21, Baggage, Winsanity, and American Says.
If you're looking for the authentic, full Game Show Network experience, the cheapest way is Frndly TV. It's got weather reports and lots of family-friendly content, like classic TV shows (some on GSN's sister station, getTV), plus Game Show Network, all starting at $5.99/mo.
If you are looking for something closer to a traditional cable service, Philo is just $25/mo.
Can I watch Game Show Network through its app or website?
Some episodes of some shows are available free through the Game Show Network app, but to watch live on the website or unlock full recently aired episodes on the app, you need to log in with a pay-TV provider. Game Show Central is GSN's free-to-watch version, and you can stream it over some smart TVs, Roku, or the web via Pluto TV or Xumo.
Just be aware that Game Show Central has some shows from Game Show Network, like America Says, but not all.
Can I watch The Price Is Right on Game Show Network?
Sadly, no. CBS knows that the beloved The Price Is Right is a national treasure, and they're not licensing that bad boy to anyone. If you are really jonesing for some Showcase Showdown goodness, you can watch a handful of the most recent episodes on CBS.com.
Wait, you want to pretend that you're a kid again home sick from school and only Bob Barker himself will do? You will be thrilled to know that the Paramount Global-owned Pluto TV, which is completely free, has a The Price Is Right: The Barker Era channel, which airs all Barker all the time, 24/7.
Ditch "Big Cable" Now – 3 Simple Steps to Cut the Cord
Pick the right streaming service
Get the content you deserve with the best VPN.
Supercharge your internet provider
That's it — you'll save money, take back control, and enjoy TV more!
Page Updates
▼
▲
Updated some sub-sections. Updated some section headings. Various changes.

Updated some sub-sections. Image changes. Added links.

Image changes. Added some links. Formatting.

Added buttons for streaming services. Added VPN info. Image changes. Various content updates.

Added sub-section. Updated some sub-sections. Image changes. Pricing updates. Deleted unneeded sub-section.

Image changes. Added useful links. Pricing updates.

Pricing updates. Added a few links. Reworded some things.

Added links to streaming services. Pricing updates. Added a few links. Reformatting.

Added sub-section. Updated one section. Changed some content in main section. Reworked one section. Cleaned up list.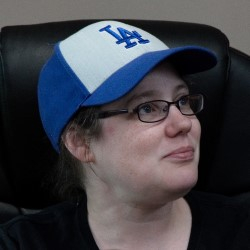 Latest posts by Alanna Baker
(see all)