Disclosure:
Your support helps keep our site running! We earn referral fees for some of the products & services we recommend.
Learn more
Thinking about getting rid of cable? Good call! You can still enjoy all the shows on NBC that you adore, without cable, for much less money — maybe even for free! Read on to find out how!
In a hurry? If you just want to start watching NBC without cable, these three streaming services should do the job:
FuboTV: known for its great sports content, they offer a broad range of 105+ channels with local affiliates and most NBCUniversal channels. Try them out with a free 7-day trial!
Hulu + Live TV: in addition to its unparelleled on-demand library, Hulu offers 85+ channels including NBC and other local channels. Check them out for free for 7 days!
Sling TV: a great low-cost streaming service that provides NBC and Fox in most areas. Sign up for your first month for only $10!
NBC airs some of the biggest shows on TV: Saturday Night Live, Law & Order: Special Victims Unit, NFL Sunday Night Football, and many more. If you're a fan of any of these exclusive shows, then NBC is a must-have channel for you.
You can stream NBC live both online and through digital antennas, saving yourself money and stress in the long run. In this article, we'll take an in-depth look at how to watch NBC live without cable, covering all services, packages, and devices you'll need.
How to Watch NBC Live Without Cable
There are three basic ways you can watch NBC without a cable or satellite connection.
Live Streaming Services: You can stream NBC live on multiple devices using streaming services like Fubo TV, Hulu + Live TV, and many more! These services also feature many other channels and act very much like a flexible, cheaper cable subscription.
Digital Antennas: Over-the-air antennas allow you to catch signals without cable or internet, so you can access channels on your TV! You'll have to make a small initial investment to purchase an antenna (which usually costs as little as $20) and then you've got free TV! No packages, no subscription, no bill!
Peacock TV: NBC has its very own streaming service! Peacock TV launched in July 2020. It's another way to watch NBC without cable. And it's free! (There are also paid plans.) The only problem is that it is primarily an on-demand system; you can't watch NBC live.
Below, we've covered all three of these options in detail with information about prices, packages, and devices. To find out more about watching NBC without cable, keep on reading!
Streaming Services with NBC
Streaming services are an easy and cost-effective way to watch NBC without cable. They offer an experience similar to using cable TV but are priced differently.
We've covered the major services that offer NBC, so you can go through them and choose a package that best suits your needs.
Fubo TV for NBC

NBCUniversal Channels
Bravo, CNBC, E!, MSNBC, NBC,
Oxygen, Syfy, Universal Kids, USA
Other Local Channels
ABC, CBS, Fox
Total Channels
105+
Cloud DVR
250 hours
Simultaneous Screens
3
Free Trial
✅
FuboTV Price
$64.99/mo
FuboTV is one of the best streaming services that offers NBC. You can stream NBC live by signing up for their Starter package, which offers 105+ channels for $64.99 per month and allows you to stream on 3 devices simultaneously.
It offers the full lineup of NBCUniversal channels as well as all the network affiliates (in the vast majority of areas).
For more information, see our detailed articles about FuboTV: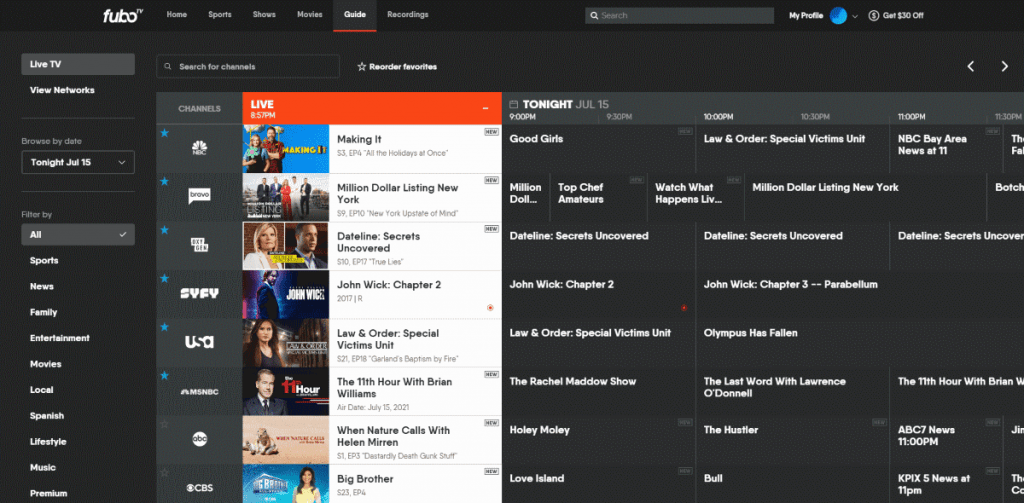 Hulu + Live TV for NBC

NBCUniversal Channels
Bravo, CNBC, E!, MSNBC, NBC,
Oxygen, Syfy, Universal Kids, USA
Other Local Channels
ABC, CBS, Fox
Total Channels
85+
Cloud DVR
50 hours
Simultaneous Screens
2
Free Trial
✅
Hulu Price
$64.99/mo
Hulu + Live TV is one of the most popular streaming services and offers a great way out of expensive cable TV bills. They offer over 85 popular sports, entertainment, and news channels including NBC for $64.99 per month.
Like FuboTV, Hulu offers the full lineup of NBCUniversal and local channels.
Comparatively, Hulu + Live TV offers less than FuboTV in the total number of channels, DVR capacity, and simultaneous streaming. But Hulu makes up for this in its exceptional on-demand library. Which you prefer will depend upon your preferences.
See the following for more information on Hulu + Live TV:
Sling TV for NBC

| | |
| --- | --- |
| NBCUniversal Channels | Bravo, E!, MSNBC, NBC, Syfy, USA |
| Other Local Channels | Fox |
| Total Channels | 40+ |
| Cloud DVR | 50 hours |
| Simultaneous Screens | 3 |
| Free Trial* | ❌ |
| Sling TV Price* | $35.00/mo |
* Sling TV offers the first month for $10.
If you're looking for a wallet-friendly way to stream NBC, Sling TV is one of your best bets.
Sling Blue is only $35 per month and comes with FOX and five of the NBCUniversal channels along with NBC. If you wish, you can get CNBC (News Extra) and Oxygen (Lifestyle Extra) with $6/mo add-ons.
Sling TV also provides the option to use an antenna. If you sign-up for two months, they will even give you an antenna for free. Your antenna stations are then integrated with the Sling interface. No need for multiple interfaces!
Find out more with our articles about Sling TV:
DIRECTV STREAM for NBC

| | |
| --- | --- |
| NBCUniversal Channels | Bravo, CNBC, E!, MSNBC, NBC, Syfy, USA |
| Other Local Channels | ABC, CBS, Fox |
| Total Channels | 65+ |
| Cloud DVR | 20 hours |
| Simultaneous Screens | 20 |
| Free Trial* | ❌ |
| DIRECTV STREAM Price | $69.99/mo |
* DIRECTV STREAM provides a 14-day money-back guarantee, so you can try it out for free if you pay upfront.
DIRECTV STREAM (formerly AT&T TV) is known for its massive channel line-up access to local and regional channels. The service offers NBC along with most of the NBCUniversal and all the local channels.
The only missing NBCUniversal channels are Oxygen and Universal Kids. These are available in the Ultimate plan for $94.99/mo which features over 130 channels including HBO MAX for the first year.
See our DIRECTV STREAM review for more details.
Other Ways to Get NBC
Live TV streaming services are a popular way to get NBC but they are not the only way to get it. Here are some others:
Locast.org: This is a free service that streams local channels. The main downside is that it has limited coverage. Another setback is that it only offers OTA channels so you won't get the other NBCUniversal channels. But if you are in one of the areas covered, it's a useful service to turn to.
YouTube TV: Another full-featured streaming service, it offers 85+ channels including all the NBCUniversal and local channels. It is comparable to FuboTV and Hulu + Live TV.
Antennas
Streaming NBC through antennas is affordable and convenient, at least if you are located reasonably close to a transmission tower.
Despite the convenience of online streaming services, don't dismiss this option! Over the air (OTA) television is not like in the old days. It is all digital and broadcast in HD. And it's not just the usual channels because now there are subchannels with even more content!
Check out these articles for more information on using a TV antenna:
Peacock
Peacock is NBCUniversal's streaming service. It provides a lot of its shows, movies, and events on-demand.
There are three plans available:
Peacock (Free): access to thousands of shows, movies, and sporting events.
Peacock Premium ($4.99/mo): access to the entire library plus access to live sporting events (Premier League and WWE).
Peacock Premium Plus ($9.99/mo): access to everything without commercials (with some exceptions).
But remember: none of these plans offer a live stream of NBC.
TVs and Mobile Devices for NBC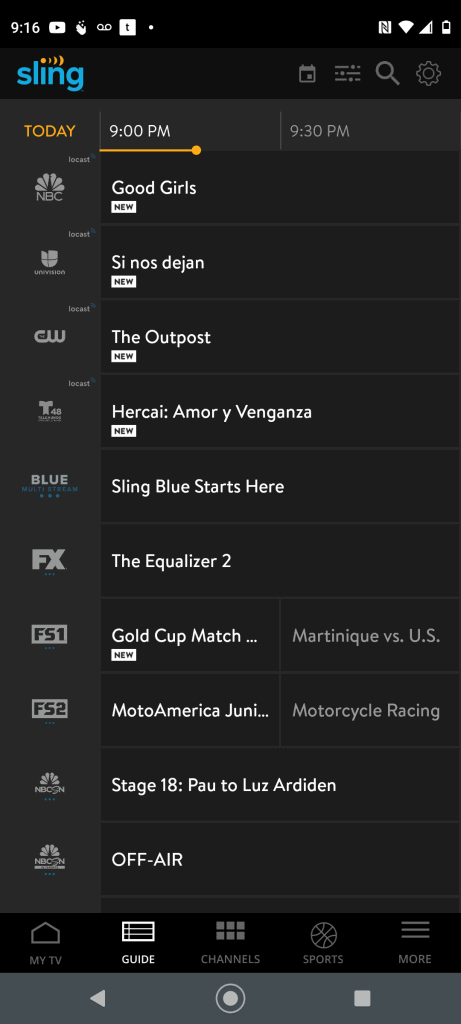 To watch NBC on a streaming service, you need a streaming device that is suitable for that provider. This will be a smart TV, streaming device, mobile, or tablet, to name a few.
For example, most services have supported Samsung smart TVs for the last 5 years.
Additionally, the following devices are universally supported:
Amazon Fire TV: Plugs into your TV's HDMI jack and runs various streaming apps.
Apple TV: Apple's version of the Fire stick.
Roku: Another TV device — one of the earliest.
You can also stream in most web browsers. So if your device has a web browser, you're fine. Most laptops and computers can also be connected to a TV to transmit the content onto a bigger screen.
Mobile Streaming Devices
Smartphones and tablets are also supported by most services:
Android Smartphones: All but the oldest Android devices.
iOS devices: Apple's iPhones, iPads, and even some iPods.
When choosing a streaming provider you can check for the exact supported versions on their website.
All the major streaming services support Chromecast. It streams from your phone to your TV.
Gaming Consoles
You can watch videos on gaming consoles, so streaming services support them. Except for DIRECTV STREAM, all the services support Xbox. Hulu supports PlayStation and Echo Show, while Sling TV supports Oculus.
Wrapping Up
There are lots of ways to enjoy NBC without being bound to an expensive long-term cable or satellite TV contract. If you don't care about premium stations, you can just set up an antenna and get NBC and other local channels for free.
Most people prefer a streaming service. For as little as $35 per month, you can get a streaming service like Sling TV with comparable channels to cable. This is a case where you can actually get better service for less money.
FAQs
What sports are on NBC?
NBC has broadcast contracts throughout the world of sports. For example, they are the only provider of Sunday Night Football. And, of course, NBC is the home of the Tokyo Olympics. A lot of sports from NBCUniversal is broadcast on NBC Sports Network (NBCSN). This includes a lot of auto racing.
What channels belong to NBCUniversal?
NBCUniversal is an enormous company featuring various divisions which focus on different languages and content. But its primary English-language non-sports channels are as follows:
Latest posts by Frank Moraes
(see all)