Florida State is set to have an excellent season this year. And you can watch every game without cable. Read on to learn how.
In a hurry? Seminoles games air almost exclusively on ESPN-related channels. You can get all of those with these streaming services:
Fubo: The best streaming service for international sports also provides 150+ well-selected channels. Fubo allows you to try out its service with a free trial.
DIRECTV STREAM: Get a great channel lineup with the best selection of RSNs in the industry. A 5-day free trial is now available for DIRECTV STREAM.
Sling TV: This low-cost service allows you to select just the channel lineup you want. Save 50% on Sling TV now.
If you can't watch your favorite sports because of your location, get ExpressVPN to access the content you deserve.
Unfortunately, we don't know a streaming service in that covers this sport. But if you've already paid for the right service, and just can't watch because of your location, there is an easy way to get the content you deserve. You need a VPN, like one of the following.
| | | |
| --- | --- | --- |
| | ExpressVPN: Known as "The VPN that just works," it combines remarkable ease of use with with state-of-the-art power, speed, security, and privacy. Get three extra free months when you sign up for a year. Unleash your streaming with this top-rated VPN. | Sign Up Now |
| | Surfshark: Surfshark: Secure and easy to use with thousands of servers around the world. Of special note is its excellent collection of servers inside the US, which is great for regional sports lie NFL, MLB, and NBA. Get it now with an incredible 82% discount on a 24-month plan. | Sign Up Now |
| | NordVPN: One of the top VPNs with extremely fast servers all over the world. Great for streaming with tested perfomance on the biggest servers and included ad-blocking. Currently offering 70% discount on 2-year plans. | Sign Up Now |
If you're overwhelmed and not sure where to begin, you'll find all the answers in our full VPN guide.
Florida State is one of college football's most prestigious programs, enjoying a heyday in the 1980s and 1990s, finishing in the top five every season from 1987-2000, before dropping from that lofty perch. However, there's hope in Tallahassee that Mike Norvell is on the verge of leading it to a return to prominence.
Are you interested in seeing what the 2023 campaign holds for the Seminoles? Or perhaps you're a devoted FSU fan who watched every game of their numerous losing campaigns as of late. Regardless, there are many ways that you can catch Florida State in action throughout the season.
Florida State Seminoles Game This Week
Sat Sep 23 TBD: Florida State at Clemson Tigers
Florida State Channels
With the Seminoles in the ACC, that means that the vast majority of the team's games will be broadcast on ESPN-related outlets. For example, in 2022, Florida State's 13 games were broadcast on ABC (five games), ESPN (two), the ACC Network (five), and the defunct ACC on Regional Sports Networks (one).
Although we will not know what channels most of FSU's games will be broadcast on in 2023 until a week or two before each matchup, two of the first three were assigned to ABC, versus LSU on September 3 and Boston College on September 16, and the other to the ACC Network, against Southern Miss on September 9. With one possible exception, the rest should ultimately be shown on an ESPN-related outlet.
The possible exception is The CW, which will broadcast 13 college football games across the ACC. The most likely possibility on FSU's schedule for being one of those is the school's game against North Alabama on November 18.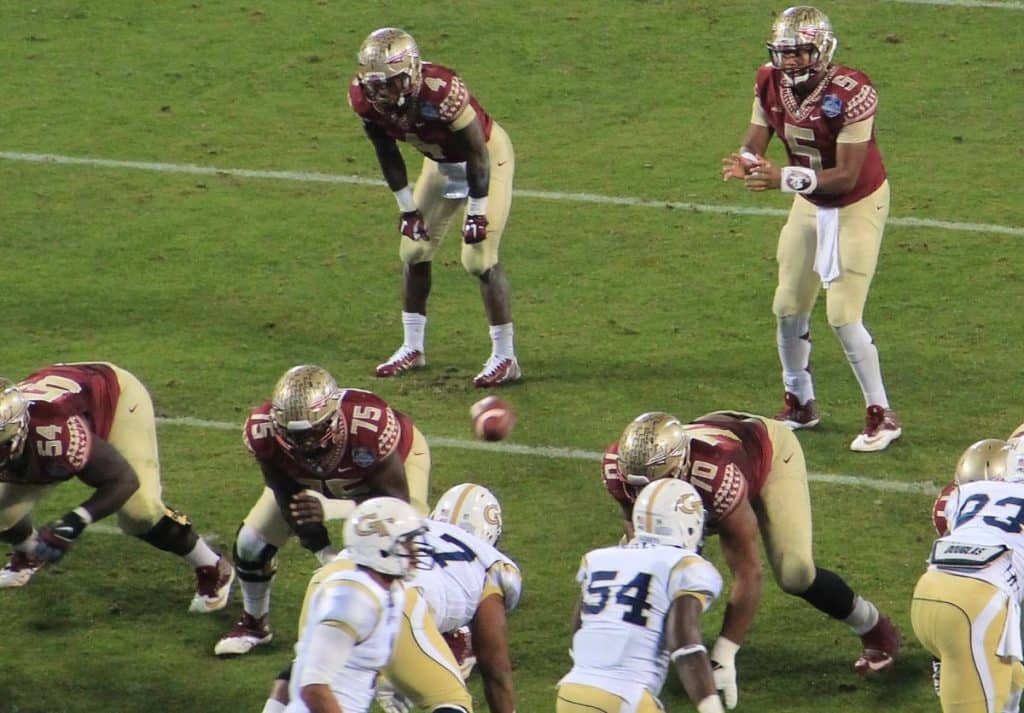 Stream Florida State Seminoles Football
Of course, you're here because you want to learn how to stream FSU football games. You'll be glad to learn that you have various options to choose from when deciding how to watch those matchups.
Do note that you usually do not need to subscribe to a streaming service that offers ABC in order to watch ABC-broadcast Florida State games. Those contests will also be available for viewing through ESPN3, and many of the streaming services that provide access to ESPN also offer ESPN3 content.
Fubo for Seminoles Football

Fubo (formerly FuboTV) provides access to all local channels in most areas. That includes ABC, CBS, Fox, NBC, and The CW. It also includes ESPN, ESPN2, CBS Sports Network (CBSSN), FS1, FS2, beIN Sports, and TUDN. In all, you get over 150 channels starting at $74.99/mo.
You can get ACC Network, Pac-12 Network, SEC Network, MLB Network, NBA TV, and NHL Network with its Fubo Extra or Sports Plus add-ons. Sports Plus also comes with MLB Network Strike Zone and NFL RedZone.
All Fubo plans come with 1,000 hours of cloud DVR and streaming on up to 10 devices at once at home and two on the road. See our Fubo Review for more information.
FSU Football on DIRECTV STREAM

Entertainment plan ($74.99/mo) subscribers with DIRECTV STREAM get to watch all programming on their local ABC and The CW affiliates as well as on ESPN. An upgrade to the Choice plan ($99.99/mo) is necessary to view the ACC Network.
But getting the Choice plan is a good choice since it offers many more channels including the best selection of RSNs in the industry.
All plans come with unlimited cloud DVR storage and unlimited simultaneous streaming devices. Our DIRECTV STREAM review has more.
Get DIRECTV STREAM Free for 5 Days
Florida State Football With Sling TV

You get ESPN, ESPN2, and ESPN3 with a Sling Orange subscription for just $40.00/mo. ESPN3 is especially important because it allows you to watch all the games that appear on ABC Sports. You need get the Sports Extra add-on ($11/mo) to get ACC Network.
This plan does limit you to watching on a single device at a time. But that's a minor issue given the incredibly low price of the Sling TV package. And it comes with 50 hours of cloud DVR storage.
Get complete information about all your options in our Sling TV review.
Hulu Live for FSU Football

Hulu + Live TV features ABC, ESPN, the ACC Network, and The CW in its base plan for $69.99/mo. This plan comes with a total of 85+ live TV channels in addition to Disney+ and ESPN+.
Hulu + Live TV comes with unlimited cloud DVR. But you are limited to watching on two devices at once. You can, however, upgrade.
See our Hulu + Live TV review for more information.
College Football on Vidgo

Vidgo is a great service if you like college sports. It is limited to ABC and Fox (select markets) in terms of local channels. But it has all the major ESPN channels including ESPN2, ESPNU, ACC Network, SEC Network, and Longhorn Network. It's also a great source for conservative news for $69.99/mo
Vidgo offers a modest 20-hour cloud DVR and allows you to stream on up to 3 devices at once. More information is in our Vidgo review.
FSU on YouTube TV

YouTube TV is another good option for watching FSU Seminoles football. It offers a plan that is similar to Hulu Live for $72.99/mo. But it provides a lot more options. See our YouTube TV review for more.
Devices to Live Stream Florida State Seminoles Football
All the streaming services we've discussed support the vast majority of streaming devices currently in use.
Amazon Fire TV, Apple TV, and Roku devices are supported by the streaming services. The same goes for mobile devices based on iOS and Android. Finally, they all allow you to cast from your mobile device to your TV with Chromecast.
All the services allow you to stream on smart TVs based on the Android TV standard. Other than with Vidgo, you can use Samsung smart TVs. And LG and Vizio smart TVs are supported by Fubo, Hulu + Live TV, Sling TV, and YouTube TV.
Xbox One can be used with Fubo, Hulu, Sling, and YouTube TV. Oculus VR devices are supported by Sling TV. Nintendo Switch systems are supported by Hulu. And Hulu and YouTube TV support PlayStation versions 4 and 5.
For more information, check out our streaming reviews.
Florida State Seminoles
Florida State, under the leadership of Jimbo Fisher, did have a later impressive run, finishing in the top 25 every year from 2010-16. However, his lack of focus on academics and ultimate departure for Texas A&M led to a restructuring within the program, which resulted in losing season after losing season.
However, after Mike Norvell's first two years, 2020 and 2021, resulted in more losing campaigns, his 2022 squad turned the corner, recording a 10-3 record. Interestingly, that team beat all 10 unranked opponents it faced while falling to the three ranked teams on its schedule in a three-week span the first half of October.
Of course, the hope is that wins over ranked opponents will be the next step taken by this squad in 2023. It will get early opportunities to do so as two preseason top-10 programs are on its early schedule: No 5 LSU in its season opener on September 3 and No 9 Clemson on September 23. However, neither game will be at home. The first will be played at a neutral site in Orlando, Florida, while the second is a pure road game.
FSU's biggest claims to fame historically were achieved in 1993, 1999, and 2013, when the school was awarded national championships. The latter two of those were accompanied by undefeated records.
Based on the NCAA preseason rankings, Florida State is the number 8 team in the nation — well ahead of in-state rivals Florida and Miami. Mike Norvell continues as head coach for his fourth season. The offense is led by quarterback Jordan Travis and running back Trey Benson.
2023 Florida State Seminoles Football Schedule
Sun Sep 3 : vs LSU Tigers (ABC)
Sat Sep 9 : vs Southern Miss Golden Eagles (ACCN)
Sat Sep 16 : at Boston College Eagles (ABC)
Sat Sep 23 TBD: at Clemson Tigers
Sat Oct 7 TBD: vs Virginia Tech Hokies
Sat Oct 14 TBD: vs Syracuse Orange
Sat Oct 21 TBD: vs Duke Blue Devils
Sat Oct 28 TBD: at Wake Forest Demon Deacons
Sat Nov 4 TBD: at Pitt Panthers
Sat Nov 11 TBD: vs Miami (FL) Hurricanes
Sat Nov 18 TBD: vs North Alabama Lions
Sat Nov 25 TBD: at Florida Gators
Other Florida State Sports
Of course, Florida State's athletics department sponsors a number of other prestigious sports teams in addition to its storied football program.
FSU's men's basketball squad is one of the school's most popular behind football. It has made the NCAA Tournament field four times since 2017 (2017, 2018, 2019, and 2021) and also has some history of note, reaching the Final Four in 1972.
However, the school's women's basketball team has experienced more success as of late, making every NCAA Tournament since 2013, including advancing to the Elite Eight in two of those (2015 and 2017). It's still searching for its first Final Four appearance though.
With all of that said, the institution's baseball team has a strong reputation within that sport. That squad played in every postseason held from 1978-2022 until that impressive streak came to a stop with a stunning 23-31 record in 2023. However, hopes are high that that performance was just a blip.
That said, it's Florida State's softball team that's the only diamond sport on campus with a national championship to its credit, which was claimed in 2018. That Seminoles squad also finished as national runners-up in 2021 and 2023.
Another powerhouse side on campus is FSU's women's soccer team, which has won three national titles, in 2014, 2018, and 2021, tied with football for the most of any Seminoles squad.
Games played by each of these teams and more Seminoles squads can be watched through ESPN-related outlets as well, most notably on the ACC Network as well as the online-only ACC Network Extra, which is available from all streaming services that offer the ACC Network.
Summing Up
Game day at Tallahassee's Doak Campbell Stadium is one of the most treasured experiences for FSU fans, but if you can't be there for that, you're going to want to experience it virtually through a streaming service. Fortunately, you have several to choose from as ESPN and the ACC Network are commonly offered.
Fubo is our top choice for streaming Seminoles football. Fubo allows you to try out its service with a free trial.
FAQs
What rivalries are Florida State involved in?
Florida State has heated rivalries with in-state opponents Florida and Miami, the latter of which it faces in ACC contests. In fact, those three schools combine to compete for the Florida Cup although it's been on hiatus in most recent seasons with the lack of a Florida-Miami matchup. It will return in 2024 and 2025, however. Regardless, FSU games with both of them will always be matchups with an extra edge to them.
In 2022, the Seminoles beat both of them, cruising past the Hurricanes, 45-3, in early November before outlasting the Gators, 45-38, at the end of the month.
Can I watch other college teams on the same channels?
Different teams are featured on different channels although all ACC schools will share many. See our guides for college football and bowl games. And for particular teams, check out these:
If college basketball and March Madness are your thing, check out these team guides:
Ditch "Big Cable" Now – 3 Simple Steps to Cut the Cord
Pick the right streaming service
Get the content you deserve with the best VPN.
Supercharge your internet provider
That's it — you'll save money, take back control, and enjoy TV more!
Image cropped from Marching Chiefs Exiting the Elephant Doors in Preparation for Go Cadance Before Pre-Game (Florida State) by Ayzho under CC BY-SA 3.0.
Latest posts by Frank Moraes
(see all)