The NBA finals are here with the Miami Heat against the Denver Nuggets! Get all the details in our viewer's guide!

And you can watch it all with a 50% discount on Sling TV!
The Kansas Jayhawks are a popular team nationwide. As a result, it isn't hard for cord-cutters to watch all their games throughout the season. Read on to get all the details.
In a hurry? Jayhawks games air mostly on ESPN and related channels but you will also see them on CBS and FS1. When they aren't on live TV, you can see them on ESPN+. These services will allow you to watch most games live:
Fubo: The best streaming service for international sports also provides 130+ well-selected channels. Fubo allows you to try out its service free for 7 days.
DIRECTV STREAM: Get a great channel lineup with the best selection of RSNs in the industry. A 5-day free trial is now available for DIRECTV STREAM.
Sling TV: This low-cost service allows you to select just the channel lineup you want. Save 50% on Sling TV now.
If you can't watch your favorite sports because of your location, get ExpressVPN to access the content you deserve.
Unfortunately, we don't know a streaming service in that covers this sport. But if you've already paid for the right service, and just can't watch because of your location, there is an easy way to get the content you deserve. You need a VPN, like one of the following.
| | | |
| --- | --- | --- |
| | ExpressVPN: Known as "The VPN that just works," it combines remarkable ease of use with with state-of-the-art power, speed, security, and privacy. Get three extra free months when you sign up for a year. Unleash your streaming with this top-rated VPN. | Sign Up Now |
| | Surfshark: Surfshark: Secure and easy to use with thousands of servers around the world. Of special note is its excellent collection of servers inside the US, which is great for regional sports lie NFL, MLB, and NBA. Get it now with an incredible 82% discount on a 24-month plan. | Sign Up Now |
| | NordVPN: One of the top VPNs with extremely fast servers all over the world. Great for streaming with tested perfomance on the biggest servers and included ad-blocking. Currently offering 70% discount on 2-year plans. | Sign Up Now |
If you're overwhelmed and not sure where to begin, you'll find all the answers in our full VPN guide.
Sign Up for a Free 7-Day Fubo Trial

Kansas Jayhawks Channels
Many of Kansas' men's basketball games are actually not broadcast on a channel and are instead only available online, through ESPN+. With that said, the team is usually featured on major channels, including throughout the NCAA Tournament.
ESPN is responsible for most of KU's televised games as well due to its contract with the Big 12 Conference. For example, of the team's 21 regular-season games during its 2021-22 season that are not slated for ESPN+ coverage, 18 are scheduled for broadcast on either ESPN or ESPN2. Meanwhile, two are covered by CBS, which also has an arrangement with the Big 12, while a non-conference away game versus St John's is on Fox Sports 1 (FS1).
Simply put, as long as you have access to CBS, ESPN, ESPN2, TNT, TBS, truTV, as well as ESPN+ you will be able to watch nearly all Kansas men's basketball games. The only possible exceptions would be regular-season non-conference games being played away from the KU campus.
Unblock Your Favorite Events & Teams With a VPN
If you can't watch your favorite events or teams because of your location, a VPN will allow you to get the access you are entitled to, plus extra security and unequalled privacy. Check out our VPN Guide for everything you need to know, including our top pick ExpressVPN.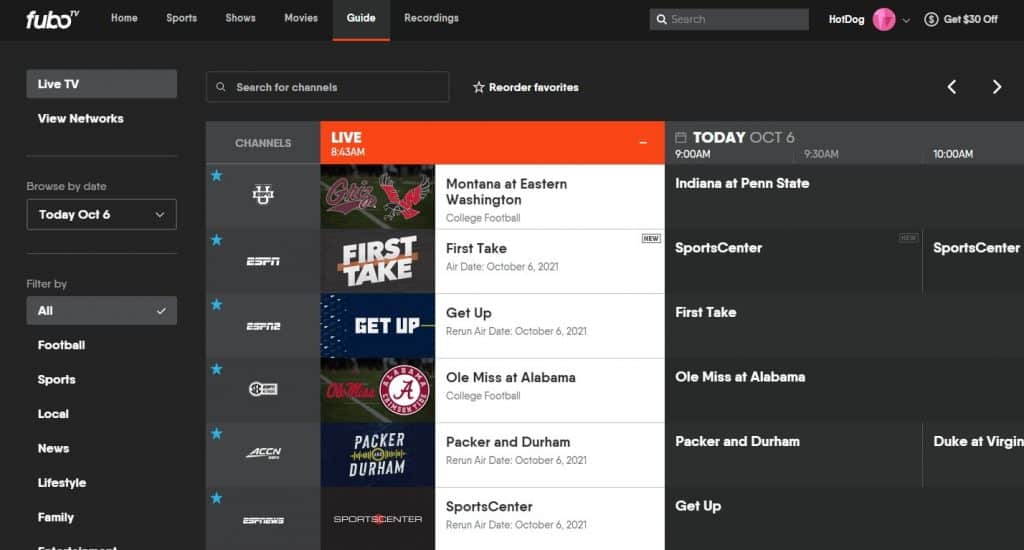 Live Stream the Kansas Jayhawks
How can you watch the current incarnation of this team play? Other than the postseason, you generally need to focus on ESPN, both that channel and ESPN+ ($9.99/mo). By far, the best choice is Hulu + Live TV, which comes with Disney+ and ESPN+ for $69.99/mo.
Other services worth considering include Fubo ($74.99/mo), Sling TV ($40.00/mo), DIRECTV STREAM ($74.99/mo), and Vidgo ($69.99/mo).
Live Streaming Services
Several streaming services will provide you with access to all or nearly all Kansas Jayhawks men's basketball games as well as other sports events played by KU teams.
Fubo

Fubo ($74.99/mo) appears to be a great option for the regular season as it includes CBS, ESPN, ESPN2, FS1, FS2, Big Ten Network, and SEC Network in its base plan. It does not offer TBS, TNT, and truTV, so it is lacking in terms of the postseason.
There were seven KU basketball games on ESPN+ which Fubo does not have. You can add an ESPN+ subscription for an additional $9.99/mo to watch these games.
Fubo offers 1000 hours of cloud DVR and simultaneous streaming on up to ten devices at once. For more information, see our Fubo review.
Sign Up for a Free 7-Day Fubo Trial
Sling TV

Sling TV Orange will allow you to watch over half of the regular and post-season games for just $40.00/mo. There are three ESPN channels in the package: ESPN, ESPN2, and ESPN3. In all, you get 30+ channels and 50 hours of cloud DVR. It offers many options for building exactly the channel lineup you want.
Sling TV does not have CBS and ESPN+. To watch channels aired on them you can add a Paramount+ ($4.99/mo) and ESPN+ ($9.99/mo) subscription respectively.
Our Sling TV review has more details. You should also check out our guide and schedule for March Madness.
DIRECTV STREAM

DIRECTV STREAM is another solid option. Included in its Entertainment plan ($74.99/mo) are CBS, ESPN, ESPN2, and FS1. Plus, you can watch all NCAA Tournament games through this plan as it features TBS, TNT, and truTV as well. You will need to pair this subscription with ESPN+ ($9.99/mo) so you can watch the games on ESPN+.
All its plans include unlimited cloud DVR as long as you sign-up online and streaming on unlimited devices at home and away. For more, see our DIRECTV STREAM review.
Get DIRECTV STREAM Free for 5 Days
Hulu + Live TV

Hulu + Live TV ($69.99/mo) is an option offering everything through one source as paying for its base plan also provides you with access to ESPN+ and Disney+. When it come to watching the Jayhawks games, it is the only streaming service that gives access to all the channels you need in one place. It offers CBS, ESPN, and ESPN2.
The plan comes with unlimited cloud DVR storage (9 month storage) and the ability to stream on up to two devices. See our Hulu + Live TV review for more information.
Vidgo

Vidgo will also allow you to watch a lot of the matchups in the regular season for $69.99/mo. It offers several ESPN channels including ESPN, ESPN2, ESPNU, ESPNews, and ESPN Deportes. Unfortunately, it doesn't offer CBS but you can solve that by pairing it with Paramount+, which costs $4.99/mo. For ESPN+ games you can also pair ESPN+ subscription for $9.99/mo. There is more information about Vidgo in our review.
YouTube TV

YouTube TV offers the same channels as Hulu + Live TV (without ESPN+) so it will cover you well throughout the regular and post-season. You will get several local channels and sports networks such as CBS, ESPN, and ESPN2 all in the base package for $72.99/mo.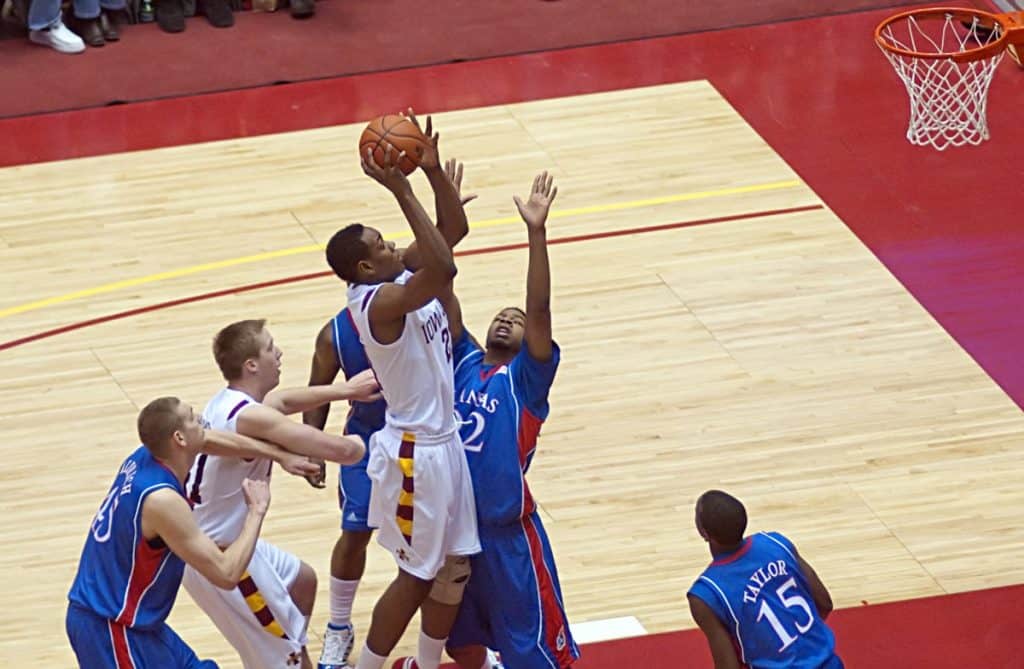 Specialty Streaming Services
Here are the two main speciality services that you can pair with the live streaming services so you can watch all the games
ESPN+

If you want to ensure comprehensive access to Kansas men's basketball contests, getting ESPN+ ($9.99/mo) is a must as the team is featured prominently on that online-only resource. For example, during the 2021-22 regular season, eight of its games are only available through ESPN+. This selection includes some Big 12 matchups.
Parmount+

Paramount+ not only helps you watch Kansas Jayhawks games but also the March madness matchups airing on CBS. It is a streaming service that gives you access to all the content shown on CBS.
Paramount costs $4.99/mo. It is a great addition to either Sling TV or Vidgo subscriptions so you can watch the three basketball games airing on CBS. Check here for more details.
Get Paramount+ for 7 Days Free
Streaming Devices and TVs to Watch Kansas Jayhawks
You can use most of the streaming devices in use today:
Amazon Fire TV
Android TV-based TVs
Apple TV
Android mobile
Chromecast
iOS
Roku
Web browsers.
All services support Samsung smart TVs except Vidgo. LG smart TVs, VIZIO smart TVs, and Xbox gaming systems are supported by all except DIRECTV STREAM and Vidgo.
PlayStation and Nintendo Switch game systems are supported by Hulu. ESPN+ unsurprisingly supports the same devices as Hulu.
See our individual reviews for full lists of supported devices.
Superpower Your Streaming With a VPN
For the sake of privacy, security, and access, you should be using a VPN. They are low-cost and easy to use. We've been using them for years and our top pick is ExpressVPN. Be sure to check out our deals page on ExpressVPN, NordVPN, SurfShark and PureVPN.
Kansas Jayhawks Basketball
The University of Kansas has played a prominent role in the history of basketball, and this was done in ways that you may not have realized. For example, the program's first head coach was James Naismith, the sport's inventor.
Its NCAA Tournament credentials also date all the way back to the second edition of that competition, when it advanced to the national championship game. That was in 1940. Additionally, its Allen Fieldhouse is a revered venue in the sport (although some games are played in the larger T-Mobile Center in nearby Kansas City, Missouri).
Men's Basketball
Ironically, the KU's men's basketball program's most successful days took place after Naismith's time at the helm of the team ended. He is still to date the only Kansas head coach with a losing record; he went 55-60. Other famous names in Kansas coaching history include Phog Allen (590-219) and Roy Williams (418-101). Current head coach Bill Self has led the team since taking over for Williams in 2003.
Kansas has won the NCAA Men's Basketball Tournament on three occasions, making it one of 15 schools with multiple championships and one of eight with three or more. Those were claimed in 1952, 1988, and 2008. It also has six other national championship game appearances, in 1940, 1953, 1957, 1991, 2003, and 2012, and KU has played in the Final Four 15 times.
Additionally, over the last decade, it has 8 conference regular season championships and three Big 12 Conference tournament championships.
During the 2022-23 regular season, the Jayhawks have been reliably in the top-5 of the AP and coaches ranking. The squad features KJ Adams Jr, Ochai Agbaji (total points leader), Christian Braun, Jalen Coleman-Lands, Dajuan Harris (assists, steals), Mitch Lightfoot, Remy Martin, David McCormack (rebounds), Jalen Wilson, and Joseph Yesufu.
Women's Basketball
Although the women's team has not been as strong as the men's, Kansas does have a good program. They have made it to the NCAA Tournament 14 times. In 2022, they made it to the second round. They easily got past Georgia Tech but then fell to a very strong Stanford team.
Head coach Brandon Schneider is in his 8th season with the team. The squad features Aniya Thomas, Julie Brosseau, Ioanna Chatzileonti, Nadira Eltayeb, Zakiyah Franklin (assists leader), Taiyanna Jackson (rebounds), Katrine Jessen, Holly Kersgieter (total points, steals), and Chandler Prater.
Allen Fieldhouse
Allen Fieldhouse, which was named for the former KU coach of that name, is a must-see venue for college basketball aficionados on campus in Lawrence. Many who have been there say that it has a special presence that is not felt in other facilities.
This is partially due to its fan base, of course. But simply being there thinking about all of the history that has taken place on that court and in that arena creates that feeling as well.
This facility opened in 1955 with a capacity of 17,000, making it an enormous arena at the time and still one of the world's largest today, albeit with a slightly decreased capacity of 16,300.
The arena's intimidating atmosphere has been accentuated by sellout crowd after sellout crowd. In fact, the team sold out 306 consecutive home games from 2001 to 2020.
Sign Up for a Free 7-Day Fubo Trial
2022-2023 Kansas Jayhawks Schedule
Mon Nov 7 : Omaha (64) at Kansas (89) (ESPN+)
Thu Nov 10 : North Dakota State (59) at Kansas (82) (ESPN+)
Tue Nov 15 : Kansas (69) at Duke (64) (ESPN)
Fri Nov 18 : Southern Utah (76) at Kansas (82) (ESPN+)
Wed Nov 23 : NC State (74) vs Kansas (80) (ESPN)
Mon Nov 28 : Texas Southern (55) at Kansas (87) (ESPN+)
Thu Dec 1 : Seton Hall (65) at Kansas (91) (ESPN)
Sat Dec 10 : Kansas (95) at Missouri (67) (ESPN)
Sat Dec 17 : Indiana (62) at Kansas (84) (ESPN2)
Thu Dec 22 : Harvard (54) at Kansas (68) (ESPN2)
Sat Dec 31 : Oklahoma State (67) at Kansas (69) (CBS)
Tue Jan 3 : Kansas (75) at Texas Tech (72) (ESPN2)
Sat Jan 7 : Kansas (76) at West Virginia (62) (ESPN+)
Tue Jan 10 : Oklahoma (75) at Kansas (79) (ESPN2)
Sat Jan 14 : Iowa State (60) at Kansas (62) (ESPN+)
Tue Jan 17 : Kansas (82) at Kansas State (83) (ESPN)
Sat Jan 21 : TCU (83) at Kansas (60) (CBS)
Mon Jan 23 : Kansas (69) at Baylor (75) (ESPN)
Sat Jan 28 : Kansas (77) at Kentucky (68) (ESPN)
Tue Jan 31 : Kansas State (78) at Kansas (90) (ESPN+)
Sat Feb 4 : Kansas (53) at Iowa State (68) (ESPN)
Mon Feb 6 : Texas (80) at Kansas (88) (ESPN)
Sat Feb 11 : Kansas (78) at Oklahoma (55) (CBS)
Tue Feb 14 : Kansas (87) at Oklahoma State (76) (ESPN)
Sat Feb 18 : Baylor (71) at Kansas (87) (ESPN)
Mon Feb 20 : Kansas (63) at TCU (58) (ESPN)
Sat Feb 25 : West Virginia (74) at Kansas (76)
Tue Feb 28 : Texas Tech (63) at Kansas (67)
Sat Mar 4 TBD: Kansas (59) at Texas (75)
Other Jayhawks Sports
Football
Other than its basketball team, Kansas' football team is its most prominent simply due to the mass popularity of the sport in general. For example, despite the 2021 KU college football squad going just 2-10, it averaged 26,000 fans per home game, well above Allen Fieldhouse's capacity. However, it has had some highlights on the field, most notably a 12-1 campaign and Orange Bowl win in 2007.
Volleyball
One KU program with solid recent success is its volleyball team, which stunned Creighton on the road in the second round of the 2021 NCAA Tournament to advance to that sport's Sweet 16 for the third time, six years after the 2015 Jayhawks volleyball team advanced to the Final Four, its only venture past the Sweet 16.
Other
Other teams in the KU athletics department have won a combined seven national championships, all in track and field-related sports: one in men's cross country (1953), three in men's outdoor track and field (1959, 1960, and 1970), three in men's indoor track and field (1966, 1969, and 1970), and one in women's outdoor track and field (2013). However, none of those programs are at that level today.
Summing Up
You have several streaming services to choose from in order to watch the Kansas Jayhawks. Early on, you will see a lot of games on ESPN+, so you might consider Hulu + Live TV ($69.99/mo).
Fubo is our top pick for Kansas basketball. Fubo allows you to try out its service free for 7 days.
Sign Up for a Free 7-Day Fubo Trial
How do I stream other NCAA basketball teams?
See these guides to watch other teams without cable.
Ditch "Big Cable" Now – 3 Simple Steps to Cut the Cord
Pick the right streaming service
Get the content you deserve with the best VPN.
Supercharge your internet provider
That's it — you'll save money, take back control, and enjoy TV more!
Page Updates
▼
▲
Updated some section headings. Updated some sub-sections. Added useful links.

Added sub-section. Added links to streaming services. Added streaming info. Updated some section headings. Updated some sections. Added a few links.

Added links to streaming services. Reworked some sections. Updated some sub-sections. Misc changes. Cleaned up list.

Added some more links. Reformatting. Various content updates.

Added buttons for streaming services. Updated some sub-sections. Image changes. Mentioned offers.

Updated some sub-sections. Image changes. Pricing updates.

Updated some sub-sections.
Latest posts by Frank Moraes
(see all)