The 2023 NFL football season has begun! Get all the information in our NFL Guide!

And you can follow the whole season with Fubo. Try it free!
The Rutgers basketball programs are not as well covered on TV as other schools programs are. But most of the men's games and a good chunk of the women's games are. Read on to learn how to stream them all!
In a hurry? Big Ten Network is the primary venue for Scarlet Knights basketball. All these streaming services offer it and much more:
Fubo: The best streaming service for international sports also provides 150+ well-selected channels. Fubo allows you to try out its service with a free trial.
DIRECTV STREAM: Get a great channel lineup with the best selection of RSNs in the industry. A 5-day free trial is now available for DIRECTV STREAM.
Sling TV: This low-cost service allows you to select just the channel lineup you want. Save 50% on your first month of Sling TV.
If you can't watch your favorite sports because of your location, get ExpressVPN to access the content you deserve.
Unfortunately, we don't know a streaming service in that covers this sport. But if you've already paid for the right service, and just can't watch because of your location, there is an easy way to get the content you deserve. You need a VPN, like one of the following.
| | | |
| --- | --- | --- |
| | ExpressVPN: Known as "The VPN that just works," it combines remarkable ease of use with with state-of-the-art power, speed, security, and privacy. Get three extra free months when you sign up for a year. Unleash your streaming with this top-rated VPN. | Sign Up Now |
| | Hotspot Shield: Connect to servers in 80+ different countries and 25+ US cities. HotSpot Shield features extremely fast servers and connections and is specially tuned for use with streaming services. And you can try it risk-free with a 7-day free trial and a 45-day money-back guarantee! | Sign Up Now |
| | CyberGhost: Great low-cost service with ultra-fast servers in 90+ countries for smooth live sports streaming. It also provides great security and privacy. See if it's right for you with a free 24-hour trial and test it out with a 45-day money-back guarantee. | Sign Up Now |
If you're overwhelmed and not sure where to begin, you'll find all the answers in our full VPN guide.
Rutgers basketball has been around since 1906 and have had years of success and struggle throughout their history. In 2014, the team joined the Big Ten Conference, one of the best and most competitive college basketball conferences nationally.
The Rutgers Scarlet Knights have been playing well of late and have made the NCAA Tournament each of the past two years and will likely garner a high seed in the 2023 version of March Madness.
TV Channels to Watch Rutgers Scarlet Knights Games
The best place to watch Rutgers basketball, both the men's and women's team, is the Big Ten Network (BTN). The men's team, as they continue to improve and find themselves in the top-25 of the AP rankings most weeks, will have almost every game televised on the BTN while the women's contests will be televised less frequently.
Rutgers has also been featured on ESPN, ESPNU, FS1, and Fox.
Streaming Rutgers Basketball
All of the following streaming services offer BTN, ESPN channels, and Fox Sports channels. Note that some or all may require add-ons or upper-level plans.
One great thing about streaming services is that they all provide cloud DVR storage. (But note that Vidgo requires you get its Premium plan.) They also allow streaming on multiple devices at once.
If you have a device that can stream video, chances are it is supported by one or more services. All of them allow you to live stream on Amazon Fire TV, Android Mobile, Android TV, Apple TV, Chromecast, iOS (eg, iPhone), Roku, and web browsers. Smart TVs like LG, Samsung, and Vizio as well as gaming systems like Xbox are also widely supported.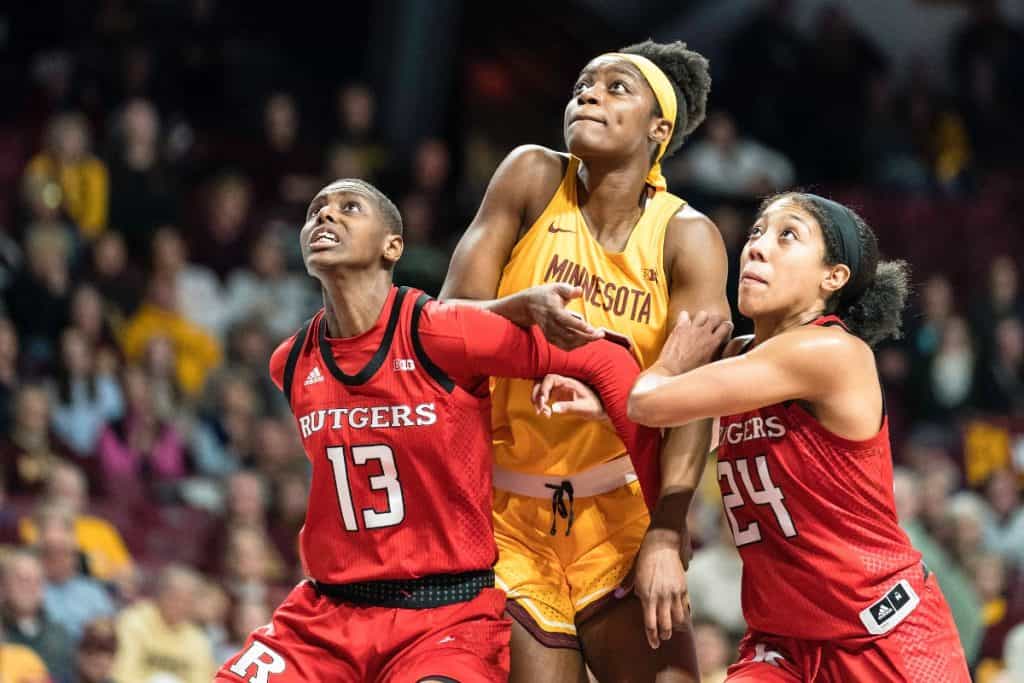 Rutgers Scarlet Knights Basketball
Rutgers has had a men's Division I basketball team for the past 109 years, and for the majority of the first 50 years of the team's existence, Rutgers was not affiliated with a conference.
In 1982, the school joined the Atlantic 10, in 1995 they moved to the Big East, and in 2014 Rutgers was accepted into the Big Ten where both the men's and women's teams compete today.
Both the men's and women's teams play their home games at Jersey Mike's Arena on campus in Piscataway, New Jersey. It is an 8,000-seat multi-purpose arena that was built in the shape of a trapezoid. Jersey Mike's Arena is most commonly known as the RAC (Rutgers Athletic Center), and it is famous for being one of the loudest basketball arenas in the NCAA.
The peculiar trapezoid shape, which came about as a cost-cutting technique by the architect, allows crowd noise to resonate and creates a noise that has been compared to the sound of a 747 taking off.
Rutgers' biggest traditional basketball rivalry has been their cross-town opponent the Princeton Tigers. Princeton leads the series 75-45, but the teams have not played each other since 2013 because of conference realignment. In 1976, when Rutgers went to their lone Final Four, they played Princeton in the first round of that tournament and won by just a single point.
The Rutgers-Penn State rivalry has heated up over the past few years because they play in the same conference, and Seton Hall leads their rivalry with Rutgers 36-25.
Rutgers Scarlet Knights Men's Basketball
Rutgers made their deepest NCAA Tournament run in 1976 when they made the Final Four after a regular season that saw the team maintain a 31-0 record.
Rutgers men's basketball has eight total March Madness appearances, and it looks like they will make their ninth this year in 2023.
Rutgers went from 1991 to 2021 without a single NCAA Tournament appearance, but Head Coach Steve Pikiell has the team moving in the right direction. The main squad this year features Aundre Hyatt, Mawot Mag, Caleb McConnell, Paul Mulcahy, Clifford Omoruyi, Derek Simpson, and Cam Spencer.
2022-23 Men's Basketball Schedule
Mon Nov 7: vs Columbia
Thu Nov 10: vs Sacred Heart
Sat Nov 12: vs UMass Lowell
Fri Nov 18: vs Temple (ESPNU)
Tue Nov 22: vs Rider (BTN)
Sat Nov 26: vs Central Connecticut
Wed Nov 30: @ Miami (ESPNU)
Sat Dec 3: vs Indiana (BTN)
Thu Dec 8: @ Ohio State (ESPN2)
Sun Dec 11: vs Seton Hall (FS1)
Sat Dec 17: vs Wake Forest (BTN)
Fri Dec 23: vs Bucknell (BTN)
Fri Dec 30: vs Coppin State (BTN)
Mon Jan 2: @ Purdue (BTN)
Thu Jan 5: vs Maryland (BTN)
Sun Jan 8: vs Iowa (BTN)
Wed Jan 11: @ Northwestern (BTN)
Sun Jan 15: vs Ohio State (BTN)
Thu Jan 19: @ Michigan State (FS1)
Tue Jan 24: vs Penn State (BTN)
Sun Jan 29: @ Iowa (BTN)
Wed Feb 1: vs Minnesota (BTN)
Sat Feb 4: vs Michigan State (Fox)
Tue Feb 7: @ Indiana (BTN)
Sat Feb 11: @ Illinois (FS1)
Tue Feb 14: vs Nebraska (BTN)
Sat Feb 18: @ Wisconsin (BTN)
Thu Feb 23 : vs Michigan (FS1)
Sun Feb 26 :@ Penn State
Thu Mar 2 : at Minnesota
Sun Mar 5 : vs Northwestern
Rutgers Scarlet Knights Women's Basketball
The Rutgers women's basketball team began play in 1974, some 65 years after the men's team, but in their short history the Rutgers women have accomplished a lot.
They were the runner-up of the NCAA Tournament in 2007, made it to two Final Fours, and have made 26 appearances in the NCAA Tournament since 1986.
Although they are struggling this year, the Rutgers women's team has a rich tradition of really good basketball.
2022-23 Women's Basketball Schedule
Mon Nov 7: vs Hofstra
Fri Nov 11: vs Seton Hall
Sun Nov 13: vs NJIT
Wed Nov 16: vs North Carolina Central
Sat Nov 19: vs Tennessee
Sun Nov 20: vs South Dakota State
Mon Nov 21: vs Texas
Sun Nov 27: vs Cornell
Wed Nov 30: @ Boston College
Sun Dec 4: vs Ohio State (BTN)
Wed Dec 7: @ Illinois
Sat Dec 10: vs Hampton
Thu Dec 15: vs Princeton
Sun Dec 18: vs New Orleans (BTN)
Fri Dec 30: @ Penn State
Mon Jan 2: vs Maryland (BTN)
Sat Jan 7: vs Nebraska (BTN)
Thu Jan 12: @ Minnesota (BTN)
Sun Jan 15: @ Maryland
Thu Jan 19: vs Michigan (BTN)
Sun Jan 22: @ Michigan State
Thu Jan 26: vs Penn State
Sun Jan 29: @ Indiana
Sun Feb 5: vs Wisconsin
Thu Feb 9: vs Purdue
Sun Feb 12: @ Iowa (FS1)
Wed Feb 15: vs Northwestern
Mon Feb 20: @ Wisconsin (BTN)
Thu Feb 23: @ Michigan
Sun Feb 26 : vs Illinois
Wrapping Up
Rutgers basketball flies under a lot of people's radars when it comes to basketball partly because of the school's well-known, tough-nosed brand of football, and partly because of their status in the crowded Big Ten.
With the basketball team's recent success, however, Rutgers basketball continues to garner respect from the rest of the nation as they have a great shot at a high seed in this year's March Madness. Tune into the BTN to see both teams play their final games down the stretch.
Fubo is our recommendation for Rutgers basketball. Fubo allows you to try out its service with a free trial.
Watch Other College Basketball Teams
Here are all our NCAA basketball team viewer's guides:
Ditch "Big Cable" Now – 3 Simple Steps to Cut the Cord
Pick the right streaming service
Get the content you deserve with the best VPN.
Supercharge your internet provider
That's it — you'll save money, take back control, and enjoy TV more!
Image cropped from Aquan Smart attempts to lay the ball over the Rutgers defense at Xfinity Center, December 14th, 2020 by All-Pro Reels under CC BY-SA 2.0.
Page Updates
▼
▲
Added new section. Added buttons for streaming services. Updates to a section. Changed some content in main section. Reworked one section.
Latest posts by Frank Moraes
(see all)